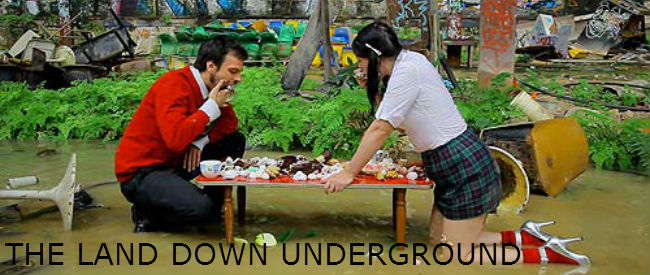 THE LAND DOWN UNDERGROUND
Dir. Various, 2009-2013
Australia, approx. 61 min.
TUESDAY, JUNE 17 – 7:30 PM
THURSDAY, JUNE 26 – 10 PM
While underground film has a decades-long history in the United States, it's a much newer form in Australia, where the first underground film festival was established in 2000 in Melbourne, followed by Sydney in 2007 and Brisbane in 2010. Underground film in Australia, at this stage of its evolution, is a mixture of work from experimental filmmakers, visual artists working with the moving image, and new, inexperienced directors, many with no formal training. This program brings together some of the recent films from this movement.
THE AFRICAN WORD FOR SUMMER
Dir. Chris Allery, 2011
Australia, 7 min.
GLORY HOLE
Dir. John Barker, 2011
Australia, 8 min.
HANSEL & GRETEL
Dir. Emma Varker, 2012
Australia, 7 min.
AFTER THE RAINBOW
Dir. soda_jerk, 2009
Australia, 5.5 min.
KAPPA
Dir. D.A. Jackson, 2012
Australia, 5 min.
POLLY, JENNIFER & MELISSA
Dir. Diego Ramirez, 2012
Australia, 4.5 min.
BUFF TRAILER
Dir. soda_jerk, 2013
Australia, 2 min.
WHITE RUSSIAN
Dir. Emma Varker, 2013
Australia, 4 min.
WEATHERED
Dir. Shaun Burke, 2013
Australia, 6 min.
CINAMNESIA
Dir. Nicola Walkerden, 2013
Australia, 6 min.
HEART SHAPED BRUISES
Dir. Diego Ramirez, 2013
Australia, 2 min.