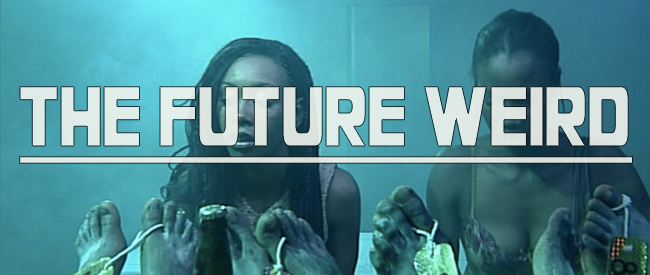 THE FUTURE WEIRD: VISIONS OF EXCESS
WEDNESDAY, JULY 31st – 8:00 PM
ONE NIGHT ONLY!
Jean-Pierre Bekolo's 2005 genre-bending sci-fi thriller Les Saignantes – which will be screening at Spectacle throughout the month of August – opens with a woman who whispers: "We are in 2025 and nothing has changed." Then she fucks a man to death.
Visions of Excess is an evening of screenings which documents bodies produced by force. We study body movement which confounds the dichotomy between human and machine. But forget what you know about the sexy cyborg – we're talking about discipline, ritual, secret societies run by women, the appetites of deep sea creatures, eroticized amputees, and militant bread bakers. Welcome to the black fantastic.
Join us on Wednesday 31st July, at 8pm for Les Saignantes, alongside short films/clips by Wangechi Mutu and Kibwe Tavares + archival material.
"Visions of Excess" is the first installment of a monthly series exploring contemporary film from the global south – with an African bias. Our title, "the future weird", is inspired by The State's ongoing documentation of non-western futurisms: http://www.thestate.ae/