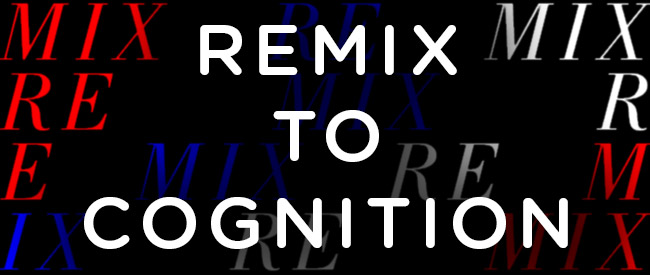 Re-Made/Re-Modeled Cinema from the Film Society of the Spectacle
One Week Only! • August 16 – 22
In its two-and-a-half years, Spectacle has often functioned as a creative space, offering its screen to amateur or established editor-filmmaker-curators as a means of exploring new ways of engaging with the moving image. Evoking the traditions of New York arthouses, third-world videotheques, and the stoner chill pad in your high school friend's treehouse, it's put forth an earnest effort to color outside the lines of the canon, and has never shied away from dismantling it, puzzling at the parts, and feverishly reassembling them while hoping Dad doesn't notice. Though artists have drawn inspiration from the cinematic apparatus by rejiggering its constituent parts since the form's inception, international video sharing, increased bandwidth, and the ready proliferation of digital moviemaking tools have provided unprecedented material, accessibility, and ease of making movies like BLADE RUNNER totally new and better.
Likewise, though Big Cinema exhibition is not likely to be outpaced for long, we are presently at a moment where the gap in audience-perceived quality between a $150,000 D-Cinema system and some thing we got at B&H is relatively small. Therefore, as we have crested the digital conversion, DIY HD remixes are capable of carrying as much screen-authority as the now-primarily-video content displayed at hallowed cinema grounds like Film Forum and IFC Center. When, interviewed by intrepid boy-reporter Keannu Reeves in the 2012 documentary SIDE-BY-SIDE, Fox Filmed Entertainment CEO Tom Rothman portentously cautions that we are entering an era in which "anyone can make a movie," this is probably what he's sad about. Join us, friends, in salting the wound.
REMIX TO COGNITION is a week-long serving of work made from repurposed footage that was born at Spectacle or is otherwise associated with its all-volunteer staff roster. As in most cases, 100% of ticket sales or donations go directly to supporting the space.
THE LINE-UP
*These three screenings are FREE but the artists encourage donations to Spectacle.
---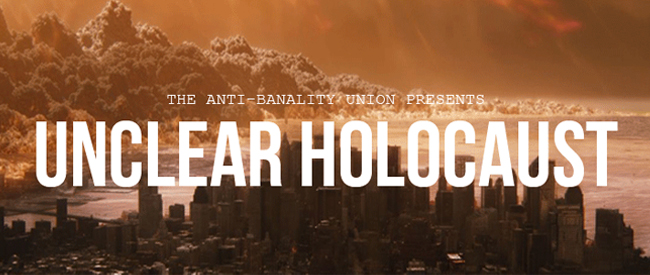 UNCLEAR HOLOCAUST
The Anti-Banality Union, 2011. 65 min. U.SS.A.
Amerikan with some Arabic.
FRIDAY, AUGUST 16 – 8:00 PM
Unclear Holocaust is a feature-length autopsy of Hollywood's New York-destruction fantasy, comprised of scenes from over 50 studio-system star vehicles, special effects showcases, and outright representational terrorisms from the last eighty years of Amerikan cinema and re-edited into one hyper-heretical master-narrative.
"It is the unrivaled assembly of the greatest amount of capital and private property heretofore captured in one frame, that, with unfathomable narrative efficacy, suicides itself in an annihilatory flux of fire, water, and aeronautics", say the directors. "The prequel to 9/11", say others.
With GOLDEN EYE (LJ Frezza, 2013. 6 min.)
Propaganda is the dissemination of data and surveillance is the collection of data. The James Bond series of films is a collection of propaganda, glorifying the practice of espionage. This video is an abridged history of surveillance in the 20th Century, comprised of every James Bond movie released before the War on Terror. It is an examination of the semi-permanent State of Exception in which US Citizens find ourselves, where extralegal proceedings have become the standard operating procedure.
This screening is FREE but the artists encourage donations to Spectacle.
---

SOUTH THIRD STREET FOREVER: YEAR ONE
Compiled by C. Spencer Yeh, 2010-2011/2013.
USA.
FRIDAY, AUGUST 16 – 10:00 PM
In just over two-and-a-half years, Spectacle has created over 600 custom trailers running one-to-two minutes in length. This compilation, assembled by artist and prolific Spectacle trailer editor C. Spencer Yeh, spotlights selections from the theater's first year of operation. They offer a glimpse into the unorthodox curatorial decisions of a fledgling microcinema run by a small handful of non-professional misfit film and video enthusiasts. Working at a fervent pace to assemble material for their rigorous seven-day-a-week programming schedule, the editors developed a singular vernacular that exists on a separate plane than the traditional techniques of commercial exploitation.
A second compilation, spotlighting Spectacle's growth toward collective actualization, follows on August 21.
---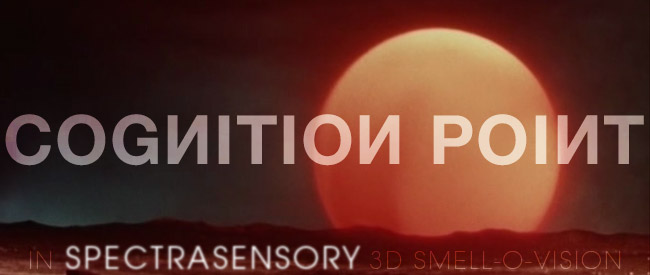 COGNITION POINT
Jon Dieringer & Vanessa McDonnell, 2013.
45 min. USA/USSR.
Showing in Our Very Own <<<SPECTRASENSORY 3D>>> Smell-O-Vision Process!
SATURDAY, AUGUST 17 – 8:00 & 10:00 PM
In this singular live collaboration, Jon Dieringer & Vanessa McDonnell enrapture the senses with abstracted imagery from stunning 1950-60's USSR sci-fi movies, post-converted to anaglyph 3D, and accompanied live by free-associated smells, transporting the audience to heretofore unimagined worlds.
---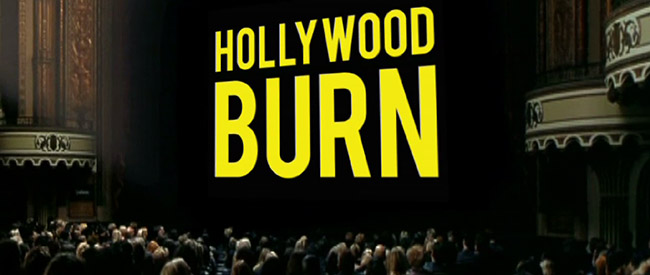 HOLLYWOOD BURN
Soda_Jerk with Sam Smith, 2011.
52 min. Australia.
SATURDAY, AUGUST 17 – MIDNIGHT
HOLLYWOOD BURN is an anti-copyright epic constructed from hundreds of samples plundered from the Hollywood archive. Made over 10 years, it is a bombastic free culture call-to-arms and an expensive copyright lawsuit waiting to happen.
Mimicking the hyperbolic rhetoric of today's copyright cops, it pits a righteous league of video pirates against the evil tyrant Moses and his Copyright Commandments. Determined to alter the present by changing the past, the pirates travel back to 1955 to construct the ultimate weapon: an Elvis Presley video-clone. Part sci-fi + rom com + biblical epic + action movie, this remix manifesto adopts the tactical responses of the parasite, feeding off the body of Hollywood and inhabiting its cinematic structures and codes. The unwitting all-star cast includes Elvis Presley, Charlton Heston, Batman, Bette Davis, Jaws, Jesus, the Hulk, the Hoff and the Ghostbusters.
This screening is FREE but the artists encourage donations to Spectacle.

---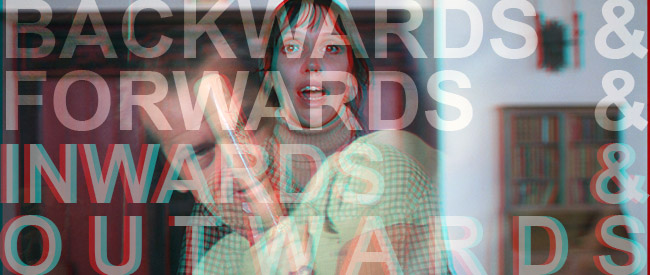 THE SHINING BACKWARDS AND FORWARDS AND INWARDS AND OUTWARDS IN HIGH DEFINITION ANAGLYPH 3D (CHAOS MIX)
1980/2011/2013.
146 min. USA.
SUNDAY, AUGUST 18 – 7:30 PM
Dark Side of the Rainbow for the 21st century, THE SHINING BACKWARDS AND FORWARDS is a hallucinatory palindromic mindfuck, an accidental profundity resulting from a literal reading of MSTRMD's comment that "The Shining is a film meant to be watched both forwards and backwards." By reversing the film and superimposing it on top of itself, unexpectedly profound juxtopositions appear at nearly every moment. The programmatic remix is kind of structural found-footage epic riffing on the Kubrick film's employment of doubles, symmetrical compositions, bifurcated plot structuring, and enigmatic suggestions of non-linear time and eternal repetition.
Conceived by John Fell Ryan and executed with Spectacle's Akiva Saunders behind the controls, it became one of the most successful events in the sprouting days of the theater, and it returned October 2011, when it was performed live with Saunders mixing multiple additional layers of superimposition with realtime audio manipulation by Tony Lowe and Jason McMahon.
In the meantime, it has become instant legend, followed by stagings at Fantastic Fest and the Seattle International Film Festival inspired by the attention of Shining obsessives doc ROOM 237, in which JFR is one of the primary participants and Spectacle receives a hearty shout-out. In fact, the footage shot inside Spectacle appears to be the only non-archival live footage in the film.
And now TGHNEISNHIIHNSIENHGT has been radically re-rendered by Spectacle's Jon Dieringer as THE SHINING BACKWARDS AND FORWARDS AND INWARDS AND OUTWARDS IN HIGH DEFINITION ANAGLYPH 3D (CHAOS MIX), in which The Shining Backwards and Forwards now also movies Inwards and Outwards in High Definition Anaglyph 3D. The superimposed channels now intersect not only chronologically but depth-wise, advancing the concepts of the original project while further exploring Kubrick's use of perspective and placing The Shining in a dialogue with itself as a ghost story that drifts over itself as a kind of apparition. It also nods on a microcinematic scale to Hollywood's exploitative practice of remodeled/repackaged legacy titles. Unlike multi-projector celluloid superimposition as expanded cinema, The Shining B&F&I&O is pre-rendered, being less performative than a kind of digital animation; therefore, the xtreme title is a nod to video games like Super Street Fighter II Turbo HD Remix.
---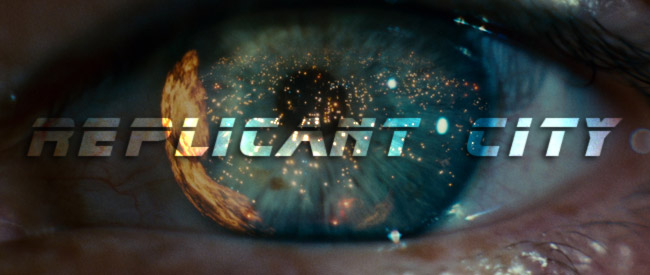 REPLICANT CITY
Akiva Saunders & Brendan Shields, 2012.
USA. 53 min.
SUNDAY, AUGUST 18 – 10:00 PM
SPARKLE MOTION provides a live score to the greatest sci-fi detective allegory ever made, remixed and condensed by Akiva Saunders into 53 minutes of android noir apocalypse.
Brendan Shields is a cinephile and longtime bedroom DJ under the name Sparkle Motion. He is also one half of Smash TV together with Ben Craw.
REPLICANT CITY from Spectacle Theater on Vimeo.
with BOLDLY GOING (LJ Frezza, 2010. 4 min.)
Ignoring the Prime Directive, Captain James T. Kirk becomes entangled in conflicts spawned by his own interventionist policies. By the time he realizes his error, it has become clear that he has no choice but to continue his perpetually escalating campaign.
---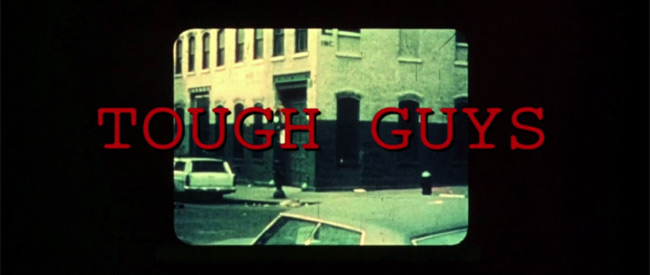 TOUGH GUYS
Jon Dieringer, 2012.
USA. 111 min.
MONDAY, AUGUST 19 – 7:30 PM
This is Mean Streets, otherwise untouched, with the pop songs ripped out replaced by amateur cover versions from YouTube—25 in all directly corresponding to the original. The result is a wholesale dismantling of authorship, cinematic space, expectation, and the intellectual property of The Rolling Stones, Ltd., whose songs—and music of other genres including early rock, soul, doo wop, rhythm and blues, Cazone Napoletana, opera and salsa—are now performed variously by wayward narcoleptics, fried teenagers, amateur tenors, Polish pre-teen beauty pageant contestants, hip dads and people testing out new keyboards. An analysis of vicarious cultural production as practiced by Martin Scorsese, YouTube performers, and the artist, Tough Guys is also a joyous paean to egalitarianism and the enduring, irrepressible folk underpinnings of tight-assed corporate culture.
The Scorsesean 'needle drop' style of scoring with pop music inspired a whole new branch of the film industry—a mammoth bureaucracy of rights, licensing, music supervisors, clearance coordinators and entertainment lawyers with attendant opportunities for marketing and brand synergy between corporate film and music; Tough Guys elbows its way toward an imagined alternative space.
With A BOUT DE SOUFFLE (LJ Frezza, 2010, 2 min.)
A machinima remake of Godard's a bout de souffle (1960) by way of Grand Theft Auto 4.
---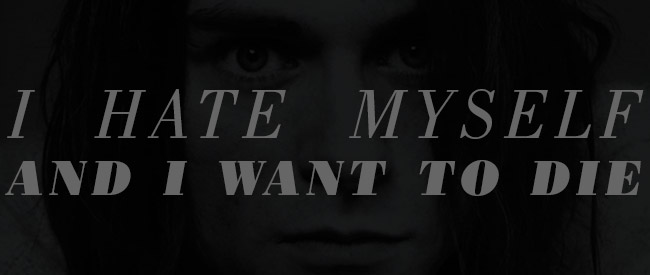 I HATE MYSELF AND I WANT TO DIE
Greg Eggebeen & Ben Shapiro, 2012.
USA. 40 min.
MONDAY, AUGUST 19 – 10:00 PM
The biographical story of Nirvana through the media detritus left in Kurt Cobain's wake. A brand new narrative-compilation of lost interviews, rabid fan tributes, insensitive true-crime shows, crushing live footage, and even Kurt's long-lost 1984 homemade horror film, Horror Movies (Kurt's Bloody Suicide).
Original event trailer:

---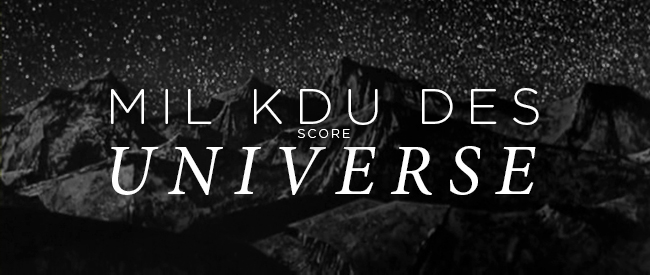 MIL KDU DES score UNIVERSE
1960. Canada.
30 min.
TUESDAY, AUGUST 20 – 8:00 & 10:00 PM
Note: Due to a last minute death in the MIL KDU DES keyboard family, the group will no longer be performing to a remixed version of THE SOUND STAGE MASSACRE. Instead, the band has chosen to compose an all-new score to 1960's breathtaking UNIVERSE.
Universe is a lost triumph, creating a vast and awe-inspiring portrait of the universe as it might appear to a space-traveller, and delving into the astronomer's art. The austere beauty of its images inspired Stanley Kubrick's 2001.
Below is an original trailer from a previous screening:

---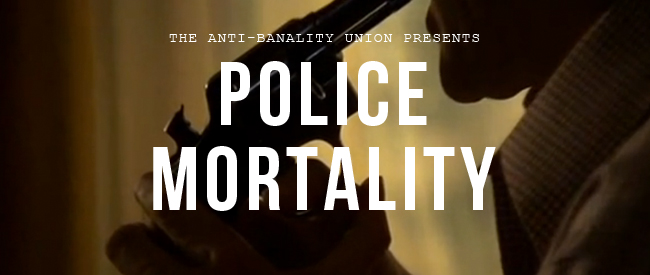 POLICE MORTALITY
Anti-Banality Union, 2013.
66 min. U.SS.A.
WEDNESDAY, AUGUST 21 – 8:00 PM
Do you ever try to imagine the last crime?
Suspect that Robocop is the 99%?
Or wish that the pigs would off themselves, so you don't have to?
Leave it to Hollywood and the Anti-Banality Union, in the world premiere of POLICE MORTALITY, the vengeful follow-up to last year's 9/11 bonanza UNCLEAR HOLOCAUST.
The immaculate suicide of one police officer begins to reveal the contradictions of police existence to a force which, finding itself utterly irreconcilable with itself, resorts to communism, terrorism, and ultimately terminal civil war, eradicating the prevailing organization of life in the process.
Original event trailer:

PROTECT AND SERVE
Greg Eggebeen & Ben Shaprio, 1930-2011.
26 min. USA.
A short compilation of golden-age police procedural tutorials, self-defense training vids, and the most nightmarish amateur footage of macings, beatdowns, and brutal assaults ever captured by the public.
This screening is FREE but the artists encourage donations to Spectacle.
---

SOUTH THIRD STREET FOREVER: LIKE TEARS IN THE RAIN
Compiled by C. Spencer Yeh, 2011-2013.
USA.
WEDNESDAY, AUGUST 21 – 10:00 PM
In just over two-and-a-half years, Spectacle has created over 600 custom trailers running one-to-two minutes in length. This compilation, assembled by artist and prolific Spectacle trailer editor C. Spencer Yeh, spotlights selections from the theater's second year of operation to present day.
Advancing from Year One, Like Tears in the Rain explores work that becomes more formalized in certain aspects while reflecting a kaleidoscopic array of approaches. It focuses on the transition of Spectacle from a very (very) small handful of owner-programmer-volunteer-janitor-editors to a larger group leveraging collective action and the power of friendship to realize the goal of forming a self-sustaining off-non-profit seven-day-a-week screening space that shows awesome stuff all the time. Though fleeting in purpose, and advertising one-off shows at a DIY venue in a city in which such spaces are themselves ephemeral by nature of fashion and circumstance, it is hoped these pieces might stand as a testament to what is surely one of the most prolific programming and found-footage collectives in the city.