"Ronnie Cramer, an inspired demento who has made some of the finest
underground films of this century." – JOE BOB BRIGGS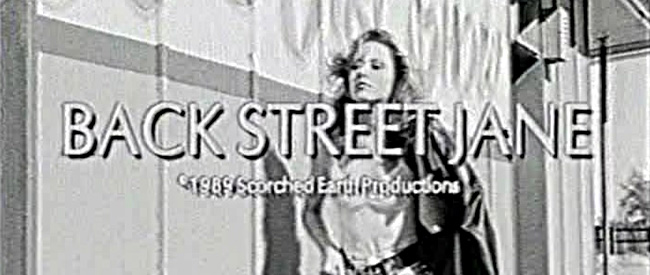 BACK STREET JANE
Dir. Ronnie Cramer, 1989
USA, Runtime N/A
FRIDAY, JANUARY 24 – 10:00 PM
Hosted by Joe Bob Briggs!
"Yesterday she was a thief … today she's an extortionist … tomorrow she'll be rich … or dead!" Screamed the tagline of BACK STREET JANE, the first stand-alone feature from musician, visual artist and filmmaker Ronnie Cramer. Shot in lurid 16mm, BACK STREET JANE is the rare Film Noir-inspired film that doesn't come off as imitation. This is genuine, bare-knuckle low-budget filmmaking, as gritty as it gets. A tough-as-Hell jaunt to the wrong side of town so
packed with drugs, violence, sex and vengeance that upon release it garnished high praise from scores of indie review zines and mags across the country; including Psychotronic Video, who said: "Non-stop double-crosses and plot surprises in the tradition of movies like 'The Killing' and 'The Asphalt Jungle'!" – Psychotronic Video
---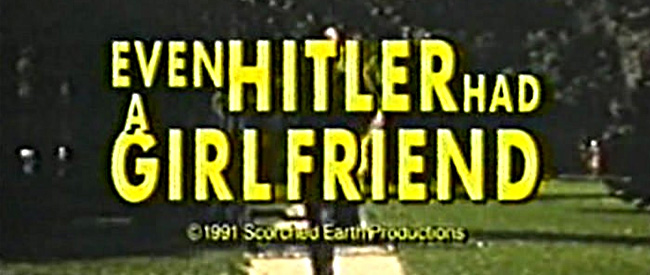 EVEN HITLER HAD A GIRLFRIEND
Dir. Ronnie Cramer, 1991
USA, 98 min.
FRIDAY, JANUARY 24 – MIDNIGHT
Hosted by Joe Bob Briggs!
"One of the funniest goldurn movies I've ever watched. One of the greatest independent comedies ever made." – Joe Bob Briggs
It's only now that other filmmakers are catching up to the completely unhinged tone of Ronnie's Cramer's masterpiece – in fact most people still don't get it. EVEN HITLER HAD A GIRLFRIEND is a true black comedy, telling the pathetic story of night security guard Marcus Templeton. We come in near the end of Marcus' downward spiral, he's reached adulthood only to realize he has nothing to show for it but body fat. Desperate and unable to find a woman that would actually have sex with him, he starts calling 1-900 numbers and begins a rapidly growing addiction that might just be more than he can handle.
The lines separating satire from confession; art-film from shot-on-video nudie-comedy; and black humor from compassion are impossibly blurred, EVEN HITLER HAD A GIRLFRIEND is truly and forever an underground classic as well as a film that stands by itself – there's just nothing else like it.
---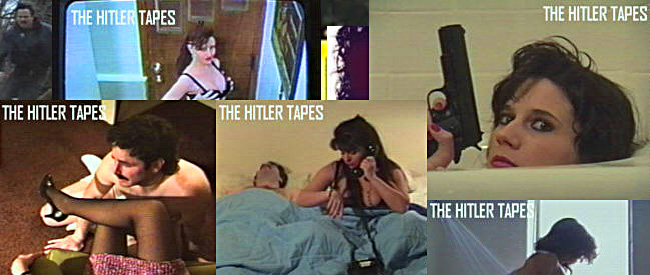 THE HITLER TAPES
Dir. Ronnie Cramer, 1994
USA, 55 min.
SATURDAY, JANUARY 25 – 10:00 PM
Hosted by Joe Bob Briggs!
Marcus Templeton is back, armed with an endless collection of cassette tapes he recorded while calling 1-900 numbers! THE HITLER TAPES isn't a proper sequel, but it's an essential entry nonetheless. Andren Scott, the actor who played Templeton in Cramer's EVEN HITLER HAD A GIRLFRIEND, was tragically killed when he witnessed a robbery take place. THE HITLER TAPES remained unfinished until it was decided that the existing footage should be used and it was combined with unused material from EVEN HITLER HAD A GIRLFRIEND. THE HITLER TAPES is a testament to the strength of Cramer's unique style in EVEN HITLER HAD A GIRLFRIEND, it still works here. And most certainly we're lucky that there's another film featuring Andren Scott's totally one-of-a-kind portrayal of Templeton: hilarious, awkward, and completely endearing.
---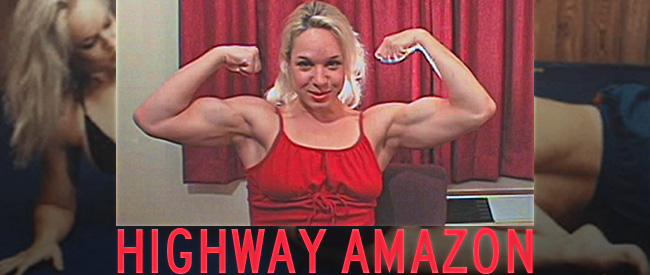 HIGHWAY AMAZON
Dir. Ronnie Cramer, 2001
USA, 70 min.
SATURDAY, JANUARY 25 – MIDNIGHT
Hosted by Joe Bob Briggs!
HIGHWAY AMAZON was Cramer's first documentary feature, and like his narrative films it's not easy to pin this one down to any exact type. After years of unrewarding jobs and ridicule over her desire to work out and be muscular, Christine Fetzer has finally found happiness. She travels across the country and, by appointment, for pay, wrestles men. And beats the hell out of them. Like Cramer's best work, what is painfully hilarious quickly becomes something stranger and more honest; almost like a glorious, secret celebration for the Weird among us to hopefully find and connect with one day. With Cramer's incredibly sly and intelligent filmmaking, Fetzer quickly shatters the myriad of perceptions that the audience had formed for her and steps out into the light where we can see her for what she really is: herself. Some people may make fun of Christine Fetzer and laugh at her, some may call her a freak, or some may think she's ugly. But that's what they always say about those strong enough to truly find themselves.