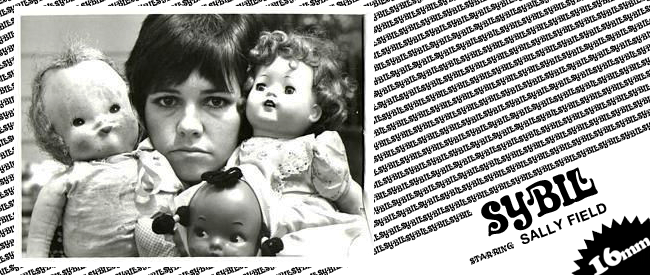 SYBIL 
Dir: Daniel Petrie, 1976.
198 min. USA.
SUNDAY, JUNE 16TH – 6:00PM
ONE NIGHT ONLY!
ON 16MM!
Based on a book almost as heavily groped by teenage girls as "Go Ask Alice", the made-for-TV movie Sybil stars Sally Field as the titular split-personality basket case. Substitute teaching in New York City, Sybil finds the blackouts that have afflicted her for her entire life are coming on stronger – one minute she's leading a game of Follow the Leader, next she's knee-deep in a Central Park pond.
Her tendency of putting her wrist through windows lands her in the hospital and in the care of Dr. Cornelia Wilbur (Joanne Woodward, herself a multiple personality alum with The Three Faces of Eve) who quickly realizes she's going to need a bigger band-aid. Quickly the other personalities start to emerge – Peggy, the frightened child; Vicky, the francophonic sophisticate; and Marcia, the suicidal artist, among others. Dr. Wilbur gets them talking, and here your own nightmares can begin as we're introduced to Hattie, a mother that makes Joan Crawford seem straight-up cuddly. Actress Martine Bartlett plays the character with such playful menace, like a child torturing a reptile. Shot by cinematographer Mario Tosi, the very same year he did Carrie.
Hosts Tom Blunt and Cristina Cacioppo will guide you through the fugue induced by this three-hour undertaking. There will be snacks and an intermission, so you won't have to hold your water.