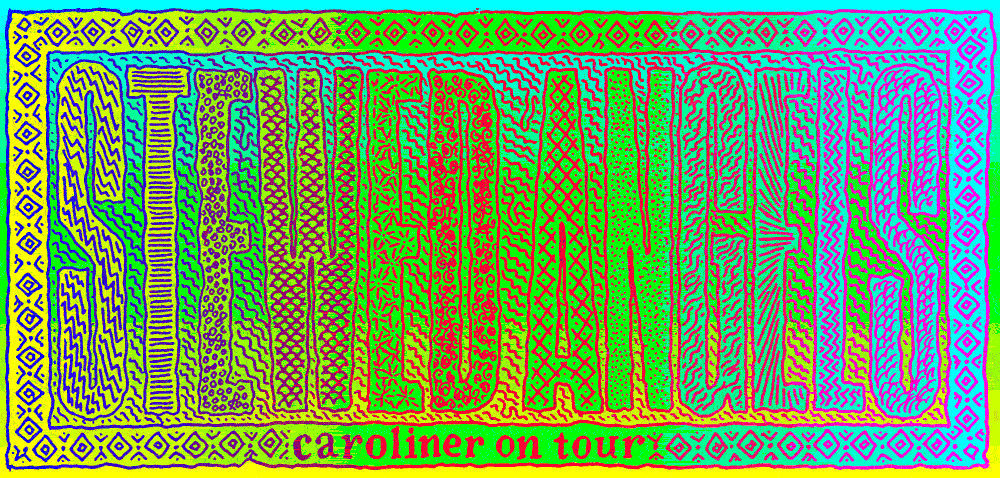 LIVING PROOF OF THE 1800's (1995)
AN 1800S AFFECTUANT: A VISUAL VIEW OF HISTORY (200?)
SATURDAY, FEBRUARY 3 – 7:30 PM
WEDNESDAY, FEBRUARY 7 – 10 PM
FRIDAY, FEBRUARY 23 – 7:30 PM
TUESDAY, FEBRUARY 27 – 10 PM
STEWED ANGELS: CAROLINER ON TOUR from Spectacle Theater on Vimeo.
Described by an integral source (who wishes to remain anonymous) as "a collective of a bunch of denizens modeled in pitchfork clay and dipped in cowhide puree", the band Caroliner began in San Francisco in 1983, apparently drawing their music from the songbook of an 18th century singing bull named, unsurprisingly, Caroliner.
Wielding bizarre pseudonyms, an uncomfortably mutating band name, and an ever-evolving roster, Caroliner blended Harry Smith's dandruff, an obscurantist manner and the sound of a turntable playing Stockhausen at 3¼ rpm with intricate drawings + screenprinting of ergot poisoned half beast, not humans to complete their cardboard and cloth costumes, props, informational materials and what some have termed "Industrial Bluegrass" music.
Caroliner holds a special place in the heart of Spectacle, and presenting these tour videos from two different realms of the band's career is a rare treat indeed. But what should you expect to see? Viewers should be aware that the answer is not for the weak of heart: STEWED ANGELS promises a lot of blacklight, sewn up street-found outlandish costumes, kids-book style animation, confused crowds, and potential acid flashbacks.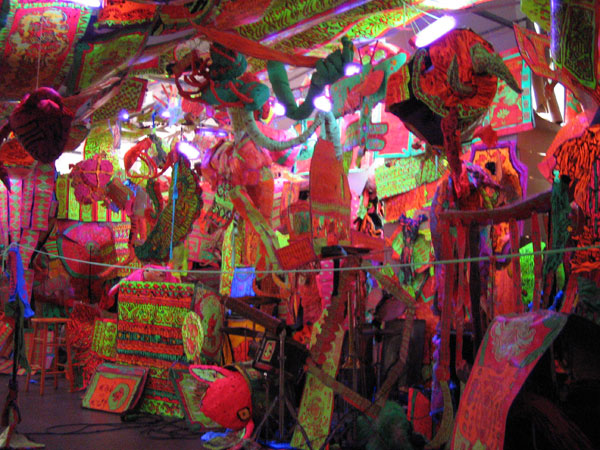 These eye poppin' posters (design: Ben Tuttle) are available for sale ! At the theater or on Etsy !