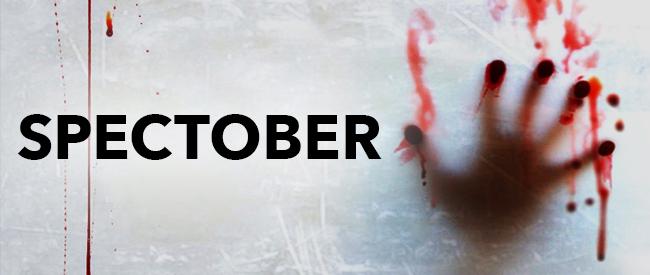 For the fifth year, Spectacle is proud to present a month-long, lovingly-selected series of unknown, mysterious, and shocking films from around the world. This time around includes surreal French slasher reductions, American gore classics, Yugoslavian political repression murder sprees, and a rare full cut of insanity from Mexico's Panic movement.
---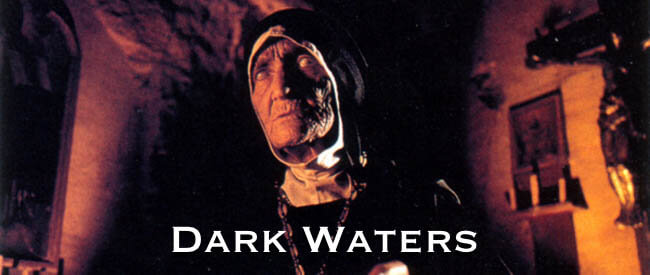 DARK WATERS (TEMNYE VODY)
Dir. Mariano Baino, 1993.
UK/Russia, 94 minutes.
English.
MONDAY, OCTOBER 3 – 7:30PM
THURSDAY, OCTOBER 13 – 7:30PM *Special Introduction by Coralina Cataldi-Tassoni*
TUESDAY, OCTOBER 25 – 10:00PM
DARK WATERS is the recipient of the Prix Du Public at Montreal's Fantasia Film Festival and the Vincent Price Award at Rome's Fantafestival and has been hailed as a "masterpiece of arthouse horror" by Filmmaker Magazine's Scott Macauley and an "unholy hybrid of Bergman and Argento" by Film Review magazine.
Young Englishwoman Elizabeth travels to an ascetic convent on an isolated Eastern European island to settle the affairs of her late father, against his last wishes.  Confined by the sea and chambers of the convent, and under the ireful scrutiny of the sisters, Elizabeth experiences disorienting visions of a horror she can not recall.  Director Mariano Baino shot the footage for DARK WATERS in Ukraine just after the Soviet Union's dissolution.  The rich cinematography and gorgeous location add to the eeriness of this Lovecraft-adjacent horror story.
Join us Thursday October 13 at 7:30pm for a special screening of DARK WATERS, introduced by actress and multi-talented artist Coralina Cataldi-Tassoni, star of director Mariano Baino's latest short LADY M 5.1 as well as his upcoming feature, ASTRID'S SAINTS, which Baino and Cataldi-Tassoni co-wrote.  Cataldi-Tassoni is known for her work in seminal European films such as Dario Argento's Opera, Phantom of The Opera, Mother Of Tears and for her starring debut as Sally Day in Lamberto Bava's Demons 2. Cataldi-Tassoni is also an accomplished painter, singer and musician, and her work can be viewed here.
---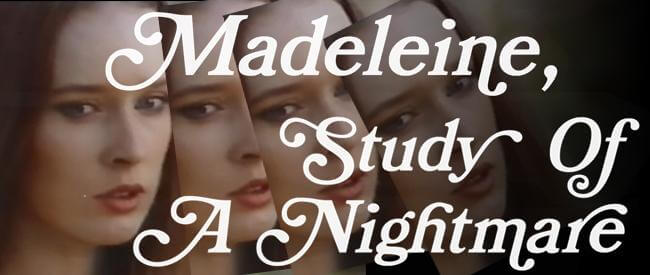 MADELEINE, STUDY OF A NIGHTMARE
Dir. Roberto Mauri, 1974.
Italy, 110 min.
SUNDAY, OCTOBER 2 – 5:00PM
WEDNESDAY, OCTOBER 12 – 10:00PM
SATURDAY, OCTOBER 22 – 5:00PM
Given that writer/director Roberto Mauri's best known for schlock like THE PORNO KILLERS and CURSE OF THE BLOOD GHOULS, the sustained unease of MADELEINE's sun-soaked scenes seems happy coincidence rather than intentional. Similar to LE ORME, MADELEINE creates a palpable sense of dread and mystery by delaying an inevitable confrontation with reality (before throwing it away with a boiler plate twist ending). Camille Keaton's laisse faire acting style works to the advantage of a story about a woman unable to directly acknowledge deep personal trauma, but trying to; her efforts mostly take the form of swanning around a gorgeous Italian villa seducing one man after another (if this is a nightmare, sign me up). And yet, the increasing sense her will is not her own, that her mysterious husband/lover/benefactor isn't acting benevolently, that her very self is slipping away, turns what could have been mere softcore into a haunting look at a woman struggling with her own id and losing.
---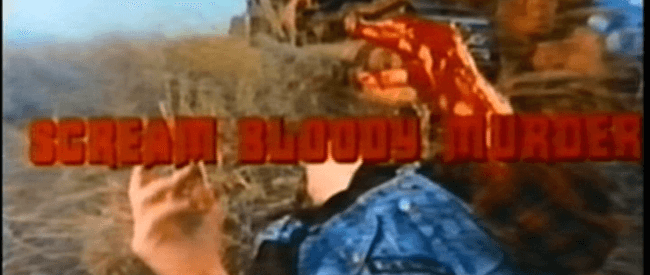 SCREAM BLOODY MURDER
Dir. Marc B. Ray, 1973
USA, 90 Minutes
SATURDAY, OCTOBER 1 – MIDNIGHT
FRIDAY, OCTOBER 14 – MIDNIGHT
SATURDAY, OCTOBER 22 – MIDNIGHT

A troubled young man with a hook for a hand (he lost it as a boy while killing his father with a tractor) and a serious aversion to sex murders anyone who gets in the way of his love for a prostitute in this grimy slasher flick from 1973.  Much in the vein of films like "The Witch Who Came From the Sea" and "Criminally Insane," "Scream Bloody Murder" seems to have crawled directly from the gutter, (though actually it was made by the writers of Ann-Margret and Raquel Welch TV specials) with a warped internal logic that effectively drags you into it's bleak, blood-drenched world.  From the creators of "The Severed Arm."
---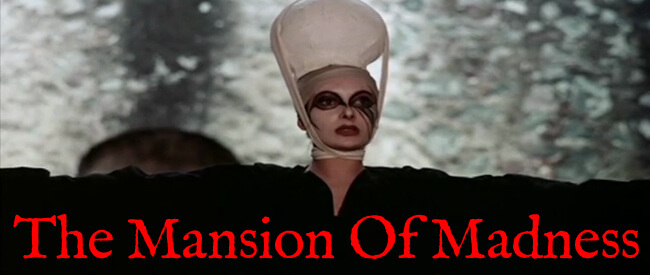 LA MANSION DE LA LOCURA (THE MANSION OF MADNESS)
Dir. Juan López Moctezuma
Mexico, 99 min.
In English (originally shot in English, dubbed into Spanish)
SATURDAY, OCTOBER 15 – 5:00PM
FRIDAY, OCTOBER 21 – 10:00PM
WEDNESDAY, OCTOBER 26 – 10:00PM

"Abandon all hope, ye who enter here."
Beginning with Poe's story The System Of Doctor Tarr and Professor Fether, in which a reporter visits an asylum to discover the system by which the insane and the caregivers has become a bit muddled, we enter into a place where political satire and surrealist horror blend into a truly astonishing film, where a man becomes a chicken, the body becomes a musical instrument, and nothing is ever as it seems. Director Juan Lopez Moctezuma (ALUCARDA, MARY MARY BLOODY MARY), a member of Mexico's Panic movement alongside Alejandro Jodorowski and Fernando Arrabal: the three having worked together on FANDO Y LIS, which should give you some idea of what you're in for. Led by the great Claudio Brook (CRONOS, THE EXTERMINATING ANGEL) as the mad Dr. Maillard (as well as Raoul Fragonard), the film is as a dream, a ritual, a series of living tableaux. Describing the plot would be to cheapen the film, but it's worth noting no less than Leonora Carrington served as art director. We are honored to present this film in its longest known cut, with the original English dialogue, miles from public domain cuts. Those expecting cheap horror will be disappointed; those expecting clarity will be confused, those with eyes to see will behold a revelation.
---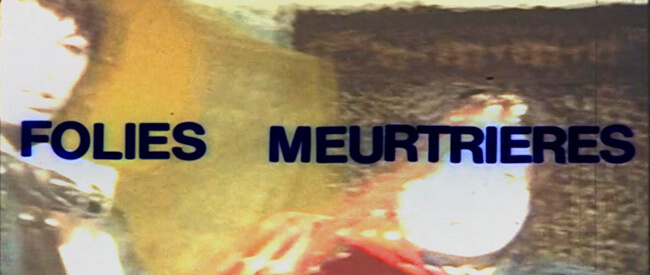 FOLIES MEURTRIERES
Dir. Antoine Pellissier, 1984
France, 47 min.
WEDNESDAY, OCTOBER 5 – 7:30PM
FRIDAY, OCTOBER 28 – 10:00PM
MONDAY, OCTOBER 31 – 10:00PM

The slasher film, like any genre, has various approaches. From the baroque excess of its giallo roots to the meta-awareness of the Scream series, from scuzzy video nasties like The Toolbox Murders and Don't Answer The Phone! to the satirical aspects of The Slumber Party Massacre, there's a variation for any taste, so long as your tastes lead to seeing people get killed. It can also be stripped down to its most minimal elements: 80s synth dirge, long POV shots and gruesome set piece murders. That's what FOLIES MEURTRIERES provides: the slasher boiled down to a kind of dead-eyed late-night trance, all VHS tape hiss and HG Lewis-style gore effects and zero relateable character development or or wisecracking comic relief. Anyone looking for a well-written mimetically plausible story won't find it here: this is homemade murderdrone haze. Information on this film is sparse, which may be for the best; it's a film that you might pick up from a box of unmarked VHS tapes on a streetcorner only to discover diseased dreams of torment and bloodshed stained onto magnetic tape. We will say director Antione Pellissier's day job is medical examiner, which is fitting for a film far closer to Grand Guignol than the action-film-jump-scare world of contemporary horror.
"The woozy, warped tape of Folies Meurtrieres has no subtitles. That's okay, as there are maybe five lines in the film that aren't a narrator reading off the date of the murder you are about to see. The 47 minute film is just that: a series of murders without context or plot, and within each murder sequence lies a different variation on the classic slasher scenario." -Peter Galvin, MURDERDRONE
---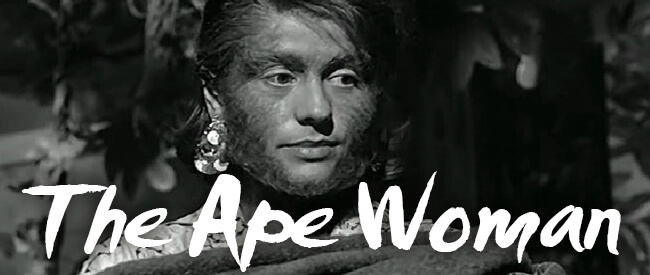 THE APE WOMAN
(aka LA DONNA SCIMMIA)
Dir. Marco Ferreri, 1964
Italy/France, 100 min.
THURSDAY, OCTOBER 6 – 7:30PM
TUESDAY, OCTOBER 18 – 10:00PM
SUNDAY, OCTOBER 23 – 5:00PM

By means of disclosure: THE APE WOMAN is not a scary movie per se, but rather a withering satire of masculinist culture, the apparatus of "freak show" exploitation, and the tacit racisms of the so-called Western World. (Who would expect anything less from Italian auteur Marco "DILLINGER IS DEAD" Ferreri?) Annie Giradot stars as the nominal donna scimmia Marie, a beautiful young woman suffering a rare condition that covers her body with long, thick hair – based on the real-life case of Julia Pastrana, whose hypertrichosis terminalis left her resembling a cross between simian and human. She comes under the thumb of an opportunistic lout played by Ugo Tognazzi, who begins to make big plans for the two of them – showing Marie off, concocting bogus tales about her discovery "in Africa", training her to whoop and holler for the audience.
Via Marie's prolonged expectations and unfulfilled hopes, a tender and devastating parable ensues, a study in gender relations (to say nothing of the Italian Catholic church) and the politics of what is/isn't "scary" according to 20th century showmanship. THE APE WOMAN still has plenty to say, and fits alongside THE SEED OF MAN and BYE BYE MONKEY as one of Ferreri's blistering works that's long overdue for reevaluation.
"The only redeeming feature of this oddly distasteful film is the fact that a certain haunting pathos does emerge from it.….It is evident that the censors have used their shears on this film. The producer should have beat them to it. He should have used shaving cream." – Bosley Crowther, The New York Times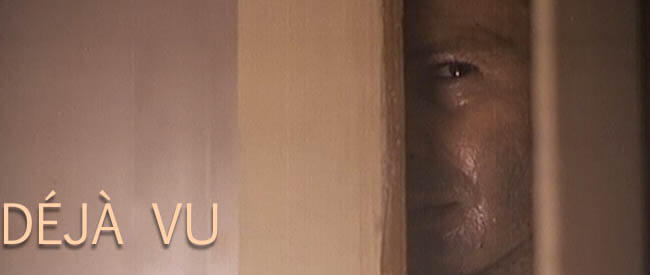 DÉJÀ VU (VEC VIDJENO)
Dir. Goran Markovic, 1987
Yugoslavia, 102 min.
MONDAY, OCTOBER 3 – 10:00PM
TUESDAY, OCTOBER 18 – 7:30PM
SUNDAY, OCTOBER 30 – 5:00PM

Déjà vu concerns a troubled piano teacher, Mihailo (Mustafa Nadarevic), and his efforts to come to terms with reality through a love affair with a poor but industrious girl, Olgica (Anica Dobra). When she dumps him for a younger boyfriend (hoping to make a political career in the Communist Youth organization), Mihailo is overrun by the ghosts of his past and begins a killing spree. Flashbacks which explain the killer's motivation are intrinsic to the film's central idea. The apparent contrast between the past and the present becomes a parallel, thanks to the clever transitions between shots. Mihailo becomes unable to distinguish the 'reflections' of the past upon his own present, and is thus driven over the edge.
Written by Ghoul via IMDB