For the fifth year in a row, Spectacle is proud to present our 12ish hour horror marathon – The Spectacle Shriek Show. Throughout October midnight screenings have paid tribute to presenters from the last five years and this years line up is one of the most diverse yet. We've got 60's spectral horror, German gut-munchers, made for TV Frankensteins, Mexican Satanists, cannibals who talk to their fish, dark Easter rituals, and surreal Italian brain-liquifiers.
Settle in for a full day of terror that you "can't" escape! As always it's $25 for the full day or $5 per film.
NOON – THE GHOST a.k.a. Lo Spettro
1:30 PM – ANTHROPOPHAGUS 2000 presented by Massacre Video
3:00 PM – DEAD MEAT presented by Horror Boobs & Wild Eye
5:00 PM – FRANKENSTEIN (I SWEAR ON MY MOTHER'S EYES) THE TRUE STORY presented by Lunchmeat VHS Fanzine
7:30 PM – John Russo's MIDNIGHT
10:00 PM – GRAVE ROBBERS a.k.a. Ladrones de Tumbas
MIDNIGHT – Cosmotropia De Xam's INFERNO VENEZIANO presented by Negative Pleasure & Phantasma Disques
---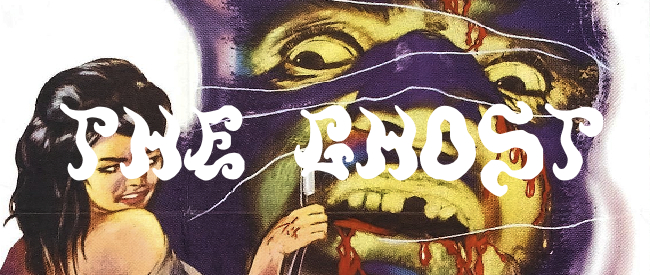 THE GHOST
A.k.a. Lo Spettro
Dir. Riccardo Freda, 1963
Italy, 97 min.
Spectacle marathon and midnight mainstay Barbara Steele and her giant eyes return for another tale of deceit, deception, and MURDER MOST FOUL! Steele plays Margaret Hichcock (no "T") the wife of the wheelchair bound Dr. Hichcock. Not content to wait around for her husband to die of natural causes, Margaret and her lover decide to take matters into their own hands. Before his body is even cold, strange events befall the mansion and the two adulterers are shaken to their very core! Has Dr. Hichcock returned from the grave to reap a horrible vengeance? (Kind of!) Is this gothic tale of madness and betrayal the perfect kickoff to this years festivities? (YES.) A harkening back to last year's opening screening of NIGHTMARE CASTLE, this one sets the mood/doom for the rest of your day.
---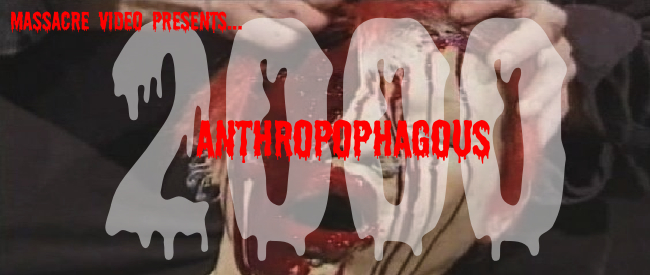 ANTHROPOPHAGOUS 2000 presented by Massacre Video
Dir. Andreas Schnaas, 1999
Germany, 80 min.
In German with English subtitles.
Massacre has been going five years strong (555, DEMON QUEEN, THE ABOMINATION, MONDO MAGIC) as presenters in the Shriek Show and this years entry is…something else.
Nikos and his family are trapped during a heavy story in a boat, leading to the unfortunate death of their daughter Vicky. Nikos becomes mad with the desire to survive, and he begins to kill and eat his own wife. Nikos manages to reach the shore of a small island, but his appetite for human flesh has consumed him. A group of young people on vacation have an unfortunate meeting with Niko. Will these youngsters make it out alive? (No.)
Massacre Video proudly presents, ANTHROPOPHAGOUS 2000, from the German Splatter master Andreas Schnaas (of the VIOLENT SHIT series), fully uncut for the first time ever in America!
---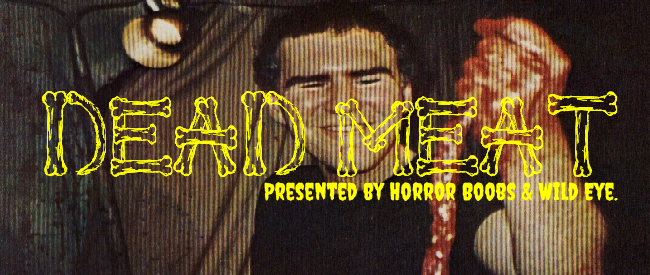 DEAD MEAT presented by Horror Boobs & Wild Eye
Dir. Tom Vollmann, 1993
USA, 107 min.
A true VHS rarity from the early 90's DEAD MEAT was heavily bootlegged so it must be good, right? RIGHT. Think of all the classic characters from this slab of analog insanity – Sgt. John "Mo" Mentum, First Victim, Pizza Boy, and the rest! Basically a serial killer named The Senses Taker (guess what he takes from his victims) is running amok and these cops HATE it!
Filled to the brim with great gore, angry stock police characters, VERY long chase scenes, and a lot of scenes of a truly insane person talking to their pet fish this is a rare treat. Horror Boobs and Wild Eye will be officially releasing this lost clas-sick and we've got the premiere!
---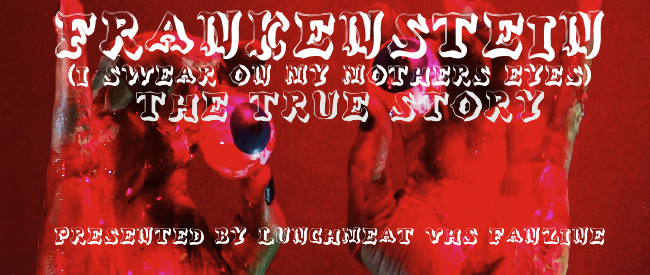 FRANKENSTEIN (I SWEAR ON MY MOTHER'S EYES) THE TRUE STORY presented by Lunchmeat VHS Fanzine
Dir. Gary Cohen, 1983
USA, 90 min.
The hoots and howls of Halloween excitement are nearly in full swing as our favorite holiday fast approaches, Tapeheads, and in order to ring in the radical rewind VHSpirit right this Halloween, Lunchmeat has been keeping busy in the kitchen cooking up a super-sweet VHS treat for all the voracious Videovores out there. So, without any further analog ado, we proudly present some of the most exciting fresh VHS news of the season: Lunchmeat is absolutely elated to announce the unprecedented home video release of the ultra-obscure, shot-on-video, made-for-cable production FRANKENSTEIN (I SWEAR ON MY MOTHER'S EYES) THE TRUE STORY!
We've teamed up with the great Gary Cohen, director of cult SOV classics VIDEO VIOLENCE 1 & 2 to unearth this long lost slice of shot-on-video horror comedy insanity. Gary co-writes and stars in this utterly unknown film that debuted on Cablevision on Halloween night in 1983, and after a single airing, has since fell into complete obscurity. And now, over 30 years later, Lunchmeat is bringing this never-before-seen low-budget trashterpiece take on the classic tale of Frankenstein back from the grave!
The print used for the release comes directly from Gary's archives (the only known surviving print!), keeping intact all of the grit and grain of the original analog-shot broadcast. The release will also include a video intro from Josh Schafer (yours truly!) talking about the inception of the release, and an exclusive intro from star and co-writer Gary Cohen, explaining how the production came to be, and why it's been obscured for all these years. Here's an excerpt from that intro with Gary Cohen, just to give you a little taste of history on this flick:
"I must admit, this whole project is shrouded in secrecy… at the time, what is now Comcast, I believe it was Cablevision back then… had a studio in New Jersey, and they were advertising, I think, for people who wanted to do some kind of cable access shows… my friend Richard Dominick (of Jerry Springer fame) decided he would pitch a project for Halloween, and write this version of Frankenstein. We got together, he wrote a script about Frankenstein, and we used a lot of the actors who you'll recognize from Video Violence, who were all a part of Celebration Playhouse, this theater group in New Jersey. I believe we had about a day to film this thing, filmed on video, on three and a quarter inch video… and if memory serves, we were high or drunk or something when we we're doing it… Once it aired, everybody disavowed any knowledge of the project. It is truly unique; it's an oddity. I can't believe here in 2015, it's resurfaced, but so be it! I hope you get a kick out of it." –Gary Cohen
---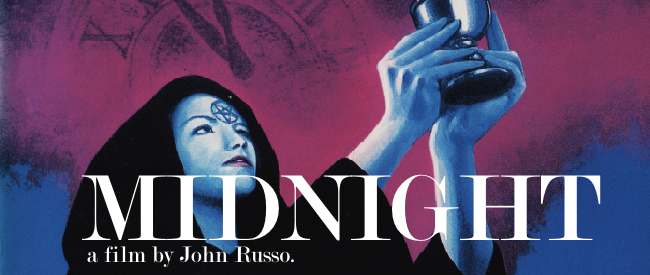 MIDNIGHT
Dir. John Russo, 1982
USA, 91 min.
Special thanks to John Russo.
We're just gonna go ahead and say that if you only see one movie in this marathon (like an idiot)–make it MIDNIGHT.
A teenager runs away from home after her pervo cop stepdad (Laurence Tierney) puts the moves on her. She's California bound when she meets up with two fellow travelers. Things go from pretty much ok to outright horrible when they stop in a small town and run into a family of Satanists who keep their dead mother in the attic. The paranoia is thick enough to cut with a knife (like a number of throats in the film) and no one is safe as the days run on to that most unholy of holidays – Easter. Cynthia looks great and has a pentagram on her forehead and there's a lot of blood drinking and people in cages. Also some other truly sadistic and harrowing shit goes down. The film is based on Russo's novel of the same name and was followed by a sequel–MIDNIGHT 2–many moons later. DO NOT MISS THIS ONE.
---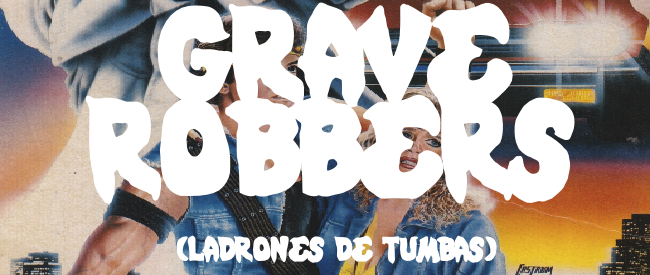 GRAVE ROBBERS
A.k.a. Ladrones de Tumbas
Dir. Rubén Galindo Jr., 1990
Mexico, 87 min.
In Spanish with English subtitles.
Directed by Rubén Galindo Jr. who also made the unbelievable DON'T PANIC, GRAVE ROBBERS concerns a bunch of dumb teens who mess around in a graveyard and summon Satan and get their just desserts. Rather than prattle on about it, it's probably best to let the copy from the back of the Mexican VHS tell the tale:
"LADRONES DE TUMBAS–It's about four young boys who pretend to assault the tombs in the cemetery of a small town. But these boys were not aware that this place was surrounded by a strange evil force.
LADRONES DE TUMBAS–will take you to the unknown world of the evil where no human being has ever been able to escape! This time be prepared for the most exciting and violent film. Starring the best actors."
The ultimate penultimate film for this years Shriek Show in the perfect sandwich between MIDNIGHT and INFERNO VENEZIANO.
---
INFERNO VENEZIANO presented by Negative Pleasure & Phantasma Disques
A.k.a. Hell of Venice
Dir. Cosmotropia de Xam, 2015
Italy, 65 min.
Negative Pleasure & Phantasma Disques team up to end our marathon with a bang presenting the third part of the ANIMA PERSA trilogy from Cosmotropia de Xam. Waaaaaaaaay back in 2011 Spectacle screened a midnight double feature of ACiD and INAUGURATION OF SNOW WHITE. Negative Pleasure has been killing it lately with double and triple features to coincide with comic releases (FELONY COMICS CRIME SPREE, etc) and this will be a sweet goodnight kiss to wrap up Shriek Show V!
Scientists vanishing and mutating to Zombies. A door to another dimension. A blind woman who keeps a secret. Mysterious surreal connections that prepare an Inferno for the city of gondolas.