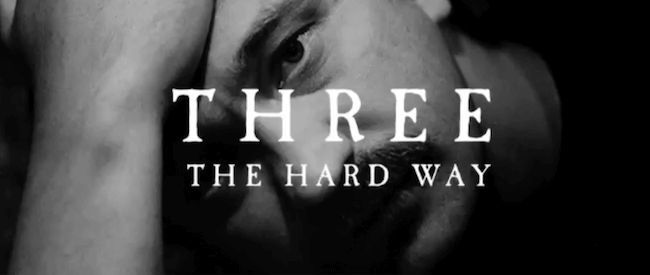 Power, corruption, lies, alibis, cries and murmurs: as the summer epoch ebbs to an inevitably scatterbrained and tragic trickle, we've decided to blow the dust off of Russian auteur (and sometime nationalist!) Aleksandr Sokurov's once-and-former trilogy of biopics examining the heights of 20th century political influence (and duly, their withering discontents.) While Sokurov would complete (with cowriter Yuri Arabov, among others) his "tetralogy of power" with FAUST in 2011, our hand was forced in reconsidering these feverish portraits of Hitler, Lenin and Hirohito (in order of release) as "teachable moments" for whatever else 2016 sees coming around the corner. It was their world – we're just living in it!
Thanks to Kino Lorber Films. 
---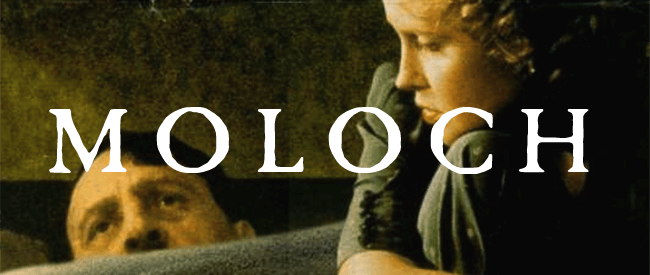 MOLOCH
(aka MOLOKH)
Dir. Alexander Sokurov, 1998.
108 min. Russia/Germany.
In German with English subtitles.
SUNDAY, AUGUST 7 – 7:30 PM
FRIDAY, AUGUST 12 – 5:00 PM
MONDAY, AUGUST 22 – 10:00 PM
WEDNESDAY, AUGUST 31 – 7:30 PM
The Third Reich is the first target in Sokurov's tetralogy of power. Set in 1942, MOLOCH follows a weekend retreat at Berghof in the Bavarian alps (here constructed as a surreal and surveilled castle that could exist in the same universe as Michael Mann's THE KEEP) by Hitler and his inner circle a few weeks before eating it at the Battle of Stalingrad. Closer to Rules of the Game than Downfall, with a hint of Salo, Sokurov's portrait of the Fuhrer is a comedy of manners that opts out of the rarefied monstrosities and historical anomalies of prestige Nazi dramas for a more explicable, albeit curiously staged, critique of upper class values. One that, productively, creates a collapsible continuum between civilization and the regime which nearly destroyed it.
MOLOCH reconciles the contradictions between Hitler's fascism with his ostensibly liberal vegetarianism and interest in art by making the latter a fanatical extension of bourgeois predilections lorded over his underlings with tyrannically petty condescension. When, at one point, he feigns ignorance at the existence of Auschwitz, it points less to Sokurov's historical irresponsibility than a larger statement on the cohabitation of industrialized death and capitalist self-regard. It also points to the film's title, the name for a Canaanite god associated with child sacrifice. Whether it's for the young men he sends to the front or those he sends to the ovens, its root – a portmanteau of the Hebrew word for king (melech), as combined with the one for shame (boshet) – is more than appropriate.
---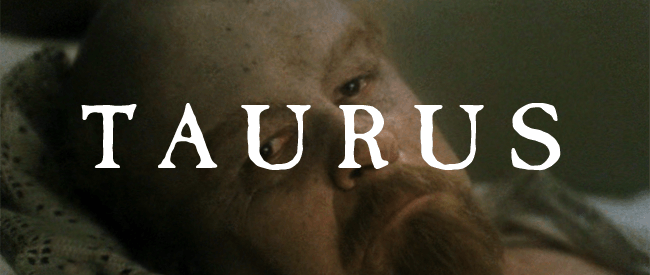 TAURUS
(aka TELETS)
Dir. Alexander Sokurov, 2001.
94 min. Russia.
In Russian and German with English subtitles.
WEDNESDAY, AUGUST 3 – 7:30 PM
SUNDAY, AUGUST 14 – 5:00 PM
MONDAY, AUGUST 22 – 7:30 PM
MONDAY, AUGUST 29 – 10:00 PM
In the second installment of his then-trilogy, Sokurov targets the founding father of the Soviet Union, the man Victor Serge called "the brain of the revolution"—Vladimir Ilyich Lenin. A marbled milkshake of iconoclasm and tender eulogy, TAURUS is "strangely neutral" (The Guardian) and manages to both ridicule and commiserate with its subject in his final days.
Once a human dynamo, Lenin (Leonid Mozgovoy) is now partially paralyzed by several strokes. His gothically foggy country estate at Gorky has become a bustling sanatorium where maids, physicians, and orderlies take turns humoring the now-aphasic revolutionary leader and clipping his toenails. Between rants about electricity and meditations on death and fate ("When I'm dead, the sun will still rise, the wind will still blow, and the foolish proletariat wills still battle against the bourgeois swine"), Lenin has his wife, the committed revolutionary Nadezhda Krupskaya (Mariya Kuznetsova), read to him from a biography of Marx and a chronicle of feudal-era torture.
If nothing else, TAURUS is filled with lessons about both life-long interpersonal commitment and Russian history.Those primed by Sokurov's reputation for patience-testing tempos will be surprised by TAURUS' kinetic energy. Lenin's frequent tantrums, Sokurov's ever-moving camera (he shot this one himself), and the here-comes-trouble appearance of a scheming Stalin (Sergey Razhuk), along with the Dutch Masters look that Sokurov achieved by using plastic filters, make TAURUS both unexpectedly entertaining and visually beguiling. Between the poop-jokes and the "dim, soupy visuals" (The New York Times), TAURUS offers something for everyone.
---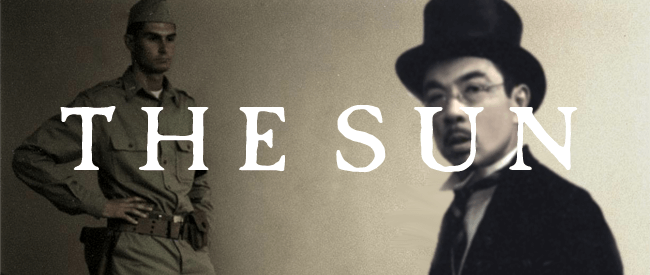 "
THE SUN
(aka SOLNTSE)
2005. 115 minutes.
In English and Japanese (with English subtitles.)
MONDAY, AUGUST 1 – 10:00 PM
MONDAY, AUGUST 8 – 7:30 PM
FRIDAY, AUGUST 26 – 7:30 PM
WEDNESDAY, AUGUST 31 – 10:00 PM
Awash in the same deathlike anomie as its predecessors, THE SUN nevertheless diverges here: at the close of World War II, Emperor Hirohito (Issey Ogata, in a performance of staggering understatement) stands at a far bigger historical precipice than Sokurov's of Hitler or Lenin. In its devastating autopsy of Japan's surrender to the United States in 1945, THE SUN seizes on rendering historical footnote-moments (if that) of excruciating detail and plays them out long and slow, the filmmaker's bizarre cinematography giving the images an intimacy of murk. In charting the course of Hirohito's decision to capitulate to his American occupiers, the film becomes about open vs. closed spaces, languages and paradigms in conflict.
While drawing a close on Japan's imperial ambitions (until now?), this Hirohito is an introspective man trapped within the bric-a-brac of his own upbringing – there are times THE SUN appears less to be about him than about life under what the occupying Supreme Council of Allied Powers operatives would refer to as "the chrysanthemum curtain." Sokurov hinges his final hurdles on Hirohito's behind-closed-door meetings with the Supreme Commander General MacArthur (Robert Dawson), and these are perhaps where the film approaches peak sordidness. Dawson lends MacArthur a fluid awkwardness never granted to such titans of history in actual American biopics, made all the more remarkable (as is his coterie of American soldier-occupiers at large) for itd alienness in Sokurov's imagined Japanese gaze.
If MOLOCH aligns Nazi genocide with a rapacious Earth and TAURUS, contortions in revolution with the spinning of the stars – what to make of "the sun" vis-a-vis Hirohito's "Humanity Declaration" of New Years' Day 1946? Sokurov provides little biographical boilerplate in the run-up for this ecstatic decision, leaving viewers to bask/wallow in the extremity of pressure that allowed Hirohito to renounce his own divinity and transition the throne to "a symbol of the State and of the unity of the people" – under United States terms. Of Sokurov's headlong glimpses at history way out of its own depth, its explorations of this question surely make THE SUN is most majestic in its bizarre compassion.