SIX-STRING SAMURAI
dir. Lance Mungia, 1998
United States. 91 mins.
In English.
WEDNESDAY, AUGUST 1 – 7:30PM
SATURDAY, AUGUST 4 – MIDNIGHT
FRIDAY, AUGUST 17 – 7:30PM
MONDAY, AUGUST 20 – 10PM
THURSDAY, AUGUST 30 – 7:30PM
OFFICIAL SELECTION – 1998 SLAMDANCE FILM FESTIVAL
Nostalgia just isn't what it used to be. Remember dystopian Spectacle classics like STEEL DAWN, NEON CITY and DIGITAL MAN (RIP Philip Roth)? They're all left in the dust by Lance Mungia's irrepressible SIX STRING SAMURAI, a breakout chopsocky-musical that effectively hip-swayed stage left at the end of its theatrical run two very long decades ago. Featuring music by the notorious Siberian surf rock band The Red Elvises, SIX-STRING SAMURAI takes place in an alternate U.S.S.A. (like, alternate to this one) where the Russians dropped The Big One in 1957, leaving spotty electricity and a radioactive desert hellscape in their wake. Vegas is the last holdout of American civilization, and Elvis its supreme ruler – until Buddy, a lone swordsman patterned off of Buddy Holly and Ogami Ittō, hears on the radio that "Vegas needs a new king".
A long travelogue ensues, dotted in encounters with Death (a metalhead patterned after Slash) and an extremely irritating Kid (Justin McGuire, iconic) who affixes himself to Buddy in classic adventure-movie fashion. Apart from the shredding tunes (which crescendo into a battle of the bands that'll flash-fry your eardrums) and the uncannily prescient depiction of a post-wet America abandoned by the side of the road, Mungia's spectacular action scenes are what make SIX-STRING SAMURAI stick – anchored by the full-body performance of leading man Jeffrey Falcon, a bona fide Kung Fu master who appeared as weibo heavy in many a Hong Kong actioner from the 80s and 90s.
"Married to punkified STAR WARS plot by way of THE ROAD WARRIOR, Messrs. Mungia and Falcon have successfully reworked the same bedrock myths (fathers and sons, journeys, destiny, yadda yadda yadda) with unassuming giddiness and funked up style, served up so effortlessly that you never think about these mythic foundations through this grunge journey." – Sean Axmaker, Nitrate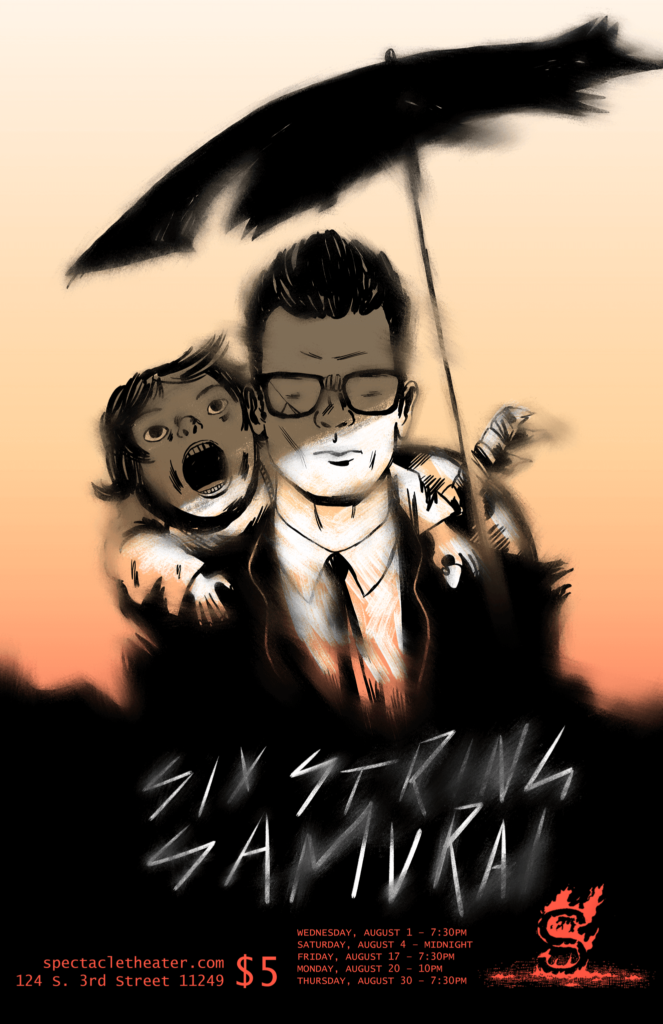 ( poster by Jake Armstrong )