This August, Spectacle is thrilled to host filmmaker Andrew Horn for reprise showings of his classic no-wave musical DOOMED LOVE, plus the documentaries THE NOMI SONG and WE ARE TWISTED FUCKING SISTER! About the unlikely linkage between the latter two, Horn had this to say:
"Believe it or not, WE ARE TWISTED FUCKING SISTER! was born out of a scene in THE NOMI SONG. Actually out of one line. In the Nomi film, Twisted band leader Jay Jay French describes the almost riot that ensued when, believe it or not again, Klaus Nomi opened for them at the Soap Factory in New Jersey. "This was NYC performance art done in a blue collar suburban bar", he explained. I knew almost nothing about Twisted at the time but I knew enough to know this was a hilarious confluence. But then after the NOMI film was finished Jay Jay started to explain to me what Twisted was doing doing onstage with their club audiences back then which struck me as very much it's own kind of performance art, just dedicated to that whole other crowd. So it was the performance art idea that got me into it, little realizing that there was story there that was just as epic as NOMI's.
Interestingly, both stories take place in almost the same time in almost the same geographical area, but they may as well have been in parallel universes. On the surface, TWISTED and NOMI couldn't be more different – but at the same time, I came to realize there was a great similarity between the two. Each had their vision of who they were and what they wanted to do and they both had the courage to just ram it home no matter what. Both flew in the face of the establishment music scene, but both had their dedicated audiences that were ready to follow them anywhere. And both were able to meet each fallback and turn it into the next step forward. A review of the Twisted film said, 'Stardom is interesting, but the long road that leads there is fascinating' and that's what appealed to me about both stories – the roller coaster of getting there is what it's all about."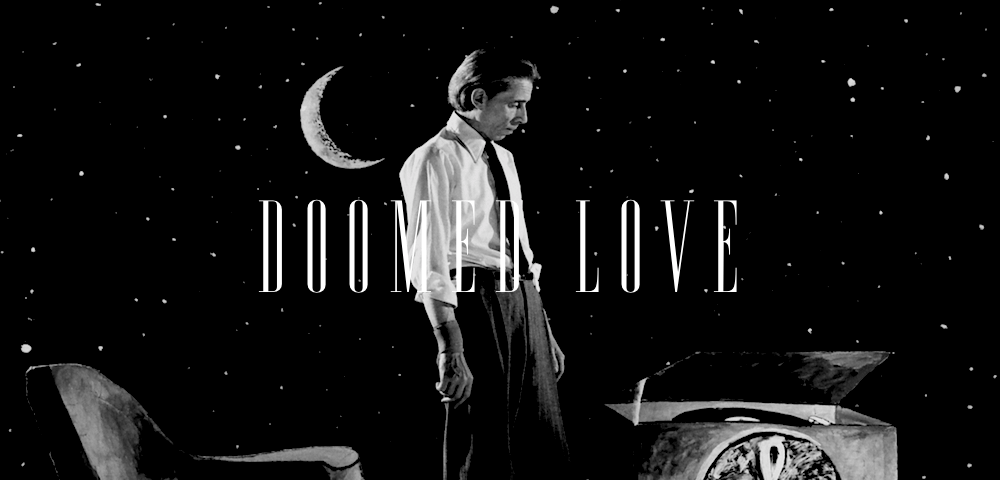 DOOMED LOVE
dir. Andrew Horn, 1984.
USA, 70 mins.

SUNDAY, AUGUST 5 – 5 PM
WITH FILMMAKER Q&A! (This event is $10.)
TUESDAY, AUGUST 13 – 7:30 PM
THURSDAY, AUGUST 23 – 7:30 PM
FRIDAY, AUGUST 31 – MIDNITE
Made in piecemeal payments while director Andrew Horn was working as a graphic artist in Koch-era Manhattan, DOOMED LOVE is a delectable hunk of sunken downtown treasure ripe for rediscovery. Painter Bill Rice (SUBWAY RIDERS, THE VINEYARD) stars as Andre, an aging professor of romantic literature who decides, in the film's doleful introductory passage, to commit suicide after losing the love of his life. Andre is tragicomically unsuccessful, but the attempt leads to a new acquaintance with a psychiatric nurse named Lois (Rosemary Moore), with whom he uncorks a kind of under-acknowledged romance of the soul. Whatever margins that once separated Andre's work as an academic and his reasons for going on (or not) have completely dissolved; Rice's monologues – scripted by the great playwright Jim Neu – set a tone of droll monotony and piercing repetition. During a slide show of pre-Raphaelite paintings, Andre provides a clue to what Horn and his collaborators are up to:
"You can say what you want about the past / I think that's true / But, not to pay attention is not to be immune / I think that's true/ It may be finished / But it isn't over / Where have I seen that before?/ Believe me / Many of our most cherished dreams… / Believe me / Many of our most cherished dreams have a life of their own/ Where have I seen that before? Look around / Look around / Believe me / I could really let myself go / The world history of emotion / You don't know the names / But you remember the stories."
"Life goes on, so to speak:" Horn's vignettes from Andre and Lois' – trapped in a state of paralyzing reverie, and newly married to Bob (Allen Frame), respectively – play against jawdropping 2-D backdrops mounted in the Lower East Side's Millennium Film Workshop where DOOMED LOVE was filmed. Amy Sillman and Pamela Wilson's muslin and cardboard "sets" make Horn's film a dourly sweet exercise in epic theatre, a self-reflexive essay on Western amativeness, buttressed by an sparkling minimalist score from Evan Lurie (of The Lounge Lizards.), with original songs by Lenny Pickett. This summer, Spectacle is pleased to resuscitate this no-wave classic for its first NYC repertory run since it played Spectacle in 2016.
"DOOMED LOVE was my first feature film. It was made in the midst of what was then New Wave Cinema, but instead of the East Village I was taking my cues from Daniel Schmid and Werner Schroeder. I wanted to make an opera – without much knowledge of what opera was – and it became a musical. I wanted to make something mythic and only later discovered just how personal it was. I wanted it to be on a grand scale, which could only play out in a confined and artificial space. In those days we perversely wanted to alienate the audience and dare them to leave. In that I (thankfully) failed miserably." – Andrew Horn
"Steeped in bittersweet camp, 19th Century imagery and free floating Jungian equivalences. Undeniably sensitive… goes beyond romantic angst." – J. Hoberman, Village Voice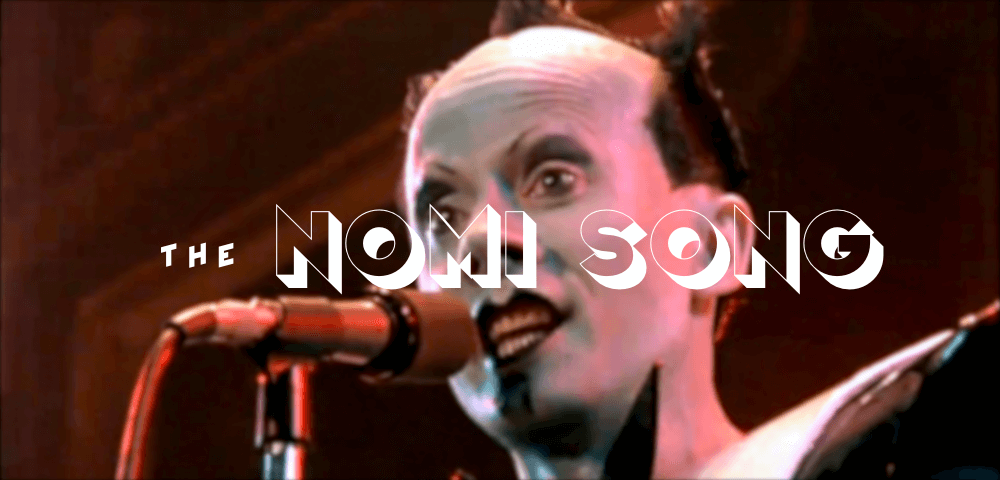 THE NOMI SONG
dir. Andrew Horn, 2004
97 mins. In English.
SUNDAY, AUGUST 5th – 7:30 PM
WITH FILMMAKER Q&A! (This event is $10.)
TUESDAY, AUGUST 14 – 10 PM
THURSDAY, AUGUST 30 – 10PM
"The way I look is part of it. It sounds affected but I do see myself as a piece of living art. People do accuse me of being just decorative or an escapist. Well, I am. That's what I do. So long as they realize that I am other things as well. I do kind of transcend the song and give it a different meaning. But satire would be too simple. There are moments in my show which are very moving as well as amusing. People should allow me to be many things, really give me room to put things in another dimension."
Looks like an alien, sings like a diva – Klaus Nomi was one of the 1980s' most profoundly bizarre characters. He was a cult figure in the New Wave underground scene, a genuine counter tenor who sang pop music like opera and brought opera to club audiences and made them like it. He was a performer with a "look" so strong, that his first audiences went wild before he even opened his mouth. Klaus presented himself as "the perfect video star" yet his star burned out just before the mass explosion of MTV. On the verge of international fame as a singer, he became instead one of the first gay artists to die of AIDS. In the end, his recorded output consists of re-reissues, in various forms, of only two LP's and a live album. For those who do know him, the reaction he provoked was so strong, that he is still unforgettable, even 20 years after his death. Even now, Klaus is somehow still winning new fans among those too young to have known him when he was alive. And a quick check of the Internet reveals that all his records are still being sold.
Part documentary, part music film, part sci-fi, THE NOMI SONG is a "non-fiction film", or maybe even an oral history. It's not just the tale, it's the telling. But it is also visual, partly because Klaus himself was so visual, someone who's main concern was putting forth an image of himself in everything he did – literally illustrated by the photos, films, videos and artworks that go with it and featuring many never before seen live performances. However, there are also the images that the stories conjure up, images that no actual picture could capture, that emerge out of impressions, memories and even exaggerations, fermenting in somebody's brain for twenty years. It's like a novel with a whole cast of characters and supporting players – revealing themselves as much as (and sometimes more than) they do Klaus – with subplots, background stories, flashbacks and contradictions.
What unifies the various elements of interviews, performance and various visual elements is Klaus himself, not only the all-pervasive image he put out, but, more importantly, his effect on others. It's a story that grows out of a group of people who influenced him, loved him, idolized him, felt pity for him and felt guilty because of him; people who felt used, cheated yet, over all, inspired by him. It's a story of love of music and love of performing and a time when it seemed as though everyone was struck by a sense of urgency to make something – or anything – and the feeling that "somewhere in the great cosmic plan we all knew that we only had a finite amount of time together and we had to make the most of it."
Nomi is, of course, a manufactured personality. But by all accounts the character he created for himself was clearly more significant, more "real" than the man behind it. If he was a mystery, he was completely open about it. He constructed his own myth out of elements so completely "wrong", yet so deliberate, that it all seemed oddly possible. And right up to the end, it almost was. He was as much a genuine talent as he was – however naively – the engine of his own destruction. He was an alien amongst the outcasts and an obviously tortured soul who, at the same time, radiated optimism at a time when optimism was "officially" out of fashion. His appeal is not easy to explain in words. He has to be seen – and heard – to be believed. Whether you knew him personally, saw him perform, discovered his music or even just saw his picture, one has to admit, he is pretty unbelievable.
Featuring the music of Wire, The Marbles, The Bongos, Pylon, The Mumps, Chi Pig, and, of course, David Bowie, not to mention numerous live Klaus Nomi performances, many never before seen, and including Klaus' ultimate performance of The Cold Song with full orchestra.
"ILLUMINATING AND MOVING! Offers a wealth of information about Klaus Nomi's career, the construction of his space-alien persona, and the new-wave scene he sprang from. With Klaus Nomi as the focus of our attention, all conventional notions (and notions of convention) are altogether burned away. Dazzling!" – Ernest Hardy, LA Weekly
"Andrew Horn's strange and fascinating documentary about the late New Wave singer and art object, Klaus Nomi, gives off a rich whiff of the New York punk bohemia of the late 1970s and early '80s." – Kurt Loder, MTV
"A strange personage – sad clown to some, incomparable genius to others. (…) He deserves a special mention in the annals of rock history as the first who dared sing an operatic aria to the habitués of Max's Kansas City." – Le Matin, 1983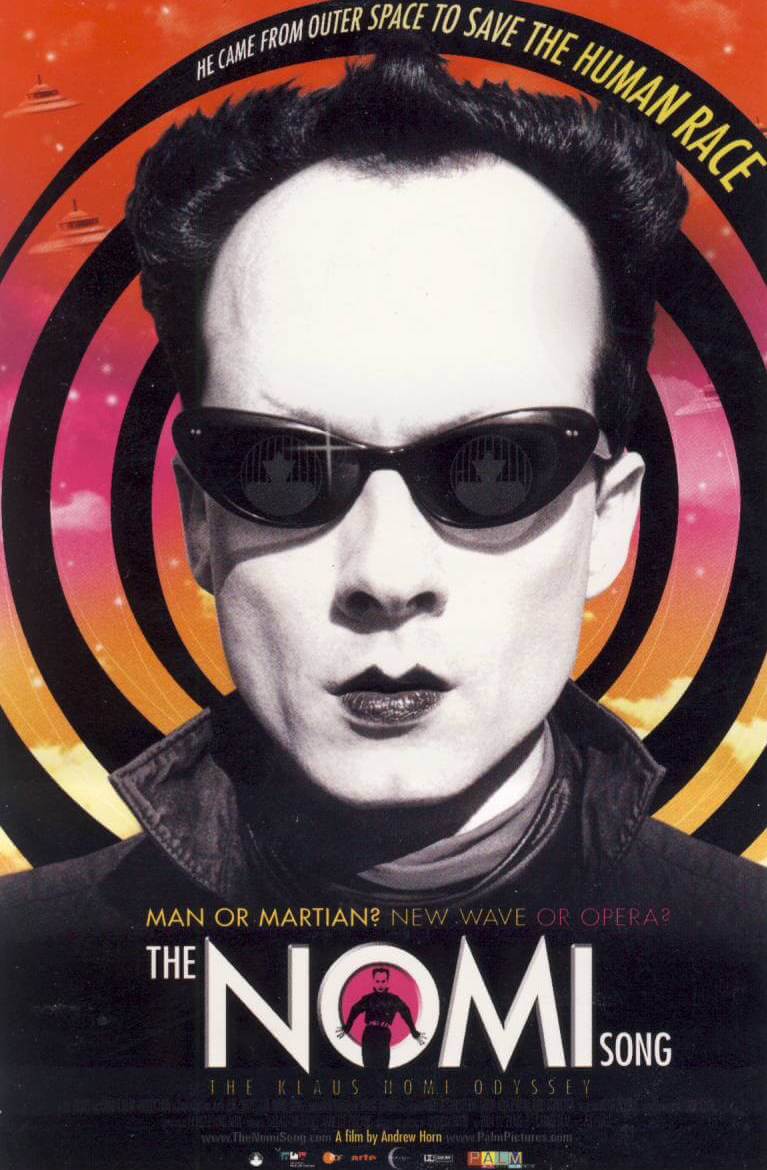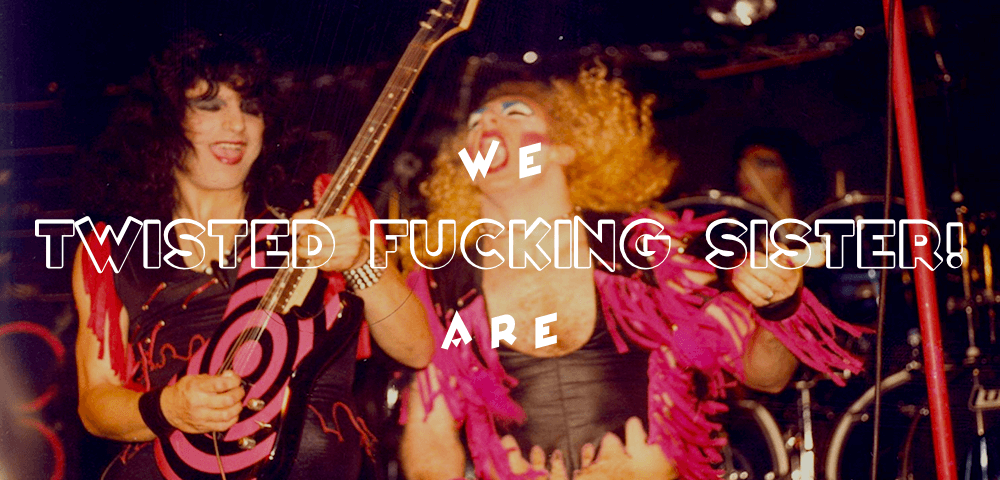 WE ARE TWISTED FUCKING SISTER!
dir. Andrew Horn, 2014
135 mins. In English.
WEDNESDAY, AUGUST 8th – 7 PM
WITH FILMMAKER Q&A! (This event is $10.)
TUESDAY, AUGUST 21 – 7:30 PM
The Beatles' trial by fire was those two years playing in the bars in Hamburg. For Twisted Sister, it lasted for 10.
Back then, they were the Grand Funk of Glam and the NY Dolls of Metal. Some considered Twisted Sister a joke, others called them the greatest bar band in the world. While the microcosm of Punk and New Wave was taking over downtown New York in the mid 70s – early 80s, Twisted Sister was battling their way to the top of a vast suburban, cover-band bar scene that surrounded Manhattan in a 100 mile radius, yet existed in a parallel universe.
The film follows them from their beginnings as a cross-dressing glam band, playing cover songs for 4 shows a night, 6 nights a week – from New Jersey bowling alleys and Long Island beach bars, to the suburban mega-clubs of the late 70s/early 80s, and on to their bust-out appearance on the UK rock TV show, "The Tube". Through it all, Twisted stood ready to do or die, not just for the music, but also "the show". They refused to play the usual bar band role of  "human juke box for drunk and horny teens". Every night, the band would give their all to the crowd, and mounted a full frontal attack on anyone not participating. They were going to force you to pay attention – and you were going to have fun whether you liked it or not.
They regaled their audiences with comedy rants, dragging them on stage for vomit inducing drinking games, engaging them in fits of disco record smashing and, at their most extreme, whipping them into club-destroying frenzy. The performances were low on style and heavy on the humor and attitude – but behind it all, always smart and full of self awareness. Spinal Tap may have been clueless but Twisted Sister knew exactly what they were doing.
It was both a great living and a dead end because once you reached the peak – headlining clubs attracting audiences of 2, 3 or 5 thousand a night – there was nowhere left to go. As big as Twisted got on that circuit, in the eyes of the world, ie the music business establishment, they were nothing but a bar band.
If you're expecting a tribute film recounting the well known events of Twisted Sister's rock star career, be prepared for something very different. This is not about their  hit songs, the MTV videos and their massive stadium shows, rather it's the untold story of how they became that band – one full of strange, and often hilarious, twists and turns. It's a story of Rock 'n Roll and the business of Rock 'n Roll. It's about perseverance and things blowing up in your face. It's about finding yourself, finding your audience and doing literally anything, however wild, to connect with them. And even though we know how it ends, the roller coaster ride of getting there is what it's really all about. A mesmerizing, and wickedly funny story of a 10 year odyssey to overnight success.
Twisted guitarist, Jay Jay French, sums it up, "the history of Twisted is really those 10 years in the clubs. The years we spent clawing our  way through the bar scene. It was learning how to make order out of chaos and how to win in bad situations. And it was unique to Twisted. I talk to hundreds of bands and nobody's ever gone through what we went through. It's who we are, and it's why we are, and why we do what we do."
"'One of the most surprising movies I have seen in quite some time.(…) a film for everyone, not just fans, one which [imparts] a deeper understanding of and respect for the men who lived it." – Pamela Glasner, Huffington Post
"Hilarious and revealing interviews (…) as well as plenty of riotously entertaining footage from the band's Seventies Tri-State club heyday. Immensely compelling." – Dan Epstein, Rolling Stone
"The time flies by, director Andrew Horn concocting a compelling, take-no-shit tale of Twisted Sister's stuttering rise to stardom." – Geoff Barton, Classic Rock Magazine
"I'm not a Twisted Sister fan and, in fact, knew very little about their scene in general—but this is a fascinating documentary." – David Hudson, Fandor
"Noise, mayhem, pathos, endless reversals and plenty of uproarious comedy." – The Independent (UK)