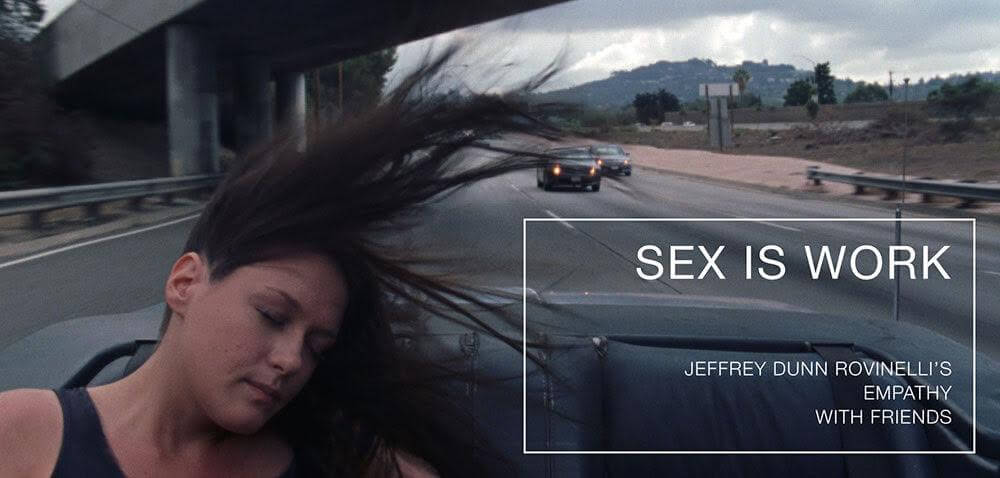 "My work attempts to investigate what a body can do, in terms of its presence, its posture, its movement, its beauty and sadly, its use-value. Cinema, it seems, shares its own postures, movements, affects and use-values. My films seek to place these shared techniques of body and film into close dialogue, in an attempt to bring us close to a body's presence while knowing that such an effort is always doomed to fail.
Such an approach naturally tends towards characters and situations typical to queer cinema, and yet in this cultural moment of increased mainstream marketability of queer cinema and a healthy cottage industry of self-satisfied queer festivals, the genre now slips into the lazily transcendent land of pure liberation or pure death.
In the films collected here, I seek to trace a certain alternative tendency among young filmmakers, one that looks elsewhere. These are films that finds political, social, and aesthetic potentials in queerness without isolating it as such, allowing its bodies and characters to move through the specific currents of their own desires and hopes without calcifying those movements. These are bodies that find out what else a body can do. If these films here can be labelled queer cinema, and they can, it's for this reason. They are more interested in cracks and inconsistencies in cinema and identity than in a dull unity, a cinema full of branching potentials and desires. These are the films I keep in my head as I work.
They are also a cinema made by my dear friends, with the exception of one filmmaker who I've only encounter briefly. Bodies seek out fellow bodies, and an aesthetic appreciation is often just as stickily sensual as physical attraction. Sardonic and deeply felt, these films give me hope that the body isn't dead and that we'll find new ways to fuck." – Jeffrey Dunn Rovinelli
WEDNESDAY, JULY 5 – 7:30 PM
EMPATHY
dir. Jeffrey Dunn Rovinelli, 2016
83 mins. United States. 
EMPATHY is Jeffrey Dunn Rovinelli's debut feature, a performative documentary following Em, a queer sex worker as she attempts to quit heroin, that mulls on the self-presentation inherent in documentary, sex work, and the neoliberal body, as dance music, noise music and silence fill the gaps.
FUCK WORK
dir. Jeffrey Dunn Rovinelli, 2015
12 mins. United States. 
FUCK WORK follows a queer dominatrix and her work relationship with a police officer. Described by Rovinelli as "an ultimately failed film, it nevertheless gave me space to begin working out an approach that led to EMPATHY, a sort of pop-working-out of the same techniques."
WEDNESDAY, JULY 12 – 7:30 PM
THE BLUE DEVILS (LOS DIABLOS AZULES)
dir. Charlotte Bayer-Broc, 2017
48 mins. France/Chile.
A musical starring Bayer-Broc in a role intended for a friend lost to suicide, the film places queer-witch costuming and a multi-gendered femme cast into an acting-out of a Chilean musical cycle that describes the death of striking miners at the hands of the state. Finding a distinctly queer element in the transmission of politicized grief across time, the film is deeply moving and direct while refusing to offer any easy gendered reading.
mothertongue.m3u
dir. Rachika S, Neo Sora, 2017
23 mins. United States.
mothertongue.m3u is the musical project of Rachika S and Biki Zoom, who reside in Brooklyn and Tokyo, respectively. It is also an ambient music video co-directed by Rachika S and Neo Sora, consisting of nothing more than four variously-trans bodies on a bed while projections of trains and octopuses spill across their features as they reach out to one another, strip, kiss, reach out, identity formed and collapsing in the gaps between movements. It stars Rovinelli in the mostly nude, and Rachika will perform a central role in Rovinelli's next film. It's also quite moving.
WEDNESDAY, JULY 19 – 7:30 PM
FORT BUCHANAN
dir. Benjamin Crotty, 2014
65 mins. France/Tunisia.
Following a mixed-gender group of "army wives" from an idyllic forest cabin to an army base in Iraq, with much mud wrestling in between, Fort Buchanan is winning comedic riff on both 90s American TV drams and Éric Rohmer that eventually establishes itself as a truly contemporary collapsing of the unstable distinctions between persona, gender, and politics. A free play of loosened signifiers that never fails to make some kind of sense even as it absolutely doesn't, it's hilarious, hot, and arguably a new form of cinema itself.
NOVA DUBAI
dir. Gabriel Vinagre, 2014.
55 mins. Brazil.
NOVA DUBAI (55 min, 2014, Art of the Real) is Gustavo Vinagre's hardcore-porn anti-gentrification film. It is what it pretends to be, but in the cracks of this film teem bodies rabidly seeking out new ways of interacting with the rampant real estate speculation shooting up new buildings in a suburb of Brazil. Oscillating from the abject to the beautiful to the impossible to the violent, it's porn-punk in the Bruce LaBruce tradition shot through with a hyper-contemporary hyper-connected mesh of overloaded imagery.