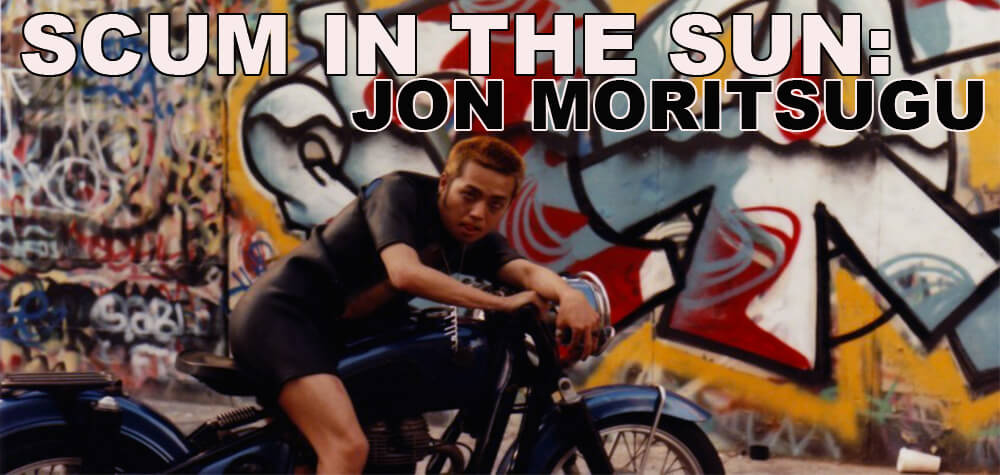 There's only one way to prepare for the return of the maestro of low-fi culture clash and camp, and that is to throw ourselves at the altar of alterity and join what were once called degenerates. Jon Moritsugu will soon be releasing NUMBSKULL REVOLUTION with long-time collaborator Amy Davis, which promises to be a satire of art world antics in the desert. We can expect it to include themes of otherness in American dystopia, a messy avalanche of sound, and mutated forms of self-expression, all of which can be previewed in this summer series. Moritsugu's early films take apart the postmodern moment with mutilated joy, expressing the senseless with style and dragging whatever constitutes punk culture straight to the trash bin.
All month we will also be selling special Jon Moritsugu merch. What kind of merch, you ask? We can't explain online.
---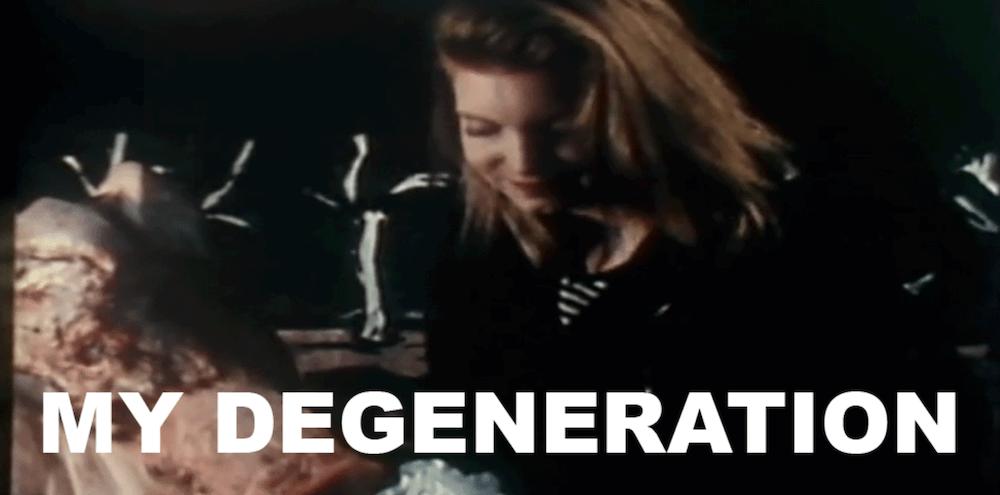 MY DEGENERATION
dir. Jon Moritsugu, 1990
70 mins. United States.
TUESDAY, JULY 2 – 10 PM
SUNDAY, JULY 7 – 7:30 PM
TUESDAY, JULY 16 – 7:30 PM
FRIDAY, JULY 19 – 10 PM
WEDNESDAY, JULY 24 – 10 PM
Continuing the rich legacy of late-night Girl Group mondo pictures, MY DEGENERATION updates the hippie sleaze of BEYOND THE VALLEY OF THE DOLLS and the punk delirium of LADIES AND GENTLEMAN, THE FABULOUS STAINS with a dispatch from the late '80s art school wastoid pukescape. Just as 'indie rock' was about to cash its check with the meteoric ascent of Nirvana and company, the film follows teen band Bunny Love's rise to the ambassadorship of the American Beef Institute. Replete with fuzzed-out regurgitations of the midnight movie semiosphere, it's the cinematic equivalent of the sub-genre Robert Christgau once referred to as "pig-fuck." Moritsugu's future wife Amy Davis co-stars, plus a parade of top-notch tracks from Vomit Launch, The Fizzbombs, Halo of Flies, and Bongwater. So puerile, it caused American's favorite film critic (and BEYOND THE VALLEY OF THE DOLLS scribe) Roger Ebert to walk out after 7 minutes. Two middle fingers all the way up!
*Preceded by the shorts MOMMY MOMMY WHERE'S MY BRAIN (1986) and L'IL DEBBIE SNACKWHORE OF NEW YORK CITY (1987).
---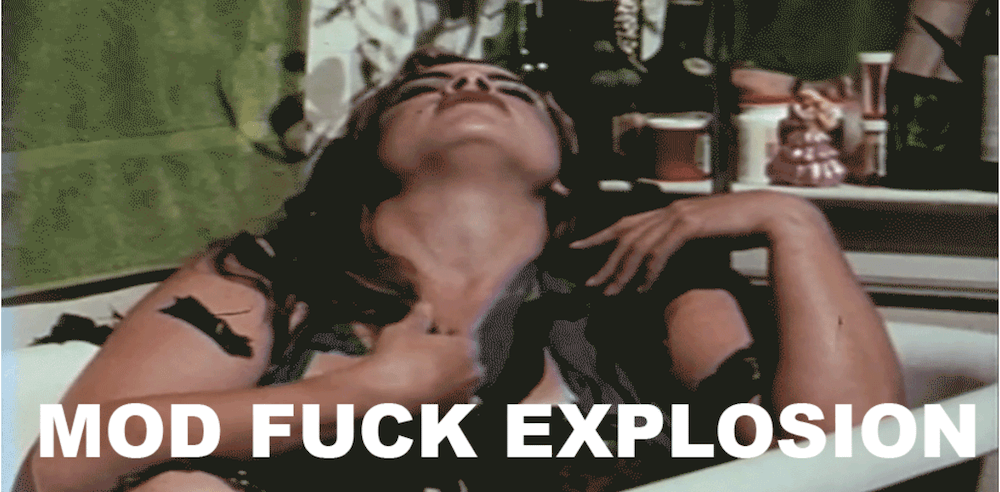 MOD FUCK EXPLOSION
dir. Jon Moritsugu, 1994
67 mins. United States.
FRIDAY, JULY 5 – 10 PM
THURSDAY, JULY 11 – 7:30 PM
MONDAY, JULY 15 – 7:30 PM
FRIDAY, JULY 26 – 7:30 PM **Q AND A WITH DESI DE VALLE (M16)!**
The Nipponese bikers have leather jackets and London, a broken-family blonde, wants a leather jacket more than anything. Her sister Nasty has one, but she's a post-Quaalude comic artist and won't give it up. London's brother is a dumb wannabe mod, clinging to a style that is just nativism with thick-framed glasses. Top Mod Madball sums up their situation with a joke:
"Why did Hitler kill himself?"
"To get to the other side!"
All London has to do is party with the bikers and tell Kazumi that he has a great bod, but instead she's in love with death-obsessed M-16. Cleopatra, the supernatural succubus and queen of feces, tries to give London some T-R-U-T-H but she won't hear it! Everything is leading in a fucked-up, not-knowing-how-to-fuck direction not to mention the ultimate showdown between the pale mods and a powerful biker gang.
Preceded by the shorts SLEAZY RIDER (1988) and CRACK (1999).
---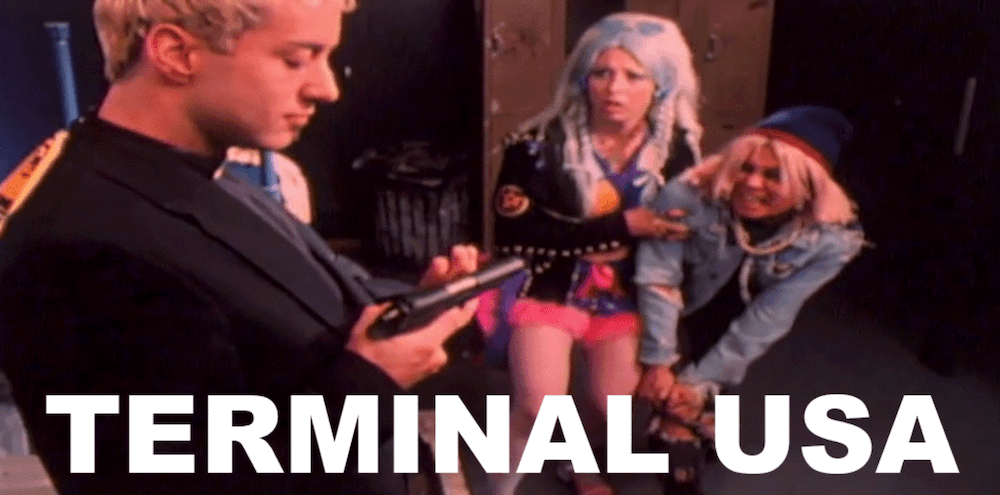 TERMINAL USA
dir. Jon Moritsugu, 1993
57 mins. United States.
THURSDAY, JULY 4 – 7:30 PM
MONDAY, JULY 8 – 7:30 PM
SATURDAY, JULY 20 – 7:30 PM
FRIDAY, JULY 26 – 10 PM  **PHONE CALL WITH JON MORITSUGU AND AMY DAVIS!**
WEDNESDAY, JULY 31 – 7:30 PM (ORIGINAL ROUGH CUT!)
**Q AND A WITH CINEMATOGRAPHER TODD VEROW!**
Family comes first in this disaster portrait of a comically depraved Japanese-American household on the verge of Armageddon. Wholesome suburban sitcom sensibilities are rigorously contorted through a deliciously deranged cocktail of vices and filthy secrets all wedged under one roof. Any hopes of quality time deteriorate into a feverish shitstorm, before dinner ever has a chance to be served.
While pill-popping mom and homicidal-minded dad are busy reprimanding their nihilist junkie son, Kazumi (Moritsugu), his pregnant, nymphomaniacal cheerleader sister desperately tries to keep a blackmailing sex tape under wraps, and the protractor-wielding prodigy twin brother, Marvin (also Moritsugu), harbors a secret lust for skinheads. As Kazumi casually bleeds out from a gash dealt by debt-collecting drug dealers, his fashion-damaged girlfriend, Eight-Ball (Amy Davis), is of no help, as she may have an extraterrestrial agenda of her own.
Laying to utter waste the dignified image of the "model minority" in doubtlessly the most gnarly soap-opera to ever be funded by PBS and aired on televisions across America, TERMINAL USA gives wings to the term "dysfunctional" and lets it soar.
*Preceded by the shorts BRAINDEAD (1987) and DER ELVIS (1988).
**Brand new VHS re-release by Random Man Editions for sale!
---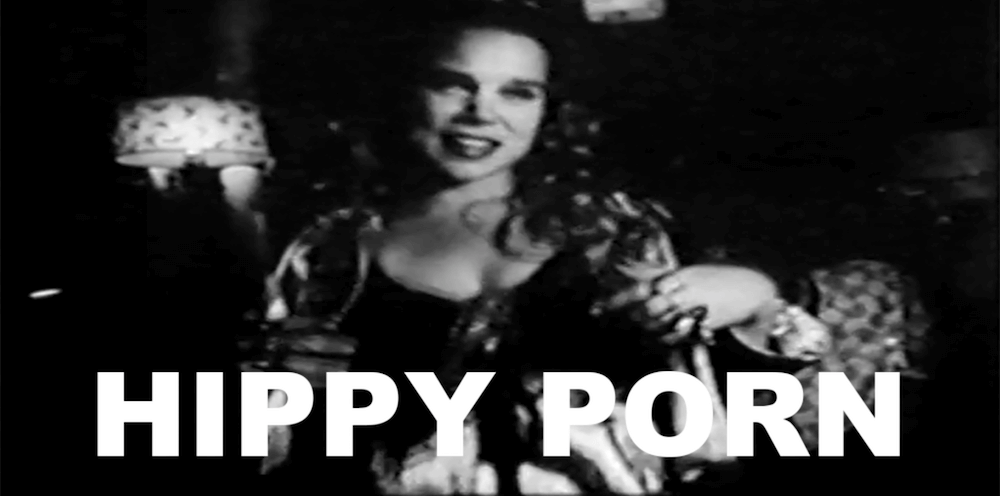 HIPPY PORN
dir. Jon Moritsugu, 1991
97 mins. United States.
WEDNESDAY, JULY 3 – 10 PM
FRIDAY, JULY 12 – 7:30 PM
SUNDAY, JULY 14 – 5 PM
THURSDAY, JULY 18 – 10 PM
MONDAY, JULY 22 – 10 PM
"Let's face it, all we'll be doing for the next 75 minutes is smoking, drinking wine, and complaining about not having anything to do."
Frenetic disaffection holds reign in HIPPY PORN, Moritsugu's demented portrait of 90s scum-punk, anti-existentialist youth life. Populated by Warhol Factory rejects who find themselves caught in the wrong time, Moritsugu's film goes beyond holding nothing sacred, and takes all cultural markers, be they religious, political, or fashionable as equal opportunity material for degenerated profanation.
Starring Moritsugu regular Victor of Aquitaine as L, accompanied by fellow faux-punks M and Mick, HIPPY PORN sees these young college wastoids milling about in deserted lots, cheap-o sets meant to double as underground clubs that remind one of Jack Smith, and their bedrooms. The long stretches of indifferent conversation are broken up and energized by aggressive flashing interludes of disorienting montage that belie the filmmaker's punk roots.
Soundtracked by an impressive Matador lineup including Superchunk, The Frogs, and Unsane, it's no surprise that HIPPY PORN ran at the Action Christine Cinema in Paris for over year, where it was certainly appreciated for its indelible brand of American antipathy crossed with a familiar sense of chain-smoking philosophizing.
Preceded by the shorts L'IL DEBBIE SNACKWHORE OF NEW YORK CITY (1987), BRAINDEAD (1987) and CRACK (1999).