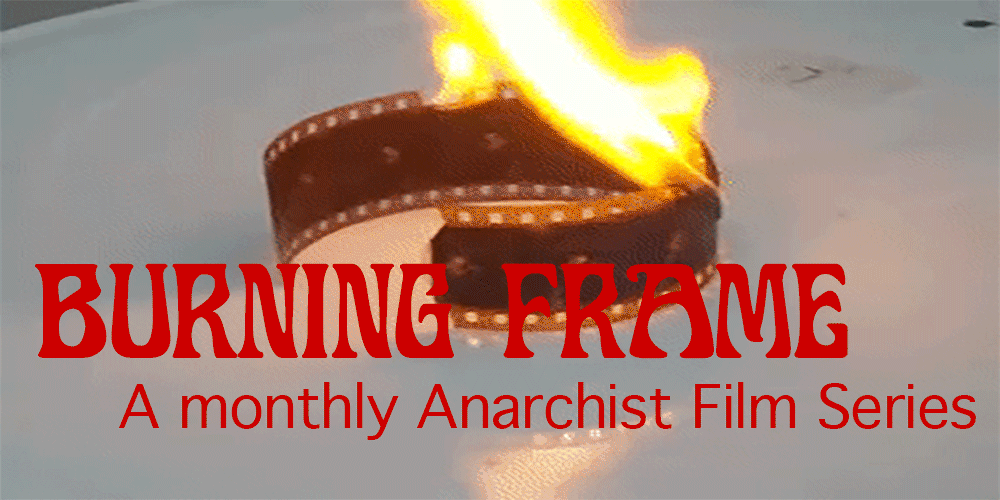 CALLING ALL LEFTISTS! The past few years have been a whirlwind: exhausting, invigorating, and ripe with potential. It's tremendously difficult, when in the thick of it, to pause, reflect, or even find a moment to catch a breath. Especially when "it" refers to the rise of fascism on a global scale, with any number of future cataclysms hovering just over the horizon. But we digress.
Join us, then, for a series that asks: if not now, when? Come for great works of radical political filmmaking, stay for the generative discussions, or even just to gossip and gripe. The hope isthat this forum for authentic representations of successes, defeats, and the messy work of political action, will be thrilling, edifying, and maybe even inspire your next organizing project. To butcher the title of a great film for the sake of a moderately applicable pun: "Throw away your dogma, rally in the cinema."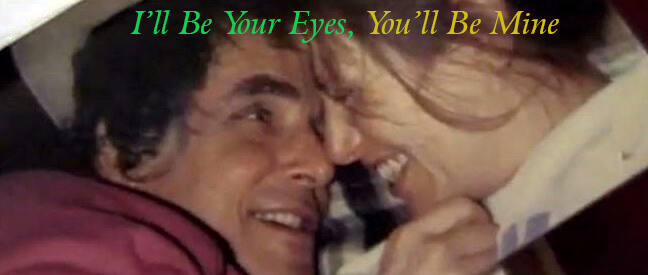 I'LL BE YOUR EYES, YOU'LL BE MINE
dirs. Keja Kramer and Stephen Dwoskin, 2006
47 mins. France.
In French with English Subtitles.
THURSDAY, JUNE 13 – 7:30 PM (double feature with IT MAY BE THAT BEAUTY HAS STRENGTHENED OUR RESOLVE)
TUESDAY, JUNE 25 – 7:30 PM (double feature with IT MAY BE THAT BEAUTY HAS STRENGTHENED OUR RESOLVE)
Stephen Dwoskin: I think [Robert Kramer] was getting worn out in his search a bit, finding a way through, in an abstract sort of way, not knowing any longer exactly how to handle the material without getting into a repetition. Not knowing how far to go! You need a lot of energy to do it, you need a lot of motivation, because making films is a bit like a drug – and if you OD on it, it's pretty hard. You can get lost very easily in it, like being stoned, and then demobilised, don't you agree? I don't know where Robert was in his private life, you probably know better.
Keja Kramer [Robert's daughter]: I don't think there's another life than the film when you are in it.
Dwoskin: Well, making a film is life!
Kramer: Exactly, so he wasn't living at home; he was shooting every day.
Dwoskin: But it's also about how one feels about a relationship to one's self at that time. To keep the ball bouncing – sometimes it's very easy to give up. Making films for many people … it's really hard work. If you lose your motivation for a moment, the whole thing could fall apart; it's very heavy, very intense, and that intensity can be very exhausting …
Kramer: I was laughing to myself about shooting I'll Be Your Eyes, and the idea of all those situations of dragging the tripod on a bicycle because it was too heavy to carry, and all these cameras on my back, walking out to the middle of a field to change into that green suit and turning the camera on, having nobody behind the camera, wandering around … In those moments, when you're working within such a lonely configuration, you have only your own motivation to go on, your own self …
Dwoskin: Yeah, it's the same.
Kramer: … for acknowledgement. But, even working here, when it's just the two of us, you feel like there's no world – the whole world is just this world, these images that we've pulled in.
– Conversation between the directors recorded 2/11/ 06, published online in Rouge #9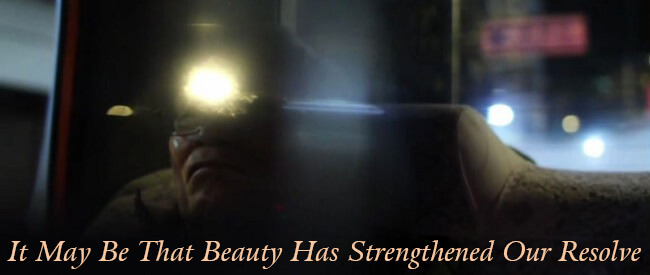 IT MAY BE THAT BEAUTY HAS STRENGTHENED OUR RESOLVE
dirs. Nicole Brenez and Philippe Grandrieux, 2011
74 mins. France.
In French with English subtitles.

"Avant-garde cinema is not primarily defined by its economic origins, nor by a doctrinaire platform, nor a singular aesthetic: it diverts a technology born of military and industrial needs, reinscribes it within a dynamic of emancipation and therefore participates in a vast critical movement that culminates in the 18th century with the philosophy of Kant and the Enlightenment. If the work of art's primary territory is that of the conscience or the work of faculties, its challenge consists of continuously reconfiguring the symbolic, to question the division between art and life, such as the humiliating division between the ideal and reality. For an avant-garde artist, art only has sense in its refusal, in its contesting, its pulverization of the limits of the symbolic; it exists as an end within itself or as a means of directly intervening in the real…
The portrait here is not a link, not a report, not a clarification, nor an unveiling. It gathers and gives itself the means (visual, stylistic) of reconstituting the unsounded, volumetric, immeasurable properties of a presence, a fortiori when it concerns the presence of a creator with an exceptional historical journey. A two-dimensional image provides us with an approximate figure; it cannot open us up to the being whose contours it adjusts like a skimpy outfit and, more often than not, falls back on an archetype or a cliché. Far from the usual portraits, that of Masao Adachi by Philippe Grandrieux resembles nothing aside from James Joyce's Ulysses, an inverted Ulysses: a psychic odyssey that guides us from an internal monologue, through confidence, by the objectification of external witnesses, by spatial and temporal contextualization, by epiphanies born of the appearances of faces, by the constructivist revelation of the means of its production, and in its conclusion, describes to us the utter complexity of a being without having consigned him to an identity—as we are wont to do to those we love because, seen through a loving light, they flood us with an inexhaustible infinity."
– From "Cultural Guerrillas," Brenez and Grandreux's manifesto on the substance of their collaboration, published 3/1/12 at Moving Image Source