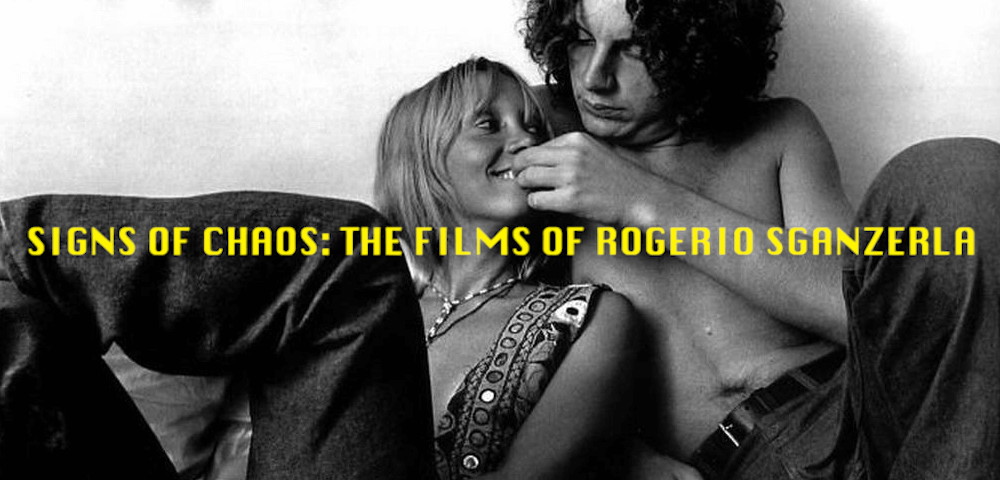 "I will never deliver clear ideas, eloquent speeches, or classically beautiful images when confronted with garbage, I will only reveal, through free sound and funereal rhythm, our own condition as ill-behaved, colonized people. Within the garbage can, one must be radical." — Rogério Sganzerla
"Make films to occupy run down, low class theaters and be subsequently forgotten" — Rogério Sganzerla
Spectacle Theater is proud to present a near-complete retrospective of the films of Rogério Sganzerla, an independent master who challenged the institutionalized filmmaking of Brazil in the late Sixties to create a transgressive, intertextual, cinema of instability.  Sganzerla's films which were a product of the Cinema Marginal movement (which also featured filmmakers like Ozualdo Candelas, Julio Bressane, & João Callegaro) are bold, dense, radical experiments that opposed the dogmatic aesthetics of Glauber Rocha's Cinema Novo and shifted towards a new kind of cinematic liberation, one that was rich in atonality, dialectical reflection, and fragmented deconstruction.
Described as "a kind of cinematic writing in quotations", Sganzerla's films employ a reflexive depth and creative intuition that is likely unparalleled. Though miscast as "The Brazilian Godard" (La Monde, 2004), Sganzerla's sense of cinema is uniquely his own. In reference to his dialectical approach to overcome modern cinema he explains he "had to film Godard in order to get rid of Godard." In 2010, after a retrospective of his work was held at the BAFICI, Quintin – esteemed film critic and former head of the festival – referred to Sganzerla's work as "much more important than Godard." Canon aside, Sganzerla's films perhaps have more to do with the theatricality of space and Artaud's theatre of cruelty than with anything else in the history of cinema.
Part One of this two-part retrospective begins with 1968's O BANDIDO DA LUZ VERMELHA (THE RED LIGHT BANDIT), made by Sganzerla at the age of 22 (three years younger than Orson Welles was when he made CITIZEN KANE), and which was manifested as an assemblage of genres ranging from the American B-picture to the surrealistic and parodical experiments of post-world War II. It had a profound impact on Brazilian filmmaking and became the quintessential film of the Cinema Marginal movement (alternatively labeled as the Cinema of Invention or the Cinema Udigrúdi – Rocha's term, used almost mockingly, to bastardize the English word "underground"), which applauded films made with low-budgets and technical imperfections. Shooting on location in the Boca do Lixo (translated literally as "Mouth of the Garbage", in downtown São Paulo),  Sganzerla exposed reality for all of its cruelties with his expansive discursive collage that was self-described as "a Western of the third world."
Sganzerla followed up his well-received debut with 1969's A MULHER DE TODOS (THE WOMAN OF EVERYONE), which will be featured in Part Two of the retrospective and stars Helena Ignez, his partner and muse, who plays, in the director's own words, "the number one enemy of men." It is an absurdist first-rate comedy that "undoubtedly reveals, without false modesty, the greatest work of a Brazilian cinema actress."
Then in 1970, when censorship was high and the military dictatorship was getting stronger in Brazil, Sganzerla united with Julio Bressane to form Belair films in Rio. It was there that they made seven films in the span of three months. Acting as anti-cultural activists they produced three of Sganzerla's most daring films (one of them forever lost to history, CARNAVAL NA LAMA) further blurring the line between art and reality, exploiting a caustic humor that literally explodes on the screen, breaking free from clear psychological or anthropological categorization. COPACABANA MON AMOUR (1970)  and SEM ESSA ARANHA (NO WAY, SPIDER, 1970) represent cinema as the "art of the present" with a deeply rooted internal structure and logic that exists on its own defiant terms. These deconstructive masterpieces turned the camera to the Favelas, usually in a series of long takes which stimulate visual contemplation over time while actors dip in and out of frame repeating the same words over and over again until the words become meaningless or inversely create new meanings from language itself. These radical polemical works are chaotic and contradictory and reveal a political horror that is both messy and awe-inspiring in their execution.
After the disbandment of Belair, Sganzerla and Ignez traveled through Europe and North Africa, working in exile and making short experimental works, some of which were completed while others were left abandoned. It was during this time that their daughters Sinai & Djin were born, both of whom would have a profound impact on preserving Sganzerla's archive. In fact, Sinai Sganzerla's most recent short EXTRATOS (2019) will be presented in Part Two of the retrospective, featuring images from the short documentary FORA DO BARALHO, shot in the Sahara desert and left unfinished in 1971.
It was also in the Seventies where Sganzerla developed a deep fascination with Jimi Hendrix, who he declared "America's number one genius". He began filming Hendrix in 1970 at the Isle of Wight Festival and a few years later in 1977, he would dedicate an entire film to him. O ABISMO (Or ABISMU) served as a return to feature-film making for Sganzerla. It is a film about "the abyss", or an endless search for the infinite. Fusing archetypes, spaces (both past and present), cryptograms, treasure maps, symbols, phrases, ideograms, experimental imagery, and most spectacularly, Jimi Hendrix, all coalesced into a structuralist mind-fuck that is both mythical and enigmatic.
In part two of the retrospective we will feature NEM TUDO E VERDADE (IT'S NOT ALL TRUE, 1985) – the first of four films made by Sganzerla about Orson Welles' Pan-American trip to Brazil told through an amalgam of archival images, re-enactments, interviews, faux documentary, pastiche, and film essay. The title is a pun on Orson Welles' unfinished film IT'S ALL TRUE, filmed during his stint in Brazil in 1941. We will show the complete tetralogy of films which includes a short-length Eisenstienian montage film A LINGUAGEM DE ORSON WELLES (THE LANGUAGE OF ORSON WELLES, 1990), the follow up feature, TUDO E BRASIL (ALL IS BRAZIL, 1998) and Sganzerla's closing thoughts on the matter – which also marked his final film – SIGNS OF CHAOS (2003). It it is through these fascinating documents that we begin to understand not only Sganzerla's obsession with Welles and his great experimentalism, but the harsh reality of Brazilian politics and the forces of suppression.
Lastly we will feature the short and medium-length works of Rogério Sganzerla which possess relentless experimental energy, innovative image-play, and spectacular uses of montage. These films are just as important as the features. We will be playing his debut short, DOCUMENTARIO (1966) which follows two teens who are looking to see a movie, HQ (1969), a unique collaboration with Brazilian journalist Álvaro de Moya on the history of comics, ISTO é NOEL ROSA (1980), an imaginative medium-length film devoted to the tragic samba musician Noel Rosa, PERIGO NEGRO (1992) produced with a script by Brazilian polemicist Oswald De Adrade, and a special tribute film entitled BRASIL (1981) which has João Gilberto, Caetano Veloso, Gil Gilberto, & Maria Bethania making the aforementioned record in a recording studio.
Rogério Sganzerla's cinema is one that demands to be seen in order to be experienced.
"Those with shoes will not survive!" 
Long live Brazil and long live Rogério Sganzerla's cinema of instability.
---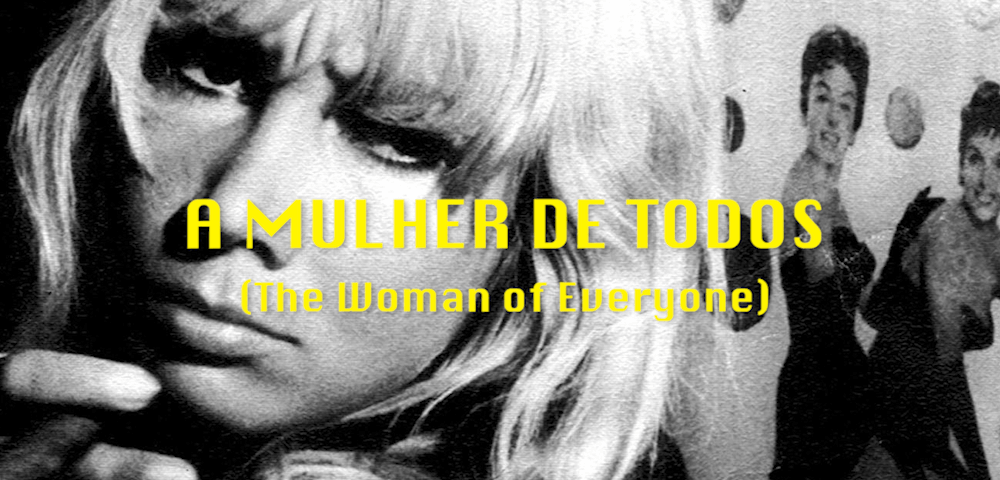 A MULHER DE TODOS
(THE WOMAN OF EVERYONE)
Dir. Rogério Sganzerla, 1969
87 mins. Brazil
In Portuguese with English subtitles.

WEDNESDAY, DECEMBER 4 – 7:30 PM
SATURDAY, DECEMBER 21 – 10 PM
SUNDAY, DECEMBER 22 – 7:30 PM
"I switched the wide-angle for a telephoto lens. My new film is a comedy inspired in slapstick, where Helena Ignez is the number one enemy of men." – Rogério Sganzerla
Not content to allow his voice to be defined by THE RED LIGHT BANDIT, Sganzerla immediately got to filming his follow-up, something of a gender-flipped compliment to that earlier film's manifesto of flagrancy, violence and garbage. Starring his wife and modern Brazilian cinematic icon Helena Ignez as Angela Carne e Osso ("Angela Meat and Bone") as a hedonistic, nihilistic sex worker who has deigned herself "the #1 enemy of men." Much of what follows after this introduction is less a discernible narrative than it is a collection of caricatures that serve as a response to both the historical suppression of the unshackled feminine cinematic image, as well as the hodgepodge of reactionary elements that construct the patriarchal mechanism of said oppression (replete with beach ball nazis!) Sganzerla's (genuinely) anarchic sense of humor is the guiding force in these early films, and must be appreciated to grasp the political disruption his work was meant to induce. It was after seeing this film that Julio Bressane approached Sganzerla to embark on the Belair enterprise, naming it the best film he had ever seen
---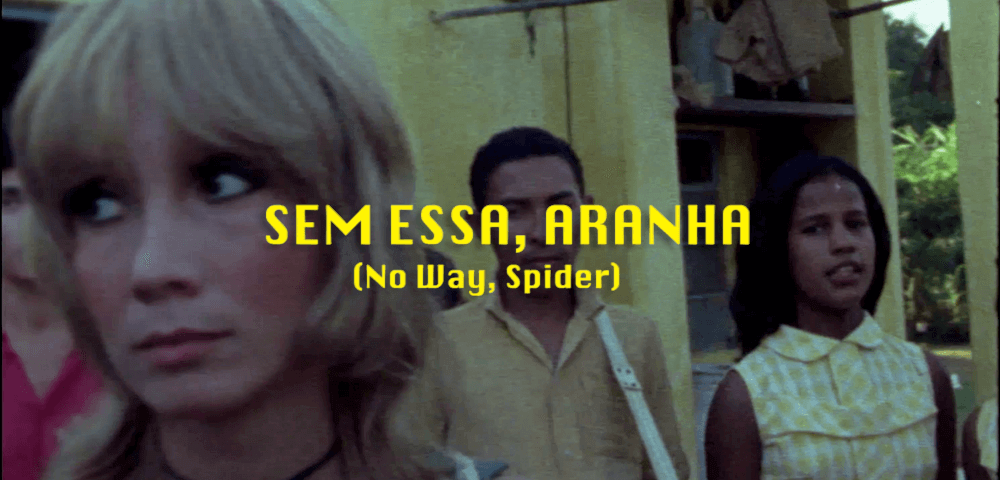 SEM ESSA, ARANHA
(NO WAY, SPIDER)
Dir. Rogério Sganzerla, 1970
96 min. Brazil
In Portuguese with English subtitles.
MONDAY, DECEMBER 2 – 10 PM
MONDAY, DECEMBER 9 – 10 PM
MONDAY, DECEMBER 16 – 7:30 PM with Q&A from film scholar Richard Peña
"In my films the actors contribute with a new style of interpretation , of disincorporation, a new technique of reinvention" – Rogério Sganzerla
"You have to sin twice for the planet not to turn upside down!"
A radical masterwork composed of unrehearsed long takes and destructive spontaneity told through a loose-narrative which follows "a banker, who lives dangerously". It is a work of great intensity depicting beauty as vulgar and performance as self-possessed and Brechtian. Emblematic of the cinematic instability inherent to Sganzerla's cinema, SEM ESSA, ARANHA unleashes a freer and more open perspective of space, body and language.
screening with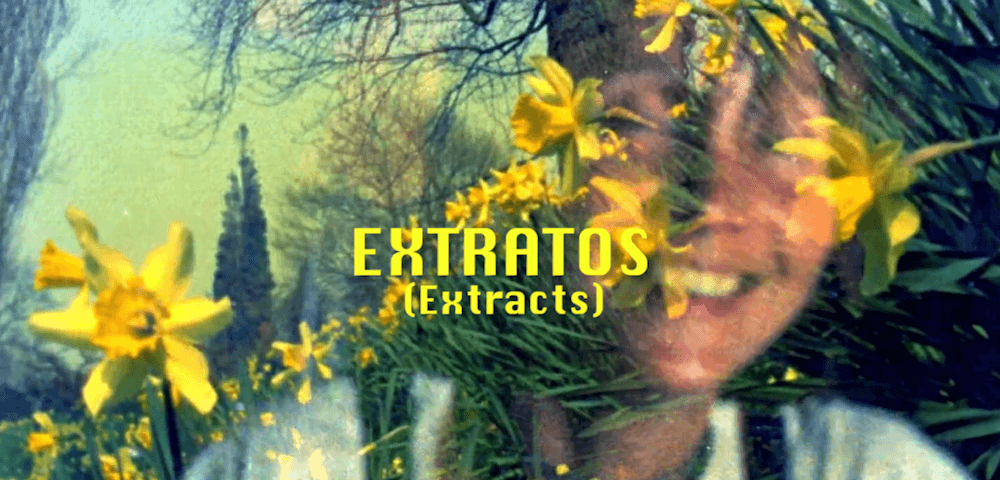 EXTRATOS
(EXTRACTS)
Dir. Sinai Sganzerla, 2019
7 mins. Brazil.
In Portuguese with English subtitles.
"Even though I do not believe much in my own independence, I try to put myself in a position of independence." – Rogério Sganzerla
"It was a period of shredding hopes…"
Using archival footage filmed by Rogério Sganzerla and starring Helena Ignez, who also narrates the piece, EXTRATOS is beautiful reconstructive short film tells a story of hope during a time of exile.
---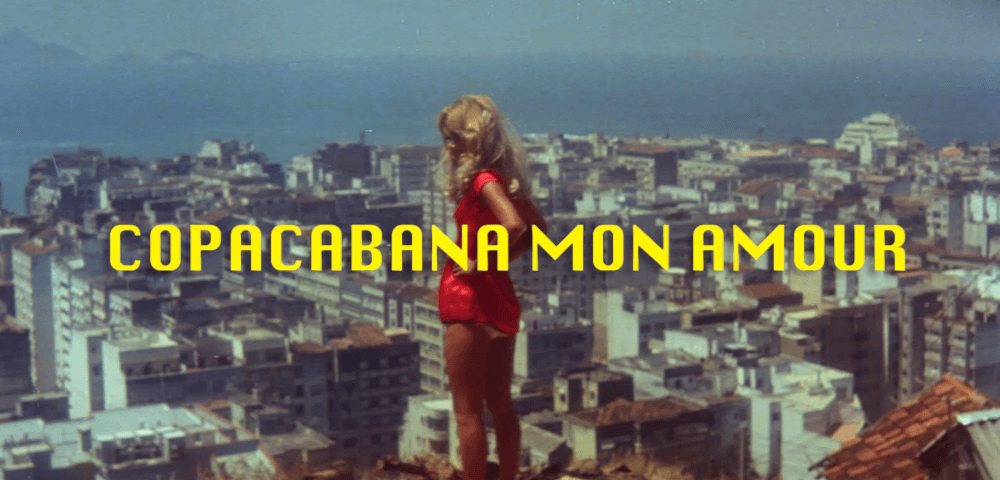 COPACABANA MON AMOUR
dir. Rogério Sganzerla, 1970
85 mins. Brazil.
In Brazilian Portuguese with English subtitles.
SATURDAY, DECEMBER 14 – MIDNIGHT

"First kill your ego then come with me." – Rogério Sganzerla
"Hunger, Thirst, Dance."
COPACABANA MON AMOUR follows Sonia Silk, a sex worker troubled by visions and spirits, who walks around Copacabana dreaming of being a big-time radio singer. The first Brazilian film shot in Cinemascope (or "Stranglescope", as the film puts it), COPACABANA MON AMOUR points its lens (as if shooting the south of France in the summertime) towards the favelas of Rio where reality crumbles right before your eyes.
---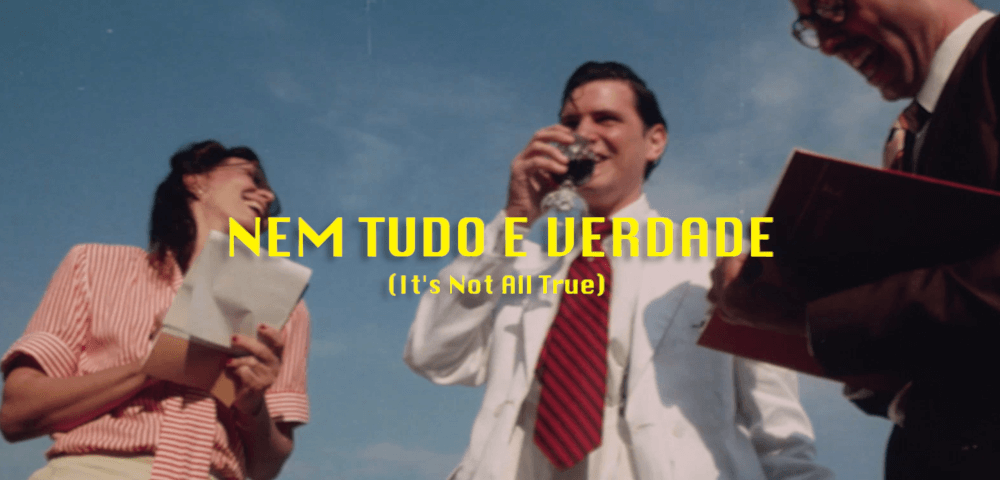 NEM TUDO E VERDADE 
(IT'S NOT ALL TRUE)
Dir. Rogério Sganzerla, 1985
95 mins. Brazil
In Portuguese with English subtitles.
SUNDAY, DECEMBER 1 – 5 PM
WEDNESDAY, DECEMBER 4 – 10 PM
SATURDAY, DECEMBER 21 – 7:30 PM
"Orson Welles taught me not to separate politics from crime." – Rogério Sganzerla
"What is false gets so close to what is true that the wise man must not walk such a dangerous cliff…" 
The first of four films made about Orson Welles' Pan-American trip to Brazil told through archival images, re-enactments, interviews, faux documentary, pastiche, and film essay. The pun of the title serves as an inverse of the Orson Welles film, "It's All True" as well as a literal reference to its consisting of both documentary and staged reenactment.  The documentary scenes feature interviews with composer Herivelto and great Brazillian actor, Grande Othelo, while the reenactments feature fascinating vignettes with Orson Welles played by Paulista rock personality Arrigo Berbabe (Who bears a striking resemblance to a young Orson Welles) and Helena Ignez as Shifra Hara. These sketches employ direct quotations from statements made by welles to the press, with the intent to evoke Welles' vision of the "It's All True" project, and the difficulties he encountered dealing with the Brazilian authorities.
---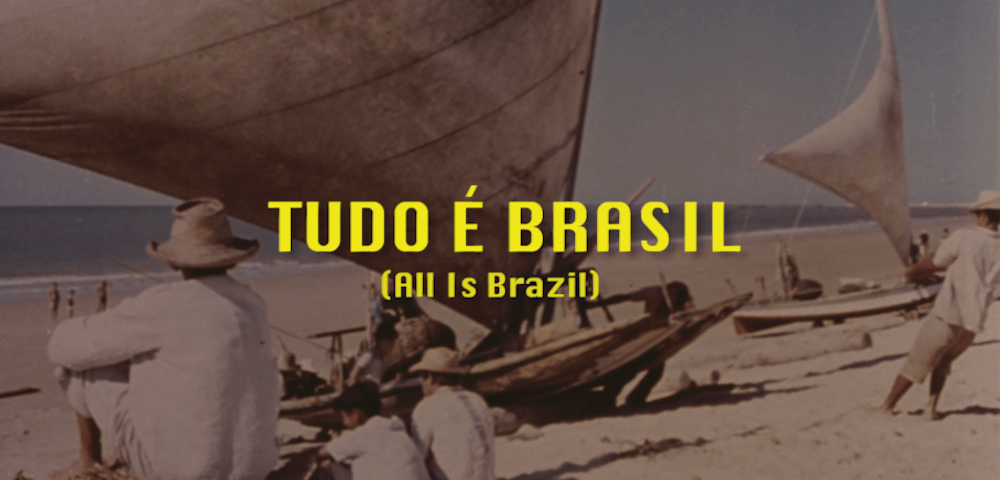 TUDO E BRASIL
(ALL IS BRAZIL)
Dir. Rogério Sganzerla, 1998
82 mins. Brazil
In Portuguese with English subtitles.
MONDAY, DECEMBER 2 – 7:30 PM
TUESDAY, DECEMBER 17 – 10 PM
FRIDAY, DECEMBER 20 – 10 PM
ONLINE TICKETS
FACEBOOK EVENT
"The exchange between an underdeveloped cinema and an overdeveloped cinema may produce a conflict, a dialectic, an energy."
–
Rogério Sganzerla
"He wanted perfection…"
The third entry in Sganzerla's saga concerning Orson Welles and his trip to the southern continent, TUDO E BRASIL finds Sganzerla streamling his schizoid investigations into the historical makeup of Brazilian contemporary culture into an essay film format that at once masks the filmmaker's direct voice, rather opting to allow his discourse to be constructed through the assemblage of found material. All the footage and audio in the film is archival, but Sganzerla's sly techniques of juxtaposition serve to both to cleave the unassuming veneer of these repurposed images from the oppressive dynamics that define Pan-American cultural and political relationships. Sganzerla's relationship to Brazil and its cultural production is, as always, fraught with condemnation and embrace, reflecting Brazil's own contradictory structure. Featuring appearances from Carmen Miranda, Grande Otelo, H.G. Wells, and of course, the other Welles, TUDO E BRASIL represents the more studious Sganzerla while retaining all of the obsessive maniacal vigor that characterizes his early fiction work.
screening with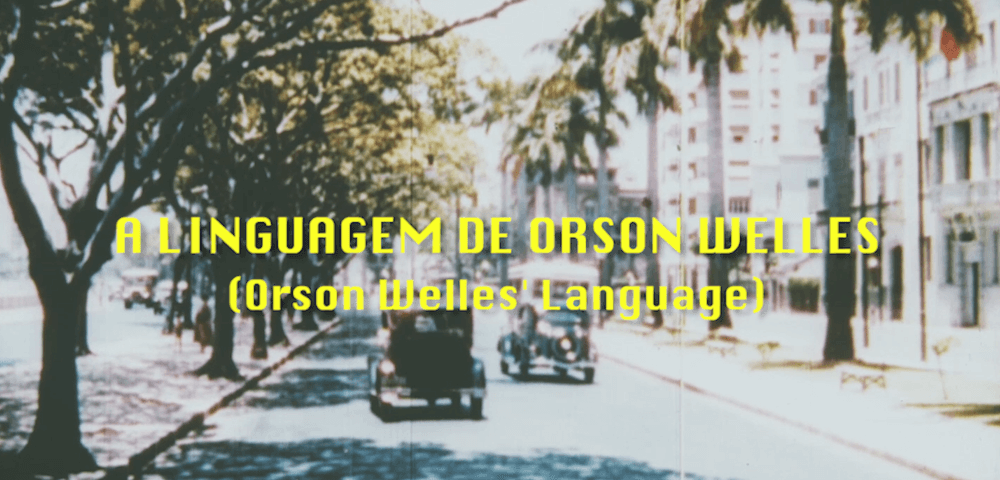 A LINGUAGEM DE ORSON WELLES 
(ORSON WELLES' LANGUAGE)
Dir. Rogério Sganzerla, 1990
16 mins. Brazil
In Portuguese with English subtitles
"In Rio, Welles began his wandering period…" 
An experimental Eisensteinian montage film which functions as a breathtaking lyric poem employing an array of archival materials set to the voiceovers of Grande Othelo, filmmaker John Huston, & Orson Welles himself (via old Mercury radio plays) which slyly coalesce into a narrative filled with paranoia, corruption, and homage.
---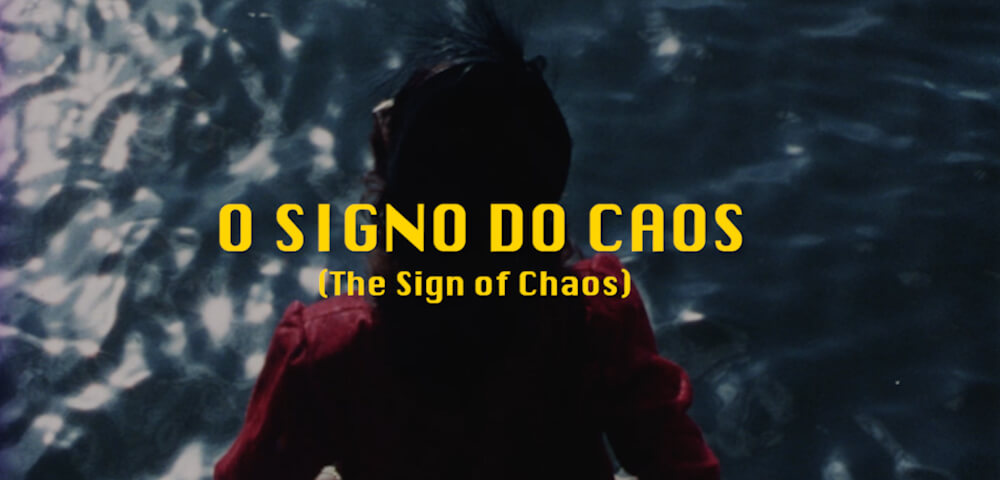 O SIGNO DO CAOS
(THE SIGN OF CHAOS)
Dir. Rogério Sganzerla, 2003
80 mins. Brazil
In Portuguese with English subtitles.
THURSDAY, DECEMBER 5 – 10 PM
MONDAY, DECEMBER 16 – 10 PM
MONDAY, DECEMBER 23 – 7:30 PM
"The invention of a new artistic language is like a joke that has been told so many times it is no longer funny." – Rogério Sganzerla
"A film is like a match. It only lights once."
The Brazilian troubadour's final outing is through and through a Sganzerla product, channeling all of the festering outrage that had suffused and defined his work during the dictatorship. One can sense a return to the historical re-enactments in NEM TUDO E VERDADE in the filming of the imagined machinations surrounding IT'S ALL TRUE, only here it is Sganzerla's venom directed at the governmental forms of suppression and erasure that take center stage. Set to the music of Charles Mingus and shot like an experimental political thriller, O SIGNO DE CAOS portrays the censorious treatment of Orson Welles' film while mourning the repressive power against freedom and creativity. The sensation is not unlike watching the films of Sganzerla's udigrúdi compatriot, Jairo Ferrera, a director possessing a disdain for all proper aesthetics. The film is haunted by its Dionysian ending with reels of film burning, a fitting farewell from the Brazilian firebrand.
---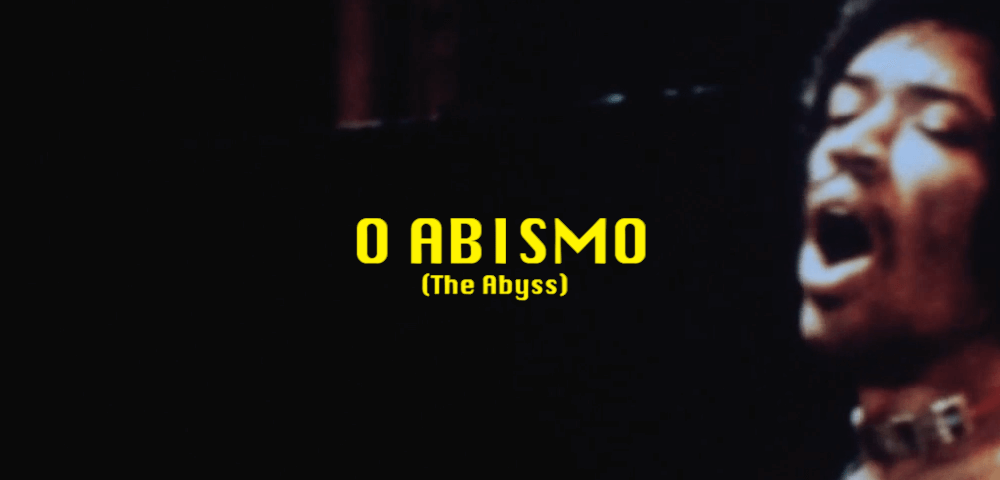 O ABISMO
(THE ABYSS)
dir. Rogério Sganzerla, 1977
80 mins. Brazil.
In Portuguese with English subtitles.
SATURDAY, DECEMBER 7 – MIDNIGHT
"Jimi Hendrix is a thinker and to him I dedicate all my travelings, panoramic and fixed plans. With him I discovered the need to say everything at once no matter what." – Rogério Sganzerla
"What I wanted was to destroy my ego…"
O ABISIMO is a sensory mind-trip that forges a dialog between the music of Jimi Hendrix, the land of Fusangs, the power of MU, and the story of an Egyptologist, who is searching for an ancient emblem while being pursued by a woman named Madame Zero (Norma Bengell). The film also features director José Mojica Marins as the professor, Ze Bonitinho as some-sort of deconstructive archetype, Edison Machado (Bossa Nova legend) as a drummer who plays loud and intermittently, & Wilson Gray – who shoots a gun in the middle of nowhere while making references to Edgar Allen Poe. O ABISIMU is possibly Sganzerla's freest film.