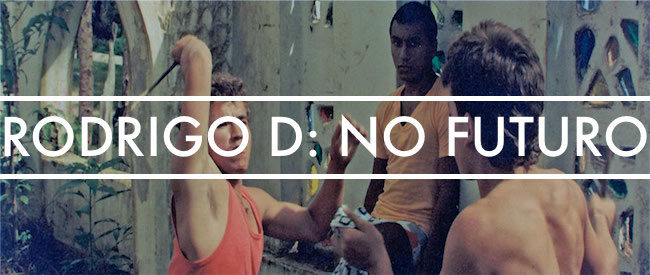 RODRIGO D: NO FUTURO
Dir. Victor Gaviria, 1990
Colombia, 93 min.
In Spanish with English subtitles
FRIDAY, APRIL 3 – 10 PM
TUESDAY, APRIL 21 – 7:30 PM
SATURDAY, APRIL 25 – 10 PM
THURSDAY, APRIL 30 – 10 PM
Sort of like a South American SUBURBIA, Victor Gaviria's debut feature RODRIGO D: NO FUTURO trades the relatively cush reality of Reagan-era America for the drug money-fueled inferno of Medellin in 1988.
Here we follow adolescent ne'er-do-well Rodrigo D as he tools around town with his ne'er-do-well punk friends romancing babes, playing in shitty bands, dealing drugs, dodging cops, bumming beer money, and/or brazenly robbing people on the street.
As Colombia's first ever film accepted at Cannes, RODRIGO D: NO FUTURO gained international recognition for its gripping neorealist depiction of Escobar-era Colombia, a place that three years later would earn the ignominious distinction of "murder capital of the world." Six of the film's actors were killed after the film wrapped.
Featuring a soundtrack almost black metal in its gritty nihilism, RODRIGO D: NO FUTURO is at once charming (who doesn't love punkers terrorizing the neighborhood) and disturbing as Gaviria's embedded position allows us to witness a society on the verge of implosion.