---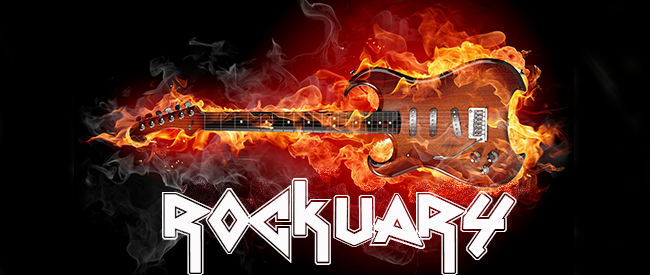 This January, Spectacle brings you a supergroup of axe-shredding rock films: the no-budget odyssey of a female punk trio (along with its sequel), a dystopian punk comedy, a sci-fi post-punk musical, a snapshot of the early 80s Icelandic alternative music scene, a documentary on culture-jamming plunderphonic-ians Negativland, and a 60s concert film featuring perhaps the greatest amount of pop music stars ever assembled on one stage…
For those about to (watch movies about) rock: we salute you!
---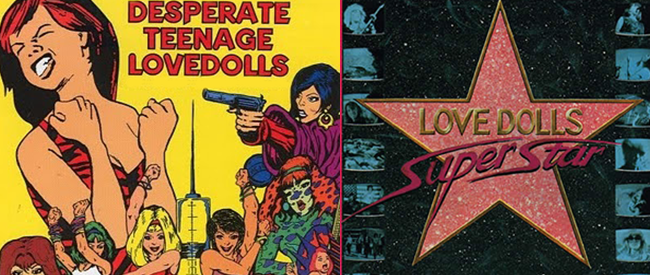 DESPERATE TEENAGE LOVEDOLLS
Dir. Dave Markey, 1984
USA, 60 min.
FRIDAY, JANUARY 10 – 7:30 PM
THURSDAY, JANUARY 23 – 7:30 PM
&
LOVEDOLLS SUPERSTAR
Dir. Dave Markey, 1986
USA, 81 min.
FRIDAY, JANUARY 10 – 9:00 PM
THURSDAY, JANUARY 23 – 9:00 PM (SPECIAL RELEASE SCREENING with Chris & Chad from King of the Witches in attendance!)

In the mid-1980's Dave Markey and his WE GOT POWER crew were an unstoppable force in the Los Angeles underground scene. Armed with a Super-8 camera, together with the brothers MacDonald and their band Redd Kross Markey made what can only be described as a monument to the rough and tumble lifestyle that the genre embodied – DESPERATE TEENAGE LOVEDOLLS. A fiery tale of the meteoric rise of a group of all girl shredders known as The Lovedolls and, of course, their subsequent plummet back to the unforgiving streets. All told at a breakneck speed and accompanied by a fistful of hits for a soundtrack.
When Kitty Carryall and Bunny Tremelo decide to comb the mean streets of LA looking for a drummer to complete the line up of their band The Lovedolls, they have no idea what's in store. With their pal Alexandria busting out of a mental institution to join their ranks, the girls think they have it made. But trouble strikes in the form of none other than Kitty's mom when she comes looking for her dear lost daughter. Ms. Carryall has her own run in with a gang of street toughs and is quickly dispatched with by one Patch Kelly who will become their third member. Trouble rears it's ugly head once again when sleazeball mogul Johnny Tramaine signs the girls and they learn the true price of fame.

"…a no-budget punk masterpiece." – Zack Carlson, Destroy All Movies (Desperate Teenage Lovedolls)
Not two years later, Markey and company were back in action and managed to outdo themselves in nearly every area with the follow up LOVEDOLLS SUPERSTAR. Bigger gigs, higher stakes, hotter tunes, cults, assassinations, and more.
Rising from the their own ashes like a filthy gutter pheonix, The Lovedolls return! Patch Kelly has turned Patch Christ and together with her acid-casualty followers she rescues Kitty Carryall from a boozers life of on the street. Teaming up with Alexandria Axethrasher they reform and begin their climb back to the top. But the obstacles start mounting all around them. Relatives of enemies previously squashed come out of the woodwork to settle the score. Be on the look out for appearances from Jello Biafra and Sky Saxon, too!

"Any rock movie that mixes references to Billy Jack, Charles Manson, and Jim Jones is all right with me." – Michael J. Weldon,

The Psychotronic Video Guide

(Lovedolls Superstar)
---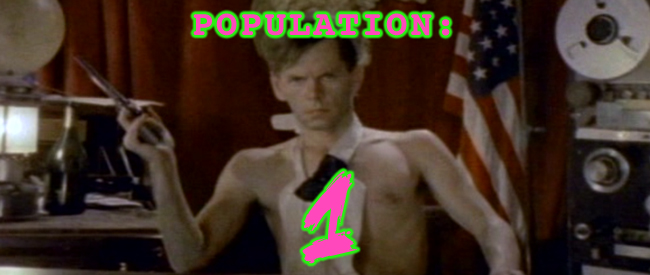 POPULATION: 1
Dir. Rene Daalder, 1986
USA, 60 min.
FRIDAY, JANUARY 3 – 10:00 PM
WEDNESDAY, JANUARY 15 – 10:00 PM
TUESDAY, JANUARY 28 – 10:00 PM
"Yes, had I known then about the guilt and the pain caused by being the sole survivor of a mass suicide pact, I wouldn't have hesitated for one split second. I would have joined my fellow men in death."
Good news: the apocalyptic sci-fi post-punk musical you'd hoped might exist actually does, and it's called POPULATION: 1.
Starring Tomata du Plenty of seminal L.A. synth-punk pioneers The Screamers, directed by visually-oriented Dutch camp-slinger Rene Daalder—best known for 1976's prescient MASSACRE AT CENTRAL HIGH—and featuring a fierce supporting performance by the literally unknown Sheela Edwards, POPULATION: 1's sonically and optically hallucinogenic depiction of one lone man's imaginary experience in the end times just might have you hoping for the wrath of God.
In a breadth of styles and formats, Daalder's acrobatic protagonist sings, dances and dreams his way through countless interrelated depictions of the recently bygone world, all in mad step with a choreographed mass of hidden cameras, historical footage, vintage vamps and flying appliances. Throughout his journey he evokes countless characters, many played by offbeat legends such as Carel Struycken, Vampira, members of Los Lobos, frontman of The Mentors (and murderer of Kurt Cobain*) El Duce, and, yes, Beck—in his first screen appearance at the age of 12!
Preceding the feature will be Rene Daalder's 17-minute, Grammy-nominated music video for Supertramp's progressive-pop epic "Brother Where You Bound" that premiered in 1985 — the year before POPULATION: 1 — and quickly became infamous for its unusual violence and surreal imagery, all of which segues nicely into Daalder's subsequent work.
[*just kidding]
---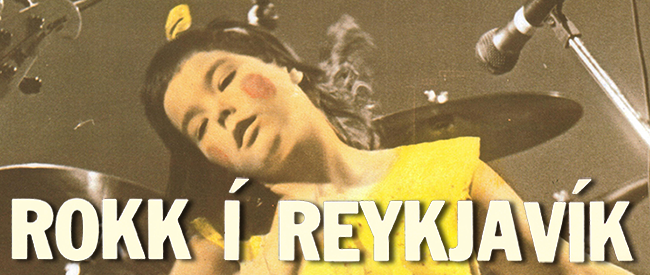 ROCK IN REYKJAVIK
(aka Rokk í Reykjavík)
Dir: Friðrik Thór Friðriksson, 1982.
90 min. Iceland.
In Icelandic with English subtitles.
Special thanks to The Iclandic Film Centre
SATURDAY, JANUARY 18 – 7:30 PM
TUESDAY, JANUARY 21 – 10:00 PM
WEDNESDAY, JANUARY 29 – 10:00 PM
Filmed by acclaimed Icelandic director Friðrik Thór Friðriksson in the winter of 1981-82, ROCK IN REYKJAVIK is a brief but poignant snapshot of the Icelandic alternative music scene in its embryonic form, capturing an era that would lay the groundwork for future groups like Björk and Sigur Rós to connect with a worldwide audience. Acting as a sort of Icelandic Decline of Western Civilization, a total of 19 bands are captured as they invade various rock clubs around the capital, following the lifting of a national 'no live music' ban.
Taking equal inspiration from American radio and neighboring English punks, the bold Nordics offer a little of everything: Loverboy-copping arena rockers, all female goth chauntresesses, neo-Nazi thrashers, weirdo noise art freaks (who have their chicken-decapitating performance broken up by a group of befuddled cops) and, perhaps most memorably, a trio of glue-sniffin', guitar-smashin' tween-aged anarchist crusties! And be on the lookout for a teenage Björk in the fierce post-punk band Tappi Tíkarrass (which translates to 'Cork the Bitch's Ass!').
Working with the Icelandic Film Centre, Spectacle is proud to present this cultural landmark in a new HD transfer from a recent 2K restoration.
(And be sure to grab a free copy of the film's eclectic soundtrack here.)
---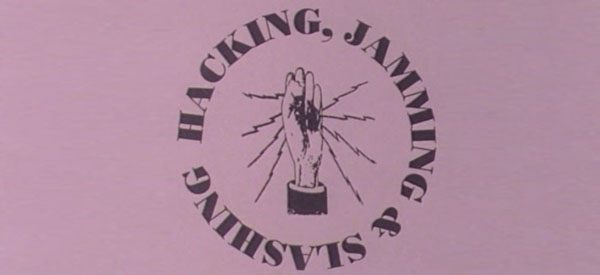 SONIC OUTLAWS
Dir. Craig Baldwin, 1995
USA, 87 min.
SATURDAY, JANUARY 18 – 10:00 PM
TUESDAY, JANUARY 21 – 7:30 PM
TUESDAY, JANUARY 28 – 7:30 PM
"In 1991 the Bay Area collage band Negativland was sued by Island Records for infringement of U2's copyright and trademark."
Craig Baldwin (b. 1952) has been making subversive experimental films from cannibalized 16mm "found" footage since the late 1970s. His works have always incorporated pseudo-documentarian gestures – such as his seminal Tribulation 99: Alien Anomalies Under America (1991), which presents a satirical revisionist history of CIA interventionism in Latin America – but to date, Sonic Outlaws is his only actual documentary.
Rushing to support Negativland in their struggle against Island, Baldwin uses their legal troubles as a launching point into a larger conversation about appropriation, copyright law, and political activism, connecting these practices to their antecedents as well as their mainstream contemporaries.
Featuring interviews with artists Negativland, John Oswald, Emergency Broadcast Network, and The Tape Beatles, Baldwin's film stands as an artifact of the golden age of "culture jamming," as well as a record of the cultural moment when the legal concept of Fair Use first began to assert itself into the popular consciousness.
We are now at a point where the re-mix has become a firmly established form of artistic expression, but copyright laws still haven't caught up. In today's era of copyright trolls and DMCA takedown notices, Sonic Outlaws remains an incredibly important document of the litigious culture industry and a fiery call to reform a hopelessly outdated legal system.
---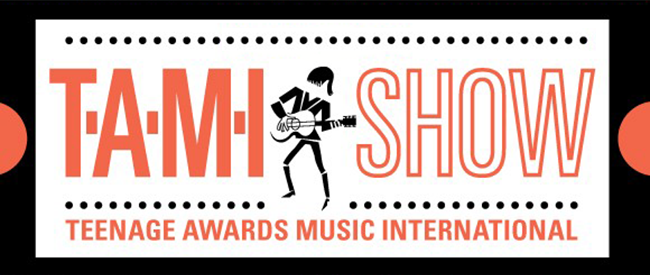 THE T.A.M.I. SHOW
Dir. Steve Binder, 1964
USA, 123 min.
SATURDAY, JANUARY 11 – 10:00 PM
TUESDAY, JANUARY 14 – 7:30 PM
FRIDAY, JANUARY 17 – 7:30 PM
A seminal touchstone of rock and roll cinema featuring nearly every imaginable 60s pop music act under the sun, The T.A.M.I. Show might just be the greatest concert film ever based on the cast list alone: The Beach Boys, Chuck Berry, James Brown, Marvin Gaye, Smokey Robinson & The Miracles, Lesley Gore, The Supremes, The Rolling Stones, and a half-dozen more all make appearances, and all feverishly blast through their hits to 3,000 shrieking junior high-schoolers trucked in to fill the audience seats at the Santa Monica Civic Auditorium. But beyond the music bill, there's a prevailing sense of lightning being captured in a bottle: that an important cross-section of pop music royalty is being documented in a five-hour filming frenzy.
Staged a mere eight months after The Beatles appeared on The Ed Sullivan Show, The T.A.M.I. Show (an acroynm for Teenage Awards Music International) was originally conceived as the first in a series of yearly concerts and award ceremonies for a musical non-profit organization, with proceeds going to scholarships for kids. None of that panned out. However, the leftover artifact – shot with proto-digital cameras (dubbed 'Electronovision'), edited live, and mixed to ear-blasting mono – is a direct mainline into the then-burgeoning 'Teenage America' sound: West Coast surf rock, East Coast 'girl groups,' British Invasion, the Motown sound, and Southern soul are all heartily represented.
Everyone is in top form here – a fiery Lesley Gore and soulful Marvin Gaye elicit strong applauses, in particular- but these all merely set the stage for James Brown and the Flamekeepers in a performance that has ascended to near mythical status. For 17 spellbinding minutes, Brown gives everything: manic footwork, blood-curtling wails, theatrical dancing and dives… a performance so enigmatic, that show headliners The Rolling Stones famously didn't want to go on after him!  Even after 50 years, this is still the greatest rock performance ever filmed.
Following a brief theatrical run, the film became tangled in legal rights for decades, vanishing into the netherworld of bootleg VHS dubs until finally receiving a restored release in 2009. Spectacle is proud to present the restored version in its original widescreen presentation and original mono mix (which we'll be sure to turn up as loud as possible).
---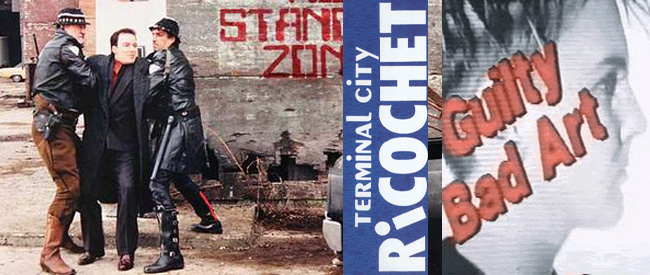 TERMINAL CITY RICOCHET
Dir. Zale Dalen, 1990
Canada, 107 min.
FRIDAY, JANUARY 3 – 7:30 PM
TUESDAY, JANUARY 14 – 10:00 PM
FRIDAY, JANUARY 17 – 10:00 PM
With special thanks to Alternative Tentacles Records it is Spectacle's honor to present the Canadian punk cult classic, Terminal City Ricochet. TCR is set in an dystopian version of Earth where there are only 6 inhabitable cities left on the planet. Everything has fallen to shit quite literally (with space junk raining from the sky), but ego-maniacal corrupt Mayoral incumbent candidate & talk show host Ross Glimore (Peter Breck) is attempting to run the city even deeper into the ground. To maintain his grip on power he must stage an election, and for that he needs fresh fear.
Enter Alex Stevens (Mark Bennett), a fed-up, cynical newspaper delivery boy who happens to witness Glimore run over one of his own supporters in his car and leave the scene of the accident. Glimore and his right hand thug Bruce Coddle (Biafra) hatch a plot to brand Stevens "the #1 terrorist threat" (based on his connection to rock 'n' roll music which, along with meat, is banned) to cow Terminal City into submission and steal another tabloid election. Stevens flees underground, where he stumbles into a resistance movement led in part by his newfound friend Beatrice (Lisa Brown) and a fugitive brain-damaged goalie from the Glimore-owned hockey team, and finds himself caught up in a plot to bring Glimore down, with the not-so-secret police (DOA's Joe Keithley and pro-wrestling legend Gene Kiniski) hot on the trail.
This film originally aired on Canadian TV and was never released on VHS. Check it out if you're a fan of Repo Man, Network, Ladies & Gentlemen the Fabulous Stains, Max Headroom & Suburbia.