ROCK 'N' ROLL HOTEL
Dir: Richard Baskin & Paul Justman, 1983.
85 min. USA.
FRIDAY, JANUARY 3 – MIDNIGHT • FREE!
Birthed from the 80s neon Hollywood womb and shuttered away almost immediately,Rock 'N' Roll Hotel is a product of MTV-inspired music video excess and absurdity that has all but vanished into pop culture oblivion.
The story follows a young trio of musicians, played by Rachel Sweet, Matthew Penn (son of Arthur) and Judd Nelson, called The Third Dimension. They enter a battle of the bands in an old hotel called the Rock N' Roll Hotel. However, rival band The Weevils are intent on stopping the young band from winning the contest and taking the title for themselves…
Essentially one of the first feature-length music videos, the film was produced in Richmond, VA, shot in 3D, filled with musical numbers, written by Russ Dvonch (Rock 'n' Roll High School), co-directed by Paul Justman (Standing In The Shadows of Motown) and featured 80s cable icon Colin Quinn as a local DJ… man, where has this film been for the last 30 years?
Victim to a trainwreck of a film production and a botched release, the film was lost for decades… until a VHS copy was found buried in the set designer's closet. Read more about the bizarre history behind the film here.
This film has only ONE COPY IN EXISTENCE and we have it! Can you handle Judd Nelson shredding guitar while blazing along an open highway in the first 10 minutes of the film?!
If you still don't believe the hype, see it for FREE and tell us we're wrong.
---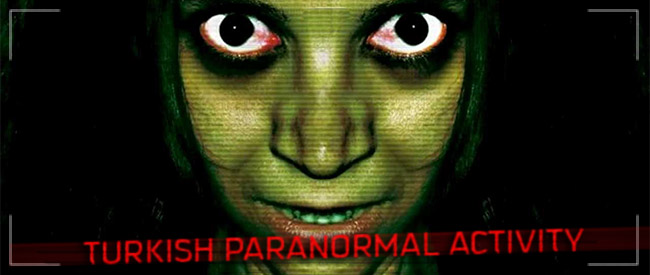 ARTIFACT VIDEO CLUB PRESENTS:
TURKISH PARANORMAL ACTIVITY
Dir. Hasan Karacadağ, 2012
Turkey, 119 min.
FRIDAY, JANUARY 10 – MIDNIGHT
Nodding to our international colleagues running Nollywood movie clubs, VCD videotheques, and illicit storefront cinemas, this year Spectacle inaugurates ARTIFACT VIDEO CLUB, a new monthly midnight series of bootlegged contemporary pop cinema from around the world. Pitched between armchair anthropology, misapplied critical theory, and superfried midnight madness, ARTIFACT VIDEO CLUB is an intrepid exploration of vernacular cinema from around the globe: things from countries whose film industries' stateside visibility is generally restricted to annual consulate-sponsored showcases touting prestige productions. These are not such films.
Purposefully half-baked, the series is conceptually aligned with Ghana's bootleg Hollywood video screenings, virus-infested Russian piracy sites, taxi stand televisions, Crown Heights bodegas DVD selections, the nether-reaches of YouTube trailer shows, and movies from two years ago that have an 8.7 IMDb rating based on tens of thousands of votes, yet of which apparently nothing has been written in English. Like the films it presents, it has been authorized by no one.
We begin with what we are calling TURKISH PARANORMAL ACTIVITY. Though the seasoned Z-grade movie explorer is no doubt familiar with Turkey's circa-1980 mockbusters like TURKISH STAR WARS, TURKISH WIZARD OF OZ, TURKISH E.T., TURKISH BATMAN, TURKISH STRAW DOGS, et al, one might believe this practice has been displaced by such contemporary arthouse darlings such as Nuri Bridge Ceylan, Rasit Celikezer, and Fatih Aiken. And yet it continues through the efforts of those such as Islamic Turkish horror filmmaker Hasan Karacadağ, who over the last decade has produced a steady stream of remarkably effective (and truly scary) unofficial horror remakes that unabashedly reinterpret hits from trend genres like J-horror, found footage, and torture porn via the The Quran — sort of like if Hollywood worshipped Allah instead of Mammon.
The plot of this one is simple: after a young woman experiences intensified sleepwalking episodes, her husband places cameras around the house to monitor her activity. As more unexplained, increasingly malevolent experiences occur during the night, including those which threaten their young daughters, the couple consult with a holy man and learn that they are being persecuted by the Quranic spirits of the Dabbe and Jinn — and may be under possession themselves. Because the PARANORMAL ACTIVITY films are so quintessentially formulaic, the well-studied, brazen appropriation of TURKISH PARANORMAL ACTIVITY renders it, at minimum, exactly as good as its North American counterparts (and, pleasantly, more gory). Only by framing its consumer-tech-steeped narrative in Islamic belief and folklore, it also presents a dialectic between tradition and modernization, portending grim consequences of secular living. The simple virtue of it's existence amid a revitalized, international appreciation for Turkish arthouse cinema also suggests something of the country's uneasy, unreconciled relationship to its history of exploitation cinema.
But maybe we're over-explaining ourselves: TURKISH PARANORMAL ACTIVITY is totally awesome and scary as fuck.
---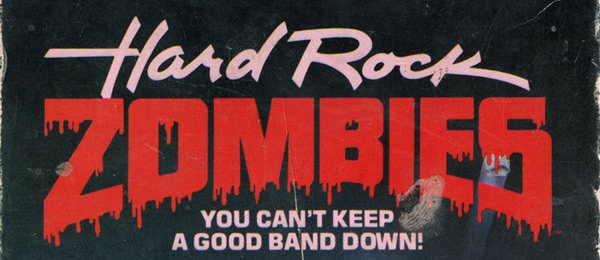 HARD ROCK ZOMBIES
Dir. Krishna Shah, 1985.
98 min. USA.
SATURDAY, JANUARY 11 – MIDNIGHT
The town of Grand Guiginol (seriously) hosts a touring rock band who's lead singer falls in love with a local girl, Cassie. A series of disturbing discoveries and even worse encounters with the inhabitants of the town, lead the band to a ghastly end. Can Cassie find a way to bring them back and save her from the town full of werewolves, nazis, killer hicks, bloodthirsty dwarves, and Hitler himself?
Celebrate Rockuary with horror and heavy metal excess! Raise a Black Label and cheer as metal conquers all!
---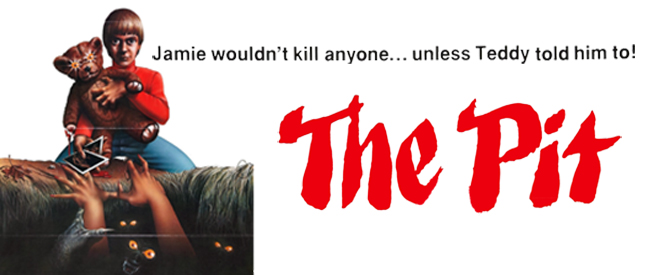 THE PIT
Dir. Lew Lehman, 1981.
97 min. USA.
FRIDAY, JANUARY 17 – MIDNIGHT
FORGET KILL BILL, DEATH WISH AND STRAW DOGS: here is a revenge fantasy you can actually relate to. At 12-years-old, Jamie Benjamin already has a CV of torture that would make Dawn Weiner blush: the hot librarian at elementary school tears up the erotic collages he makes with her photos; the cool kid at recess splits his lip open; Jamie's nubile live-in babysitter only has eyes for an indifferent jock; and even the old woman down the street tries to mow him down with her motorized scooter ("he'll probably grow into one of those hippies…"). It's not clear exactly what's wrong with the kid—he shows signs of autism, and a creepily over-affectionate mother might have something to do with it—but he finds solace in friendship with his teddy bear and the afternoons he spends visiting a pit in the woods full of bloodthirsty, primordial trolls. The youngster does his best to see that they're looked after, but a kid can only steal so much meat from the butcher truck before another solution is in order—and if it can satisfy two problems at once, so much the better.
---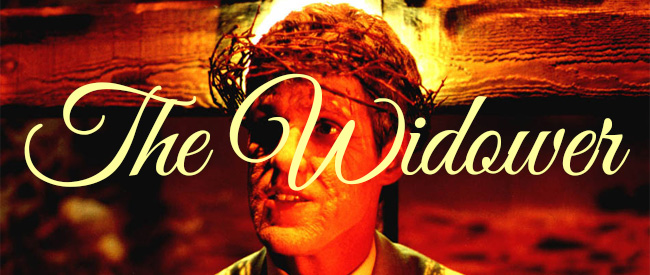 THE WIDOWER
Dir. Marcus Rogers, 1999.
CA. 79 mins.
SATURDAY JANUARY 18 – MIDNIGHT
"The Widower, produced and directed by Canadians Marcus Rogers and Kevin McBride, is a highly stylized, deliberately paced David Lynchian fable about a very reticent man (Shawn Milsted) who keeps the rigor mortis-ridden corpse of his beloved deceased wife (Romona Orr) preserved, even taking her out on dates until a couple of bumbling cops get wise to his disturbing (if genuinely touching) necrophiliac activities. Visually augmented by nightmarish hallucinations, with a killer lounge-surf-rock-pop soundtrack, it is a rather romantic tale of mournful dementia."
---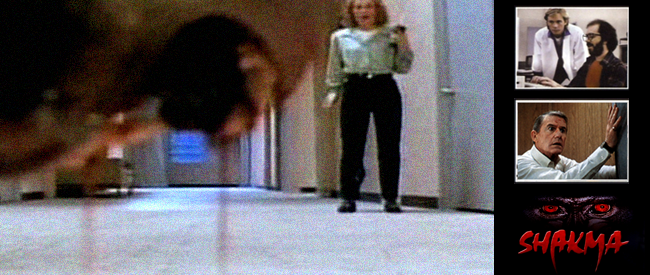 SHAKMA
Dir. Tom Logan / Hugh Parks, 1990.
USA/UK. 101 min.
FRIDAY, JANUARY 31 – MIDNIGHT
"The world's angriest primate just got mad!"
What better time than midnight for a failed experiment? Moments after using a power drill to graft a microchip onto a baboon's heart, it's Friday – and so a plucky group of horny and misguided researchers decide to go after-hours LARPing in the lab. Trouble is, the baboon's heart has been flooded with steroidal enyzmes, and he's out for revenge!
Leading a sundry cast of lowercase-E expendables, Roddy McDowell lends simian blessings to a guesome, hardheaded terror-romp equal bits "man vs. nature" and haunted house. But the real star is the indestructible Shakma, played by a small company of real (and presumably authentically angry) baboons.