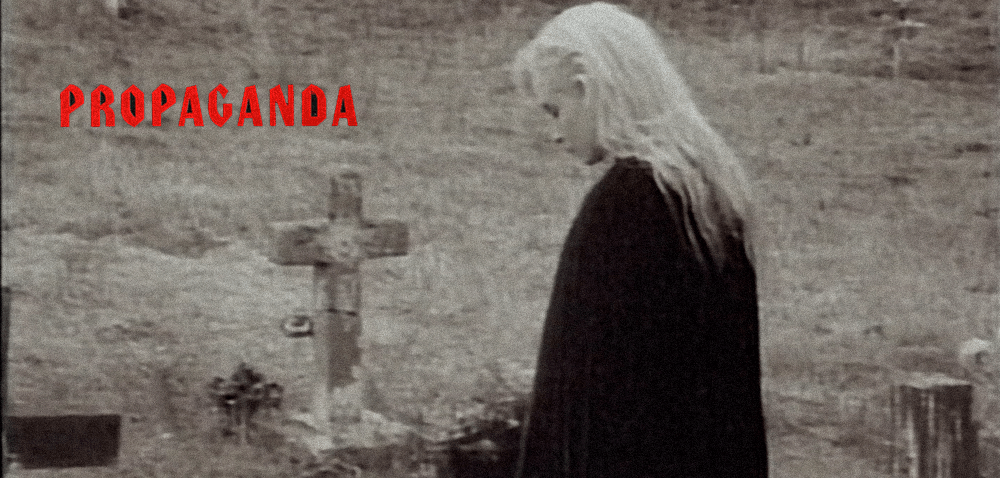 THURSDAY, OCTOBER 17 – 10 PM
w/Fred H. Berger in person for Q&A, moderated by goth historian and DJ Andi Harriman
SATURDAY, OCTOBER 26 – 10 PM
w/introduction by author Deirdre Coyle
(These events are $10.)
THURSDAY, OCTOBER 31 – 7:30 PM
From 1982 until the shuttering of its print publication in 2002, Propaganda Magazine was the resource for all things gothic. Beginning as a humble punk zine printed in downtown Manhattan copy shops by photographer Fred H. Berger, the magazine evolved with the whims and fancies of its creator, finding a massive audience when Berger was inspired to shift its focus to goth culture after a life-changing screening of THE HUNGER (1983). A prolific cinephile, Berger was further influenced by work such as THE NIGHT PORTER (1974), THE DEVILS (1971) and THE ROAD WARRIOR (1982).
While the magazine covered nightlife, music, and fashion, Berger followed through on his cinephilic inklings and produced, wrote and directed three companion "videozines" in the early 1990s. The videos starred Propaganda supermodels John Koviak, Scott Crawford and Tia Giles and sold around 20,000 VHS copies, as well as screening at parties and goth clubs such as Mother in NYC, Helter Skelter in Los Angeles, and House of Usher in San Francisco.
Loaded with iconic imagery, the tapes alternate between lush and stark, lo-fi and haute fashion, fetishistic and tongue-in-cheek. The Trilogy finds the gorgeous androgyne John Koviak roleplaying in a variety of historically fascist roles while suffering a crisis of conscience, Blood Countess depicts the noble serial killer Countess Elizabeth Báthory de Ecsed, and The Ritual is suitably pagan. The tapes are as follows:
Volume 1, The Trilogy (1991)
Volume 2, Blood Countess (1992)
Volume 3, The Ritual (1994)
Spectacle is excited to present new high definition transfers of the tapes from the surviving BetaSP dubs in collaboration with Fred Berger in a celebrative look back at the subculture that swept the eighties and its aesthetic evolution, from Siouxsie and the Banshees to the Cocteau Twins, from Victorian vampiria to shocking iconography to heroin chic queerness.
CONTENT WARNING: The first tape contains a scene featuring offensive iconography — namely, an actor is dressed as an SS officer in a scene that also depicts dead bodies. While the programmers and Spectacle understand that these symbols, both in the film and in broader goth and queercore culture of the time, are being used to subvert and strip them of their power, we would like to take a moment to restate our policy: under no circumstances will fascists ever be allowed or tolerated in our space.