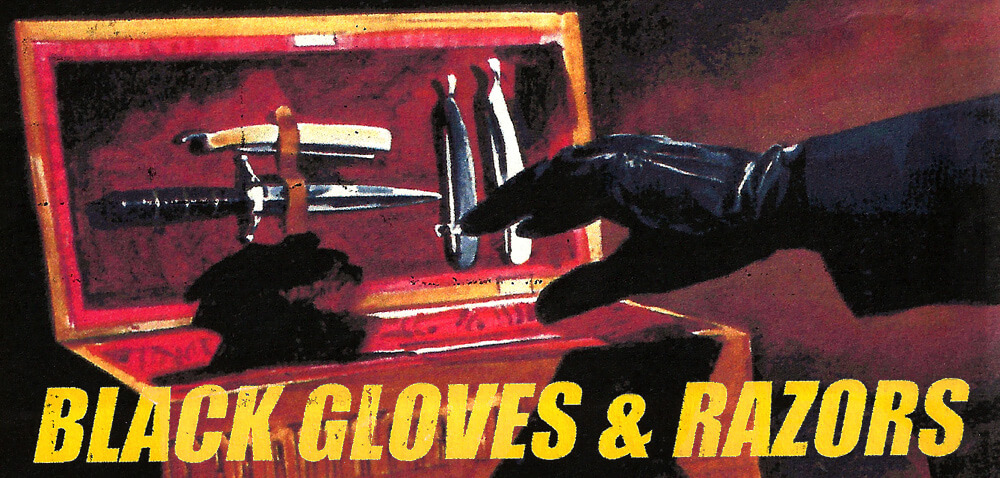 BLACK GLOVES AND RAZORS
dir. Sam McKinlay, 1999.
Canada. 90 min.
Various.
SATURDAY, OCTOBER 5 – 10 PM
THURSDAY, OCTOBER 31 – 10 PM
This Spectober, we are "bloody" excited to present the legendary BLACK GLOVES AND RAZORS by Sam McKinlay (who some know of for his long-running harsh noise project THE RITA, as well as acquaintanceship with the BARRIER KULT skate horde). Originally published and distributed on videotape, then recordable digital video disc, we are stoked to perhaps hold the first cinematic presentation in our ever-constricting Williamsburg g0th bodega walls.
"Now, for the first time, a collection of murder scenes from all your favorite Giallo films. More gloved stalkers and sharp objects than you can shake a stick at. The collection features scenes from many unreleased Italian thrillers including DEATH CARRIES A CANE, WHAT ARE THOSE STRANGE DROPS OF BLOOD ON THE BODY OF JENNIFER, SO SWEET SO DEAD, SEVEN MURDERS FOR SCOTLAND YARD, MURDER IN PARIS, REFLECTIONS IN BLACK, DEATH WALKS IN HIGH HEELS and many more (too many to list!). A must-have for fans of the genre and all its eccentricities."
BLACK GLOVES AND RAZORS was assembled by McKinlay in the pre-ripper old ways – VCR-to-VCR editing, the nth-generation VHS dubs being practically the only way for fanatics to access these films at that time. The degradation of the analog video image is well-known to the obsessed of the era – a built-in harrowing grime-en-scene, the vaseline on the home viewing lens, the fever dream of time, distance, and pursuit, burned in deeper with every dub. You could slice the tape in half and count the rings. BLACK GLOVES AND RAZORS is a forensic exercise directed by a finessed methodical eye driving a coarse, brute hand –– an experience not quite that of the hyper-cadence narrative "supercuts" as we know today. The cadence of event and sensation is unrelenting and psychedelic; the original writeup mentions "eccentricities (of the genre)" –– a codeword for the vast ways in which a seemingly easily-read situation can explode into endless gush of sensation, thought and emotion, often after repeated exposure (and yes, something about true deep listening involved as key in the "harsh noise walls" left in the wake of McKinlay's THE RITA).
The presentation of BLACK GLOVES AND RAZORS is the viewing of a relic lurking in the waters for many many years, swimming without an arc for many years more, wearing its scars and static as a necessity to stay on the move.
Please note: a lot of the material used in this work is incredibly violent and intense.
The original VHS sleeve by Kier-La Janisse was adapted for our banner graphics.