This November, Spectacle serves up a survey queer and kitschy video essays from directors Barbara Hammer, Joan Braderman and Kayuclia Brooke & Jane Cottis. Subverting the buttoned up, academic origins of the moving image essay, these filmmakers employ subjective politics and humor to critique Hollywood's penchant for misrepresentation, effectively personalizing the film industry's mass productions.
---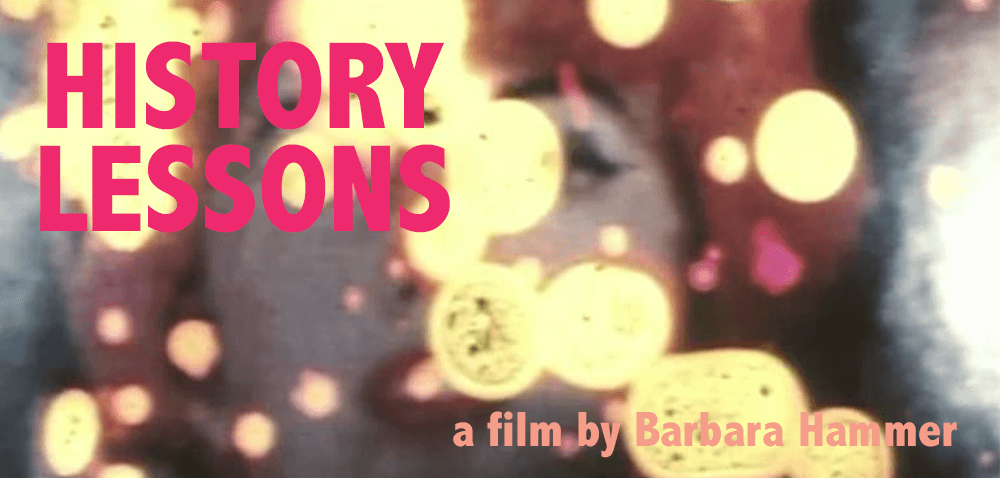 HISTORY LESSONS
dir. Barbara Hammer, 2000.
70 min, USA
In English
SATURDAY, NOVEMBER 4 – 7:30 PM
FRIDAY, NOVEMBER 10 – 10 PM
WEDNESDAY, NOVEMBER 15 – 7:30 PM
SUNDAY, NOVEMBER 26 – 5 PM
The final installment in Barbara Hammer's groundbreaking "lost queer trilogy," HISTORY LESSONS imagines a world in which lesbians are as omnipresent as white heterosexual cis men. Manipulating everything from Eleanor Roosevelt studded newsreels to analog skin flicks, Hammer rewrites history with this reclamation of an almost always marginalized demographic.
"Radical sexual politics in a jester's surprise package of impudent humor and Situationist-style found-footage monkeyshines" – Variety
---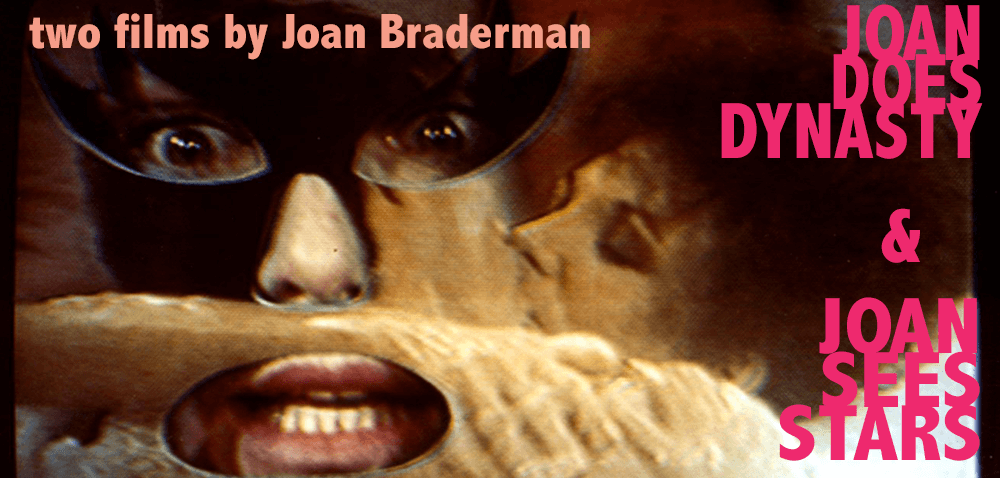 JOAN DOES DYNASTY/JOAN SEES STARS
dir, Joan Braderman, 1986/1993.
31 min/60 min, USA
In English
WEDNESDAY, NOVEMBER 15 – 10 PM
FRIDAY, NOVEMBER 24 – 10 PM
In JOAN DOES DYNASTY, a widely cited classic of feminist media deconstruction, Joan Braderman green screens herself into the very fabric of TV's own "Dynasty," defiling its every utterance with this masterclass in proto internet commentary.
With JOAN SEES STARS, Braderman turns her attention to celebrity culture and the body, through a series of staged encounters and composited bed time hangouts with Liz Taylor.
"Braderman uses her own body as the site for exploring the ways our own culture of appearances meets the politics of identity… She looks at life through rose colored glasses, then whips them off and dishes the dirt: movies meet life, life meets death and romance meets Perdue chicken in this meditation on our illicit VCR pleasures. Watch and eat your heart out." —B. Ruby Rich
---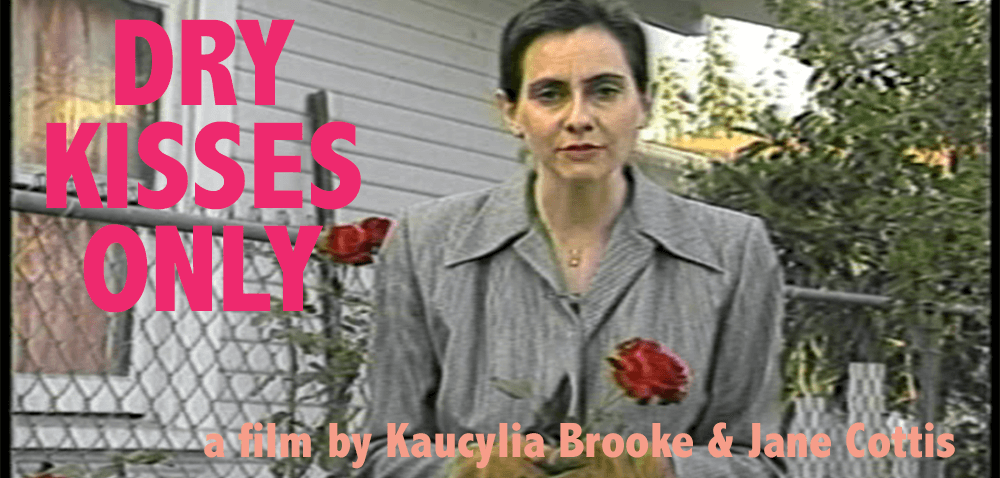 DRY KISSES ONLY
dirs. Kaucylia Brooke & Jane Cottis, 1990.
75 min, USA
In English
MONDAY, NOVEMBER 6 – 7:30 PM
THURSDAY, NOVEMBER 30 – 7:30 PM
An alternative look at the Golden Age of Hollywood, DRY KISSES ONLY explores the lesbian subtext behind classics such as JOHNNY GUITAR and ALL ABOUT EVE, as well as the paradoxes of butch icons like Katherine Hepburn, who once claimed not to know what a homosexual was. With frequent appearances from the directors themselves, a la late Yvonne Rainer, the film takes a winking, wry stance on an argument that would otherwise fill out a midterm paper. Also featuring a young Catherine Opie!