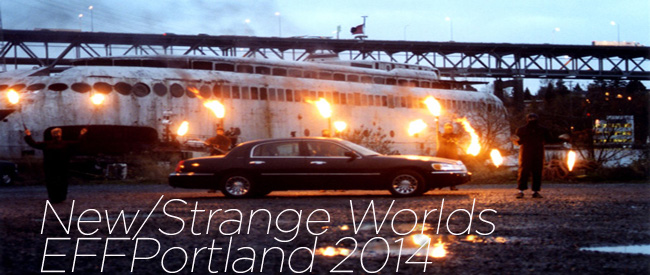 NEW/STRANGE WORLDS: EFFPORTLAND 2014
Various Directors, 2013
Various, ca. 90 min.
FRIDAY, MARCH 21 – 10:00 PM Curator & filmmaker Hannah Piper Burns in attendance!
SUNDAY, MARCH 23 – 7:30 PM
EFFPortland (Experimental Film Festival Portland) erupted in 2012 in the Fair City of Roses in response to the need for a Portland-based experimental media showcase. Over the past two years it has evolved into an artist-run five-day festival that celebrates the diverse and dynamic landscape of experimental film, video and new media. To this end, the festival features media both inside and outside the traditional cinema setting. EFFPortland has become a welcome gathering place for the wider experimental film and media community while also developing programs that bridge to a wider audience locally. We have had the immense pleasure of cultivating fantastic partnerships with some of Portland's most exciting and dynamic venues, artists, and organizations, and of taking some of our best programming on tour around the country. The third year of EFFPortland continues our quest to unite makers from all corners of the world in a vibrant and exuberant festival full of inspiring and hilarious moments. EFFPortland is co-directed by Ben Popp and Hannah Piper Burns.
New/Strange Worlds is a collection of short films from EFFPortland 2013 that take place in a place not like our home, although it may be almost familiar. Sometimes this place is memory or dreamspace, sometimes an alternate reality, and sometimes it's just a funhouse mirror twist on the familiar. Humorous, sinister, seductive, and maybe just plain weird, this collection of films was culled by EFFPortland co-director Hannah Piper Burns especially for Spectacle.
LAST OF OUR KIND
Dir. Reed O'Beirne, 2013
USA, 13 min.
Weaving together film, music, and poetry, LAST OF OUR KIND transforms the memory of a lost love into a ritualistic incantation of longing.
THE PLUNGE
Dir. Emily Jones, 2013
USA, 8 min.
A woman sees a strange figure in her room upon falling asleep. She chases the figure into a surreal dreamworld to explore the foundations of dreams and reality.
TRIP PAULISTA
Dir. Marcia Beatriz Granero, 2013
Brazil, 6 min.
After a night of strange dreams, she wakes up and takes some coffee to go with some pyschotropics. Her hesitation arises as an invitation for a pleasant tour in the crowded streets of São Paulo, Brazil.
GEPHYROPHOBIA
Dir. Caroline Monnet, 2013
Canada, 2.5 min.
GEPHYROPHOBIA, meaning fear of bridges, is a film about movement, landscape, and the tension between two very distinct identities sharing the Outaouais River in Canada as their common border.
CATECHISM OF FAMILIAR THINGS
Dir. Gina Marie Napolitan, 2013
USA, 8 min.
A survey of the visual history of Brockton, Massachusetts and a fractured reconstruction of the events which led to one of the city's most infamous murder cases: The 1947 Christmas Tree Slaying.
I FEEL YOU
Dir. Ulf Kristiansen, 2013
Norway, 5 min.
A dreamlike, musical horror fantasy.
MORRIS
Dir. James JA Mercer, 2013
USA, 18 min.
Two protagonists glimpse a facility haunted by MORRIS, a life form with no body who only exists in dreams. Further exploration reveals fragments of a shadowy social structure manipulated by bizarre symbols and mysterious scientific processes.
MYSTIC CHILD
Dir. Colinet André, 2013
Belgium, 5 min.
A study in datamoshing and a tribute to Stan Brakhage.
DO YOU KNOW WHAT LOVE IS
Dir. Leni Huyghe, 2013
Belgium, 20 min.
A portrait of a/my generation. It is about YouTube addictions, computers, mobile phones, apartments, and questions. Do you know what love is?
LOCUS SOLUS
Dir. Jessye McDowell, 2013
USA, 5 min.
A hint of a narrative built from stock footage and audio. The source images were created as empty signifiers for commercial use, but they nonetheless display an archetypal quality, evoking desires that characterize human experience.