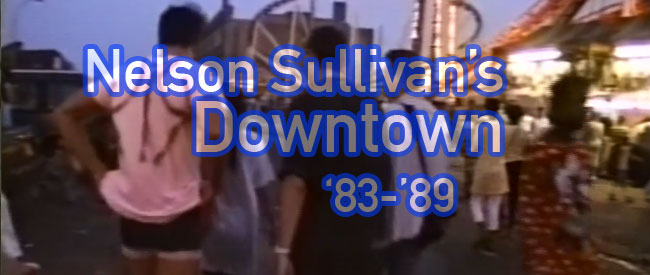 NELSON SULLIVAN'S DOWNTOWN '83-'89
Dir. Nelson Sullivan, 2001
Curated by Steve Lafreniere and Dick Richards
USA, 300 minutes.
MONDAY, JULY 18 – 7:30 PM & 10:00 PM
TUESDAY, JULY 26 – 7:30 PM & 10:00 PM
PLEASE NOTE: in keeping with the original intent of the footage, the screening is 5 hours long with admittance throughout its runtime. $5 will get you entry to the entire 5 hours; we've listed two screening times to indicate this program runs all night.
Last presented in 2001 at Gavin Brown's Enterprise gallery in the Meatpacking District, Steve Lafreniere's exhibition of Nelson Sullivan's video work paints a remarkable portrait of downtown New York in the 1980's.

Reviewing hundreds of hours of Sullivan's recorded work, co-curated by Sullivan's friend and colleague Dick Richards, Lafreniere's presentation distills nearly a decade of downtown life into five hours, broken into five hour-long acts. In their original presentation, each act was presented sequentially, with a different hour presented each day, for a five day period.
Prior to his sudden death, Sullivan was located at the center of the 80's downtown queer arts community, creatively documenting the entertainment, personalities, and places commonly recognized today.
Nelson Sullivan Video Collection courtesy of Dick Richards, Robert Coddington and David Goldman, Fales Library and Special Collections, New York University.