Examinations of the Christ figure in two biker films of the 70s.
---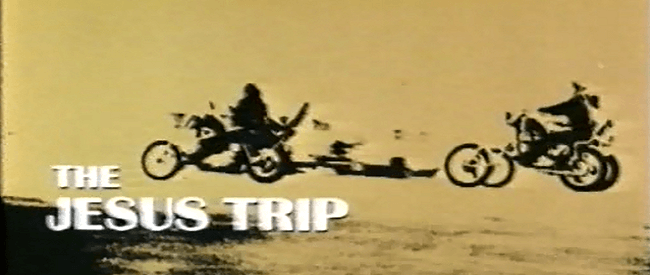 THE JESUS TRIP
Dir. Russ Mayberry, 1971.
USA, 84 min.
SATURDAY, JULY 2 – MIDNITE
THURSDAY, JULY 7 – 5:00 PM
SATURDAY, JULY 23 – MIDNITE
FRIDAY, JULY 29 – 5:00 PM
"Why did they call it THE JESUS TRIP? Because the high is Heaven, and the low is Hell…"
A bunch of drug smuggling bikers get chased down by rivals and cops, and by the grace of god manage to find shelter in an Arizona convent. This trashy bunch foul up clean linen sheets, disregard convent formalities, and beat a police officer close to death. The group flees the nunnery with a young blonde who is ultimately seduced by the earthly pleasures of shaggy haired men, desert riding, and helicopter demolition. This movie was also featured in The Jesus and Mary Chain's first video off Honey, presumably for the sun-soaked, cactus-studded Jesus Americana.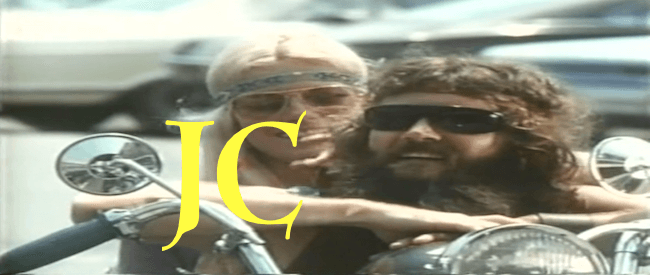 JC
Dir. William F. McGaha, 1972.
USA, 99 min.
SATURDAY, JULY 9 – MIDNITE
FRIDAY, JULY 15 – 5:00 PM
SATURDAY, JULY 30 – MIDNITE

After one of cinema's longer scenes of a joint being shared, biker "JC Masters" undergoes a dramatic messianic vision of himself as the second coming of Christ. Featuring the director as lead character, a group of bikers becomes a small cult energized by sermons for peace, beer and racial equality. Slim Pickins is the local sheriff, struggling to control JC and his crew due to an oft-articulated fear of national media attention and general interpersonal ineffectiveness. Small town bigotry fires up the ideals of the biker pack, causing sides to be taken, words to be said, and shots to be fired. JC feels like he has to shoulder it all, explaining the details of God's wisdom at the risk of his own peril.