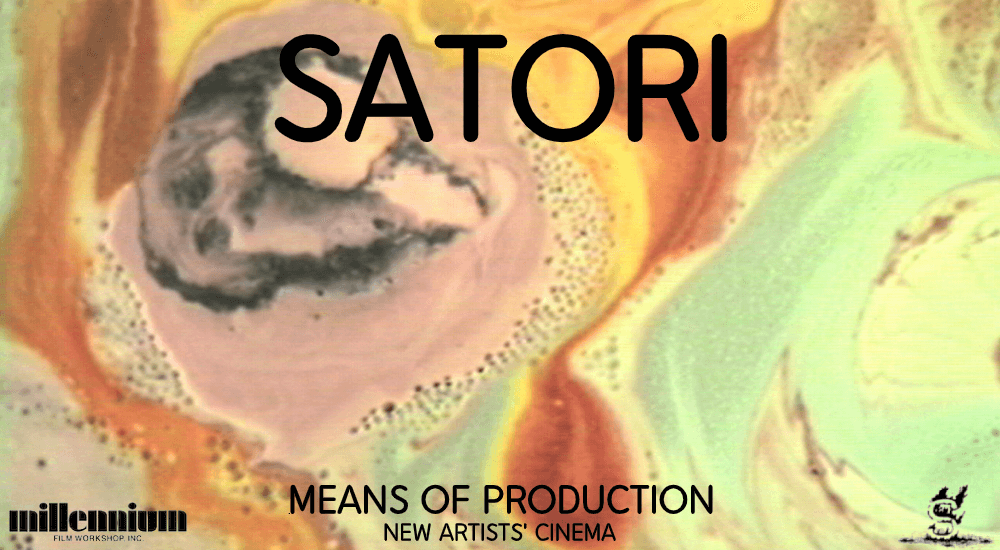 SATORI
dir. Erica Schreiner, 2015.
USA. 93 min.
Silent w/ English subtitles.

WEDNESDAY, MARCH 25 – 7:30 PM w/ Q&A
ONE NIGHT ONLY!

Two years in the making, SATORI is a feature length art film created by New York-based video and performance artist Erica Schreiner. Shot on VHS, Schreiner performs before the camera while simultaneously operating it. She made the picture entirely by herself: writing, editing and acting.
Nightly, Satori gives birth to eggs and sells them in order to make enough money to survive so she can continue to make art. Satori becomes worn out and conflicted with the act of selling part of herself and discusses this and the many aspects of being an artist with her friends: an encouraging unicorn, the all-knowing goddess Isis and a very disagreeable Beta fish. Together they help Satori find a way into the Universe where she goes in search of meaning and answers about her existence as an artist.
SATORI was independently created and financed and is a visionary piece with an important message. Satori struggles to divide her time between cultivating her personal passion and working to make money for survival, within the system. Satori and the other magical characters contemplate the meaning of life, Satori's experience, lack of privilege and opportunities, and the affect it has on her ability to create. She challenges the money system, at one point burning up all of her money because she was "starting to believe in the value of the stuff." Satori ultimately finds her personal freedom outside the hierarchy of control, illustrated with anarchist themes and philosophical dialog.
SATORI is the first entry in MEANS OF PRODUCTION: NEW ARTISTS' CINEMA presented by MILLENNIUM FILM WORKSHOP.
This series will be devoted to showcasing works from overlooked and unknown American and International contemporary artists working in film and video, and pushing bounds beyond the limitations implied in those forms. Whether presenting intimate-scale epic by heretical artists re-interpreting the world as they see it on a no-string budget, or artists expanding vision via new tools of expression in the present and future age, Means of Production is about looking forward to a 21st century where economic and technological barriers are broken down, ushering in a new era of highly original cinematic handiwork.
The Millennium Film Workshop was founded in 1967 by a group of filmmakers with a vision to expand accessibility to the tools, ideas, and networks of filmmaking beyond the confines of institutions and corporate studios. Millennium has put on countless educational workshops and artist-hosted screenings, printed our renowned publication The Millennium Film Journal and served as a production hub kickstarting the careers of filmmakers such as Stan Brakhage, Todd Haynes, Yvonne Rainer, Carolee Schneeman, Michael Snow, Bruce Connor, Nick Zedd, Andy Warhol and Bruce Connor. It has played a large role in dismantling the monetary and educational barriers separating the art and craft of filmmaking from the general public.