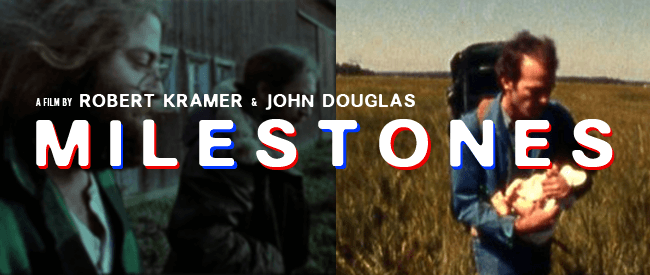 MILESTONES
dirs. Robert Kramer and John Douglas, 1975
United States of America. 195 mins.
MONDAY, MAY 1 – 7:30 PM
THURSDAY, MAY 11 – 7:30 PM
SUNDAY, MAY 21 – 5 PM
MONDAY, MAY 29 – 7:30 PM

Warning: This film contains a scene of graphic sexual assault that may be triggering for some viewers.
MILESTONES Excerpt from Icarus Films on Vimeo.
MILESTONES is a lilting, free-associative masterpiece that follows dozens of characters — including hippies, farmers, immigrants, Native Americans, and political activists — as they try to reconcile their ideals with the realities of American life. In intimate discussions of subjects from communal living to parenting, pregnancy to family, Vietnam to Cuba, city life to country life, and the workplace to the bedroom, the film's diverse protagonists negotiate jealousies, relationships, and the logistical challenges of their rapidly changing world.
Shot in vivid color 16mm, using innovative, layered sound design and editing techniques as well as slides and archival footage, MILESTONES tracks its subjects through scripted and unscripted moments. It follows them as they share their emotions and dreams, their idealism and disillusionment, their triumphs and defeats of the past, as well as the possibilities for the future.
In a 1976 interview with Jump Cut, Kramer put it like this: "If you ask what's the political significance of the film, we might say we make no claims for its political significance, because the space that it grew out of was the space in which that was the basic question – what is the political significance of our lives? And that's the guilt that basically everyone in the film experiences at one level or another… And the clear politics that grew out of the 70's couldn't be carried forward because of our own limitations. It's the responsibility of revolutionaries to claim all the good things in the world, in the revolution, not to make lives that rule it out, not to say, you can't have beautiful films, for example. You can have beautiful films and be a revolutionary." To which Douglas added: "The openness of the dialogue in the film, the dialogue between two people, constantly could be almost a dialogue between the two filmmakers because of their isolation."
Official Selection: Director's Fortnight, Cannes Film Festival 1975, Berlin Film Festival 1975, New York Film Festival 1975
"MILESTONES traverses the entire nation and marks the passing of an era… Kramer's most unforgettable expedition." – Melissa Anderson, Artforum
"As sad and compassionate a movie as I have ever seen… An attempt to keep alive one of the noble, impossible promises of its time." – A.O.Scott, The New York Times 
" A monument of committed American cinema." – Kieron Corless, Sight & Sound
"Above all else it is brave. The intensity of the commitment evinced by the film's characters, the unapologetically mixed-up quality of these commitments, and the sheer force of the emotions that come pouring off the screen make it unlike anything else I know of in that too-lauded period of American cinema." – Jerry White, Cinema Scope
"MILESTONES is an epic snapshot of our nation at a specific point in time in a brilliant and orginal mash-up of documentary and fiction." – The Flip Side
Special thanks to Icarus Films.