---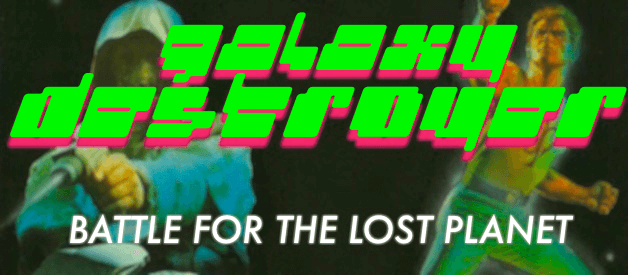 GALAXY DESTROYER (aka GALAXY, aka BATTLE FOR THE LOST PLANET)
dir. Bret Piper, 1986
95 min, USA
In German w/ English subtitles
FRIDAY, MAY 12 – MIDNIGHT
FRIDAY, MAY 26 – MIDNIGHT
"I am the king, I am the king
One dead marine through the hatch
Scratch and scrape this heavenly body
Every inch of winning skin
There's garbage in honeys sack again"

– The Birthday Party, "Junkyard"
In GALAXY DESTROYER, veteran character actor Matt Mitler (THE MUTILATOR, BASKET CASE 2) plays Harry Trent – a role he would reprise two years later in Piper's MUTANT WAR – a spy who steals a spaceship. While attempting to return to Earth, Harry finds the controls are malfunctioning and is unable to land… After a grueling five years in orbit, Harry comes back around and manages to descend to the planet's fertile surface. But upon his return, Harry finds his beloved homeworld has been taken over… And while hailed as a hero and savior, he's tasked with saving the way of life he once held so dear – if only he can figure out how.
A jack of all trades, director Brett Piper (A NYMPHOID BARBARIAN IN DINOSAUR HELL) cut his teeth in the early Eighties, and continues doing so to this day. Piper's work truly shines when he's able to showcase his love of practical effects; in GALAXY DESTROYER alone crab monsters, spaceships, and melting faces abound. It's perfect spring midnight fare!

---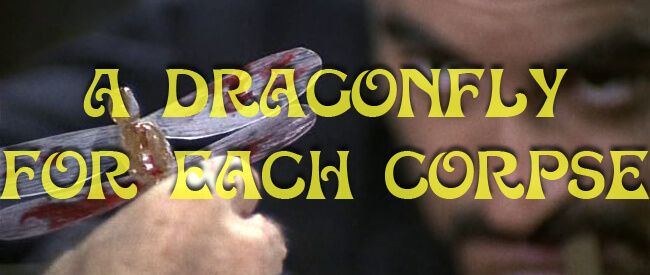 A DRAGONFLY FOR EACH CORPSE (Una libélula para cada muerto)
Dir. Leon Klimovsky (1975)
Spain, 85 min.
In Spanish with English subtitles
SATURDAY, MAY 13 – MIDNIGHT
SATURDAY, MAY 27 – MIDNIGHT
The great Paul Naschy returns, this time as a bare-knuckled detective not afraid to break the rules in search of a mysterious killer who leaves bloodied dragonflies on his victims. Ably assisted by the always amazing Erika Blanc (midnight maniacs may remember her from THE DEVIL'S NIGHTMARE), Naschy discovers secrets and perversions aplenty on his way to finding the killer. It may not technically be a giallo, but the general giallo rules all apply: glamorous models aplenty, op art everywhere, a trenchcoated killer who strikes without mercy (and with slo-mo blood trails everywhere), a shootout on a roller coaster: all we're missing is a bottle of J&B. Leon Klimovsky (last month's WEREWOLF SHADOW) is back in the director's seat and his collaboration with Naschy is as sure-footed as ever, and the domestic scenes with Naschy and Blanc are an absolute treat — Naschy pontificating while smoking a cigar in the tub as Blanc scrubs his chest while correcting his mistakes is the perfect example of what makes these films so adored by fans. This May, we got you covered at the witching hour, so get AS NASCHY AS II WANNA BE!
---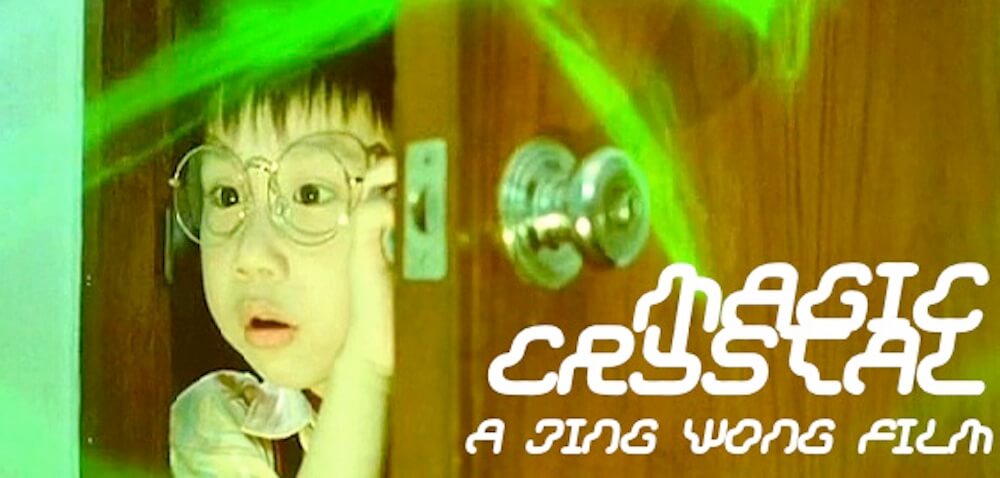 MAGIC CRYSTAL (aka Mo fei cui)
dir. Jing Wong, 1986
95 min, Hong Kong
In Chinese with English subtitles
SATURDAY, MAY 6 – MIDNIGHT
FRIDAY, MAY 19 – MIDNIGHT
A breakout hit at a recent FIST CHURCH screening, we're pleased as punch to bring this uhhhh "loving homage" to films like E.T. and Indiana Jones but with 5000% more Cynthia Rothrock beatdowns.
Andy (Andy Lau), Pancho, and Pin Pin (an actual child named Bin Bin in real life) jet off to Greece to find Andys friend Shen after receiving an urgent message that his life is in danger. After a lengthy montage of them having A LOT of fun in Greece the come to find that sure enough the KGB and Interpol are chasing down Shen after learning of his discovery of an ancient artifact in the ruins. Pin Pin accidentally ends up with it and finds out that this is no ordinary hunk of jade but that it houses an alien who communicates via brain-waves. Pin Pin promises not to tell and the crystal grows a finger so they can pinky swear. Andy pairs up with Cindy (the inimitable Cynthia Rothrock) to track down the evil Karaov (Richard Norton star of GYMKATA which we have definitely never shown) who has vowed to do anything to get his hands on the treasure. Everyone ends up back in Greece for a showdown beneath the ruins as they navigate traps and tricks to return the crystal back to its rightful place – and…owner?
No exaggeration when we say that this film owes much to the work of Spielberg et al but these fight scenes are downright jaw-dropping. Fast, ferocious, and wonderfully filmed. If you missed this at FIST CHUCH now's your chance to redeem yourself. Not to be missed!