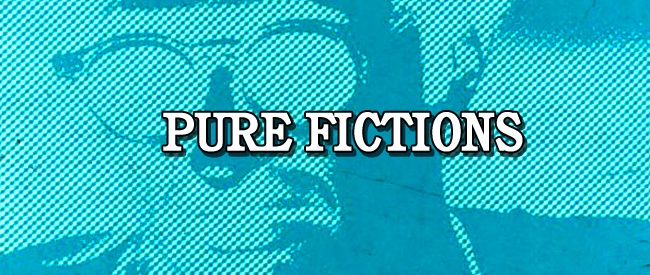 Luis Ospina was a founding member of Colombia's Grupo de Cali, an interdisciplinary collective dedicated to capturing the vitality of Colombian life and hypocrisy in how it was presented to the world. Formed in the early 70s, the group contributed immensely to Colombia's nearly nonexistent film industry, founding Cine Club de Cali ("The Cali Film Club"), printing the film magazine Ojo al Cine, and creating numerous documentaries and fiction films. Grupo de Cali rejected the gravity of Third Cinema tenets holding sway at the time, especially the definition of documentary as "a cinema of facts and irrefutable truth," opting to disrupt with black humor and reveal truth as subjective.
Each of these three features finds its own way to renounce narrative authority, culminating in a work of pure socio-historical collage in Un Tigre De Papel: the story at hand is always peripheral to something bigger, and often incidental to the official version. Pura Sangre closely follows the earlier Cali Group shorts' line of questioning the use of media in reinforcing oligarchic power structures, while SOPLO DE VIDA spins micro-narratives off a young woman's murder – standing in, itself, for a bigger repressed trauma (the 1985 Armero tragedy, wherein the Colombian government declined to warn its citizens about an imminent volcanic eruption and 22,000 people died.)
Viewer advisory: these films include images of kidnapping, drug abuse, murder and suggested rape.
---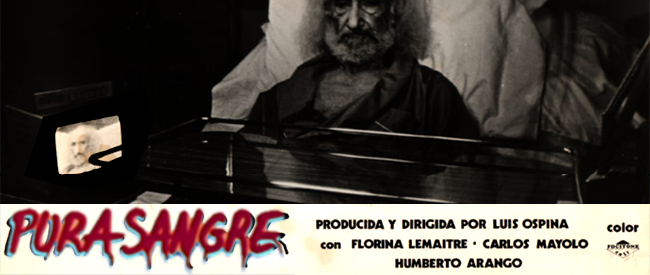 PURA SANGRE
aka Pure Blood
Dir. Luis Ospina, 1982
Colombia. 98 mins.
PURA SANGRE follows a trio of health aides to a dying sugar magnate named Don Roberto (Gilberto "Fly" Forero), who find themselves blackmailed into abducting and murdering children for the purposes of keeping him alive one blood transfusion at a time. As Andres Caicedo referred to Cali as "a city that doesn't open its doors to desperate men", Ospina's careful eye registers the mercenaries' dispassionate crimes with surreal casualness. Carlos Mayolo – who, with Ospina, co-directed the shorts in the GRUPO DE CALI: 1971-1978 program – stars as one of Don Roberto's three contract killers, giving deadpan casualness to a day's work committing one atrocity after another.
A cinephilic work par excellence, PURA SANGRE invites metatextual scrutiny across each of its cool-registered plotlines, as Don Roberto watches JOHNNY GUITAR and CITIZEN KANE from his deathbed. The conspiracy at its heart invites any number of analogies: in interviews Mayolo and Ospina both discussed the "monster of Mangones" terrorizing Cali growing up, a string of disappearances and murders of young boys that haunted a generation of neighborhood kids. Contemporaneously, Don Roberto's empire finds itself in hock to sleazy drug dealers, widening the scope of PURA SANGRE's tragedy. Ospina's vision of evil can barely even be called "satiric" but nonetheless is, cutting both backwards and forwards in history.
---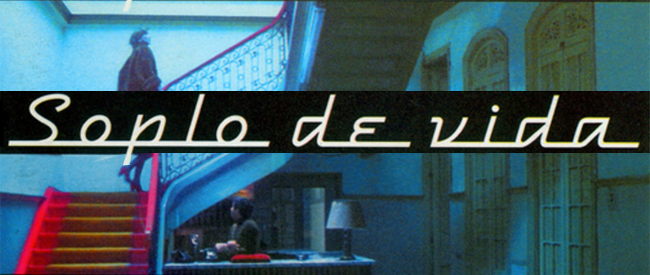 SOPLO DE VIDA
aka Breath of Life
Dir. Luis Ospina, 1999
Colombia. 108 mins.
Ospina's sole foray into Hollywood style film noir, the 80s-set SOPLO DE VIDA concerns the disappearance of Golondria (Flora Martinez), a beautiful sex worker, as investigated by grizzled ex-cop Emerson Roque Fierro (Fernando Solorzano) – nicknamed "Dick Tracy" by the sleazoid tenants of his ramshackle hotel home. While Ospina clearly enjoys teasing attendant genre tropes out of this seedy milieu, SOPLO DE VIDA also allows for another cross-examining of repressed traumas: Golondria's history exposes a conspiracy that includes an old john with links to paramilitary death squads, while her murder becomes yet another bellwether of the hypocrisy that follows Ospina's every last depiction of Colombian culture.
On setting a genre film in an 80s context, Ospina said: "Noir travels very well; besides that, it is a genre that has not aged very much, because it is a genre in which one can manipulate a certain moral ambiguity, where the good guys aren't completely good, nor are the bad guys completely bad; rather, the characters are enveloped in a corrupt environment that permeates everything and affects everything."
---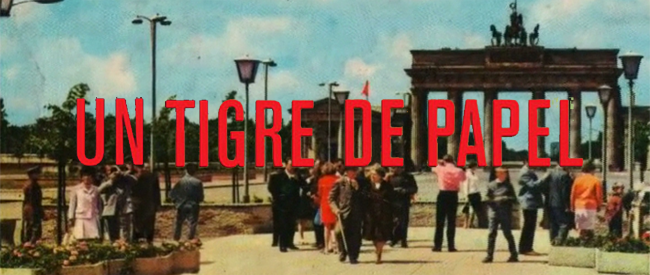 UN TIGRE DE PAPEL. 2008.
aka A Paper Tiger
Dir Luis Ospina.
Colombia. 112 mins.
UN TIGRE DE PAPEL ollows the trajectory of Pedro Manrique Figueroa, an author and nadaisto who becomes a phantom fixture of Ospina's 20th century, guided by his pacifist conscience across cultural sluices of the left. Not unlike Leonard Zelig, Figueroa (or "PMF" as termed by the film) manages to vanish and reappear at exactly the right time – a perfect ideological foot soldier with nothing to lose, losing and gaining identity wherever he goes. Nevertheless, PMF is as memorable a shaggy dog protagonist as they come; one interviewee claims that "anywhere, he went he was noticed because of his verbal diarrhea".
PMF's artistic career comes under the microscope of Ospina's film, much of the work crude but nonetheless potent collage-work – for example, campesinos emasculating a wailing Captain America with a manic-panic red hammer and sickle. After relocating to Jackson Heights to work as a line cook (quoting Jose Marti's dictum that "you've got to live inside the monster to know its entrails"), Figueroa comes under the thumb of FBI investigators, following an ill-fated campaign to stamp "fake" on all valid U.S. currency. Like Ospina's film, PMF output works as a hypothetical salve on real-life irreconcilables like Trotskyism and Leninism, Communism and the Catholic Church, indeed democracy and U.S. influence in Latin America at large.
---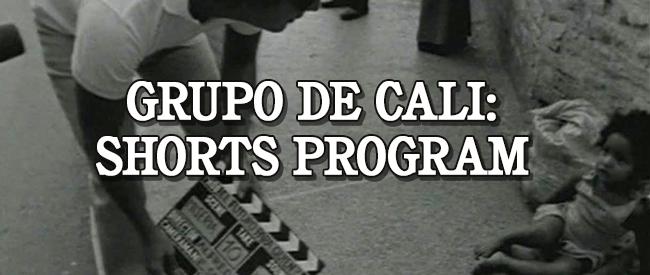 GRUPO DE CALI: 1971–1978
Total running time: 68 minutes

OIGA, VEA!
aka See, Hear!
Co-directed by Carlos Mayolo.
1971. 27 min.
Made in the style of a straight-shooting As The World Turns… style mini-documentary, OIGA, VEA! serves as psychic exposé of Cali upon the arrival of the 6th annual Panamerican Games in 1971. Shooting with a handheld 16mm camera "borrowed" from Carlos Mayolo's ad agency workplace, the film finds wobbly panoramas on spectacular assemblages, but always from the outside – an exteriority which defines itself fuller in the film's cockeyed dissection of the Games' pomp and circumstance. Rallies of military might serve only to demonstrate their planners' unmistakable Cold War anxieties, and proprietary feats of infrastructural know-how – like a new railroad track, received by some shantytowns like manna from heaven – exposed for the limited-time-only publicity perks they are. Ospina and Mayolo steal glimpses at once officially decorative and incisively marginal; by the film's end, the bitterness engendered by the project has been transferred in total from the shantytowns outside the Games' encampment, and directly into the audience.
CALI: LA PELICULA
aka Cali: The Movie
1973. 13 min.
The frantic, colorful CALI DE PELICULA is antithesis to the sort of pedantic 'misery porn' Mayolo and Ospina would mock in AGARRANDO PUEBLO. Like a Mondo movie without the voiceover, Ospina and Mayolo frame bullfighting as silent slapstick, turn voyeuristic girl-watching ominous with a horror heartbeat, and capture life at street level, a pagan carnival churning by. Dancing, so vital to social life in the area, is shown in all its movement and color, but capturing faces without smiles or real joy – even enjoying themselves Cali's citizens are cautious.
AGARRANDO PUEBLO
aka The Vampires of Poverty
Co-directed by Carlos Mayolo.
1978. 28 min.
This program concludes with AGARRANDO PUEBLO, widely recognized as the Group's masterpiece. Mayolo and Ospina star as effigies of themselves, wielding Bolexes and Nagras on a mission to make the perfect cine de sobreprecio ("surcharge film") for German television – skewering a then-commonplace of Colombian cinema dictated by the Committee for Quality Control, a government-supported bureau intended to help foster a national cinema but a de facto organ of censorship. Retitled THE VAMPIRES OF POVERTY in English, "Agarrando Pueblo" mistranslates a number of ways along the lines of "the clutching of poverty" and "the tricking of the people" – Ospina described it as a popular regional phrase at the time. The certainly film gives away as much (if not more) of its antiheroes' sleazy postcolonial errand as it does the poverty they seek. Who is clutching whom? While the filmmakers are obviously the supposed vampires, the film is also explicit in the way their exposure to an impoverished zone gets their minds going about the potential windfall for their own careers (aided, inevitably, by a few lines of blow back at the hotel.)
In his The Aesthetic of Hunger (first presented at a festival in 1965, modified and republished in the early 70s) Brazilian filmmaker Glauber Rocha criticized a certain trend in Latin American cinema that played up tropes of poverty as a kind of image-dependency. Rocha posited that these countries were still living under the same colonialism as yesteryear, only the means of representation (establishing poverty as an indomitable symptom/destiny, and not the result of socioeconomic policies) had changed.
The tension of this encounter – between the type of European-inflected filmmakers Rocha referred to as "above zero" for their filmmaking resources, and Cali's poorest – reaches a remarkable boiling point in AGARRANDO PUEBLO. It's unclear whether the documentarians' expedition is being turned on its head, or in fact fulfilling its original intent too perfectly; the barrier between color footage of the slums and black-and-white footage of the filmmakers gets shakier. As Mayolo himself likened the experience of shooting OIGA, VEA! to having "150 assistant directors", PUEBLO brings it all back home when one of the documentary's "stars" refuses to participate, becoming all the more desirable a subject for the filmmakers. The man is played by one Luis Alfonso Londo, a longtime resident of the El Guabal shantytown profiled in OIGA, VEA! According to the filmmakers, they first met Londo when he jumped out and asked them: "Ah, con que agarrando pueblo, no?"