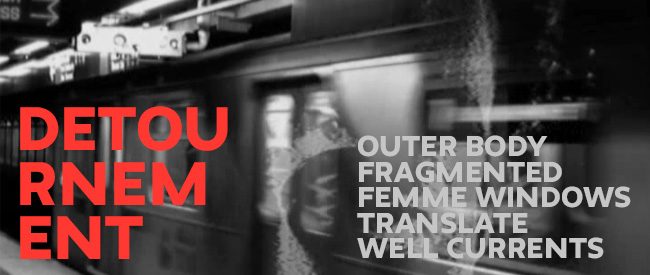 DETOURNEMENT: OUTER BODY FRAGMENTED FEMME WINDOWS TRANSLATE WELL CURRENTS
Dir. Various, 2016
USA, approx 90 min.
THURSDAY MAY 5
SCREENINGS AT 7:30 PM AND 10 PM
SPECIAL LIVE SCORE BY MERIDIANS + ERIC BAYLESS-HALL AT 9 PM ONLY
(10 PM TICKET HOLDERS CAN ARRIVE EARLY)
ADVANCE TICKETS AVAILABLE HERE http://www.brownpapertickets.com/event/2543789
Multidisciplinary artists from Eugene Lang College at The New School have come together to make some sweet dissonance between image, sound, and text. Having spent the semester learning and theorizing the expanses and limitations unique to artistic collaboration, six groups take up their chosen mediums. Stolen and live footage, original and sampled sound, archived microfilms, and live performance are collaged together in dynamic shorts that aim to dispute and reboot historicized modes of seeing, hearing, and analysis in the cinematic surround. Theatrically toppling storied tropes, shifting salient subjectivities, uncovering and rediscovering the assemblage of quotidian experiences in private/ public spaces, these six films and performances are imaginative and galvanizing presentations that update and augment monumental theoretical texts that have come to shape audiovisual perception.
Present at all screenings will be Dr. Julie Beth Napolin, Assistant Professor at Eugene Lang, Lisa Brenner, Seminar Fellow, and Shiva Addanki, Research Assistant, and co-teacher C. Spencer Yeh, artist and volunteer at Spectacle Theater..
This project is a collaboration with the Civic Liberal Arts Program at Eugene Lang College, The New School for Liberal Arts.
FEMME
Dir. Thomas Blakeley, Carol Brown, Daniel Friedman, 2016
Utilizing a series of elements from multiple sources, we intend to explore themes surrounding the depiction of femininity in mass media, and how it has taken the truest elements of life and transformed them into substance-less reproductions. In these multiple mediums, we also plan to contrast original content against the found elements, in order to form a peripheral commentary from our own perspective, as an anchor for the audience and illustration of our intentions. By allowing an outside, sampled source to serve as the meat of the project we can then incorporate original content – satiric re-dubbing of advertisements marketed towards women, for example – as a foundation for our reinterpretation of the source material.
FOR THOSE WHO ARE SMITTEN WITH HISTORY
Dir. Lisa Brenner, Owen Deutsch, Sienna Fekete, 2016
Who are these people? What's wrong with this picture?
Scrolling along the micro-film, detached from the specific contexts of the images yet actively aware of their historical distance, very striking juxtaposition between macro-level happenings on the world scale, codified in human faces, expressions, and most of all a sense of everydayness so well known to us yet laid out in these discrete manifestations. Who are these people? And where do they lie on the spectrum of historical importance? Newsprint is already manufactured as a collage. Reevaluate what it means to put a face, to put a name and a sound to historical circumstance. Not a newscast, not a report, but a new contextualization of the past.
OUTER BODY
Dir. Shiva Addanki, Isabel Allen, Jake Gulliver, Reuben Hamlyn, 2016
Mixed media permutations centering in-on images, sounds, and evocations of the Outer Body. Mixed media collectivity presented as shambolic unified whole. Rotating orbit of individual understanding presented and told thru the cohesion and placement of distinct units. Snapshots of the distilled Outer Body / A reorientation of filmic representation centered on the collective to invoke the individual, an attempt to grasp a singular thru varying and shifting parts. Film and sound cut-up re-fed thru machine for new collective context. Transformation of the image and theme thru movement and sound and collective input. Mixed live and direct for the creation of linked assemblage: a breakdown of the whole into parts to reassemble back into the whole.
SONDAGE
Dir. Jimmy Dillon, Kristen Moyer, 2016
Modern cinema has attempted and reattempted to decipher the complex ways in which women relate and communicate with one another. Yet, these obtuse efforts repeatedly put women in conflict with one another or insert them into narratives of passive aggression. SONDAGE or "the probing of an open wound" is a story that you have not heard, but one you remember listening for. We attempt to get at the more real female solidarity that we know exists by means of playing the Spectacle at its own game: We are all bled dry by the serrated struggle of existence, but whether our bloodied hands wear a grin is up to us.
WINDOWS
Dir. Sahar Sepahdari, Prince Lang, 2016
A meditation on conversations that envelop us through our environment. We aim to make buildings talk.
"___________________"
Dir. Selwa Abderrazak, Juno Chung, Emma Conlon, Andrea Nappi, 2016
While impatiently waiting for the next train, have you ever been trapped in your own thoughts? Were you there alone?
Is public space private? What is privacy within a public context?
______ is a film that delves into the realm of opposing two forces through a process of entanglement. The line represents the duality within aspects of reality/ fantasy, phantasma (dreams and nightmares) and public/private space.
Inspired by Arendt's T​he Human Condition,​______ is a sensuous exploration of the notion of 'privacy' in a contemporary approach in regards to individuality.
"​W​e no longer think primarily of deprivation when we use the word "privacy," and this is­partly due to the enormous enrichment of the private sphere through modern individualism," (Arendt 38).
This quote illustrates and exposes the "theory of uniqueness," in terms of the "exclusivity" of an individual. What Arendt's statement concludes, in regards to plurality, as well as shared/mediated and isolated spaces, is that the only privacy that an individual can condone to is their unconscious. In the subway, the individual is alone even though he is part of this network, not by choice but constraint. The politics of a space and society work to disclose uniqueness through speech and action. So even though the individual is "alone" within a shared "social" space, the only uniqueness that remains within is their unconscious mind.