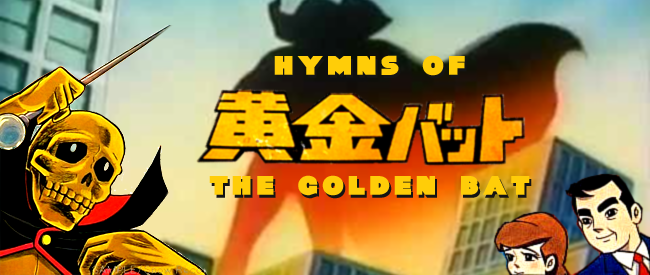 HYMNS OF THE GOLDEN BAT
In Search Of The Original Caped Crusader
Various. 100 minutes.
THURSDAY, OCTOBER 24TH – 8PM
ONE NIGHT ONLY!
Consistent with SPECTOB3R's enveloping mist of strange-smelling macabre, please join us for a one-off tribute to Japan's Ōgon Batto (alias Fantaman / Fantasmagórico / Phantoma.)
A flying, self-teleporting and invincible "god of justice" (whose family is originally from Atlantis), the Bat was frozen in an Egyptian sarcophagus for two thousand years before being rediscovered by a little girl and announcing himself – reanimated by her tears – as a "protector of the weak." Wraithlike and never not grinning, the Bat strikes fear into the hearts of his enemies and metes out punishment before retreating to his maximum security hideout somewhere in the Japanese alps in a snap.
Although the Bat first became famous across Japan for his appearances in manga, his initial origins are something of a mystery. It has been proposed that the Bat was adapted from a series of no-name pulp novels reaching back to the era of World War I; alternately, some have theorized that the Bat was born in a type of serialized Japanese street theater called kamishibai, appearing on watercolor-painted slides run in and out of a portable stage.
Whatever his true origins, it's worth remembering that the Bat always existed as an image first – a visual punch to the brain, really – with any number of plots and stories conveniently wrapped around him. By the 1950s and 60s, the Bat was a force for Japanese pop culture, and soon fans were clamoring to see him emblazoned on both big and small screens. Priming audiences for the Bat's hugely successful anime series on Saturday morning TV, Toei released Hajime Satô's brassy, shimmering widescreen Golden Bat in 1966.
Slathered in lush you-can't-make-this-up eye candy, the film sits at the zenith of gonzo postwar Japanese phantasmagoria. Chock full of laser beams, spaceships, teleportations, photon-clones, giant drills, a space-crab villain with two giant iron vice-grips for hands, a sinister cult of scarred-flesh mutant scientists and the Bat's unstoppable prowess in hand-to-hand combat, Golden Bat is unmissable for fans of Godzilla, Ultraman, Kamen Rider or Ishirō Honda's masterful space opera Gorath. (With a very young Sonny Chiba!)
Prior to Satô's film, we'll be hopscotching around the Bat's mysterious perennial appearances/evaporations in the anime world over the last five decades as well – because some legends never die.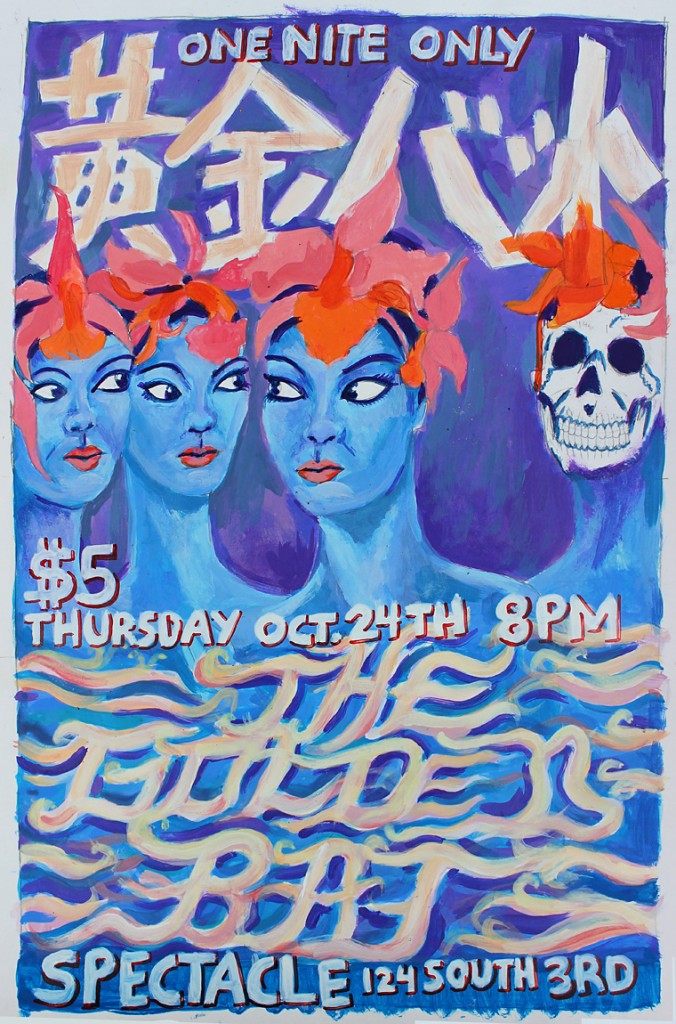 (Poster by Andrew "Drinkman" Cimelli)