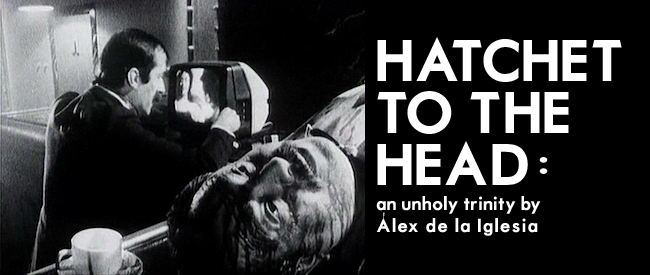 This Summer™, Spectacle is pleased to show a trio of earlier works by the great, madcap Spanish auteur (anti-auteur?) Álex de la Iglesia, better known of recent for his Elijah Wood-starring The Oxford Murders and his surrealist drama of the Spanish Civil War, The Last Circus. de la Iglesia's howlingly funny body of work is marked as much by its wanton bloodshed and suffering as it is by a dexterity with words and aphorisms – hat-tips to the audience that there are no holy cows in this world.
Trigger warning: films include murder, rape, kidnapping, human sacrifice, drug use, live experimentation and acts of terrorism.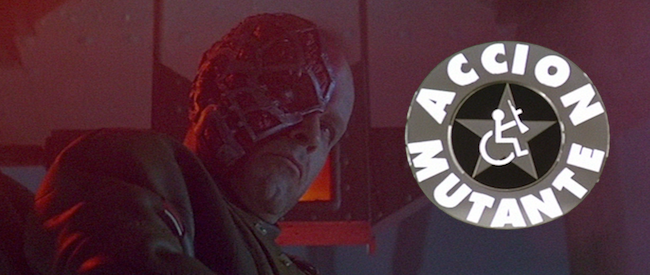 ACCIÓN MUTANTE (MUTANT ACTION)
Dir. Álex de la Iglesia, 1993
Spain, 90 min.
In Spanish with English subtitles
THURSDAY, JULY 2 – 10:00 PM
FRIDAY, JULY 10 – 7:30 PM
SATURDAY, JULY 25 – 7:30 PM
For those of us for whom DEMOLITION MAN wasn't Boschian enough, there's ACCIÓN MUTANTE! The film takes place in a dystopian near-future where a band of inept mutant troglodytes have made it their mission to target only the world's most attractive – the other 1% – by blowing up sperm banks, attacking gyms and spas, etc. Led by the Frankensteinian Ramón (Antonio Resines), the  kidnap Patricia (Frédérique Feder), a glowing socialite bride-to-be, and haul her to the off-planet mining colony where Ramón has arranged to collect ransom money from her post-Francoist generalissimo father – but of course, things get more complicated en route. Awash in blood and metal, de la Iglesia's nihlistic debut (produced by Pedro Almodovar!) is both a rib-brusingly hilarious satire of 90s society and a production of surprising detail and muscularity, likened often to the early collaborations between Jeunet and Caro.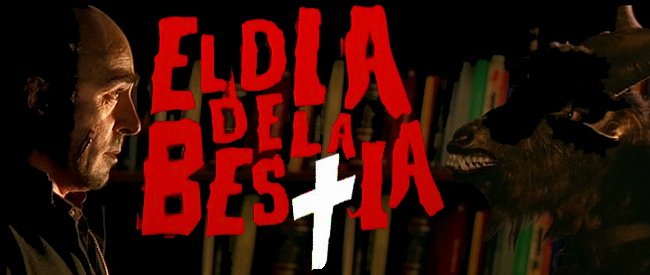 EL DÍA DE LA BESTIA (THE DAY OF THE BEAST)
Dir. Álex de la Iglesia, 1995
Spain, 103 min.
In Spanish with English subtitles
MONDAY, JULY 6 – 7:30 PM
FRIDAY, JULY 10 – 10:00 PM
TUESDAY, JULY 28 – 7:30 PM
After discovering the Antichrist will be born Christmas Eve, mousy but determined Basque theologian Ángel sets off for Madrid to be evil as possible in hopes of gaining Satan's trust and stopping the Apocalypse before the holidays. He's new to sin, but gets help from a friendly local metalhead in kidnapping TV psychic and paranormal investigator Cavan to help them out. Comic book goofiness barely disguises underlying social commentary – one priest stealing dead men's wallets can't compete with an overzealous, trigger-happy police force or xenophobic hate groups running amok.
---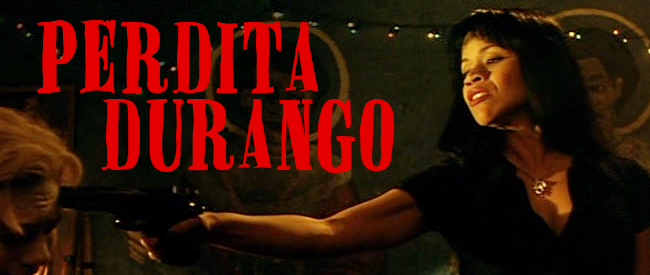 PERDITA DURANGO
Dir. Álex de la Iglesia, 1997
Mexico/USA/Spain, 121 min.
THURSDAY, JULY 2 – 7:30 PM
WEDNESDAY, JULY 15 – 7:30 PM
TUESDAY, JULY 28 – 10:00 PM
Starring Rosie Perez and Javier Bardem's worst on-screen haircut, PERDITA DURANGO is a violent whirl of sex, drugs, and ritual murder weaving across the U.S./Mexico border. Still mourning her sister's death, Perdita joins Santeria priest/drug runner Romeo on his latest run – delivering frozen human fetuses to a beauty company in Vegas for processing into fancy face cream. To spice things up, they kidnap two clueless American teens to screw and sacrifice along the way. de la Iglesias' portrayal of America as land of the Square blurs with Perdita and Romeo's Latin world of brutal vitality, creating a cartoonish existence where investigator Dumas (played by James Gandolfini) perpetually getting slammed by cars is slapstick, violence and sex are indistinguishably intermeshed, and the only common ground is Herb Alpert's Tijuana Brass.