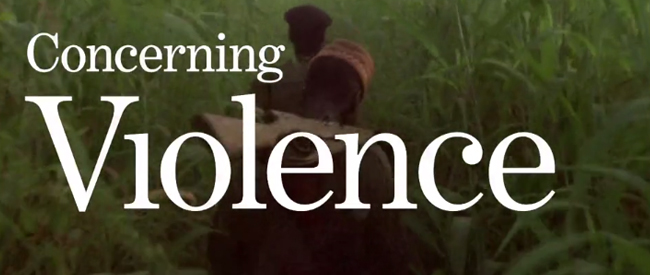 CONCERNING VIOLENCE: NINE SCENES FROM THE ANTI-IMPERIALISTIC SELF-DEFENSE
Dir: Göran Olsson, 2013
Sweden, Finland, Denmark, US, 85 min.
ONE NIGHT ONLY! SPECIAL PREVIEW SCREENING FOR SPECTACLE MEMBERS!
TUESDAY, MARCH 11 
With assistant director Sophie Vukovic in attendance for a Q&A!
Franz Fanon's The Wretched of the Earth was published in France a month after his death in 1961, in the final year of the Algerian struggle for independence from France. In it, he diagnosed the condition of the colonized peoples of the Third World as an existence shaped by the continuous and systematic violence of colonial administrations, European settlers, and global capitalism, which exercise their violence through their police, military, and judicial apparatuses. Göran Olsson, the Swedish found-footage documentarian who made The Black Power Mixtape: 1967-1975 three years ago, has created a film adaptation of Fanon's book, using archival footage from the vaults of various Scandinavian television stations. Lauryn Hill reads selections from the first section of The Wretched of the Earth over footage gathered during the national liberation struggles in Angola, Zimbabwe, Mozambique, Guinea-Bissau, and Burkina Faso in the '60s, '70s, and '80s. The images are used to illustrate Fanon's theses about the nature of colonialism, such as his definition of it as a primordial violence that will only yield when confronted with greater violence: "this narrow world, strewn with prohibitions, can only be called in question by absolute violence."
Tuesday March 11, Spectacle is proud to welcome the film's assistant director Sophie Vukovic, who will introduce an exclusive preview screening of CONCERNING VIOLENCE and answer questions from the audience.