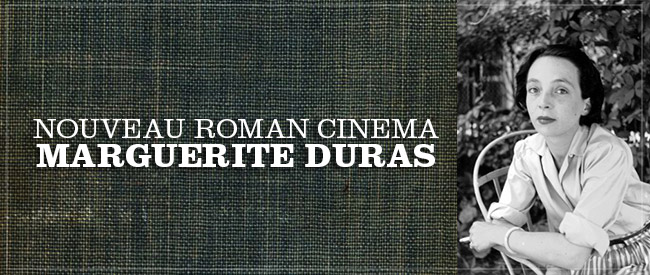 In Observation of the Marguerite Duras Centennial
This month Spectacle introduces NOUVEAU ROMAN CINEMA, a bimonthly throughline of series exploring the exchange between cinematic art and the nouveau roman of the 1950's and 60's. Though many of its writers are known for their collaborations with established arthouse quantities like Alain Resnais or Wim Wenders, the selections emphasize efforts in which the authors direct their own material — either self-adaptations or works created directly for screen — or are otherwise inextricably part of the film's cinematic authorship.
While selecting the most illuminating instances of the nexus between literary and cinematic style, the choices also err on the side of the obscure and under-seen. Many of the works will be newly translated or subtitled specifically for these screenings.
Upcoming screenings will spotlight the work of Alain Robbe-Grillet, Nathalie Sarraute, Peter Handke, and Georges Perec.
MARGUERITE DURAS
Destroy She Said (1969) • India Song (1975) • Le Camion (1977)
Baxter, Vera Baxter (1977) • Agatha et les lectures illimitées (1981)
The most prolific of all Nouveau Roman author/filmmakers, Marguerite Duras's (b. April 4, 1914) career behind the camera has been unfairly overshadowed by Robbe-Grillet's titillating arthouse provocations and her own Oscar-nominated screenplay for Resnais's HIROSHIMA, MON AMOUR. It was on the latter that she received her greatest initial exposure to the film industry. (Previously, René Clément had adapted her novel THE SEA WALL for the screen as THIS ANGRY AGE.)
Between 1967 and 1985, Duras directed 19 films: primarily features, plus a number of shorter featurettes and four short films. Throughout these she established recurring collaborations with luminaries of French cinema including Gérard Depardieu, Delphine Seyrig, Bulle Ogier, and Michael Lonsdale, plus then-assistant director Benoît Jacquot and cinematographers Bruno Nuytten and Pierre Lhomme.
Beginning with debut feature DESTROY SHE SAID, which was a hit at the seventh New York Film Festival and subsequently included in Amos Vogel's Film as a Subversive Art, Duras rethought all recognizable cinematic conventions in both form and storytelling. During this period there was a reciprocal exchange between the films and their printed counterparts, whether in the form of novels, stage plays, or hybrid forms — and between the content of the works themselves. One might say this is foreshadowed in a work like DESTROY SHE SAID, one of the great post-1968 comedown works in French cinema, in which the characters gradually seem to assume ambiguous, shifting identities and social/romantic relationships; the camera wanders off expected course, and phantom sounds suggest presence where the camera displays its lack.
Duras's masterpiece INDIA SONG is the consummate realization of a technique she had previously experimented with WOMAN OF THE GANGES in which the image and soundtrack are dissociated, featuring narration rather than syncronized dialog. The technique is later taken to more minimal extremes in the breathtaking AGATHA ET LES LECTURES ILLIMITÉES, which features only two characters whose disembodied voices plea directly toward each other though they appear silent and alienated within the frame. In between, the Palme d'Or-nominated LE CAMION blurred fiction and documentary, narrative and essay unlike any film before or since. And we're also pleased to show BAXTER, VERA BAXTER, a rarely seen gem among Duras's filmography, pairing Depardieu and Seyrig.
Subtitled prints of Duras's films are extraordinarily rare, and no subtitled versions are available on home video anywhere in the world. Therefore, subtitles have been prepared especially for these screenings, which are timed to coincide with Duras's 100th birthday, April 4, 2014.
In presenting this series, we are indebted to the generosity of Duras' son, Jean Mascolo. Many special thanks also to Michèle Kastner and Carolyn Lazard.
---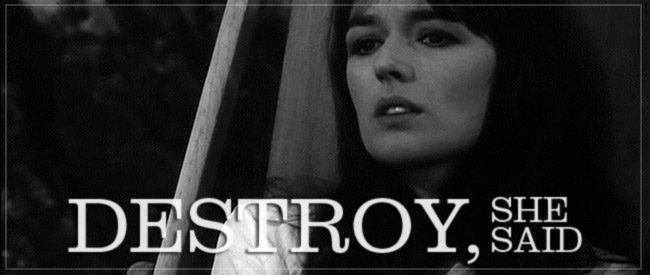 DESTROY SHE SAID
(Détruire dit-elle)
Dir. Marguerite Duras, 1969
France, 93 min.
In French with new subtitles by Spectacle.
FRIDAY, APRIL 4 – 10:00 PM
THURSDAY, APRIL 17 – 7:30 PM
TUESDAY, APRIL 29 – 10:00 PM
"…a hypnotic film about five alienated people isolated in an otherworldly hotel. Enmeshed in ritualistic power games, they continuously exchange personalities as each acts out his own ambiguous charades. A highly stylized, non-logical dialogue creates enigmatic fear; long, uninterrupted takes and the absence of close-ups evoke ennui and distance."
-Amos Vogel, "The Destruction of Plot and Narrative," Film as a Subversive Art
The following is stated by Duras in a 1969 interview with Jacques Rivette and Jean Narboni:
Can I read you what I say in the trailer? I'm going to read it, someone asks me the question:
Q: "Where are we?"
A: "In a hotel, for example."
Q: "Could it be some other place?"
A: "Yes. It is up to the viewer to choose."
Q: "Don't we ever know what time it is?"
A: "No, it is either nighttime or daytime."
Q: "What's the weather like?"
A: "It's a cold summer."
Q: "Is there anything sentimental about it?"
A: "No."
Q: "Anything intellectual?"
A: "Perhaps."
Q: "Are there any bit players?"
A: "They have been eliminated. The word 'hotel' is said, and that ought to be enough to represent a hotel."
Q: "Is it a political film?"
A: "Yes, very much so."
Q: "Is it a film where politics are never spoken of?"
A: "That's right. Never."
Q: "I'm completely lost now… What do you mean by 'capital destruction'?"
A: "The destruction of every power …"
I'm perhaps going to change that a little …
A (con't): "the destruction of all police. Intellectual police. Religious police. Communist police."
Q: "What else?"
A: "The destruction of memory."
Q: "What else?"
A: "The destruction of judgment."
Q: "What else?"
A: "I am in favor of … closing schools and universities, of ignorance …"
I added the word "obligatory," but this would amount to decreeing something. I go on:
A (con't): "I'm in favor of closing schools and universities. Of ignorance. Of falling in line with the humblest coolie and starting over again."
Q: "Well, I'm going to … Is it a film that expresses hope?"
A: "Yes. Revolutionary hope. But at the level of the individual, of inner life. Without which … look around you. It is completely useless to make revolutions."
-Marguerite Duras
"The dramatic power of the film, and its way of haunting one for days, are not surprising; what is, however, is the degree of visual virtuosity that Mme. Duras achieves. In short, here is a 'difficult' film which more than compensates for the demands it makes on the viewer."
-Richard Roud, The Guardian
"I'm not sure that I can reasonably explain the pleasure I take in Marguerite Duras's DESTROY SHE SAID."
-Roger Greenspun, The New York Times
---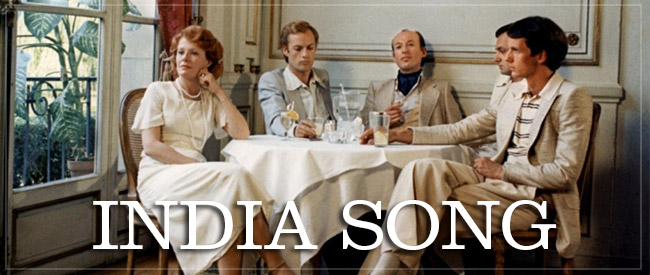 INDIA SONG
Dir. Marguerite Duras, 1975
France, 111 min.
In French with new subtitles by Spectacle.
FRIDAY, APRIL 4 – 7:30 PM
SATURDAY, APRIL 12 – 7:30 PM
MONDAY, APRIL 14 – 7:30 PM
TUESDAY, APRIL 22 – 10:00 PM
"INDIA SONG is a film that presents a reflection and re-reflection of itself. It devours both its dead self and repeats and devours the interior space which Duras presents."
-Gill Houghton
Duras's most highly regarded masterpiece is a romantic phantasmagoria set in the French Embassy amid a reimagined colonial India circa 1937. Lacking synchronized sound, its narrative unfolds through a multiplicity of voices presumably belonging to the mute figures on screen. They speak of a doomed love affair between Anne-Marie Stretter (Delphine Seyrig) and her lover, Michael Richardson (Claude Mann), and a number of other admirers — amid, we're told, the smell of flowers and leprosy. A shrine to Stretter surrounding by smouldering incense signifies that it's not necessarily the present being narrated, but a tragic past. Like Duras's celebrated screenplay for HIROSHIMA, MON AMOUR, INDIA SONG skeptical of its own historical representation, in this case of European colonialism; and yet is a formally and structurally far more radical work. The film's folding of time and space, living and dead, night and day, interior and exterior has variously been compared to an "echo chamber" or a consuming, vampiric form of cinema. Amy Taubin has declared it one of the greatest films ever made, and Molly Haskell has described as "the most feminine film I have ever seen, … a rarefied work of lyricism, despair, and passion, … imbued with a kind of primitive emotional hunger."
Preview the film's title song, lyrics by Marguerite Duras, arranged by Carlos D'Alessio, and performed by Jeanne Moreau:
[soundcloud url="https://api.soundcloud.com/tracks/5591707″ params="color=000000&auto_play=false&hide_related=false&show_artwork=true" width="100%" height="166″ iframe="true" /]
---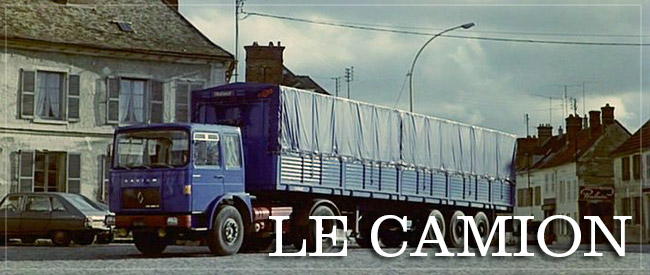 LE CAMION
Dir. Marguerite Duras, 1977
France, 76 min.
In French with English subtitles.
SUNDAY, APRIL 13 – 5:00 PM
THURSDAY, APRIL 17 – 10:00 PM
MONDAY, APRIL 21 – 7:30 PM
SATURDAY, APRIL 26 – 7:30 PM
"Remarkable for its precise balancing of interior and exterior, sound and image … a conceptual and comic road movie."
-Amy Taubin, Artforum
Nominated for the 1977 Palme d'Or, Duras's LE CAMION blends fiction and documentary, narrative and essay. In this minimal, nocturne feature, Depardieu and Duras sit at a nondescript table reading the script for an unrealized film about long distance truck drivers. Throughout, images of lorries moving through French landscapes.
"One of Marguerite Duras' most radically minimalist features, this also happens to be one of her best, as well as one of her most accessible."
-Jonathan Rosenbaum
---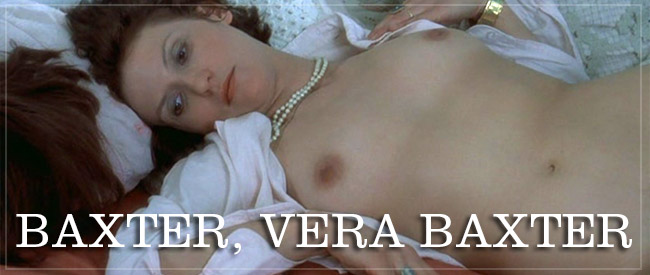 BAXTER, VERA BAXTER
Dir. Marguerite Duras, 1977
France, 91 min.
In French with English subtitles.
SATURDAY, APRIL 12 – 10:00 PM
MONDAY, APRIL 21 – 10:00 PM
TUESDAY, APRIL 29 – 7:30 PM
"A thousand years ago, it is said that there were women in the forests that fringed the Atlantic. Their husbands were nearly always a long way off , fighting for their lord or on a crusade, and they were sometimes alone for months waiting in their huts in the middle of the forest for their men to return. That was how they ended up talking to the trees, the sea and the animals of the forest. They were called witches. And they were burned. One of these women, it is said, was also called Vera Baxter."
One of Duras' strangest and most obscure films, BAXTER, VERA BAXTER tells the story of a woman captive to her fidelity to her philandering husband and eventually forced into an adulterous relationship to settle his gambling debt. Though melodramatic in conception, the film is equally as radical and anti-bourgeois as anything Duras had ever done. It essentially takes place in one room between two characters: Vera, played by Claudine Gabay, and an unknown confidant played by Delphine Seyrig, whose questioning teases out the history of Vera's plight. Approximately 85 of the film's 91 minutes ride over a bed of Carlos d'Alessio's score, consisting of only two chords repeated ad infinitum — an alternately maddening and exhilarating exercise.
"A satirical and feminist poem on the death of the bourgeois couple. … Duras pushes the spectators to their limits." -Laura Adler, Marguerite Duras: A Life
---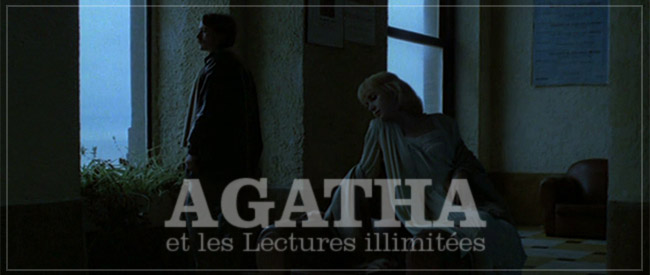 AGATHA ET LES LECTURES ILLIMITÉES
Dir. Marguerite Duras, 1981
France, 83 min.
In French with new subtitles by Spectacle.
WEDNESDAY, APRIL 9 – 7:30 PM
MONDAY, APRIL 14 – 10:00 PM
SUNDAY, APRIL 27 – 7:30 PM
"We see a man and a woman. They are silent. In the drawing room there are two travelling bags and two overcoats, but in different places. They have therefore come there separately. They are thirty years old. One might say they look alike." -from the text
"In AGATHA, incest, the last middle-class taboo, is not at all experienced as a crime."
-Michel Mesnil
Among the most resolutely minimalist narrative features ever made, the breathless and beautiful AGATHA ET LES LECTURES ILLIMITÉES is an interior exploration of an incestuous relationship between brother and sister who have convened to share final, parting words on their affair. Continuing Duras's earlier work with disembodied narration, the film's images consistent entirely of stark compositions and stunning tracking shots within the vacant lobby and surrounding environs of a seaside hotel on the Normandy coast. In wistful stream of elliptical voiceover, the two characters speak of past incident, current current circumstance, personal revelation. Occasionally, an actress and actor representing the longing siblings appear silently and reflectively within the frame. At once enrapturing and coolly distant, AGATHA folds text, photography, location, performance, editing, and music into a unique kind of narrative total cinema that quietly, assuredly disregards all storytelling conventions.
The woman on screen is portrayed by Bulle Ogier, a recurring cast member of Duras and Jacques Rivette, and voiced by Duras herself. The unnamed brother is both depicted and spoken by Yann Andréa, a platonic companion and subsequent key collaborator of Duras who had recently become acquainted with her through admiring correspondence. When the pair met, Duras fell in love with the forty-years-younger Andréa, but despaired to learn of his homosexuality. Her unrequited longing for Andréa is said to inform the tone of AGATHA's text.
As a bit of trivia: a conspicuous name in the barebones credits, unpublished on IMDb, is second assistant cameraman Darius Khondji, the Persian-French cinematographer of Se7en, City of Lost Children, and Amour. This places Agatha as his earliest screen credit, and the haunting, muted look of the film may very well have influenced his subsequent work.