All proceeds from these screenings will be donated in Clark's name to #StandWithStandingRock.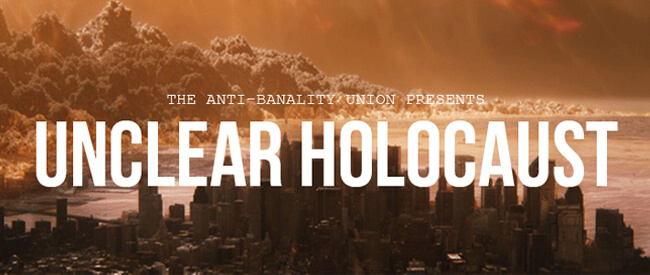 UNCLEAR HOLOCAUST
Detourned by The Anti-Banality Union, 2011
65 mins. U.SS.A.
Amerikan with some Arabic.
Everything is legally protected under the Fair Use Clause of the Copyright Act of 1976
THURSDAY, DECEMBER 8 – 7:30 PM
Unclear Holocaust is a feature-length autopsy of Hollywood's New York-destruction fantasy, gleaned from over fifty major studio event-movies and detourned into one relentless orgy of representational genocide. It is the unrivaled assembly of the greatest amount of capital and private property heretofore captured in one frame, that, with unfathomable narrative efficacy, suicides itself in an annihilatory flux of fire, water, and aeronautics.
"A Terrorist film collective hijacks the U.S. propaganda apparatus and detonates it over New York. Everything is obliterated and the world celebrates. Through fifty studio event-movies abstracted of all demokratic variation, we see the Cinema as it really is; an unequivocal annihilation, the auto-genocidal mass fantasy of a megalomaniacally depressed First World. Every screen is lifted and bares the obscene underside of all these images. Movements of character and narrative burst into pure and mechanically perfect propulsions of a psychotic camera from which all this violence emanates. The Mise-En-Scene becomes an inventory of the dominant visual-auditory arsenal, enumerating and measuring the power of every weapon available to the Spectacle. Utilizing them all with paradigmatic rigor, the Hollywood-Military complex launches an endless pre-emptive attack on its own shadow, the Terrorist. And, as in all encounters between doubles, the former ends up joyously suiciding itself." -A.B.U. Communique #1
Followed by a shorts program:
10/1/11: UNTITLED TARU DOCUMENT Trailer, 1:32 min.
May Day and NYC General Strike Trailers, 8 min.
Hitler Reacts to Occupy Wall Street, 4 min.
A Resolution, 6:09 min.
Woody Allen on How to Handle Nazis, 0:32 min.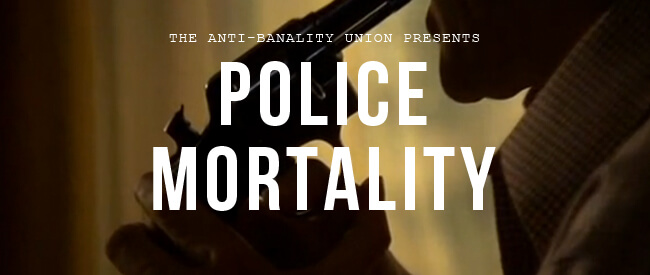 POLICE MORTALITY
Assembled by the Anti-Banality Union, 2013
66 mins. U.SS.A.
Everything is legally protected under the Fair Use Clause of the Copyright Act of 1976
THURSDAY, DECEMBER 8 – 10:00 PM
Do you ever try to imagine the last crime?
Suspect that Robocop is the 99%?
Or wish that the pigs would off themselves, so you don't have to?
Leave it to Hollywood and the Anti-Banality Union, in POLICE MORTALITY, the vengeful follow-up to last year's 9/11 bonanza UNCLEAR HOLOCAUST.
Police Mortality is a partisan mashup of over 120 Hollywood popcorn films about, you guessed it, COPS! The result? One feature-length, schizophrenic supercut about police violence and breaking the news, Michael Bay's penchant for property destruction and the filmic unconscious, among other things.
After a veteran detective commits suicide, it is up to the homicide squad to turn it into a murder… Then the uniforms start piling up. Strikes, occupations, and riots ensue, and society begins to crumble… finally! Can the force prevent itself from imploding? Will it be more Rambo than Dirty Harry? Is this movie actually a documentary?
"A Keystone Kops flick for the Christopher Dorner era… Like no cop movie — and every cop movie — you've ever seen." -The New Inquiry
"The cop film to end all cop films — literally." -Vice
Every generation has a defining moment. This is ours. This is war. One hell of a war. Civil War.
This is where the law stops… and Police Mortality starts.
Anything is possible. Nothing is forbidden.
The end is just the beginning.
Welcome to a world without rules.
Just remember — when the theater goes dark… don't call the cops.
Starring: Will Smith, Bruce Willis, Denzel Washington, Sylvester Stallone, Clint Eastwood, Morgan Freeman, Arnold Schwarzenegger, Samuel L. Jackson, Richard Gere, Kurt Russell, Keanu Reeves, Brad Pitt, Paul Newman, Jim Belushi, Mickey Rourke, Mel Gibson, Danny Glover, Robert Deniro, Al Pacino, Peter Weller, James Woods, James Gandolfini, Robert Blake, George C. Scott, Tupac Shakur, Charlie Sheen, Reginald Veljohnson, Black Militants, Bill Clinton, The Student Movement, The FBI, The KKK, Lenin, Marx, Michael Bloomberg, Bane, The 99%, and many more.