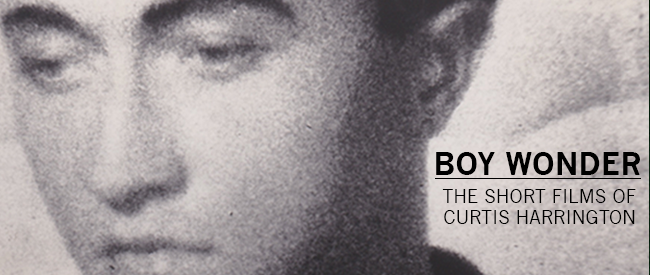 BOY WONDER: THE SHORT FILMS OF CURTIS HARRINGTON
Dir, Curtis Harrington, 1946-2002
Total program time: 96 min.
SUNDAY, SEPTEMBER 6 – 7:30 PM
TUESDAY, SEPTEMBER 8 – 7:30 PM
THURSDAY, SEPTEMBER 17 – 10:00 PM
SATURDAY, SEPTEMBER 19 – 10:00 PM
** Don't miss this month's Harrington Midnights, Friday the 18th and Saturday the 19th! **
Special thanks to Flicker Alley and Drag City
If you happened to catch perennial Spectacle favorite NIGHT TIDE earlier this summer, then you know the strange power the film's director Curtis Harrington can command. And like NIGHT TIDE, Harrington's short films have a similar haunted allure…
Before having an incredibly diverse career that saw him direct everything from tv shows like CHARLIE'S ANGELS and DYNASTY to tv movies-of-the-week to low-budget studio flicks to Roger Corman schlock-fests, Harrington was part of the West Coast experimental film scene and an early pioneer of New Queer Cinema aesthetics.
Recently restored to their full glory, Spectacle is delighted to showcase the early shorts of an important yet criminally overlooked filmmaker who orbited the spheres of both Hollywood and the avant-garde.
"…tense, surreal abstract art suffused with a queer sensibility. Like his friend Kenneth Anger, Harrington used the cinematic language of B-movies to express what it was like to be a gay man in America in the mid-20th century, grappling with the often-intertwined feelings of fear and desire." –The Dissolve
---
FRAGMENT OF SEEKING
Dir, Curtis Harrington, 1946
USA, 14 min.
Made at the age of 20 when Harrington was a film student at USC, FRAGMENT OF SEEKING features Harrington cryptically addressing his homosexuality in a double role. A year later, Harrington's friend and frequent collaborator Kenneth Anger would cover similar terrain with FIREWORKS.
"A climactic fragment from the existence of an adolescent Narcissus." –Curtis Harrington
---
PICNIC
Dir, Curtis Harrington, 1948
USA, 22 min.
Harrington extends ideas from FRAGMENT OF SEEKING onto a bigger canvas as a family outing on a beach turns off-kilter as a young man pursues a mysterious woman.
"A satirical comment on middle class life frames a dream-like continuity in which the protagonist pursues an illusory object of desire." –Curtis Harrrington
---
ON THE EDGE
Dir, Curtis Harrington, 1949
USA, 6 min.
A man, a woman, a ball of yarn, and the bubbling mud pits of the Salton Sea's post-apocalyptic wastelands. Featuring Harrington's mother and father in the lead roles.
"A beautiful and frightening allegory of human frailty." –Harvard Film Archive
---
THE ASSIGNATION
Dir, Curtis Harrington, 1953
USA, 7 min.
A Death-like figure in a Venetian mask takes a gondola ride through Venice's canals before arriving at his destination.
"… invites comparison with Nicolas Roeg's DON'T LOOK NOW: The lush color cinematography used in both only brings out more strikingly the decrepit majesty of Venice's slow slide into the surrounding marshlands." –Slant Magazine
---
THE WORMWOOD STAR
Dir, Curtis Harrington, 1955
USA, 10 min.
A visually dazzling portrait of legendary artist/poet/actress/occultist Majorie Cameron, filmed at her studio amongst her paintings (most of which she later burned in an act of ritualized suicide). A must-see for fans of the counter-culture icon.
"…a mini-masterpiece…" –Dangerous Minds
---
USHER
Dir, Curtis Harrington, 2002
USA, 37 min.
A fitting, campy end to Harrington's career, USHER is Harrington's long-gesticulating adaptation of Edgar Allan Poe's "Fall Of The House Of Usher." Made when Harrington was 76 years old, USHER is a larger-scale reworking of Harrington's first 8mm short and the last film he would make before his death in 2007.