FRIDAY, SEPTEMBER 4: MONDO BIZARRO
SATURDAY, SEPTEMBER 5: MONDO FREUDO
FRIDAY, SEPTEMBER 11: REVOLT
SATURDAY, SEPTEMBER 12: THE FORBIDDEN
FRIDAY, SEPTEMBER 18: RUBY
SATURDAY, SEPTEMBER 19: THE DEAD DON'T DIE
FRIDAY, SEPTEMBER 25: NINJA WARS
---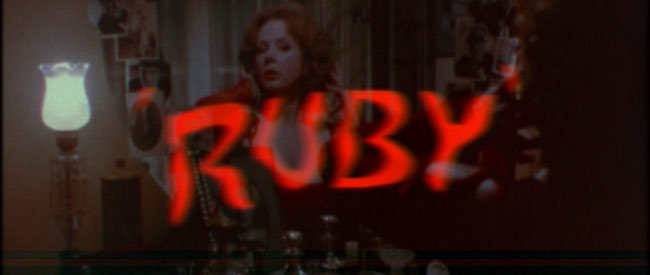 RUBY
Dir. Curtis Harrington, 1977
USA, 84 min.
FRIDAY, SEPTEMBER 18 – MIDNIGHT
** One night only! **
** Don't miss this month's Harrington shorts! **
To call Ruby an EXORCIST/CARRIE knockoff (Piper Laurie starred in both, this film a year after CARRIE, also it's about possession, which everyone on IMDB knows never appeared in a film before Friedkin) misses the point entirely: rather than being the story of an ostracized teenage girl and her overbearing mother, it's the story of Ruby, a one-time gangster's moll turned single mother, drunk and drive-in owner who begins receiving messages from her rubbed-out hood boyfriend through their mute child Leslie. Bodies begin piling up, with employees at the drive-in meeting a series of grisly ends, and Ruby's ever-tenuous grip on reality slides into madness. Harrington's love of southern Gothic and period pieces is in full display here, as always more interested in creeping dread than shock. Best known via a TV edit often played on midnight creature features (re-edited and with additional material shot without Harrington's approval, possibly by Stephanie Rothman, leading to Harrington removing his name from the TV edited version), the copy we'll be playing is the uncut theatrical version, closest to Harrington's original vision. Beloved by Leni Riefenstahl, it's a film only Harrington could have directed.
---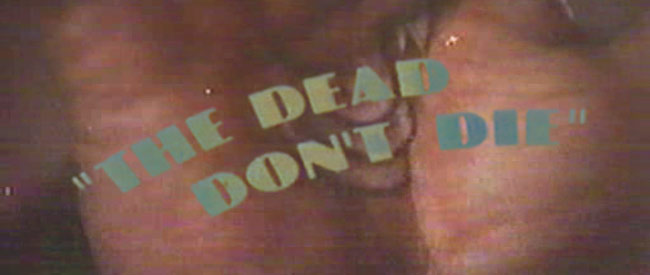 THE DEAD DON'T DIE
Dir. Curtis Harrington, 1975
USA, 74 min.
In English
SATURDAY, SEPTEMBER 19 – MIDNIGHT
** One night only! **
** Don't miss this month's Harrington shorts! **
Perdito is dead! His body is merely an instrument through which I speak. The dead are my children!
"Not too long after The Killer Bees was completed, Doug Cramer offered me another Robert Bloch story from the pages of Weird Tales to direct. The Dead Don't Die was about zombies and took place during the depths of the depression. I was once more back in the period territory of What's The Matter With Helen?, and I loved it." -Curtis Harrington, Nice Guys Don't Live In Hollywood
The 70s was a golden age for TV horror, from tv shows (Night Gallery, Circle Of Fear, Kolchak The Night Stalker) to films like DARK NIGHT OF THE SCARECROW, DON'T GO TO SLEEP and BAD RONALD. By 1975, Harrington was well into his TV career, or as he called it, his "slippery slope". Of his many TV projects, THE DEAD DON'T DIE is among his best, making the most of Harrington's attention to period piece detail, his taste for the Gothic and his love of casting actors best know from earlier work, with Joan Blondell, Ray Milland and Yvette Vickers (Attack of the 50 Foot Woman) joining George Hamilton all doing great, moody work. It's a film about as far away from the action-film-pretending-to-be-horror status of the contemporary zombie film, the entire film drenched in timeless night, an occult atmosphere permeating everything, perfectly balanced against the pulpy detective quality of a man seeking to clear his brother's name descending into witchcraft and madness. By turns chilling, paranoid and absolutely lovely, it's a perfect demonstration of Harrington's sullen style in a format which, for a short time at least, proved a suitable pairing. Never released on DVD or Blu-Ray!
---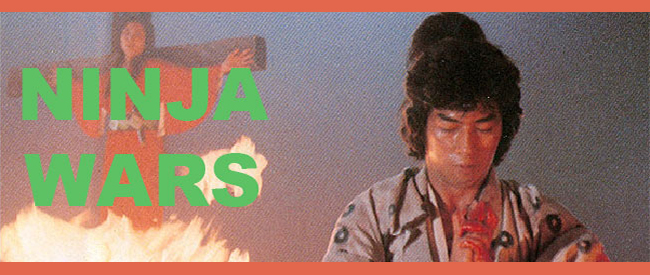 NINJA WARS
Dir. Kôsei Saitô, 1982
Japan, 95 min.
Japanese dubbed in English
FRIDAY, SEPTEMBER 25 – MIDNIGHT
** One night only! **
Good fantasy needs some missing pieces. Just as we mumble increasingly nonsensical arguments in bed to prepare ourselves for dreams each night, films that transfer us to another world sometimes need to be defended for their irrationality. Does THE NINJA WARS have a lot in the realm of character development? It really could not have less. Does it need any to make us care about these characters who decide in an instant they love or hate each other? Also no. Is plot often shoehorned into exposition scenes that offer the barest pretext for random groups of men dressed in exotic period costumes to slaughter each other while our main characters wait patiently in the middle of the affray? Yes. But are those fights awesome? Also yes.
THE NINJA WARS is a beautiful film, camera and special effects departments come together and diverge in an elegant counterpoint of daring composition and extreme gore, criteria of excellence Japanese filmmakers have thankfully never thought of separating. It's also beautifully blocked, thanks to the mechanistic Kabuki aesthetics that give every little movement, of every completely retarded dramatic scene, the same quality of dance as the fights.
There is something like a real story still shining through from novelist Futaro Yamada's source material. Yamada also wrote the novel that became Oshima's PLEASURES OF THE FLESH, a much more coherent drama about a misogynist chasing pieces of an ideal woman across various female bodies. The same exchange in WARS has a reverse meaning. The forces of evil need a woman to legitimate their power, she in turn offers them a series of counterfeit versions of her likeness. In the process she is constantly becoming more abstract, losing her head, then her life, then her any identity independent of her twin, ultimately arriving back in her true love's arms as nothing more than the principle of self-determination, represented by a symbol of Western values, the crucifix. These were principle concerns of Yamada's, who was famous not only for pulp novels about ninja wars, but also the bitterness of a postwar generation that viewed Japanese society as a "pile of acorns with zero regard for personal independence or uniqueness." That uniqueness is denied brutally in FLESH, and only regained in WARS as the faintest promise amid overwhelming, violent nonsense.
For the staggering and delirious in our midnight audience, who look to the ninja war genre for simpler satisfactions, we can promise the following: some (limited, but fruitful) screen time for Sonny Chiba, projectile vomiting monks (who can fly), doppelgänger succubi, an impressive variety decapitation scenes, and a love story that does not require any serious attention to the dialogue to enjoy.