BORN ON THE FOURTH OF JUNE commemorates the 30th anniversary of the 1989 Tiananmen Square protests, referred to in mainland China as 六四事件 – the "June 4 incident". None of these movies adopts an explicitly polemical stance; instead, it's a necessarily imperfect selection of works shedding light on the botched dreams and secret economies that came after the Cultural Revolution, but before the liberalizations of the 1990s – a process that led, of course, to the present moment's extravaganza of state-managed turbocapitalism. In the spirit of the infamous "tank man" photograph (iconic to the rest of the world, but scrubbed near-entirely from the Chinese internet), this series takes a look at the cultural context surrounding the 1989 protests (and, implicitly, their bloody suppression) in media res.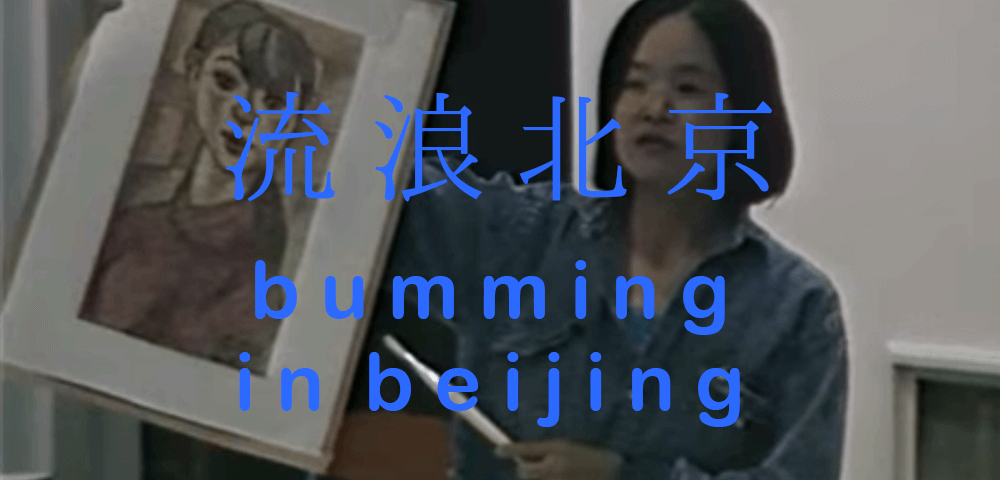 BUMMING IN BEIJING
(流浪北京)
dir. Wu Wenguang, 1990
70 minutes.
In Mandarin with English subtitles.
MONDAY, JUNE 3 – 10 PM
TUESDAY, JUNE 11 – 7:30 PM
WEDNESDAY, JUNE 19 – 10 PM
THURSDAY, JUNE 27 – 10 PM
In 1990, Chinese documentaries were almost exclusively stodgy, didactic talking-head affairs broadcast on state-run media. Then came Wu Wenguang's BUMMING IN BEIJING, kicking off an entire independent documentary scene in the country. Shot directly before and after the Tiananmen Square Massacre on cameras taken from a government TV station, BUMMING IN BEIJING follows five broke bohemians (including future art stars like Zhang Dali, long before they found fame) in grimy late 80s Beijing. Shot in a vérité style that would soon be adopted by a new generation of filmmakers, the movie includes an onscreen mental breakdown, a time-capsule view of the emergence of the country's avant-garde, and proof that the hippest place in China used to be KFC.
"The prolonged moments of near silence in BUMMING IN BEIJING produce the aesthetic effect of outlasting the remembered roar of government tanks." – Ernest Larsen, Art In America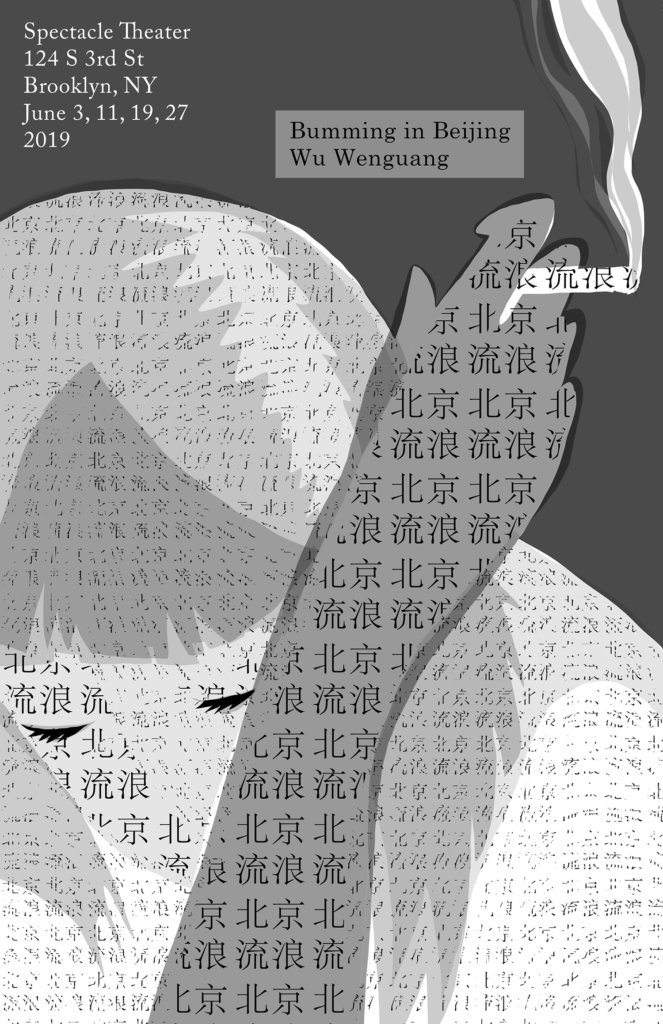 ( poster by Wendy Cong Zhao )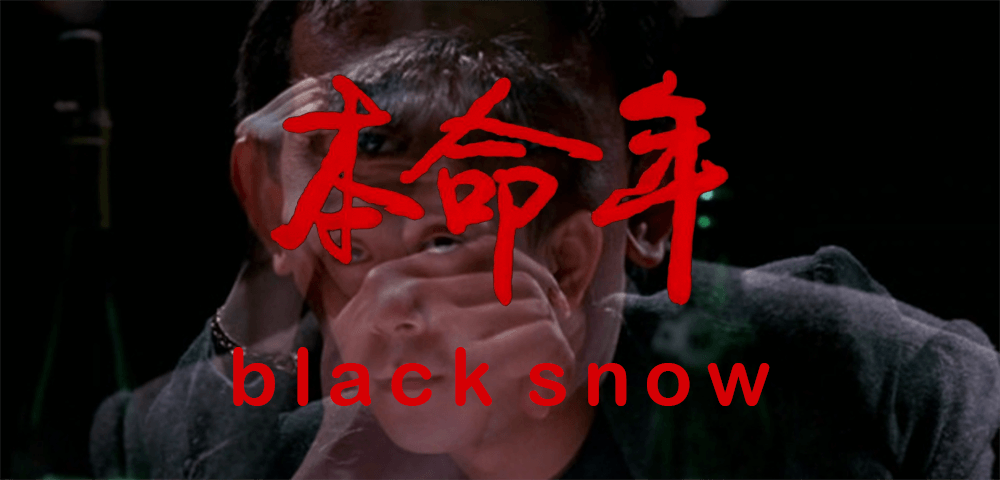 BLACK SNOW
(本命年)
dir. Xie Fei, 1990
107 mins. China.
In Mandarin with English subtitles.
MONDAY, JUNE 3 – 7:30 PM
TUESDAY, JUNE 11 – 10 PM
MONDAY, JUNE 24 – 7:30 PM
FRIDAY, JUNE 28 – 10 PM
Winner of the Silver Bear at the 1990 Berlinale, Xie Fei's kitchen-sink drama BLACK SNOW was in production before the June 4 Incident, but reflects the bitterness and unease of the period from first frame to last without need for any explicit political statement or reference. In a smoldering early performance, Chinese superstar Jiang Wen (DEVILS ON THE DOORSTEP, KEEP COOL, ROGUE ONE) stars Li Huiquan, a derelict twentysomething returning home after a three-year term at a labor camp, having been implicated in the murder of a young man who was hanging out with his ex-girlfriend. Surrounded by alcoholic friends from childhood and squabbling adults in his claustrophobic slum, Li falls for a torch singer at his favorite nightclub named Yaqiu (Lin Cheng), and the ensuing struggles – freedom versus the need to make a living, going straight versus turning a profit – are unique to this vision of Beijing as a den of black-market iniquity, while linking seamlessly with the classic themes of film noir. Bleak but exhilarating to behold (largely thanks to Jiang's tight-lipped leading turn), BLACK SNOW is ultimately about the lack of options for Li's generation to have an undisturbed inner life, living in close quarters in the aftermath of the Cultural Revolution.
"Li represents a lost generation of young people who rebel against the ideals of their forefathers and the traditions of their country… The tragedy is that they are at a loss where to go or what to believe in. Everyone in China now wants to find a new ideal, a new belief, because the Cultural Revolution destroyed our old beliefs and our old system… We realized, after it was too late, that we had been deceived — we had destroyed our past, our values, our lives, but had created nothing." – Xie Fei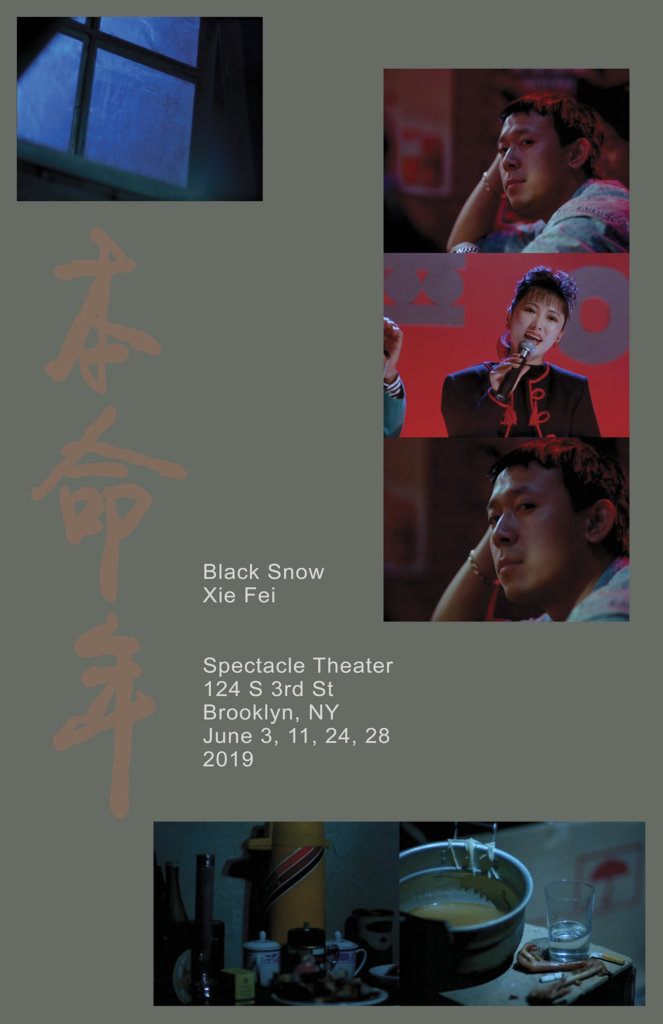 ( poster by Wendy Cong Zhao )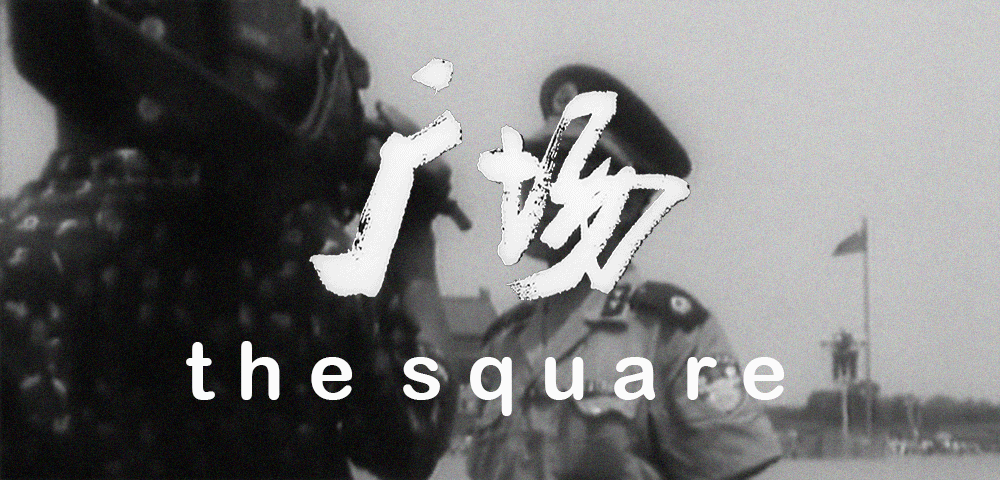 THE SQUARE
(广场)
dirs. Zhang Yuan and Duan Jinchuan, 1994
100 mins. China.
In Mandarin with English subtitles.
TUESDAY, JUNE 4 – 7:30 PM
MONDAY, JUNE 10 – 7:30 PM
WEDNESDAY, JUNE 12 – 10 PM
TUESDAY, JUNE 18 – 7:30 PM
FRIDAY, JUNE 21 – 10 PM
SATURDAY, JUNE 29 – 10 PM
SUNDAY, JUNE 30 – 5 PM
Never before screened in New York City and long-suppressed in China, this documentary by the renowned Sixth Generation filmmaker Zhang Yuan (MAMA, SONS, BEIJING BASTARD) sprang from an innocent-enough idea in the years after the June 4 Incident: Tiananmen Square was a public space, so who was to stop Zhang (with Duan Jinchuan) from filming day-to-day mundanities in the guise of working for state TV? It's a fascinating (and sometimes, dryly funny) glimpse at China on the eve of sweeping economic transition, with accoutrements of the Mao era perhaps uncanny present. Largely emptied out in the years after the Incident, this Square is defined by its absences, and the unease of its own legacy.
"Anyone who knows about Chinese history understands that whatever huge historical changes play out, Tiananmen Square is often the stage – for instance, the June Fourth Incident in 1989, Tomb-Sweeping Day in 1976 when crowds came out to mourn Zhou Enlai. In 1966 it was there in the square that Mao Zedong received more than six million Red Guards. If we go back even further, there is the 1949 ceremony to celebrate the founding of the People's Republic of China and, if we like, we can go back even further to the May Fourth Movement and beyond. On one level, Tiananmen Square can be said to be a political symbol; at the same time, it is like a massive stage… Especially in the years following the June Fourth Incident, I noticed how quiet it had become. I would see people there flying kites, peddling things, going for strolls, and I would see so many policemen, plainclothes officers… I felt the pressing need to pick up my camera and record some of those more interesting people and attempt to capture that feeling of the square." – Zhang Yuan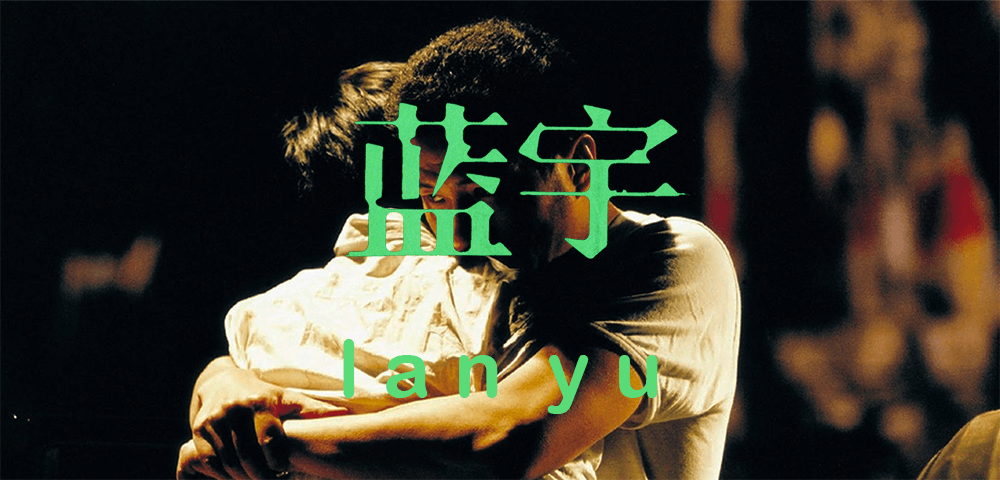 LAN YU
(藍宇)
dir. Stanley Kwan, 2001
96 mins. China/Hong Kong.
In Mandarin with English subtitles.
TUESDAY, JUNE 4 – 10 PM
WEDNESDAY, JUNE 12 – 7:30 PM
SUNDAY, JUNE 16 – 5 PM
THURSDAY, JUNE 20 – 10 PM
SUNDAY, JUNE 23 – 7:30 PM
ONLINE TICKETS
FACEBOOK EVENT
Based on a novel first published online by one "Beijing Comrade" in 1998, LAN YU is a breakthrough film, a queer drama set against the backdrop of the student movement that culminated in the Tiananmen Square Massacre. While the book was infamous for its erotic descriptive passages, director Stanley Kwan wanted to expand the source material to focus on the tortured romance between the story's eponymous architecture student (Liu Ye) and his lover, a closeted businessman of the older generation named Chen Handong (Hu Jun). The result is a film that's both elliptical and brutally sharp, a diagnosis in the class differences and mores (and thus, denials) that helped foment the dissent of the late eighties – in particular, the corruption of China's bureaucratic (and, by proximity to government, emerging bourgeois) classes. It's also an edge-of-your-seat portrayal of desire and devastation through Lan Yu's fast-eroding innocence, with a plot spanning multiple years of unrequited passion.
Widely heralded as one of the greatest living Hong Kong filmmakers for works like CENTER STAGE and ROUGE, Stanley Kwan has still never gotten a proper retrospective in North America; hopefully these screenings will help renew interest in his fascinating and singular body of work. "In my last film THE ISLAND TALES, I made simple things too complicated, "he said. "And so this time I've tried to make complicated things less complicated, or simple things even simpler… What I was interested in was how we could transform June 4 into the moment that Chen Handong commits to Lan Yu… The fact that the story took place in Beijing, a city foreign to me, didn't bother me…. I might not be Lan Yu and my boyfriend might not be Chen Handong, but virtually everything they go through in the novel I've been through with my partner."
"Courageously simple and frank… The film eliminates most of the novel's near-porno sex scenes and tones down the melodrama, producing a matter of fact and emotionally truthful account of a relationship marked by its time and place. Superbly acted, too." – Time Out London
"Pulpy and mesmerizing." – Carla Meyer, San Francisco Chronicle