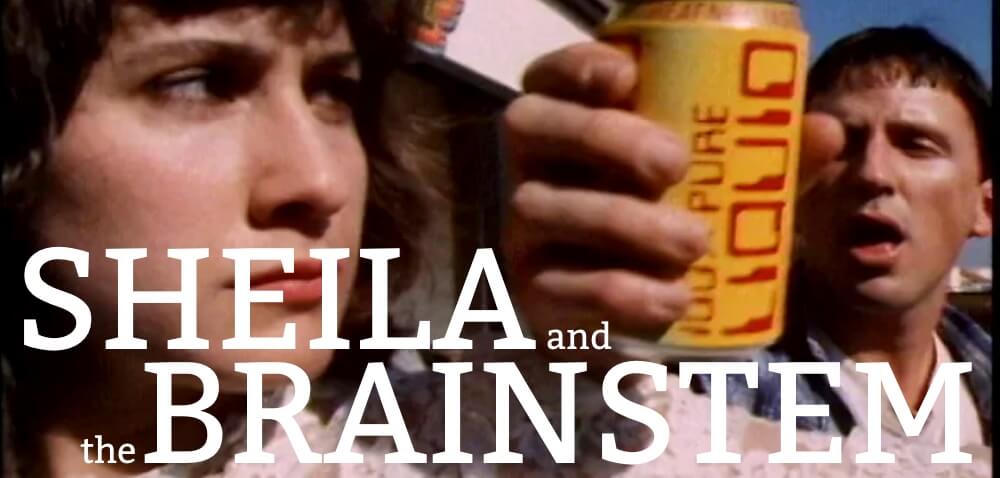 SHEILA AND THE BRAINSTEM
dir. Matt McDowell and Russell Bates, 1989
79 min. United States.
THURSDAY, JUNE 6 – 7:30 PM
MONDAY, JUNE 10 – 10 PM
THURSDAY, JUNE 20 – 7: 30 PM
SATURDAY, JUNE 22 – MIDNIGHT
WEDNESDAY, JUNE 26 – 10PM
Taz, a desert mystic devoted to a lifestyle of non-stop consumption and convenience, travels the countryside in search of a magic brainstem that grants its owner access to a paradise at the center of the Earth. Unfortunately for Taz, three no-good, beverage-obsessed, anti-corporate punks named Sean, Head, and Billy Dork mistake the arcane object for beef jerky and abscond with it in a minimart robbery.
Meanwhile, newlyweds Bruce and Sheila are taken hostage — Bruce by Taz, and Sheila by the punks — but Sheila escapes and sets out on her own, while Taz befriends Bruce. On the long road to paradise (a portal somewhere in Nebraska, where life is everlasting and all stores are open 24 hours a day), conversations about commodity, convenience, love, life, and death trail behind cars like tail lights in the dark.
Filmed in 1989 for $100,000 in and around Gridley, CA, SHEILA AND THE BRAINSTEM is a road movie, a crash-course in punk philosophy, and a commercial for soft drinks that don't exist. Also, Red Kross plays a bar band (with Bob Forrest on vocals). An ambitious and rewarding first feature, criminally under-appreciated but deserving of a place on the shelf next to REPO MAN, BORDER RADIO and ALONE IN THE T-SHIRT ZONE.
Ahead of its first-ever physical release, Spectacle is pleased as punch to present this rarity throughout the month of June.
"Expanding a kind of throwaway Robert Altman gag, it's a pop road film about America as a chain-store complex. Boasting a staunch heroine who extricates her consorts from a maze of tract housing, it droops into the Twilight Zone for a bodysnatcher parable about the conformity of rebellion." – Dennis Delrogh, L.A. Weekly
Presented by Barbarian Video.