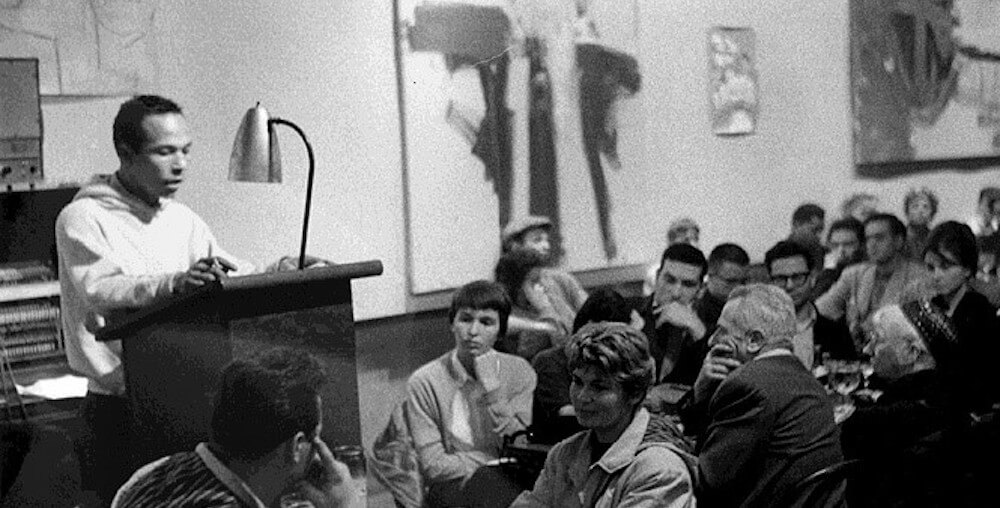 SUNDAY, DECEMBER 8 – 7:30 PM
ONE NIGHT ONLY!
(This event is $10.)
Spectacle is thrilled to host author and curator Raymond Foye as he presents a program of film rarities honoring the late poet and painter Bob Kaufman. Our feature is Will Combs's recently restored HEARTBEAT (c 1978 b/w, digital transfer, 24 minutes) a film long out of circulation. About this work, the filmmaker has written:
"As a young film student immersed with the works of Godard and cinema verite', Will Combs barged into the backyard of the remaining Beats in San Francisco's North Beach in the mid 1970's. Using surplus film stock and a spring-wind Bolex, he began to capture the temperament of the Era, kabuki style. HEARTBEAT features rare and personal footage of Bob Kaufman, Jack Micheline and Hube the Cube in their environment, infusing poetry with a concise inquiry into the Beat Era."
Also on the program are recently discovered and remastered film and video footage of Kaufman, including excerpts from his famed reading at Malvina's Cafe in San Francisco on December 6, 1974, his first major reading since he broke a ten-year silence, and his 1979 reading with Philip Lamantia at the San Francisco Art Institute.
Poet and publisher Kaye McDonough will be present to discuss her friendship with Kaufman and read from her North Beach diaries from the 1970s and 80s.
This program celebrates the recent publication of the Collected Poems of Bob Kaufman by City Lights Books.
WILL COMBS, a renowned visual artist, maintains an active studio on Sonoma Mountain.
RAYMOND FOYE is a publisher, editor, writer and curator who has lived in New York's Chelsea Hotel since 1979. He studied film with Stan Brakhage at the Art Institute of Chicago, and attended the San Francisco Art Institute. He worked as an editor at City Lights Books (The Unknown Poe, 1980) and New Directions (Bob Kaufman: The Ancient Rain, 1981). From 1990-1995 he was Director of Exhibitions and Publications at Gagosian Gallery, New York. Since 1995 he has independently organized dozens of art exhibitions worldwide, including the first gallery exhibitions of Allen Ginsberg's photographs, and the art works of Harry Smith. He serves as literary executor for John Wieners, James Schuyler, and Rene Ricard.
KAYE MCDONOUGH was born in Pittsburgh and studied literature at Vassar College, and UC Berkeley where she earned her degree in Art History. She has an MFA from Sarah Lawrence Colelge. She is a poet and printer, who lived in the North Beach community for 20 years (1965- 85). She founded the Greenlight Press, devoted to fine letterpress editions including the classic Jack Micheline book Purple Submarine. She is the author of Pagan: Selected Poems (New Native Press, 2014) and Zelda: Frontier life in America (City Lights, 1978), she is currently working on a memoir: The Spell of Bohemia: Twenty Years in San Francisco's North Beach 1965 – 1985.

BOB KAUFMAN was born in New Orleans, and had a career as a merchant seaman and labor organizer before turning up in San Francisco in 1957. He founded Beatitude magazine, while his books and broadsides were published by City Lights and New Directions. His defiant stance against police authority led to repeated beatings and incarcerations. In 1963 he took a ten-year vow of silence following the Kennedy assassination. He resumed writing and making public appearances in 1973 and continued to produce important work until his death in 1986.