Sometimes the success of a film can spawn a whole sub-genre. In the case of Jaws, for all its evil impact it did have one very positive effect:JAWS RIP-OFFS! And this weekend at Spectacle we have the best and most notorious of the bunch.
BETTER THAN JAWS WEEKEND! ONLY AT MIDNIGHT! ONLY AT SPECTACLE!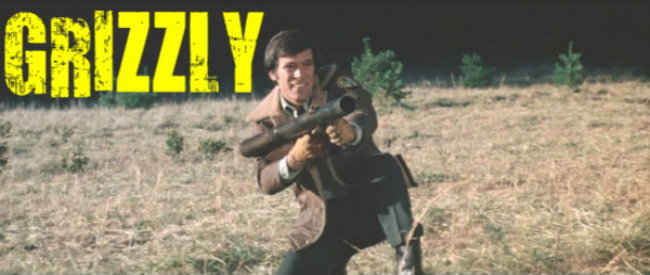 GRIZZLY
Dir: William Girdler, 1976.
90 min. USA.
FRIDAY, JUNE 7TH – MIDNIGHT
ONE NIGHT ONLY!
The film's title star will be in attendance for Q&A with William Girdler expert Jon Dieringer of Screen Slate.
In 1975, Universal Pictures released a movie called Jaws. Okay, that's pretty cool if you're into the beach, I guess.
BUT in 1976 something really amazing happened. William Girdler (The Manitou, Day of the Animals), a filmmaker with the uncanny knack of improving upon the efforts of others created the masterpiece of BEAR-sploitation: GRIZZLY.
So, basically plot-wise we have … well, have you ever seen Jaws? Well, this is Jaws with a GRIZZLY BEAR — JAWS WITH CLAWS!
Tourists are out in record numbers to enjoy some camping and hiking in a National Park, but deforestation, pollution, and other terrible things that humans do when they go camping have caused this bear to lose its damn mind, and now this 7-foot mother is tearing the arms and legs off nature lovers faster than you can say "pic-a-nic basket." Now, it's up to Christopher George (City of the Living Dead, Graduation Day) to convince the greedy park supervisor to evacuate the park and get the grizzly before he saunters up to the human buffet for another helping.
But why is Grizzly better than Jaws? Why do we love the rip-offs more than the originals? Let's just say William Girdler is our Pierre Menard but his Quixote has more BLOOD, FLYING LIMBS, and ROCKET LAUNCHERS.
In short, GRIZZLY kicks ass.
GRIZZLY is slick, fun, warm, and filled with familiar faces of the '70s, including Andrew Prine and Richard Jaeckel. Don't let the gloss fool you, though. This bear has claws, and Girdler's got the goods when it comes to what we want from a good Jaws rip off: scenes of male bonding and plenty of vicious animal attacks!
Come enjoy this Exploitation-sploitation masterpiece by the master of high-class rip-offs that deliver!

---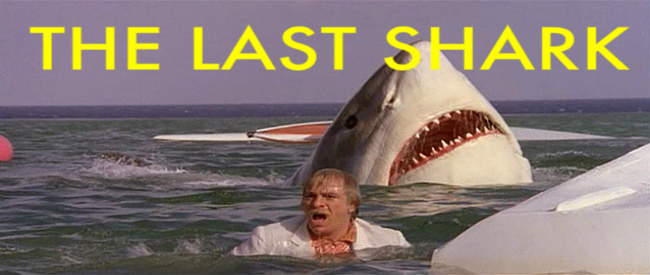 THE LAST SHARK
Dir: Enzo G. Castellari, 1981.
88 min. Italy.
In English.
SATURDAY, JUNE 8TH – MIDNIGHT
ONE NIGHT ONLY!
From hard hitting Italian genre genius Enzo G. Castellari comes the most uncanny of all Jaws clones, THE LAST SHARK (L'ultimo squalo). This one swam so close to the original that Universal Pictures slapped a big fat lawsuit on the distributor and pulled the movie from American screens shortly after its release. Universal cried plagiarism, but we all know the real reason- they were scared!
Why?
Two reasons: this shark is really, really scary and VIC MORROW. That's right, trash movie martyr Vic Morrow brings his intense presence to the aquatic proceedings as a grizzled shark whisperer. Is he Irish, is he Scottish? Who knows, but he's got a brogue and he hates sharks. Sound familiar? Well, the similarities don't end there, trust me.
You know the story, but it's the style that makes this one shine. Castellari's impeccable penchant for slow motion, gorgeous photography, and perfectly realized action all add up to a slick, ultra Italian entry into the "hey, this is pretty much Jaws" sub-genre.
And forget John Williams, Castellari's frequent collaborators, the brilliant De Angelis brothers, provide their signature funky sounds to this baby, including the KILLER theme.
Unavailable on video in the U.S. for years, The Spectacle plucks THE LAST SHARK out of import laserdisc limbo and puts it back on the screen! Kick the summer off right and say "GO TO HELL BIG MOVIE STUDIOS!" The originals may be owned by the majors, but the rip-offs belong to the people!