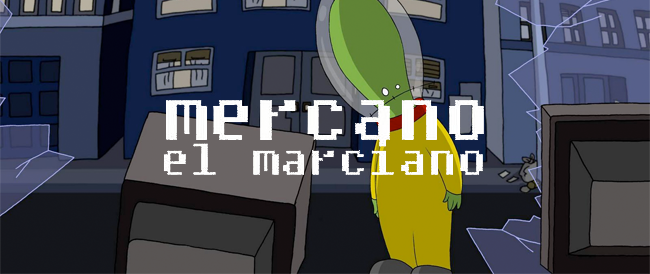 MERCANO EL MARCIANO
(aka Mercano the Martian)
Dir: Juan Antin, 2002.
73 min. Argentina.
In Spanish with English subtitles.
FRIDAY, JUNE 7TH – 7:30PM
SUNDAY, JUNE 9TH – 7:30PM
THURSDAY, JUNE 20TH – 10:00PM
In this often rude, adult-oriented, breathlessly-paced animated film, after a space-probe from Earth squashes his "dog," angry alien Mercano flies his saucer to Earth—only to find a place so dysfunctional and illogical that it would give Mr. Spock a nervous breakdown!
The film is a twist on the "fish out of water" and "Martian Invasion" tropes, and uses the spaceman's naiveté of our greedy and malevolent ways to drive the humor. Stranded in Buenos Aires, the sad and lonely Martian (who looks like a cross between a skinny Charlie Brown and a pickle) wanders through a city that has been devastated by poverty, violence and uncertainty, all the while chased by trigger-happy cops.
In an attempt to "phone home," the extraterrestrial steals a laptop computer, but instead winds up befriending a Star Trek-obsessed teenager he meets on-line. Meanwhile, the kid's yuppie-executive father is plotting total global consumer enslavement—and he intends to use Mercano's outer space technology to get it.
The first independent Argentine full-length animated film in 30 years, MERCANO EL MARCIANO was originally created as a series of shorts for Argentina's MTV. The film is certainly in a similar vein as South Park and Beavis & Butthead—but not just because of the outrageous gross-out humor, deliberately crude animation and propensity for musical numbers, but as a barbed and absurdist take on contemporary society.
Created while Argentina's economy was melting down, the film has even greater resonance today with a global recession and nightmarish austerity measures forced down people's throats ruining social services. "Now after ten years, the whole world started to collapsed and I am not surprised at all," said director Juan Antin recently.
Featured in multiple international film festivals, MERCANO EL MARCIANO was the winner of the Audience Award at Spain's Catalonian International Film Festival in 2002, as well as the Special Jury Mention at the Festival du Film d'Animation Annecy 2002 in France.