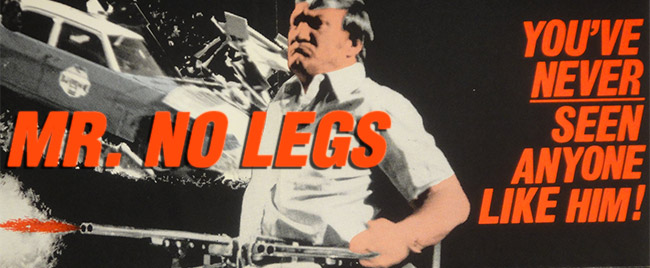 MR. NO LEGS
(aka The Amazing Mr. No Legs)
Dir: Ricou Browning, 1979.
86 min. USA.
SATURDAY, JUNE 1ST – MIDNIGHT
ONE NIGHT ONLY!
Set in the ugliest Tampa imaginable, MR. NO LEGS follows two self-righteous police detectives (one with the obligatory porn-stache) tracking dope dealers and corrupt fellow cops, while trying to stay out of the clutches of unstoppable mob enforcer. Mr. No Legs, a martial arts master with many a violent trick hidden up his sleeves—and wheelchair, including shotguns, switchblades and ninja stars!
Meanwhile, racists start a rumble in a bar involving midgets and drag queens, whores get into broken bottle fights, and everyone double-crosses everyone else. Mayhem galore!
Featuring a shameless cast of B- and C-listers, including Richard Jaeckel, Lloyd Bochner, John Agar, Rance (Ron's dad!) Howard, and real-life double amputee Ted Vollrath as the snarling No Legs.
It's a convoluted, ultraviolent, tasteless, trashy B-movie actioner that was directed by the Creature from the Black Lagoon! That's right, director Ricou Browning was the former Olympian who found fame in Hollywood playing the Gill Man for Universal Studios, and later supervised the underwater sequences on the TV show Flipper.
Mean-spirited and vicious, Mr. No Legs is the finest sort of exploitation cinema.