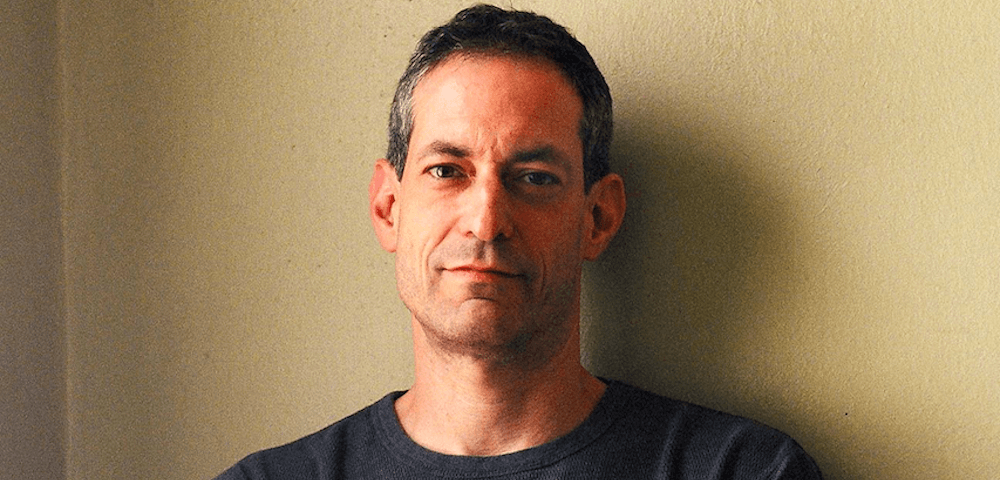 We were deeply saddened by the death this past August of our friend
Andrew Horn (1952-2019)
, director of the longtime Spectacle classic DOOMED LOVE as well as the seminal 2004 documentary THE NOMI SONG, which Andy presented alongside DOOMED LOVE and his last completed work, WE ARE TWISTED FUCKING SISTER! when he last visited New York City just a year before. At that time, Andy was working on a documentary about theater director Robert Wilson's 1970s performance enclave known as the Byrd Hoffman School of Byrds – of which he was a member, an experience which laid the groundwork for a dazzlingly rich career in the downtown scene over subsequent decades before he relocated to Berlin in 1989. Andy was relentless: beyond his exhaustively researched documentaries and Brechtian dramatic features, he was a dancer, a punctilious craftsman, a tenacious researcher, graphic designer and journalist. In the words of his longtime collaborator John Meaney, Andy had a fascination with kitsch and an admiration for Hollywood melodramas, with little interest in "realism". A curious mixture of baroque sensibility and radical aesthetics marked his style. Andy's love of ritual and artifice was used in his films as an acute reflection on art, and its illusions.
While Andy's films reveal a droll and exacting mind, they're also inseparable from a close circle of collaborators, including painters Amy Sillman and Pamela Wilson (who made the muslin backdrops of DOOMED LOVE), musicians Evan and John Lurie (of The Lounge Lizards), filmmakers Robyn Brentano and John Meaney, dancer-choreographers Kenneth King and Andrew deGroat, composer Michael Galasso (IN THE MOOD FOR LOVE) and songwriter Lenny Pickett (Tower of Power) as well as performance artist and playwright Jim Neu, who wrote DOOMED LOVE and the 1988 noir followup THE BIG BLUE. We're thrilled to present both films as a memorial tribute, alongside a collection of newly unearthed short form works straddling Andy's careers in theatre, dance cinema and video art.
"You can say what you want about the past / I think that's true / But, not to pay attention is not to be immune / I think that's true / It may be finished / But it isn't over…"
This retrospective is possible thanks to Hisami Kuroiwa, Chris Horn, Robyn Brentano, John Meaney, Cindy Banach and Carol Mullins. Special thanks to Cindy Banach (PALM Pictures), Music Box Films, Jay Jay French and Yoram Mandel (producer of THE BIG BLUE).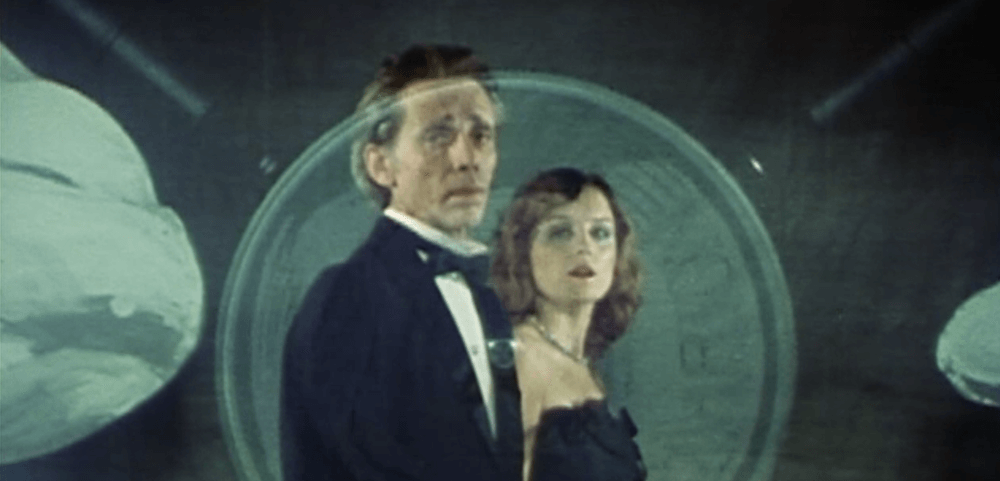 DOOMED LOVE
dir. Andrew Horn, 1984
72 mins. United States.
In English.
FRIDAY, FEBRUARY 14 – 7:30 PM w/actress Rosemary Moore and painter Amy Sillman in person
(This event is $10.)
MONDAY, FEBRUARY 17 – 10 PM
SATURDAY, FEBRUARY 29 – MIDNIGHT
Made in piecemeal payments while Andrew Horn worked as a graphic artist in Koch-era Manhattan, DOOMED LOVE is a delectable hunk of sunken downtown treasure. Painter Bill Rice (SUBWAY RIDERS, THE VINEYARD) stars as Andre, an aging professor of romantic literature who decides, in the film's doleful introductory passage, to commit suicide after losing the love of his life. Andre is tragicomically unsuccessful, but the attempt leads to a new acquaintance with a psychiatric nurse named Lois (Rosemary Moore), with whom he uncorks a kind of under-acknowledged romance of the soul. Whatever margins that once separated Andre's work as an academic and his reasons for going on (or not) have completely dissolved; Rice's monologues – scripted by the great playwright and longtime Horn collaborator Jim Neu – set a tone of deadpan monotony and piercing repetition.
"Life goes on, so to speak:" Horn's vignettes from Andre and Lois' – trapped in a state of paralyzing reverie, and newly married to Bob (Allen Frame), respectively – play against jawdropping 2-D backdrops mounted in the Lower East Side's Millennium Film Workshop where DOOMED LOVE was filmed. Amy Sillman and Pamela Wilson's muslin and cardboard "sets" make Horn's film a dour-yet-sweet exercise in epic theatre buttressed by an sparkling minimalist score from Evan Lurie (of The Lounge Lizards), with original songs by Lenny Pickett. At every opportunity – but especially this month, commemorating our annual ANTI-VALENTINE'S program as well as celebrating Andy's rich body of work – Spectacle is pleased to resuscitate this no-wave classic.
"DOOMED LOVE was my first feature film. It was made in the midst of what was then New Wave Cinema, but instead of the East Village I was taking my cues from Daniel Schmid and Werner Schroeder. I wanted to make an opera – without much knowledge of what opera was – and it became a musical. I wanted to make something mythic and only later discovered just how personal it was. I wanted it to be on a grand scale, which could only play out in a confined and artificial space. In those days we perversely wanted to alienate the audience and dare them to leave. In that I (thankfully) failed miserably." – Andrew Horn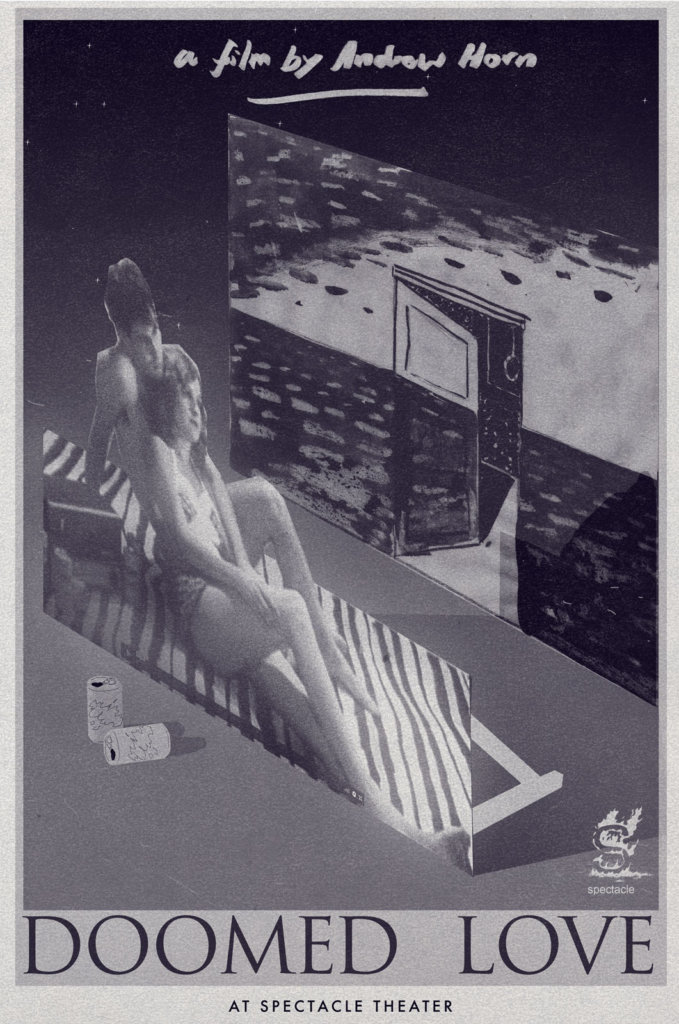 poster by Tom Henry
screening with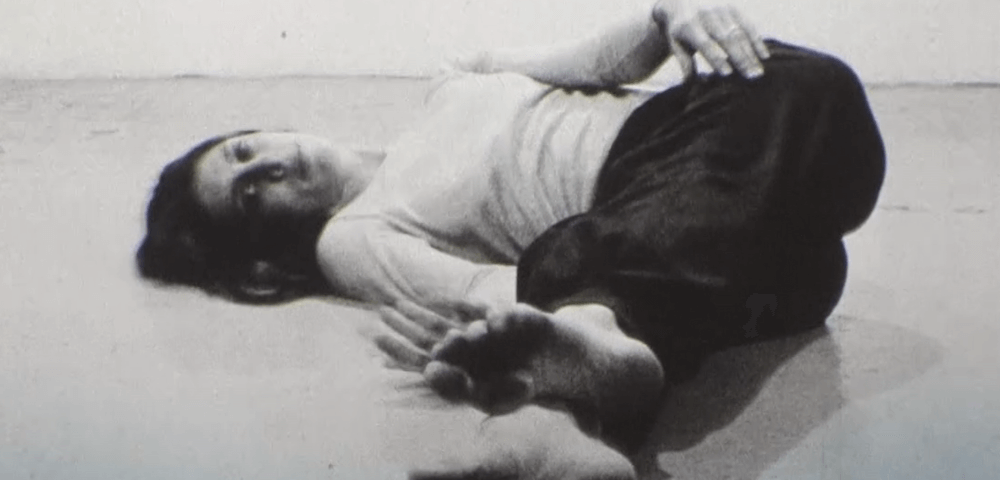 PASSAGES OF TIME
dirs. Andrew Horn & Robyn Brentano, 1978
16 mins. United States.
In English.
Horn's first collaboration with dancer Robyn Brentano shows choreographer Carter Frank performing in Jane Greengold's "Passages of Time" exhibition of objects, images, and sounds related to our experience of time. The sound score is by Jane Greengold with reading by Ann Beckerman. While Greengold's limbs mimic the movement of the hands on a clock, Beckerman's voiceover narration leads a meditation on her own life's relationship with time, mirrored by the clocks and contraptions along the wall behind her.
In their original press release for PASSAGES OF TIME, Horn and Brentano described its structure as follows: "The piece was divided into three sections: the first a minimal movement from side to side was shot three times with no cuts, each time from a different perspective in the room.  Through editing, he body remained constant while the background changed.  The second section of rising and falling movement was broken up and expanded through through the use of repetition and phasing in editing.  here the awareness of subjective time was heightened by the ellipses and the close-ups of parts of her body.  A moment is reached when time seems to cease completely."
"To be aware that waking dreams it is not how to sleep, but another dream – and that the death that our flesh goes in fear of is that death which comes every night, and is called sleep. To see in a day or in a year a symbol of the days of man, and of his years, to transmute the outrage of the years into music, a murmur of voices and a symbol – to see in death, sleep, and in the sunset, a sad goal: such as poetry, which is immortal, and poor. Poetry returns like the dawn and the sunset."
and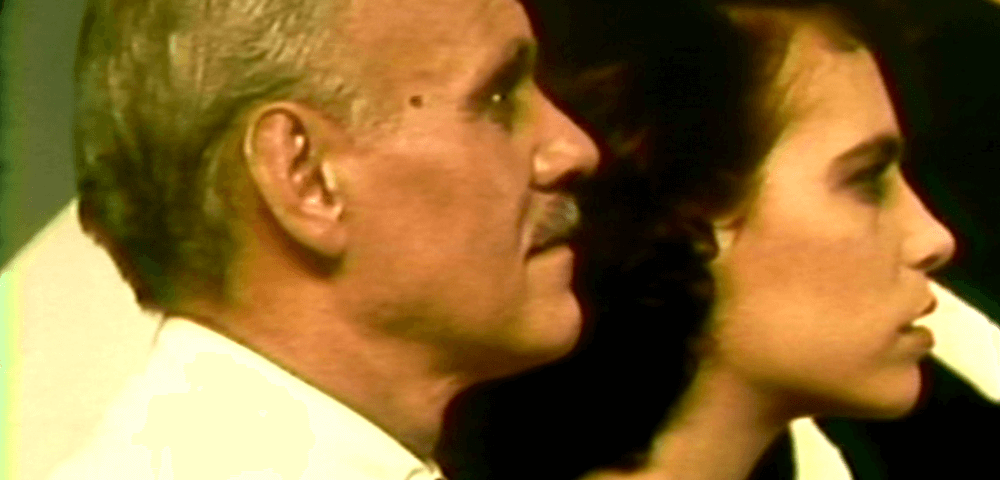 LIEBESTODT U.S.A.
dir. Andrew Horn, 1982
5 mins. United States.
In English.
Never before shown in public, LIEBESTODT U.S.A. is a brief vignette of the abortive first version of DOOMED LOVE, starring Susan Berman (SMITHEREENS) as Lois and Adam Macadam – star of Horn's earlier short film ELAINE: A STORY OF LOST LOVE – as Andre. While the framing and blocking are near-exact in consistency with DOOMED LOVE, the result is a surreal (if not hallucinatory) contrast, a vision of what the movie would have felt like in the hands of two different actors.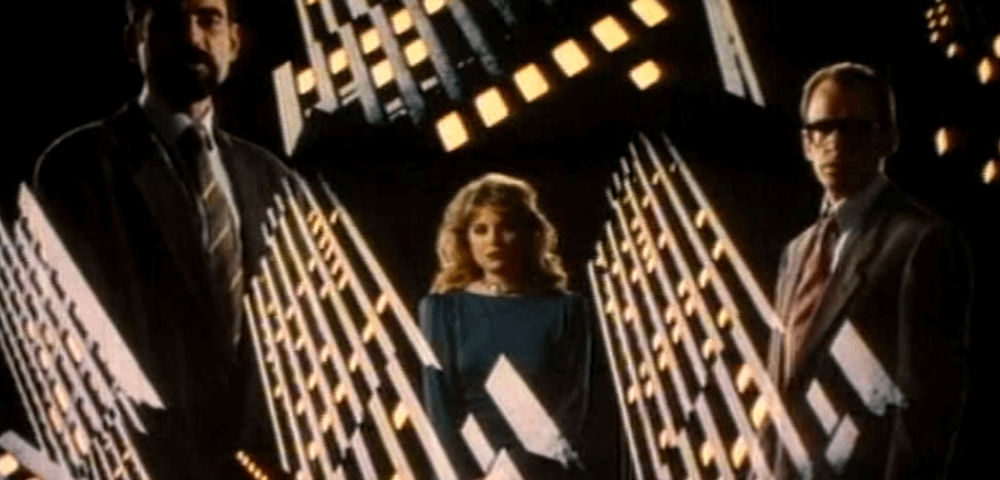 THE BIG BLUE
dir. Andrew Horn, 1988
100 mins. United States.
In English.
SATURDAY, FEBRUARY 15 – 7 PM w/director of photography Carl Teitelbaum and Andrew Horn's longtime partner Hisami Kuroiwa for Q&A
(This event is $10.)
TUESDAY, FEBRUARY 18 – 7:30 PM
FRIDAY, FEBRUARY 21 – 10 PM
FRIDAY, FEBRUARY 28 – 10 PM
Everything looks extremely unlikely,
Everything looks like it's all the same,
You don't know what happened
But you know it happened to you…
THE BIG BLUE follows a snoop for hire named Jack (David Brisbin) contracted by a dissatisfied housewife named Myrna (filmmaker Sheila McLaughlin, of COMMITTED and SHE MUST BE SEEING THINGS) to spy on her husband Howard, played by the film's screenwriter Jim Neu. Myrna thinks Howard is cheating on her, but he's actually involved in a drug trafficking deal with Max (John Erdman), a goateed East Village entrepreneur having a romance with a free-spirited and beautiful blonde named Carmen (Taunie VreNon). Problem is, Jack is surveilling Howard while having his own dalliance with Carmen (who dresses completely different every time she leaves the house), giving way to a four-way meditation on loneliness – with art director Anne Stuhler juxtaposing Horn's tortured ensemble against a vertical maze of staggering German Expressionist-style skyscrapers.
Shot on a bigger budget than DOOMED LOVE, THE BIG BLUE also brings back Bill Rice, this time as a bored ex-cop living in the suburbs with his grandchildren, feeding Jack tips over the telephone. There's a continued fixation on circuits and radiowaves: no less lovelorn than the ensemble of DOOMED LOVE, these down-but-not-out characters measure their lives against the people they listen to on tape and watch on screens, usually stars of classic potboilers and sun-drenched soap operas. (Horn's fascination with variety shows and sitcoms is visible across this retrospective.) The image of Jack, shoulders hunched at a diner bar as he watches TV, forms a telltale inverse of Edward Hopper's Nighthawks – a lost soul belonging to a generation raised on detective shows.
THE BIG BLUE was not helped by the coincidence of Luc Besson's clairvoyant dolphin epic of the same year. It's a smoky and beguiling nesting-doll of a mystery potboiler chock full of unforgettable images, whose characters speak with Neu's signature droll, rhyming rhetoric. Neu's performance as Howard, whose wisecracking gentility masks a savage worldview, is the stuff of noir distilled, channeling the phantoms of Humphrey Bogart or Fred MacMurray. Sung by Soozie Tyrell (of the E Street Band), the title song was composed by Lenny Pickett (who also wrote songs for DOOMED LOVE), with lyrics by Jim Neu – it originally appeared in Neu's live performance Straightman. In the hope that this retrospective stokes further interest in Andy's work, we are pleased to show THE BIG BLUE for the first time since it opened over three decades ago.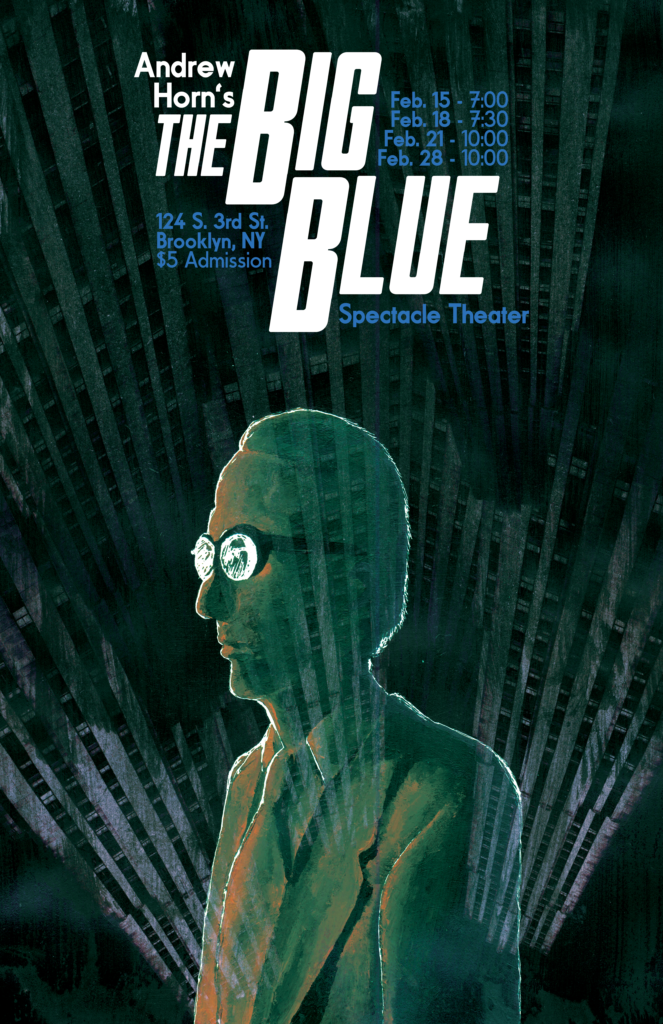 poster by Tyler Rubenfeld
screening with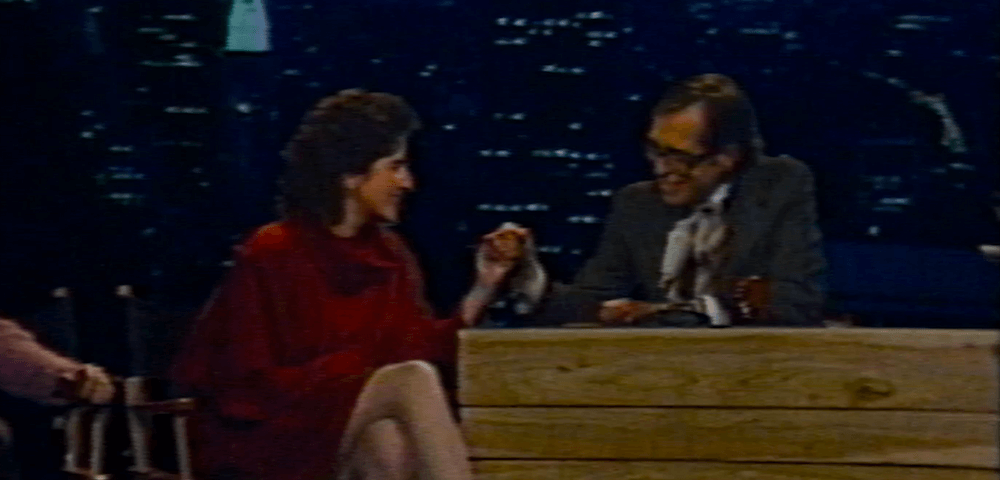 MUTUAL NARCISSISM (Video Excerpts)
dir. Andrew Horn, 1984
11 mins. United States.
In English.
MUTUAL NARCISSISM is the title of a 27-minute live performance written and directed by Jim Neu and sk dunn with music by Lenny Picket played by the Borneo Horns presented at The Kitchen in 1984. In video inserts made for the show, Horn applies the same flat, distancing techniques as DOOMED LOVE to the format of broadcast television, satirizing the Reagan-era obsession with self. These excerpts include a brief send-up of the notorious commercial for Calvin Klein bluejeans (starring Lydia Mahan in the role made infamous by Brooke Shields), and a bizarre spin on the late-night talk show with Neu acting opposite Roberta Levine.
ELAINE AND OTHER SHORT FILMS
dirs. Andrew Horn, Robyn Brentano and John Meaney
100 mins. United States.
SUNDAY, FEBRUARY 16 – 5 PM
SUNDAY, FEBRUARY 23 – 5 PM
WEDNESDAY, FEBRUARY 26 – 7:30 PM with actor Duncan Hannah (ELAINE: A STORY OF LOST LOVE) in person for Q&A!
(This event is $10.)
FRIDAY, FEBRUARY 28 – 7:30 PM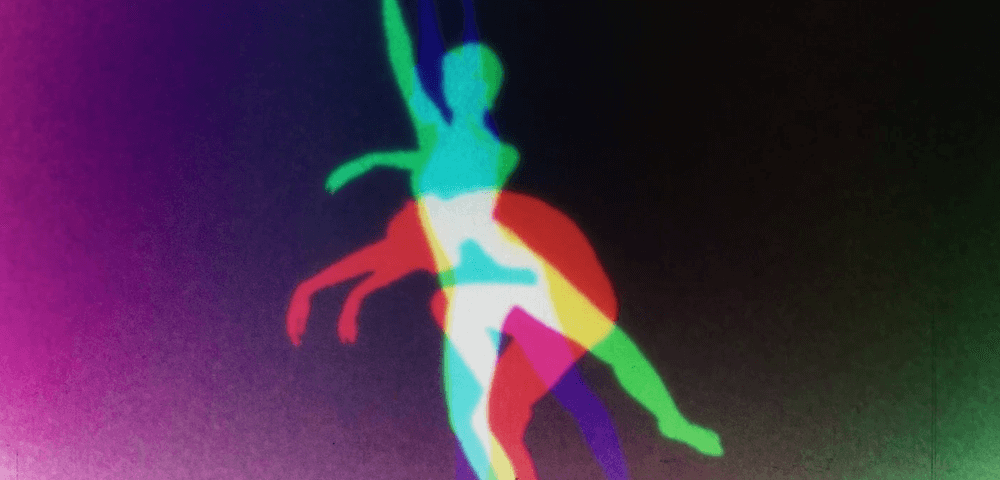 CHROMA
dir. Andrew Horn, 1974
8 mins. United States.
Shot at New York University, Horn's wordless, mindblowing student film CHROMA might be the missing link between the avant-garde cinema of the 1970s and Horn's later dance films to follow. The silhouettes of three dancers (red, green and blue) are played off one another while the grids and ladders of the modern metropolis – another feature that's recognizable across almost every film made by Horn – crossfade and overtake the screen. CHROMA received a special award of merit from the Academy of Motion Picture arts and Sciences; on his CV, Horn described the film like this: "real images are manipulated through special effects and printing to create an artificial dreamscape."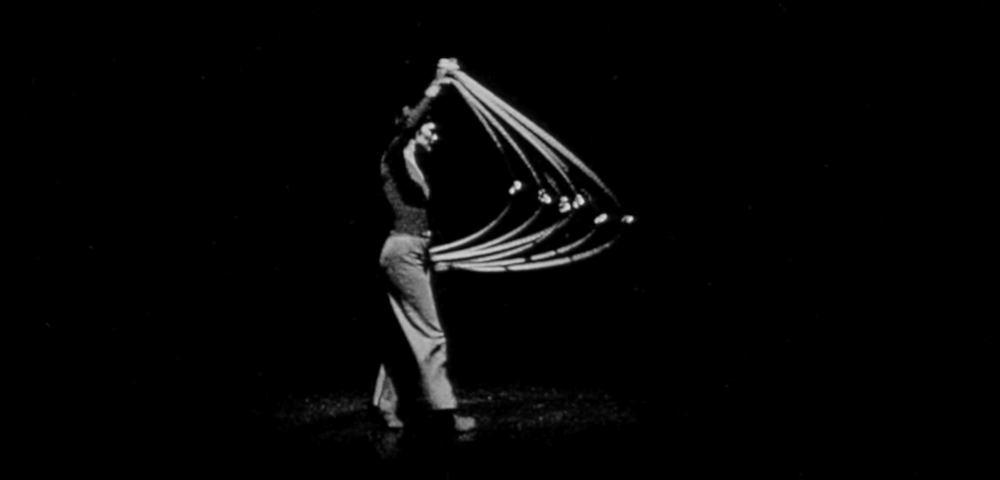 ROPE DANCE TRANSLATIONS
dir. John Meaney, 1974
20 mins. United States.
Andrew Horn was technical director on this black-and-white document of Andrew deGroat's hypnotic, swirling "Rope Dance Translations", originally performed at the Brooklyn Academy of Music by Robyn Brentano, Frank Converso, Charles Dennis, Ritty Ann Burchfield and deGroat himself. It was shot in a single day and lit by Carol Mullins (wife of Jim Neu, who would write DOOMED LOVE and THE BIG BLUE). The introductory text describes the dance as "relying on each individual dancer's energies and response to the ropes. The 'choreograph' for this dance is the geometry of the ropes, the centrifugal force of the spinning from and the strict revolving patterns of solo and chorus." The music for ROPE DANCE TRANSLATIONS was composed by Michael Galasso, who would go on to provide unforgettable string compositions for Wong Kar-Wai's IN THE MOOD FOR LOVE.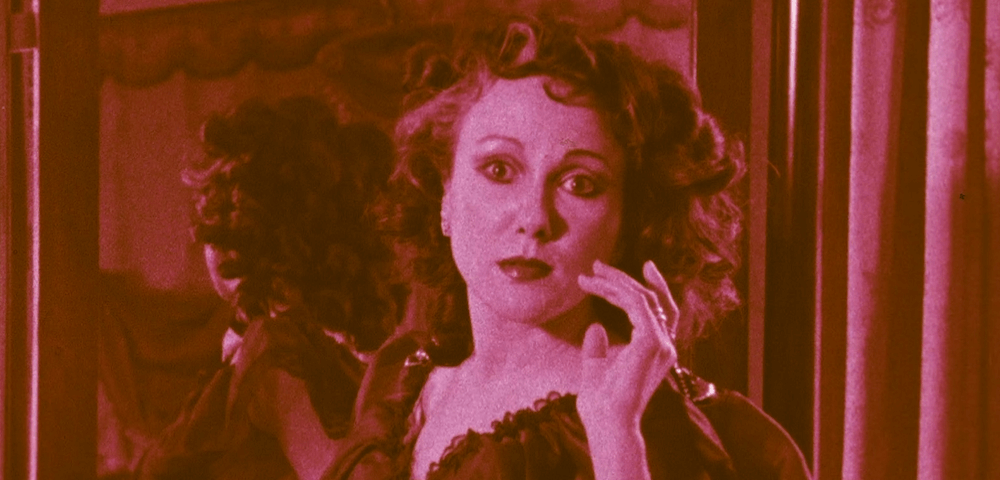 ELAINE: A STORY OF LOST LOVE
dirs. Andrew Horn & John Meaney, 1976
30 mins. United States.
In English.
A joint thesis project of Horn (at NYU) and his longtime collaborator John Meaney (at Montclair), the crushing and tragic ELAINE: A STORY OF LOST LOVE is adapted from an obscure Guy de Maupassant novella, lifted from a paperback bought by Meaney as an undergrad for 99 cents. What's evident is Horn's fascination for squared-off blocking and choreography, including a glimpse at a performance of Orpheus and Eurydice in minature. Star Adam Macadam brought on other members of Charles Ludlam's Ridiculous Theater Company, many of whom would return to work on DOOMED LOVE.
Featuring ancient costumes on loan from the Metropolitan Opera (repurposed from early twentieth century productions of Tosca and La Traviata), ELAINE aspires to high gothic on a shoestring budget. Horn and Meaney shot at locations including the Morris-Jumel Mansion in Washington Heights, the Frick, and the Carnegie Hall Cinema, then operated by Sid Geffen and Jackie Raynal – the programmers responsible for hosting the first-ever New York City screenings of films by Marguerite Duras, an influence on the filmmakers (alongside Daniel Schmid, Douglas Sirk and Alain Resnais.)
ELAINE was originally screened on a quadruple-bill alongside films by Bary Shiils, Robert Mapplethorpe, Rudy Burkhardt and Neil Welliver; J. Hoberman called ELAINE "a well-crafted, if precious, vehicle for Black-Eyed Susan and other members of the Ridiculous Theater Company."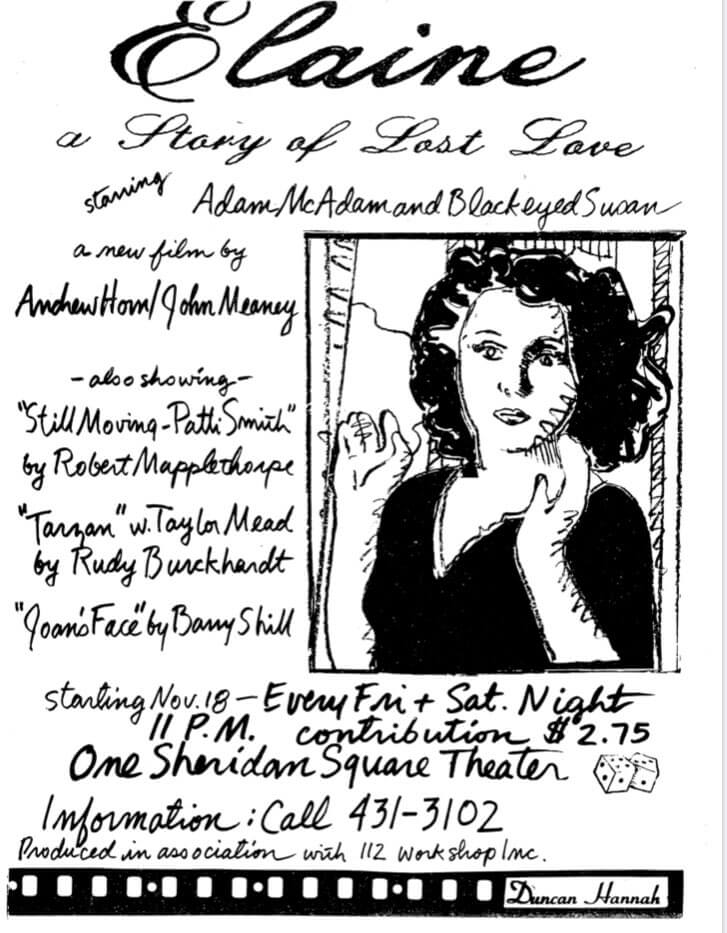 vintage poster for ELAINE by actor/artist Duncan Hannah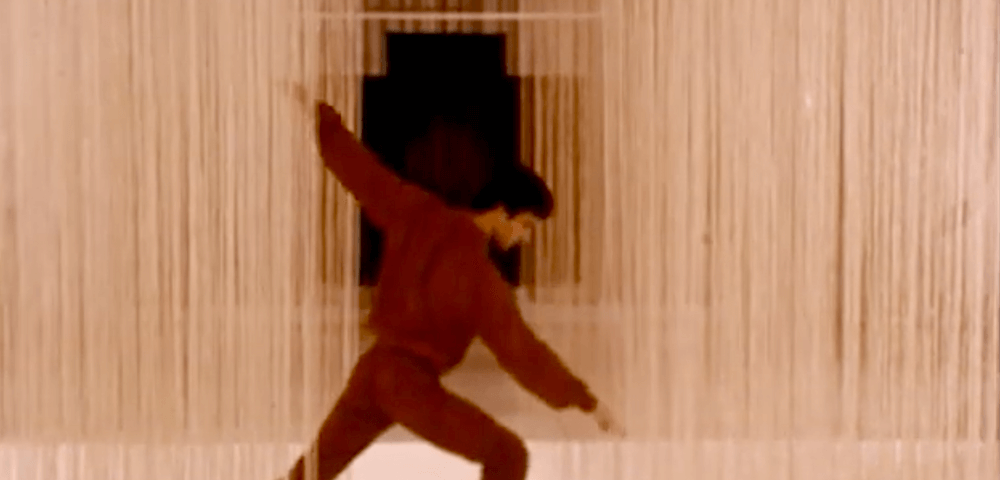 CLOUD DANCE
dirs. Robyn Brentano & Andrew Horn, 1979
14 mins. United States.
In English.
Collaborating again with deGroat, Horn and Brentano filmed his improvised dance in "The Four-Armed Cloud," a large cube-shaped sculpture of thousands of linen threads by the artist Lenore Tawney at the NJ State Museum in Trenton. At a time when dance film convention was to show full bodies in continuous movement, Horn and Brentano worked with de Groat to develop movement sequences for the camera. They then developed a kind of relational editing by matching incongruous movements and using blackouts to create a visual logic that resulted in a surprisingly intimate and hypnotic cine-dance. Later, they added a poem by Christopher Knowles, read by Arby Ovanessian and a violin score improvised by Michael Galasso.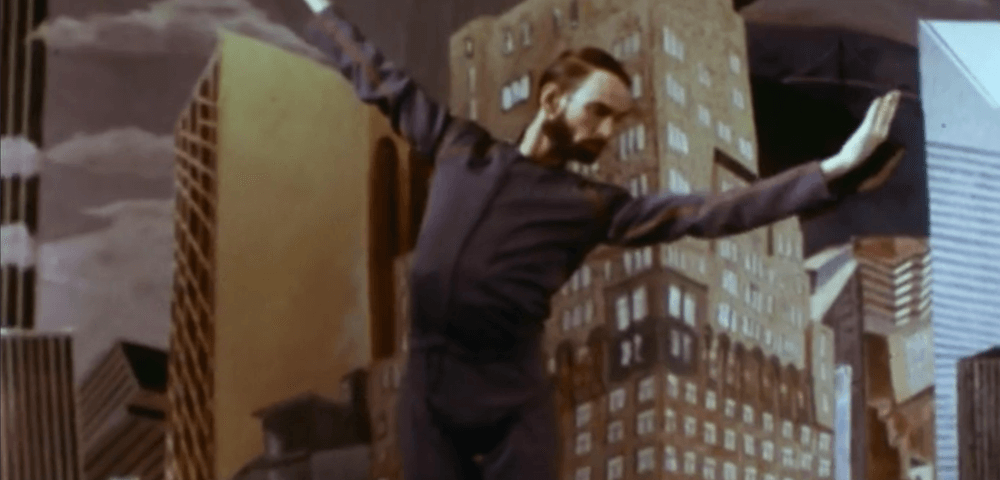 SPACE CITY
dirs. Robyn Brentano & Andrew Horn, 1981
28 mins. United States.
In English.
Collaborating this time with dancer Kenneth King, Horn and Brentano's most ambitious dance film anticipated the production value of Horn's later dramatic features. The action begins in an 18th century attic before slowly moving through the passages of a modern metropolis' early development, with King dancing to guide the action as the world expands – including a ghoulish and haunting superimposition of King dancing atop the Manhattan skyline.
In an interview with Millennium Film Journal, Horn pointed out that SPACE CITY put onscreen a number of personas adopted by King in his previous dance performances: "the old man, the little man that dances, the figure of the dreamer, the dancer." Brentano described it like this: "From the moment that the artist Rick Brintzenhofe suggested that he paint the city on these folding screens and modules we knew that we wanted to do a variety of set-ups and to edit those setups together using various orders so that it was like taking a deck of cards and shuffling them all together." SPACE CITY takes the viewer through the thresholds of dreaming, waking, and transcendental awareness, using real and painted images of the city, a 19th century attic and outer space. King's voice recounts a dream of space without walls, a time of childhood and ecstasy.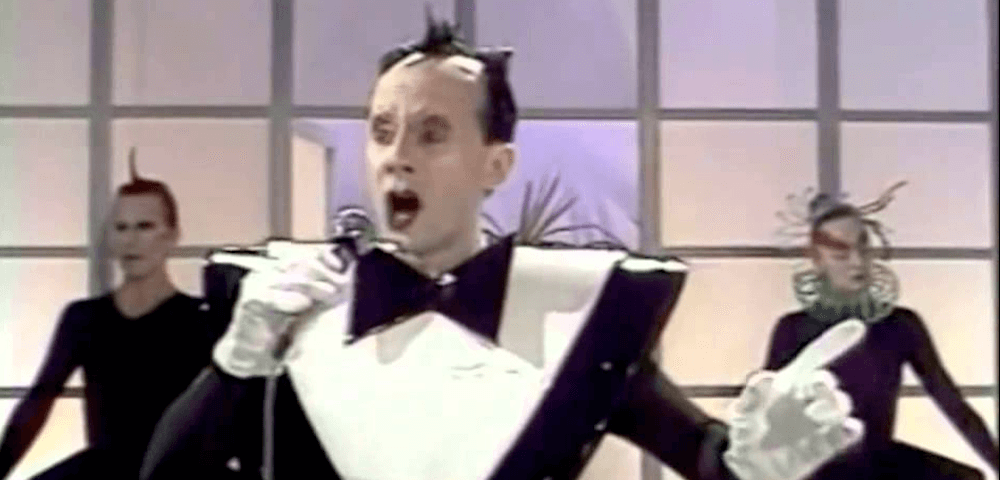 THE NOMI SONG
dir. Andrew Horn, 2004
97 mins. United States.
In English.
TUESDAY, FEBRUARY 18 – 10 PM
TUESDAY, FEBRUARY 25 – 7:30 PM
"The way I look is part of it. It sounds affected but I do see myself as a piece of living art. People do accuse me of being just decorative or an escapist. Well, I am. That's what I do. So long as they realize that I am other things as well. I do kind of transcend the song and give it a different meaning. But satire would be too simple. There are moments in my show which are very moving as well as amusing. People should allow me to be many things, really give me room to put things in another dimension."
Looks like an alien, sings like a diva – Klaus Nomi was one of the 1980s' most profoundly bizarre characters. He was a cult figure in the New Wave underground scene, a genuine counter tenor who sang pop music like opera and brought opera to club audiences and made them like it. He was a performer with a "look" so strong, that his first audiences went wild before he even opened his mouth. Klaus presented himself as "the perfect video star" yet his star burned out just before the mass explosion of MTV. On the verge of international fame as a singer, he became instead one of the first gay artists to die of AIDS. In the end, his recorded output consists of re-reissues, in various forms, of only two LP's and a live album. For those who do know him, the reaction he provoked was so strong, that he is still unforgettable, even 20 years after his death. Even now, Klaus is somehow still winning new fans among those too young to have known him when he was alive. And a quick check of the Internet reveals that all his records are still being sold.
Part documentary, part music film, part sci-fi, THE NOMI SONG is a "non-fiction film", or maybe even an oral history. It's not just the tale, it's the telling. But it is also visual, partly because Klaus himself was so visual, someone who's main concern was putting forth an image of himself in everything he did – literally illustrated by the photos, films, videos and artworks that go with it and featuring many never before seen live performances. However, there are also the images that the stories conjure up, images that no actual picture could capture, that emerge out of impressions, memories and even exaggerations, fermenting in somebody's brain for twenty years. It's like a novel with a whole cast of characters and supporting players – revealing themselves as much as (and sometimes more than) they do Klaus – with subplots, background stories, flashbacks and contradictions.
What unifies the various elements of interviews, performance and various visual elements is Klaus himself, not only the all-pervasive image he put out, but, more importantly, his effect on others. It's a story that grows out of a group of people who influenced him, loved him, idolized him, felt pity for him and felt guilty because of him; people who felt used, cheated yet, over all, inspired by him. It's a story of love of music and love of performing and a time when it seemed as though everyone was struck by a sense of urgency to make something – or anything – and the feeling that "somewhere in the great cosmic plan we all knew that we only had a finite amount of time together and we had to make the most of it."
Nomi is, of course, a manufactured personality. But by all accounts the character he created for himself was clearly more significant, more "real" than the man behind it. If he was a mystery, he was completely open about it. He constructed his own myth out of elements so completely "wrong", yet so deliberate, that it all seemed oddly possible. And right up to the end, it almost was. He was as much a genuine talent as he was – however naively – the engine of his own destruction. He was an alien amongst the outcasts and an obviously tortured soul who, at the same time, radiated optimism at a time when optimism was "officially" out of fashion. His appeal is not easy to explain in words. He has to be seen – and heard – to be believed. Whether you knew him personally, saw him perform, discovered his music or even just saw his picture, one has to admit, he is pretty unbelievable.
Featuring the music of Wire, The Marbles, The Bongos, Pylon, The Mumps, Chi Pig, and, of course, David Bowie, not to mention numerous live Klaus Nomi performances, many never before seen, and including Klaus' ultimate performance of The Cold Song with full orchestra.
"ILLUMINATING AND MOVING! Offers a wealth of information about Klaus Nomi's career, the construction of his space-alien persona, and the new-wave scene he sprang from. With Klaus Nomi as the focus of our attention, all conventional notions (and notions of convention) are altogether burned away. Dazzling!" – Ernest Hardy, LA Weekly
"Andrew Horn's strange and fascinating documentary about the late New Wave singer and art object, Klaus Nomi, gives off a rich whiff of the New York punk bohemia of the late 1970s and early '80s." – Kurt Loder, MTV
"A strange personage – sad clown to some, incomparable genius to others. (…) He deserves a special mention in the annals of rock history as the first who dared sing an operatic aria to the habitués of Max's Kansas City." – Le Matin, 1983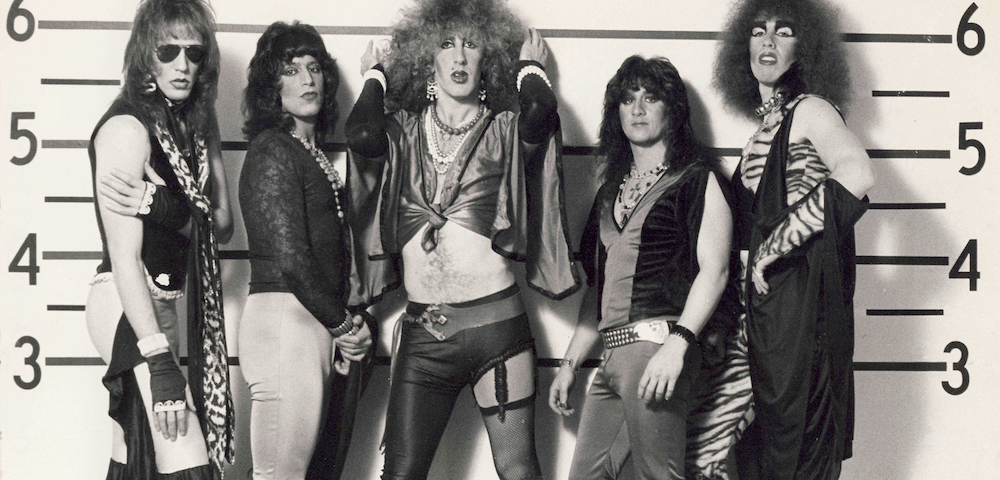 WE ARE TWISTED FUCKING SISTER!
dir. Andrew Horn, 2014
135 mins. United States.
In English.
SATURDAY, FEBRUARY 22 – 5 PM
SUNDAY, FEBRUARY 23 – 7:00 PM w/Jay Jay French (Twisted Sister) in person for Q&A!
(This event is $10.)
The Beatles' trial by fire was those two years playing in the bars in Hamburg. For Twisted Sister, it lasted for 10.
Back then, they were the Grand Funk of Glam and the NY Dolls of Metal. Some considered Twisted Sister a joke, others called them the greatest bar band in the world. While the microcosm of Punk and New Wave was taking over downtown New York in the mid 70s – early 80s, Twisted Sister was battling their way to the top of a vast suburban, cover-band bar scene that surrounded Manhattan in a 100 mile radius, yet existed in a parallel universe.
The film follows them from their beginnings as a cross-dressing glam band, playing cover songs for 4 shows a night, 6 nights a week – from New Jersey bowling alleys and Long Island beach bars, to the suburban mega-clubs of the late 70s/early 80s, and on to their bust-out appearance on the UK rock TV show, "The Tube". Through it all, Twisted stood ready to do or die, not just for the music, but also "the show". They refused to play the usual bar band role of "human juke box for drunk and horny teens". Every night, the band would give their all to the crowd, and mounted a full frontal attack on anyone not participating. They were going to force you to pay attention – and you were going to have fun whether you liked it or not.
They regaled their audiences with comedy rants, dragging them on stage for vomit inducing drinking games, engaging them in fits of disco record smashing and, at their most extreme, whipping them into club-destroying frenzy. The performances were low on style and heavy on the humor and attitude – but behind it all, always smart and full of self awareness. Spinal Tap may have been clueless but Twisted Sister knew exactly what they were doing.
It was both a great living and a dead end because once you reached the peak – headlining clubs attracting audiences of 2, 3 or 5 thousand a night – there was nowhere left to go. As big as Twisted got on that circuit, in the eyes of the world, ie the music business establishment, they were nothing but a bar band.
If you're expecting a tribute film recounting the well known events of Twisted Sister's rock star career, be prepared for something very different. This is not about their hit songs, the MTV videos and their massive stadium shows, rather it's the untold story of how they became that band – one full of strange, and often hilarious, twists and turns. It's a story of Rock 'n Roll and the business of Rock 'n Roll. It's about perseverance and things blowing up in your face. It's about finding yourself, finding your audience and doing literally anything, however wild, to connect with them. And even though we know how it ends, the roller coaster ride of getting there is what it's really all about. A mesmerizing, and wickedly funny story of a 10 year odyssey to overnight success.
Twisted guitarist Jay Jay French sums it up: "the history of Twisted is really those 10 years in the clubs. The years we spent clawing our way through the bar scene. It was learning how to make order out of chaos and how to win in bad situations. And it was unique to Twisted. I talk to hundreds of bands and nobody's ever gone through what we went through. It's who we are, and it's why we are, and why we do what we do."
"'One of the most surprising movies I have seen in quite some time.(…) a film for everyone, not just fans, one which [imparts] a deeper understanding of and respect for the men who lived it." – Pamela Glasner, Huffington Post
"Hilarious and revealing interviews (…) as well as plenty of riotously entertaining footage from the band's Seventies Tri-State club heyday. Immensely compelling." – Dan Epstein, Rolling Stone
"The time flies by, director Andrew Horn concocting a compelling, take-no-shit tale of Twisted Sister's stuttering rise to stardom." – Geoff Barton, Classic Rock Magazine
"I'm not a Twisted Sister fan and, in fact, knew very little about their scene in general—but this is a fascinating documentary." – David Hudson, Fandor
"Noise, mayhem, pathos, endless reversals and plenty of uproarious comedy." – The Independent (UK)
"Believe it or not, WE ARE TWISTED FUCKING SISTER! was born out of a scene in THE NOMI SONG. Actually out of one line. In the Nomi film, Twisted band leader Jay Jay French describes the almost riot that ensued when, believe it or not again, Klaus Nomi opened for them at the Soap Factory in New Jersey. "This was NYC performance art done in a blue collar suburban bar", he explained. I knew almost nothing about Twisted at the time but I knew enough to know this was a hilarious confluence. But then after the NOMI film was finished Jay Jay started to explain to me what Twisted was doing doing onstage with their club audiences back then which struck me as very much it's own kind of performance art, just dedicated to that whole other crowd. So it was the performance art idea that got me into it, little realizing that there was story there that was just as epic as NOMI's.
Interestingly, both stories take place in almost the same time in almost the same geographical area, but they may as well have been in parallel universes. On the surface, TWISTED and NOMI couldn't be more different – but at the same time, I came to realize there was a great similarity between the two. Each had their vision of who they were and what they wanted to do and they both had the courage to just ram it home no matter what. Both flew in the face of the establishment music scene, but both had their dedicated audiences that were ready to follow them anywhere. And both were able to meet each fallback and turn it into the next step forward. A review of the Twisted film said, 'Stardom is interesting, but the long road that leads there is fascinating' and that's what appealed to me about both stories – the roller coaster of getting there is what it's all about." – Andrew Horn
ANDREW HORN's work encompassed a wide range-from making films on post modern dance in New York to writing for one of German's most popular soap operas, from film musicals to music documentaries, from Eastern Europe to the East Village.  His feature films DOOMED LOVE (1984) and THE BIG BLUE,(1988) as well as the documentary feature EAST SIDE STORY(1997) (named as one of the 10 best films of the year in Time Magazine), and his film THE NOMI SONG (2004) won the Teddy Award at the Berlin International Film Festival. These, as well as his earlier short films, have been widely shown all over the world and appear in the collection of Museum of Modern Art in New York, BFI, Cinemateque Francaise, MunichFilm Museum, Deutsche Kindermatheke and the Lincoln Center of Film Library of  Performing Arts.
Born in New York, Horn graduated from New York University School of the Arts where his junior thesis film CHROMA was nominated for an Academy Award.  After living in New York as a filmmaker and graphic artist, he came to Berlin in 1989 as a Guest of DAAD Berlin Exchange Artist fellowship program, where he worked for the rest of his life as a filmmaker, writer and journalist for such magazines as Screen International, Moving Pictures and Variety, as well as an Emmy Award winning film researcher for projects for BBC, ZDF, Arte, Channel 4, PBS, HBO, The Paul Robson Foundation, Michael Moore and Spike Lee. His last film was the 2014 documentary WE ARE TWISTED FUCKING SISTER!; at the time of Andy's death he was preparing BYRDS, a documentary about the early era of Robert Wilson's Byrd Hoffman School of Byrds. He is survived by his son, Kai Kuroiwa.