The genesis of Rockuary has faded into legend, however it remains a February institution of music in film, music on film, the country love letter, and the occasional rock opera at Spectacle.
This Rockuary features Cyrill Schläpfer's folk-a-delic alpine feast UR MUSIG, a suckumentary called DRUGS ARE NICE: A SUCKUMENTARY, a primo slice of vintage John Lurie and the Lounge Lizards at the peak of their powers, a reprise run for Mark Robinson's Butch Willis documentary AMATEUR ON PLASTIC, filmmaker Q&As for THE UNICORN – one of 2019's most slept-on films, a searing portrait of pioneering NYC country musician Peter Grudzien – and much more.
---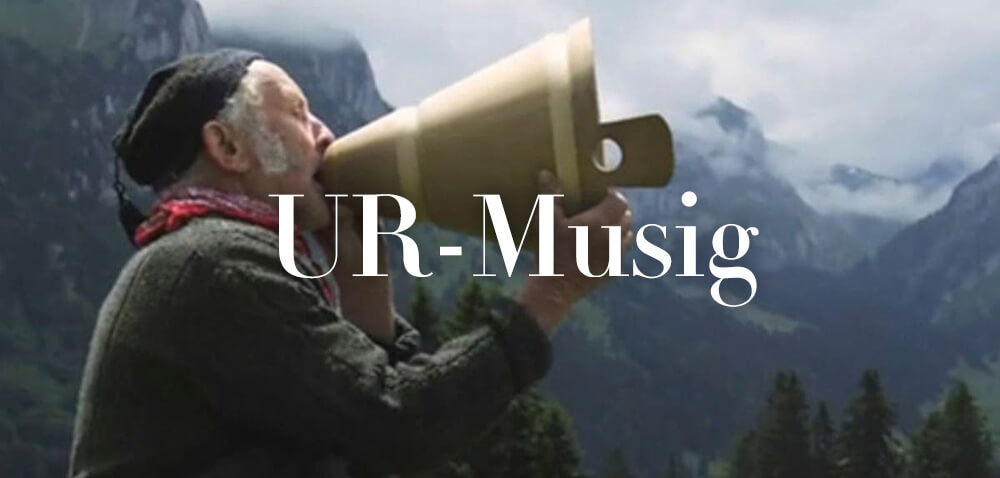 UR-MUSIG
Dir. Cyrill Schläpfer, 1993
107 mins. Switzerland.
FRIDAY, FEBRUARY 1 – 7:30 PM
FRIDAY, FEBRUARY 7 – 10 PM
THURSDAY, FEBRUARY 13 – 7:30 PM
THURSDAY, FEBRUARY 27 – 7:30 PM
SATURDAY, FEBRUARY 29 – 7:30 PM
Meaning "Primitive Music", UR-MUSIG is a journey into the world of traditional Swiss folk music. Presented without comment or narration, the film focuses on the sounds of Central Switzerland and Appenzellerland; such as yodeling, the alpine blessing, the ringing of cowbells, and more. Visually augmented by the lush, gorgeous landscapes of the Alps as seen in every season of the year, each more staggeringly beautiful than then the next. Showcasing the inherent relationship between the film's subjects' musical expression and the land in which it inhabits. The film has gained a cult reputation after screening as a continuous Sunday matinee for 2 years in Zurich.
Poster by B. Tuttle
---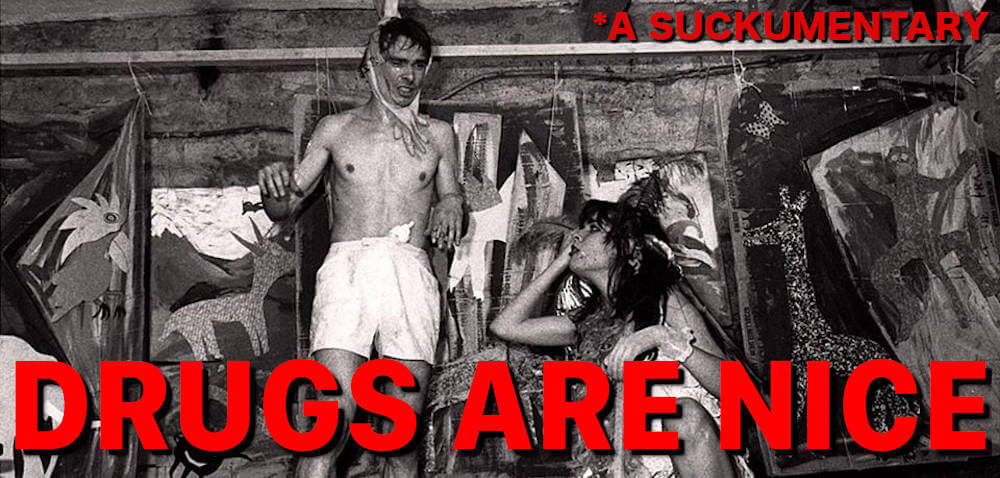 DRUGS ARE NICE: A SUCKUMENTARY
dir. Lisa Carver, 2005
59 mins. United States.
In English.
WEDNESDAY, FEBRUARY 5 – 7:30 PM
SATURDAY, FEBRUARY 15 – MIDNIGHT
SATURDAY, FEBRUARY 22 – 10 PM
TUESDAY, FEBRUARY 25 – 10 PM
Rollerderby
writer Lisa Carver reflects on her time in the touring scuzz revue Suckdog (ca. 1987-1998). Founded by Carver and Rachel Johnson, Suckdog was a showcase for psychosexual operettas characterized by wildly convoluted tales of seduction. Fractured Casio melodies, aggressive falsettos, and sloppy, passionate orgies were mainstays of Suckdog productions. Featuring Meat Cake artist Dame Darcy, renowned baritone GG Allin, Bill Callahan (aka Smog), and the feral French performance artist Jean-Louis Costes.
---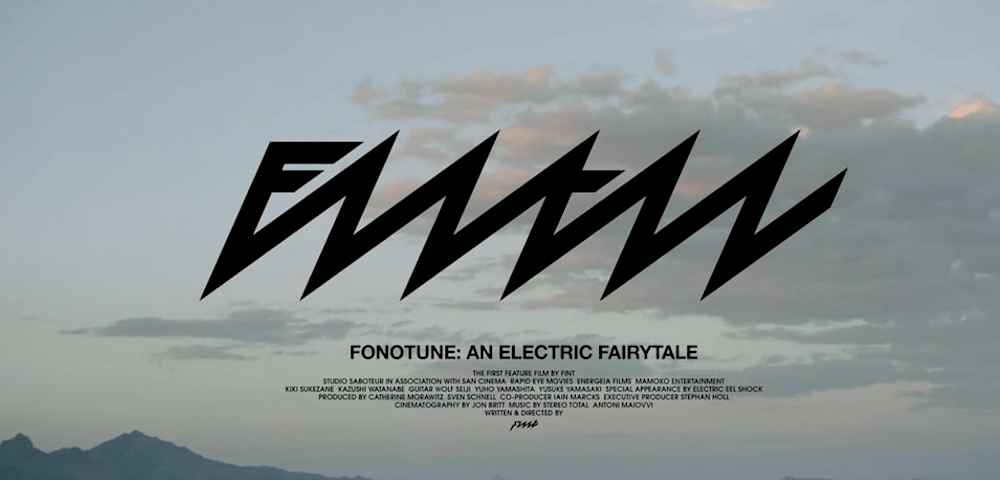 FONOTUNE: AN ELECTRIC FAIRYTALE
dir. FINT, 2018
75 min. Germany/United States.
In Japanese with English subtitles.
FRIDAY, FEBRUARY 7 – 7:30 PM w/Q&A featuring FINT and GUITAR WOLF!
(This event is $10.)
WEDNESDAY, FEBRUARY 12 – 7:30 PM
WEDNESDAY, FEBRUARY 19 – 10 PM
SATURDAY, FEBRUARY 22 – MIDNIGHT
NEW YORK CITY PREMIERE!
On a single strange day in an undefined future, street hooker Stereo (Yuho Yamashita), lo-fi cowboy Analog (Kazushi Watanabe, of Takashi Miike's VISITOR Q) and wordless drifter Mono (director FINT) cross brutalist cityscapes and blasted desert wastelands to deliver a cassette tape to the mysterious Blitz (Guitar Wolf Seiji, in his first feature film role since 1999's WILD ZERO). Meanwhile, mankind has grown indifferent to the world, and one major thing seems to have gone unnoticed: It's the last day on earth. With a rockin' soundtrack featuring Guitar Wolf, Electric Eel Shock, Stereo Total, Antoni Maiovvi, and Nackt!
---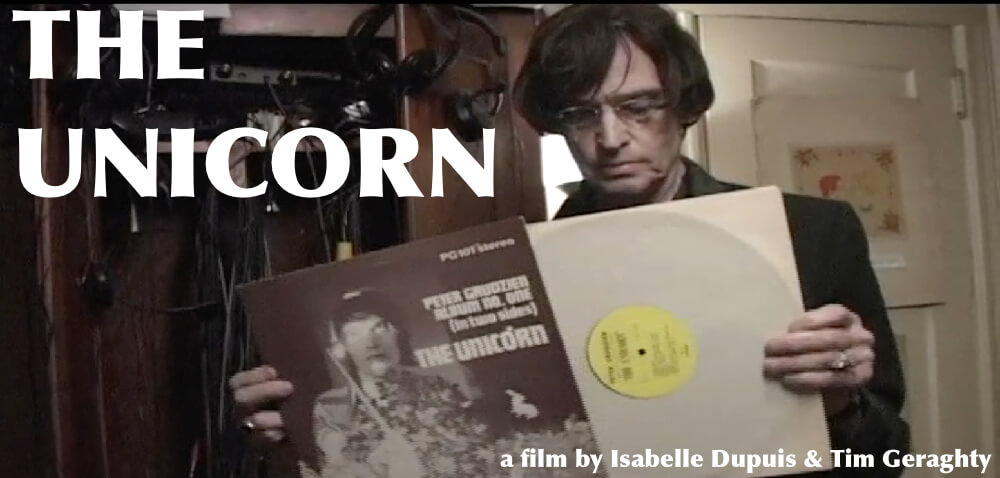 THE UNICORN
dir. Isabelle Dupuis & Tim Geraghty, 2018
92 mins. United States.
In English.
SUNDAY, FEBRUARY 2 – 7:30 PM
SATURDAY, FEBRUARY 15 – 5 PM
FRIDAY, FEBRUARY 21 – 7:30 PM
MONDAY, FEBRUARY 24 – 7:30 PM
All screenings with filmmakers in person for Q&A!
(These events are $10.)
THE UNICORN follows Peter Grudzien, the one-man musical force behind The Unicorn, possibly the first gay country album. An incredibly prolific songwriter, Peter composed, performed and recorded The Unicorn LP (1974) in his childhood home in Queens, NY. It is now a cult classic. Peter would eventually compose and rearrange more than 900 songs throughout his lifetime, but the toll of mental illness cut short any hope of commercial success or recognition. Now 65-years-old, Peter and his twin sister, Terry (who suffers from schizophrenia) share their dilapidated childhood home with their nonagenarian father, Joseph, in Queens, New York, struggling each day to maintain a precarious balance on the margins of society.
When not battling outbursts of paranoia, Peter, the more functional of the pair, spends his life struggling for recognition as a musician – billing himself as a "gay country singer". He enjoys limited notoriety as an 'Outsider Musician', but the promise of commercial success stops there. Peter lives inside of his music, surrounded by records, instruments and home-recording gear, using the chaos of his life and mental illness as a springboard for his musical ideas. He tests his new material, from love songs for Johnny Cash to Country ballads of dehumanization, on stage at a local gay karaoke bar.
While THE UNICORN began as a grad school short, it blossomed into a full length feature, a two and a half year slice of life portrait of a dedicated artist at the edge of the world. Reluctantly embraced by Peter and his family, Dupuis and Geraghty are granted unfettered access to a world lurking just beneath the surface brimming with tenderness and an eye for detail. Presented in earnest without a hint of sensationalism, the wrecking ball moments hit especially hard. After a year of touring and scooping up awards all over the world, THE UNICORN lands back in Brooklyn this February.
---
WE DON'T CARE ABOUT MUSIC ANYWAY
dirs. Cédric Dupire and Gaspard Kuentz, 2009
80 mins. France.
In Japanese with English subtitles.
WEDNESDAY, FEBRUARY 5 – 10 PM
SATURDAY, FEBRUARY 8 – 5 PM
THURSDAY, FEBRUARY 20 – 10 PM

Packed with appearances from improv stalwart Otomo Yoshihide, Hiromichi Sakamoto (Pascals), Fuyuki Yamakawa, and hardcore band Numb, Cédric Dupire and Gaspard Kuentz's kaleidoscopic documentary on the various edges of the Tokyo musical underground is sparingly light on rock doc cliche and fortunately heavier than a death in a family.
---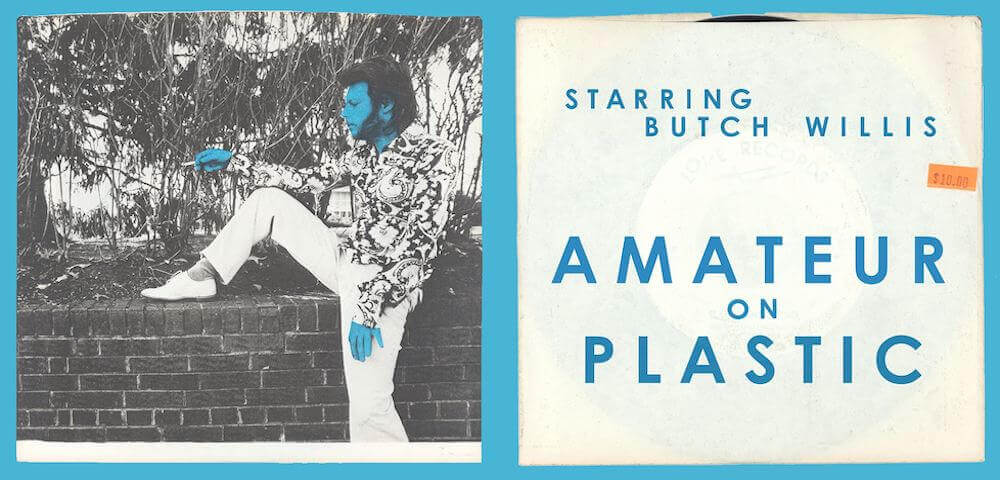 AMATEUR ON PLASTIC
dir. Mark Robinson, 2019
77 mins. United States.
In English.
SUNDAY, FEBRUARY 2 – 5 PM
MONDAY, FEBRUARY 3 – 10 PM
THURSDAY, FEBRUARY 6 – 7:30 PM
MONDAY, FEBRUARY 24 – 10 PM

Making its NYC debut to two packed houses last year as part of Rockuary 2k19, Spectacle is thrilled to revive AMATEUR ON PLASTIC, Mark Robinson's (of Teenbeat Records, Unrest) idiosyncratic portrait of Butch Willis, titan of D.C. rock.
Born and raised in Beltsville, Maryland, Byron Henry "Butch" Willis came of age in the late '70s post-hippie subculture of Takoma Park. After sharing an apartment with infamous local music icon Root Boy Slim, Butch was inspired to become a rock'n'roll star himself. The unique and unusual brand of "outsider music" that Butch Willis & The Rocks created captivated the local D.C. music scene beginning with their appearance at the seminal Primitive Night at the Psychedelly in Bethesda in 1984.
AMATEUR ON PLASTIC chronicles Butch's life and career from the '80s all the way through to present day. It features a host of Butch-appointed band managers Joe Lee (Joe's Record Paradise), Jeff Mentges (No Trend), Jeff Krulik (Heavy Metal Parking Lot), and director Mark Robinson (Unrest/Teen-Beat). Also co-starring is Al Breon, the Rocks' innovative "throat guitarist." The film combines archival footage, interviews with Butch, and performances of his hit songs "Drugs," "The Garden's Outside," "TV's From Outer Space," and "The Girl's on My Mind."
---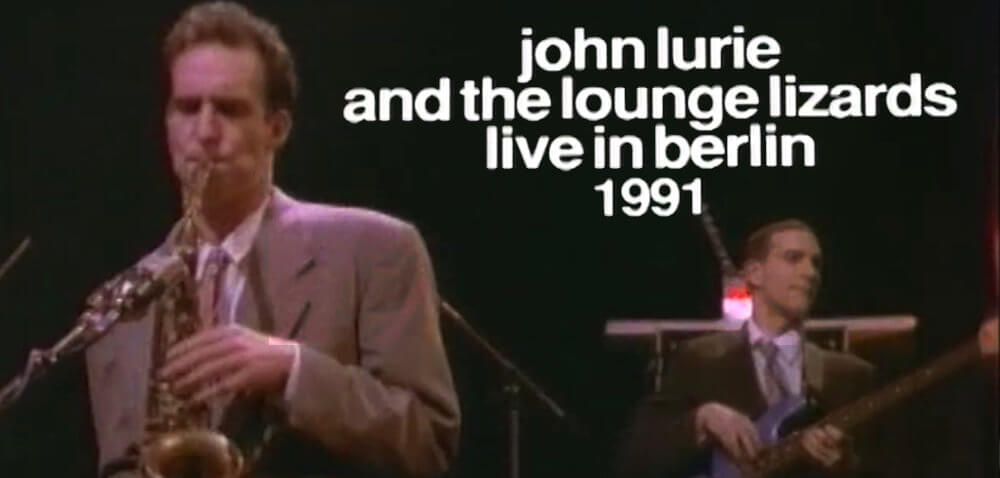 JOHN LURIE AND THE LOUNGE LIZARDS LIVE IN BERLIN, 1991
dir. Garret Linn, 1992
87 mins. United States.
In English.
SATURDAY, FEBRUARY 1 – MIDNIGHT
SUNDAY, FEBRUARY 9 – 7:30 PM w/filmmaker Garett Linn in person for Q&A!
(This event is $10.)
FRIDAY, FEBRUARY 28 – MIDNIGHT 
Ever-hip purveyors of 80's cool, John Lurie and the Lounge Lizards slam out their post-free-jazz music on stage in Berlin at the height of their powers. In an almost never seen film documentary of a sold-out performance in 1991, Lurie and the band bring down the house.
The New York Times called it "engaging" and Variety said it was "enlightening". A rare jazz treat recovered from obscurity, JOHN LURIE AND THE LOUNGE LIZARDS LIVE IN BERLIN, 1991 is No-Wave Jazz at its best.