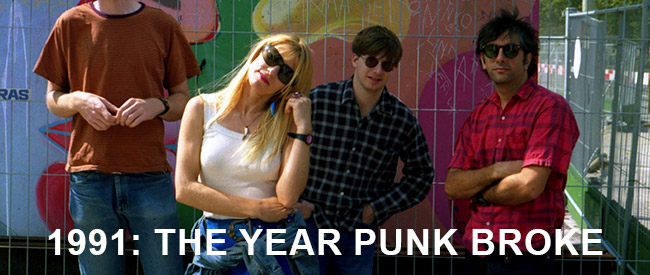 1991: THE YEAR PUNK BROKE
Dir. Dave Markey, 1993.
95 min. USA.
SATURDAY, JANUARY 4 – 7:30 & 10:00 PM

RARE 16MM SCREENING! ONE NIGHT ONLY! $5 CASH AT THE DOOR!
Doors will open 30 min. before start time and the feature will begin promptly on time
Seating is limited and entry is first-come, first served — please arrive with your friends
Spectacle is pleased to launch 2014 with Dave Markey's The Year Punk Broke, chronicling two weeks on tour with Sonic Youth in August, 1991. The much better-remembered and more cherished analog to Madonna's Truth or Dare tour documentary also features extensive footage of Nirvana on the eve of Nevermind's release along with Dinosaur Jr., Mudhoney, The Ramones, Babes in Toyland, and Gumball — plus a great Courtney Love cameo.
Special thanks to Dave Markey, Peter Oleksik, Lee Ranaldo, and Steve Shelley