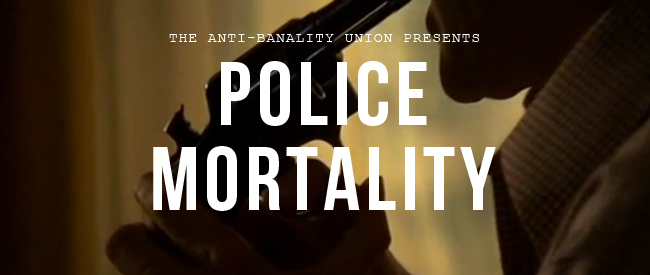 POLICE MORTALITY
Anti-Banality Union, 2013
U.SS.A., 66 min.
TUESDAY, DECEMBER 17 – 8:00 PM & 10:00 PM
TWO SHOWS – ONE NIGHT ONLY!
Admission by donation!
Do you ever try to imagine the last crime?
Suspect that Robocop is the 99%?
Or wish that the pigs would off themselves, so you don't have to?
Leave it to Hollywood and the Anti-Banality Union, in the world premiere of POLICE MORTALITY, the vengeful follow-up to last year's 9/11 bonanza UNCLEAR HOLOCAUST.
The immaculate suicide of one police officer begins to reveal the contradictions of police existence to a force which, finding itself utterly irreconcilable with itself, resorts to communism, terrorism, and ultimately terminal civil war, eradicating the prevailing organization of life in the process.