August 2012 was a simpler time: America was watching both the Harlem shake and Mitt Romney's 47% video (a worthy successor to Glenn Danzig's library tour, or Henry Rollins' Dutch TV interview) with equally rapt attention. Here at Spectacle, we programmed a head-banging action series called SUMMER OF SHRAPNEL that scorched a proverbial hole in the screen… and burned through all our Julio Medem money after a lower-octane-than-expected turnout. In that battered spirit we are pleased to blow the dust off of four chopsocky non-classics, equalling out to TWO LOAVES OF KUNG FU: because there's no better time than a summer night to watch guys get kicked upside the spine, ideally while sipping a frosty beverage.

---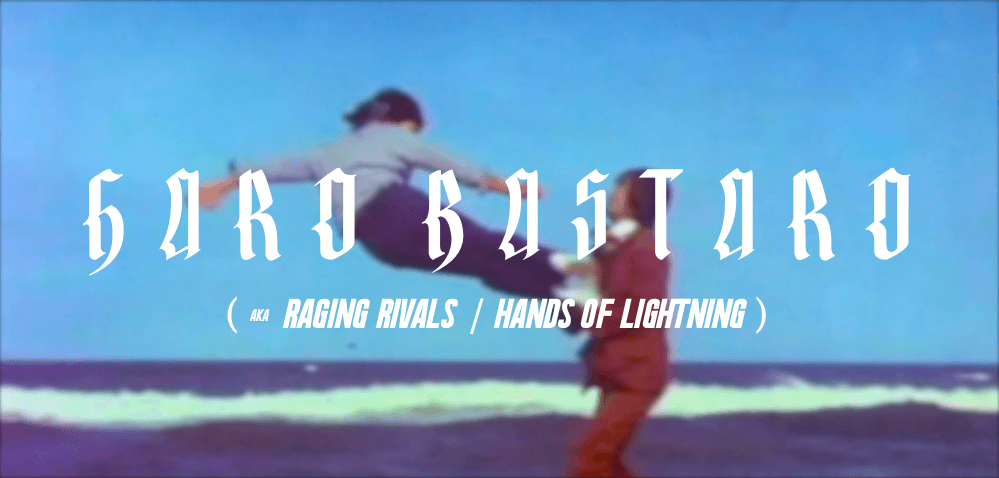 HARD BASTARD
(aka RAGING RIVALS)
dirs. Godfrey Ho, 1982
Hong Kong/South Korea. 95 mins.
WEDS AUGUST 2 – 10 PM
SAT AUGUST 12 – 10 PM
MON AUGUST 14 – 7:30 PM
WED AUGUST 23 – 10 PM
SPECIAL SEPTEMBER SCREENING:
SATURDAY, SEPTEMBER 16 – MIDNIGHT
With trembling and battered hands (of lightning), this mile-a-minute unauthorized kung fu remake of THE GOOD, THE BAD AND THE UGLY carves THE HARD onto that film's lodestar in blood… and a hell of a lot more. Directed by cut-and-paste auteur Godfrey Ho (UNDEFEATABLE, CAT-MAN ON LETHAL TRACK, RAGE OF NINJA), HARD BASTARD tracks two traveling musicians in "the darkest period of Shanghai", muxing inimitable 70s fashions (white-toned shoes, insanely popped collars) with a backdrop of feudal poverty – perhaps anticipating KUNG FU HUSTLE? They pick up a beautiful girl as a shipment of gold pulls into the pier; the map plotting its coordinates is cut into three pieces, and a chase ensues. Meanwhile, a well-to-do college student (played against type by legendary kickboxer Hwang Jang Lee, of SNAKE IN THE EAGLE'S SHADOW) returns to his hometown… only to discover his father's dojo has become a canasta joint for the mobsters running the city. HARD BASTARD culminates in a beachside battle royale which, like the climactic moments of so many other cheap-ass genre grenades of the 70s & 80s, accidentally tip-topples itself into the realm of the avant-garde.
"Contemporary martial arts remake of "the good, the bad and the ugly", although with a wooden, unlikeably incompotent hero, and little morality of any kind… Hwang Jang Lee portrays an immoral card-sharp with a strong sense of self preservation, and kicks his way through a few dullish fight sequences. Unremarkable, but reasonably high energy film with more emphasis on betrayals and double crosses than on conventional kung-fu action." – Clockwork Avocado, IMDB
"Although the production values were appalling and the dubbing gave the impression that this was a carry on film a few beers or whatever your poison may be and you will laugh so much you will nearly crap yourself. 'Where are you going?' 'To kick sh#t out of them'" – george crowther, IMDB

---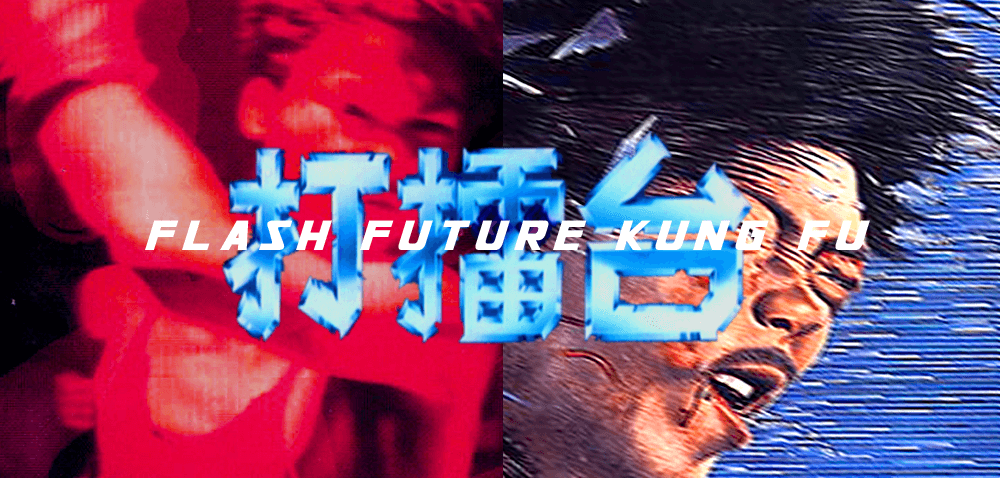 FLASH FUTURE KUNG FU
(aka HEALTH WARNING, MR. DIGITAL)
dir. Kirk Wong, 1983
Hong Kong. 78 mins.
SATURDAY, AUGUST 5 – 7:30 PM
FRIDAY, AUGUST 11 – 7:30 PM
SUNDAY, AUGUST 20 – 5 PM
THURSDAY, AUGUST 30 – 10 PM
SPECIAL SEPTEMBER SCREENING:
SATURDAY, SEPTEMBER 30 – MIDNIGHT
"In the early part of the next century there was enormous advancement in science and technology. This created extreme sluggishness (in people). Civilization experienced complete destruction; society collapsed; industry and commerce ground to a halt. People became decadent; without goals, their strength collapsed. They began to build stamina through exercise and became engrossed in underground boxing matches. The world of martial clubs became young people's only home."
Calling all fans of HOLOGRAM MAN, DIGITAL MAN, NEON CITY and Reince Priebus: you wanted dystopia? You got it! From the director of THE BIG HIT and CRIME STORY comes a future-world that glistens harder than anything dreamed up by Ridley Scott or Denis Villanueve: This. Is. HEALTH WARNING, MR. DIGITAL (aka FLASH FUTURE KUNG FU): Wong's throwdown epic takes place in the early part of the next century, where Nazism has inexplicably (as in, the movie doesn't bother explaining it) become the law of the land… and to paraphrase the ad campaign for 2003's THE CORE, the only way out is through (via punching.) Most of FLASH FUTURE KUNG FU unfurls in a smog-suffocated arcade proscenium that muxes boundaries between man and tech; as in the "house of dust" from the Epic of Gilgamesh, Wong's denizens are doomed to spend their days with gas masks and contractor bags draping their heads (and souls) in ignorant darkness. Don't let that be you – come see the Nazis lose one last time in FLASH FUTURE KUNG FU, before reality outpaces 1980s Hong Kong!
"In a setting somewhat similar to Mel Gibson's THE ROAD WARRIOR, Johnny Wang Lung Wei and Ray Lui play friends who train all day to fight some Neo Nazis. And Eddy Ko has a nice role as their master. This is definitely not a well made movie, but I loved it. It's one of Wang Lung Wei's best fighting performances, and there's just something about seeing him in a black rain coat going off on people that gets me excited. A lot of his punches and kicks actually connect. I can't even count how many times I said "ouch" outloud. The choreography is done 80's Hong Kong kickboxing style, and it fits Wang Lung Wei like a glove. The bottomline is, if you are a fan of Wang Lung Wei, you have to see this. You won't be disappointed with his performance, trust me." – gortho, IMDB
---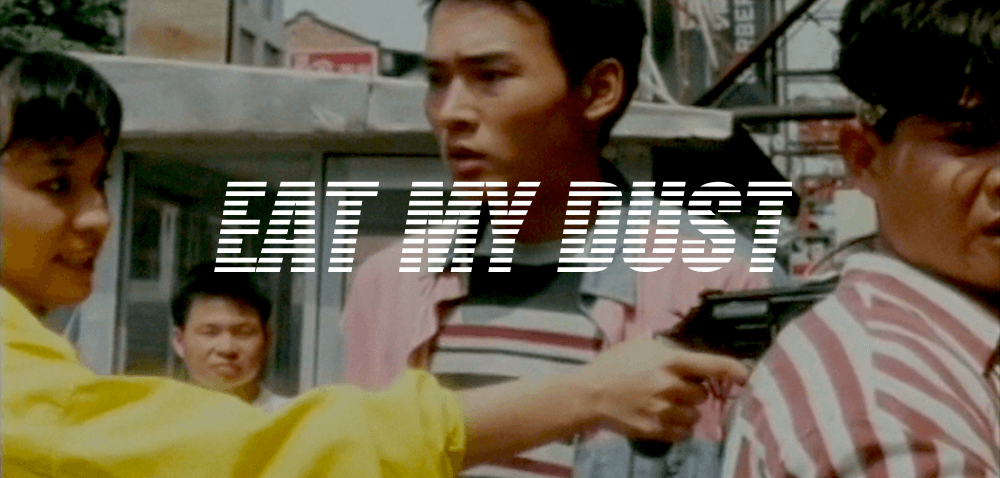 EAT MY DUST
(aka DRUG TIGER)
dir. Philip So, 1993
Hong Kong/Taiwan. 94 mins.
FRI, AUGUST 4 – 7:30 PM
WED, AUGUST 9 – 10 PM
SUN, AUGUST 13 – 7:30 PM
THU, AUGUST 24 – 7:30 PM
SPECIAL SEPTEMBER SCREENING:
SATURDAY, SEPTEMBER 2 – MIDNIGHT
When he was a child, Hank (Michael Tsang) witnessed the murder of his parents at the hands of drug kingpin Bill Yang (Johnny Chiu). By 1993, Hank has grown up – and Philip So's rip-roaring martial arts actioner follows his path to revenge. But the film's true hero is the gorgeous undercover supercop Wendy, played Cynthia Lam in an April O'Neil-worthy yellow parka; she's on her own collission course with Yang, but only in meeting and falling in love with Hank (via much breathtaking ass-kicking) can the audience discover both hearts sharing one path… to revenge. Past a plethora of Australian-dubbed "bastard"s, "rat"s and "rat bastard"s, EAT MY DUST also boasts a remarkable sense of physical comedy: there's backflip-intensive Kawasaki chase, TVs hurled off of balconies, an abandoned factory incinerating with a snap of the fingers and at least one utterly insane shootout/massacre that harkens to the "balletic" slo-mo splendor of John Woo and Tsui Hark (if not Busby Berkeley), while also foreshadowing the "homage" (read: ripoff) fight scenes in the MATRIX sequels. Like 99% of other movies, EAT MY DUST leaves that trilogy where it belongs – the dust.
"In some ways, DRUG TIGER plays like an underachieving Jackie Chan film. But it's just too disjointed to recommend strongly. It would be much better to watch a Chan film you haven't seen, but if you're a serious connoisseur of those types of movies and you've seen most of them, this isn't a bad choice for a lazy Sunday afternoon." – Brant Sponeller, IMDB
"Beyond MIAMI VICE, TRAFFIC, TRAFFIK, EL SICARIO: ROOM 114 and Johnnie To's DRUG WAR… EAT MY DUST is arguably the best war-on-drugs film ever made." – Steve Macfarlane, Northside Media Group
---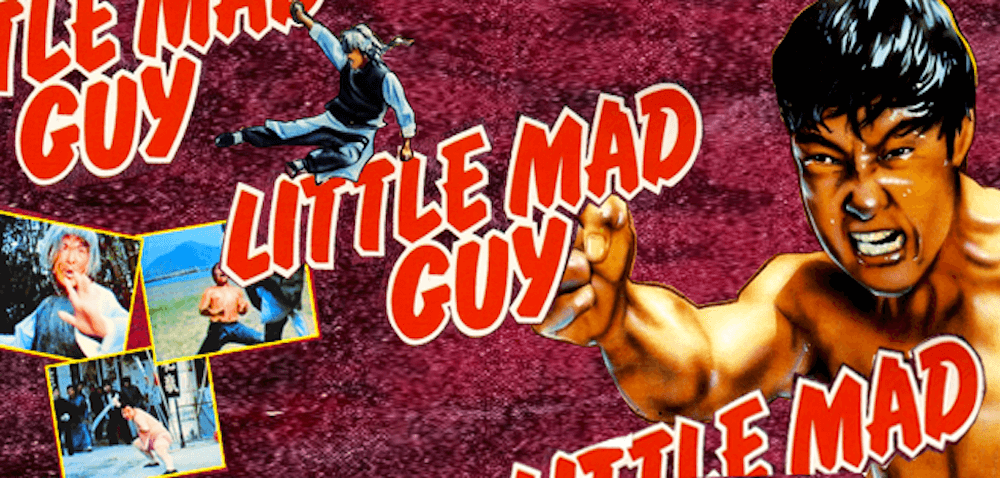 LITTLE MAD GUY
(aka RAGE OF THE MASTER)
dir. Hsing-Lai Wang, 1982
China/Australia, 102 mins.
FRI, AUGUST 4 – 10 PM
MON, AUGUST 7 – 10 PM
SAT, AUGUST 19 – 10 PM
From a resin-stained abyss of outerboro marginalia gallops LITTLE MAD GUY, projected off of a discount-rack VHS dubbed into Australian English – perhaps the only extant version of the film today. Ming-Tsai Wu stars as shirtless field-urchin Little Fatty, the titular MAD GUY on the hunt for Wu (Tiger Yang) – a notorious outlaw with a steep bounty on his head. Wang's film is essentially one long tilt-a-wheel of skull-crushing, capillary-busting wall-to-wall wuxia, interspersed with some attempts at comedy and occasional glimpses of the Chinese countryside. Wikipedia would have us believe LITTLE MAD GUY is "labeled as the madcap tale of a simpleton who fights for the people" – but really, what film isn't? Featuring a prolonged cameo from "Simon" Yuen Siu-tien – the original DRUNKEN MASTER, and father of Yuen Woo-Ping!
"A bandit pretends to be a master in a small county. He causes chaos with all the villagers by doing tricks on them and cheating. The bandit picks on the Little Mad Guy without knowing what it will mean, and Little Guy gets crazy, at which point a hot pursuit begins that takes you through hilarious action-adventures. How will this chase end? One thing you know is that you'll be in stitches." – Cobra Video
"Hilarious storyline, many humorous interactions between 'Little Fatty' and anyone who he comes in contact with, including bowing down to a frog and chanting 'I worship the toad' and falling face first into a pile of crap in his quest to earn a living bringing in a criminal." – WilliamSchweizer, IMDB
"Almost entirely fighting from start to finish between a core trio of antagonists, Master Ma, Little Fatty and Chun Wu. Little Fatty appears to be the central character, owing his martial arts ability to a life long study of frogs and toads. The bandit Wu is portrayed by Tiger Yang, who the opening credits claim was Muhammad Ali's martial arts instructor. Funny, but I don't recall ever hearing of Ali having an interest in the martial arts." – classicsoncall, IMDB
"The movie also tries to be more than just your average martial arts movie too, by incorporating some comedy elements into it. However, the movie is only funny for about the first 10 or 15 minutes, and then it just gets way too serious." – Rob Battersby, Geeksquisite
"The film earned first-time actor Jonathon Shaw a Golden Heart Nomination at the 1983 Golden Heart Awards in China. Despite not playing the main part, it was this nomination that earned Shaw the enduring nickname of 'The Little Guy'." – Wikipedia