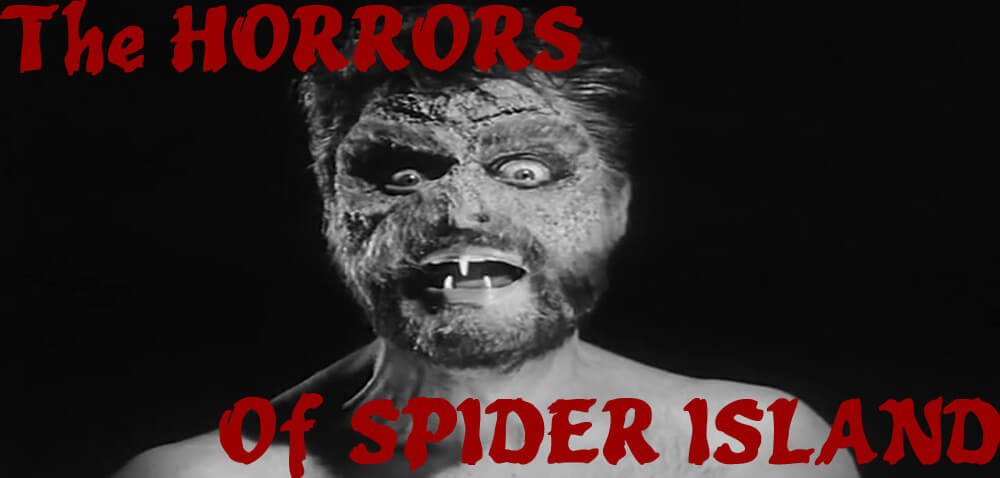 HORROR OF SPIDER ISLAND (aka. Ein Toter hing im Netz, The Bodies Hang In Nets)
Dir. Fritz Böttger (as Jamie Nolan) (1960)
West Germany/Yugoslavia, 80 min.
In (dubbed) English
SAT AUGUST 5 – MIDNIGHT
FRI AUGUST 11 – MIDNIGHT
FRI AUGUST 19 – MIDNIGHT
We've seen burlesque dancers on the stage, we've seen burlesque dancers behind the scenes, so how about burlesque dancers crash-landing on a tropic island and facing off against an evil spider-ma…erm, man-spider? Welcome to Ein Toter hing im Netz (The Bodies Hang In Nets), a weird little German film which we in the west know as HORROR OF SPIDER ISLAND! A talent agent named Gary (Alexander D'Arcy, THE ST. VALENTINE'S DAY MASSACRE, HOW TO MARRY A MILLIONAIRE) pulls togeteher a dance troupe to head to Singapore and certain success when catastrophic engine failure ends up with all hands in the ocean, leading to a Lord Of The Frauleins situation on a torrid island where a radioactive spiderbite turns Gary into a bug-eyed killing machine! You may think this is all just a pretext to see leggy blondes languidly draped in makeshift bikinis, and you would not be wrong, but it's worth noting one of those blondes is none other than the great Barbara Valentin (here named Babs Valentine), known and loved by Fassbinder fans worldwide, and she's just as wonderfully salty here as ever. This print compiles best available sources to include all the scenes cut from the international release, so you get all the nude swimming and dancing the American cut promised and never delivered, making this a perfect film for long hot summer nights when sleep is impossible and danger lurks around every turn.
---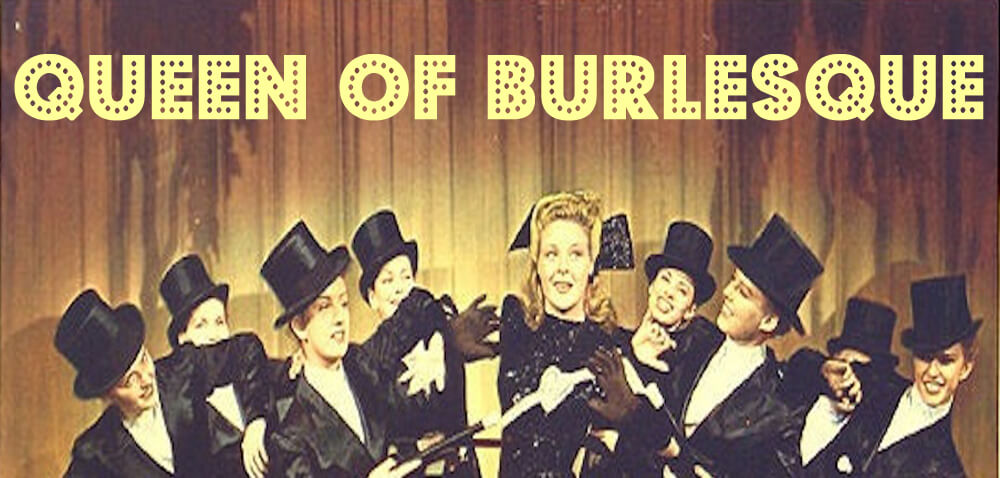 QUEEN OF BURLESQUE
Dir. Sam Newfield, 1945
USA, 63 min.
WED AUGUST 2 – 7:30 PM
WED AUGUST 16 – 7:30 PM
THU AUGUST 30 – 7:30 PM
"She'll be pin-up girl in the nursing home when I'm still doing kick-ups!"
To call Samuel Newfield, director of TERROR OF TINY TOWN, THE MAD MONSTER, I ACCUSE MY PARENTS and *many* more a king of the B-films is an understatement: in 1946 alone he made sixteen films (some under pseudonyms). Dolly DeVoe is back in town, the hubba-hubba-hubbiest, and unsurprisingly other dancers are none too happy, particularly current headliner Crystal McCoy (Evelyn Ankers, who creature feature kids know from THE WOLF MAN and THE GHOST OF FRANKENSTEIN), but is she unhappy enough to commit MURDER? How about that shady gossip reporter Steve Hurley(Carleton Young), currently working on his own murder mystery? Or perhaps fellow dancer Blossom Terrain (American burlesque star Rose La Rose!)? You think we're gonna spill the beans, bub? You best shuffle off to Buffalo!
A *ton* of salty, saucy fights, plenty of great stage numbers, all kinds of backbiting schemes and a race to the truth as the glamorous bodies start piling up! Don't forget to PLAY IT ON THE G-STRING!
---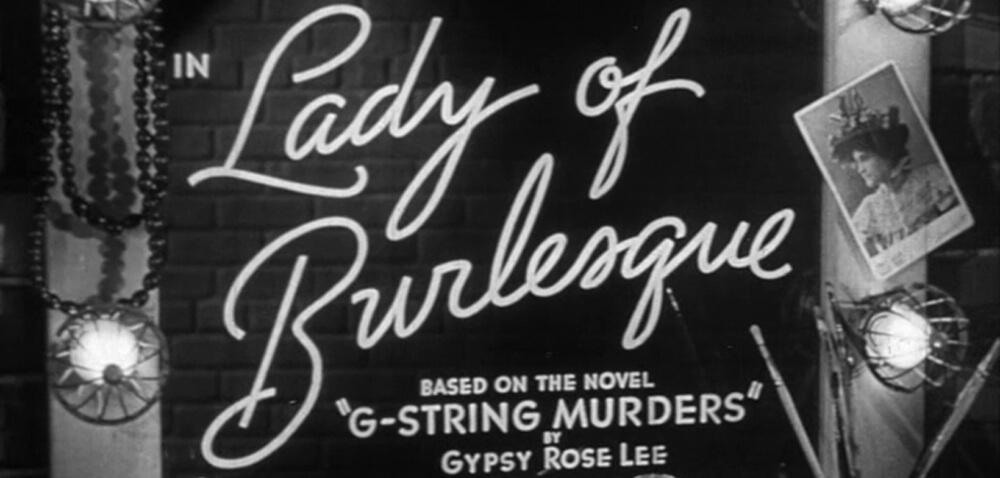 LADY OF BURLESQUE
dir. William A. Wellman, 1943.
USA, 91 min.

THU AUGUST 3 – 10:00 PM
SAT AUGUST 5 – 5:00 PM
SAT AUGUST 12 – 5:00 PM
MON AUGUST 28 – 7:30 PM
"This is my first experience with burlesque. It's a surprising profession."
Daisy Hoople, better known to the crowds down at the burlesque house as Dixie Daisy, but better known to youse and mes as the amazing Barbara Stanwyck, is making quite a name for herself as the new girl in town, drawing bigger crowds than Dolly Baxter and Lolita La Verne, gaining her few friends she can trust. Unsurprisingly, she's the first suspect when other dancers start to turn up DEAD!
Written by Burlesque star Gypsy Rose Lee under the more lurid title The Strip-Tease Murder Case (and NOT ghostwritten by Craig Rice, no matter what dumbness you may have heard), this film is arguably the best dancer-turns-detective tale you'll see, with director William Wellman (A STAR IS BORN, the *fantastic* NIGHT NURSE, and THE OX-BOW INCIDENT, made later in 1943!) keeping all the subplots moving, balancing great Sammy Cahn-written stage numbers, behind-the-scenes intrigue and suspense until the final revelation! Presented in an excellent quality print, you'll definitely want to PLAY IT ON THE G-STRING!