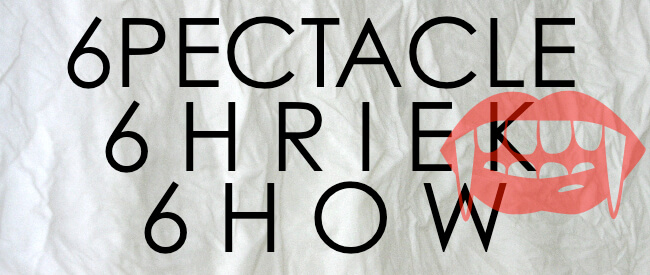 SATURDAY, OCTOBER 29 – ALL DAY!
Crunch a leaf, smash a pumpkin, key a car! The time is at hand. Tricks, treats, and everything in between – the 6th (!!!) Annual (!!!) SPECTACLE SHRIEK SHOW is upon us! Post up for 12ish (probably 14) hours of cerebellum boiling insanity with your favorite Spectaghouls. This year we have the premiere of Appalachian satanists, perilous board games, some rare and secret archival prints from Radical Hardware, as well as the usual who's who of fiendish friends, shorts, songs, and surprises. After five years strong of marathons this one is truly one for the books. Don't miss out! As always, $25 for the day or $5 each film.
NOON: THE SCREAMING SKULL
2PM: Camp Motion Pictures presents SPLATTER FARM
4PM: Junk Food Dinner presents BEYOND THE GATES
6PM: Radical Hardware presents SPARE THE ROD…
8PM: DON'T LET THE DEVIL IN
10PM: Vinegar Syndrome presents HORROR HOUSE ON HIGHWAY 5
MIDNIGHT: Massacre Video presents WOMEN'S FLESH: MY RED GUTS

THE SCREAMING SKULL
dir. Alex Nicol, 1958
68 min, USA
In English
Newlyweds Eric and Jenni decide it's a good idea to move back to the mansion where Eric's first wife died under mysterious circumstances. Luckily for the couple, the grounds have been maintained by an old family friend – Mickey (director Alex Nichol) the gardener. After settling in, the already mentally exhausted Jenni begins hearing bumps/screams in the night. Is the ghost of Marianne come back to seek revenge? Is it her jerky new husband gaslighting her? Some combination of both? Hard to say, we think you can guess though. Fun fact: when the film was first released director Nichol promised a free burial to anyone who died of fright during the climax of the film.
---

Camp Motion Pictures presents: SPLATTER FARM
dir. John & Mark Polonia, 1987
70 min, USA
In English
Special thanks to Mark Polonia!
Two twin brothers (played by the filmmakers, as they are wont to do) visit their aunt at her farm seated deep in beautiful rural Pennsylvania. While they think they'll simply be honing their green thumbs and helping their dear old auntie, things take a harrowing turn. Can you believe it? Terrible acts abound, folks are turning up missing (or worse!), and it's revealed their aunt's farmhand has a very disturbing set of extra-curricular activities.
The Polonia Brothers hold a special place in the hearts of us here at Spectacle. Having had a blast with FEEDERS once upon a midnight, we at the Shriek Show are honored to be blessed with showing this slab of analog insanity to an audience hungry for tape hiss and mini-Butterfingers especially hot on the heels of Mark Polonia's new work. As always, many thanks to Camp Motion Pictures who have been down with the burning S since forever.
---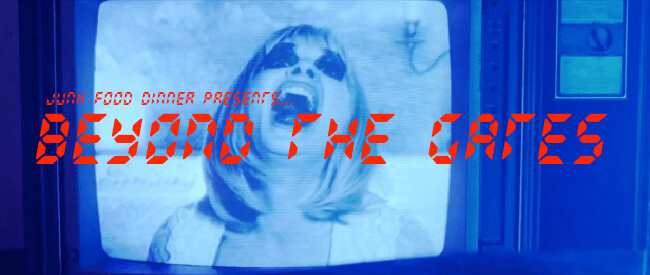 Junk Food Dinner presents: BEYOND THE GATES
dir. Jackson Stewart, 2016
84 minutes, USA
In English
Special thanks to Jackson Stewart!
Two estranged brothers reunite at their missing father's video store to liquidate the property and sell off his assets. As they dig through the store, they find a VCR board game dubbed 'Beyond The Gates' that holds a connection to their father's disappearance and deadly consequences for anyone who plays it.
Cult film podcast juggernauts Junk Food Dinner (who provided commentary for the upcoming blu-ray release) and filmmaker Jackson Stewart bring a loving tribute to the evil's of VHS and tabletop gaming to Spectacle for a special Halloween treat. Barbara Crampton (FROM BEYOND) stars alongside Chase Willamson (THE GUEST) and Brea Grant (HALLOWEEN II) in a flick certain to make you reconsider picking up the dice ever again. Also, we'll be giving away a copy of NIGHTMARE (The Video Board Game) to a lucky audience member so you can experience the terror at home or maybe a motel that still has a VCR in it but no continental breakfast.
---

Radical Hardware presents: SPARE THE ROD… (Secret 16mm!)
dir. Robert Enrico / Don Weis, 1964 / 1963
60 min, France / USA
In English
Oooooooh baby. It's about six o'clock. The 6th annual Shriek Show is rolling right along and we are in the ZONE! The sun is setting, it's TWILIGHT! Man it's almost like we're in some sort of TWILIGHT ZONE. Like you're so comfy in your seat and you hear the soothing whir of a projector as it fires up. Yeah that's the stuff. It's almost like Radical Hardware is coming through the velvet curtains and screening not one but two pristine 16mm archival prints of a beloved and game-changing show from almost 55 years ago. Crazy right? Like maybe you'd be watching two works written by genre masters Richard Matheson and Ambrose Bierce. Is it an illusion? Is it a secret screening? Is it the first time in Shriek Show history we've had the 16mm projector out? Yes, yes, a thousand times yes.
---

DON'T LET THE DEVIL IN (NY Premiere!)
dir. Courtney Fathom Sell, 2016
80 min, USA
In English
https://www.youtube.com/watch?v=CAr9eiiSqf0
After suffering a miscarriage, Newlyweds John and Samantha Harris relocate from New York City to a small Appalachian town where they become wrapped up in a nightmarish tapestry of evil.
Sell's film eschews conventional genre and instead hops gleefully around – owing as much to the backwoods horrors of last years standout MIDNIGHT as it does to Satanic Panic mainstays like ROSEMARY'S BABY. Aided by the rolling hills and picturesque backdrop of rural West Virginia, the film lures the viewer into an expansive wilderness and then manages to trap you in it. Also featuring Ed Wood/Mark Pirro player Conrad Brooks!
---

Vinegar Syndrome presents HORROR HOUSE ON HIGHWAY 5 (New restoration!)
Dir. Richard Casey, 1985
87 minutes, USA
In English
A mysterious killer, wearing a Nixon mask, terrorizes and murders a young couple. A professor assigns his students a project investigating the strange events connected to a possibly dead Nazi scientist, Dr. Fredrick Bartholomew. The doctor's assistant kidnaps students, holding them hostage and torturing them. Meanwhile, Nixon stalks the night!
One of the most confusing and compelling homemade horror films ever made, future music video director Richard Casey's debut feature film, shot over years on nights and weekends, is a delirious collage of oddball gore, ludicrous plot twists, and a general milieu of weirdness unlike anything else in cinema history. Newly restored from original 16mm vault elements by the almighty Vinegar Syndrome, HORROR HOUSE ON HIGHWAY 5 finally gets the treatment it so richly deserves. A head-scratcher of this magnitude hasn't graced the Shriek Show screen since…well, probably last year!
---

Massacre Video presents WOMEN'S FLESH: MY RED GUTS
Dir. Tomakichi Anaru, 1999
54 min, Japan
In Japanese
Director Tomakichi Anaru made a splash with his first feature and foray into the field of extreme cinema – TUMBLING DOLL OF FLESH, a pseudo-snuff nightmare – but WOMEN'S FLESH: MY RED GUTS is more of a slice of life. Like we're seeing something we're not supposed to see. Finger eating, tongue slicing, dismal bathroom lighting, and flashbacks flicker across the screen while you squirm in your seats. Massacre Video (a Shriek Show/Spectacle mainstay) has never been one to shy away from rare and often shocking titles – MONDO MAGIC, THE ABOMINATION, and 555, all come to mind – but this is one for the books.
Closing out this years marathon with easily one of the most grizzly entries to date, this is not for the faint of heart – consider yourself warned.
---