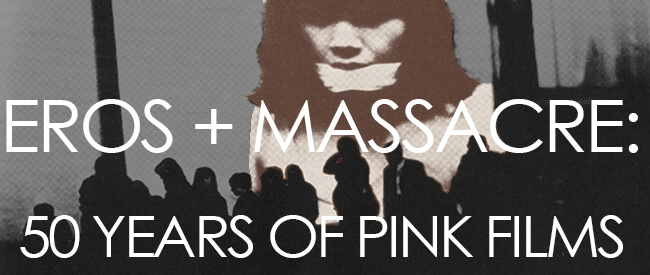 Pink Film remains one of the most fascinating, idiosyncratic, and puzzling of genres in Japanese film. It is also one of the most varied– and most misunderstood– genres in film history. On one hand, it was linked with the underground madhouse of the Japanese political avant-garde, especially through the auteur Wakamatsu Koji. The genre originally launched with a flurry of new director talent in 1962, and became immediately linked with a subversive counter-culture. Those college students with eyes glued to a Wakamatsu retrospective at a dingy Shinjuku theatre also participated full-force in the political protest movements of the 1960s.
On the other hand, Pink Film is a sexploitation genre, and many of its films were churned out wholesale for profit– especially after the decline of political protest in the 1970s. After all, until the late 1980s, Pink Films easily comprised 75% of all Japanese film production in a given year. As a result, while some Pink Films are as stunning and understated as an Antonioni film, others are a mishmash of styles and techniques (for better or for worse). Some are full of grotesque and violent sex-acts, and others appear to have barely any sex at all. Some even have fewer sex than a standard Hollywood production.
To be labeled a Pink, each film must follow certain rules for production and distribution; after that, it is up to the director to choose whatever style or sensibility he or she desires. It must be shot within three to five days, and with a budget of about 3 million Yen; it must be around 60 minutes in length, shot on 35mm film on location and without synched sound, and is usually shown in specialized Pink Film theaters. Otherwise, as long as about six sex scenes are included at regular intervals, directors are granted a great degree of autonomy. The films are then free to experiment with form and narrative structure, resulting in parodies of a huge number of genres, from Ozu-like family melodramas to political thrillers, from surrealist dreamscapes to absurdist rom-com musicals.
This October, Spectacle presents the first half of EROS+MASSACRE: a two-part Pink Film retrospective, the largest and most comprehensive of its kind in North America, spanning from its very early history in the 1960s to the wild and weird Pinks that continue to be made today. The result is a collection of rare films which continue to thrill, inspire, and occasionally completely freak their audience out, over 50 years since their inception.
WARNING: THESE FILMS MIGHT INCLUDE SENSITIVE IMAGERY INCLUDING BUT NOT LIMITED TO RAPE, VIOLENCE, TORTURE, INCEST, AND HARMFUL LANGUAGE. PLEASE BE ADVISED.
---


DAYDREAM
Dir. Takechi Tetsuju, 1964
Japan. 93 min.
In Japanese with English subtitles.
FRIDAY, OCTOBER 7 – MIDNIGHT
SATURDAY, OCTOBER 15 – MIDNIGHT
WEDNESDAY, OCTOBER 19 – 7:30 PM
One of the very first films made by the very first Pink film directors, DAYDREAM is a convoluted surrealist masterpiece in which fact is never far from fiction. The film is loosely based on a story by Tanizaki Jun'ichiro, a famous modernist writer known for his stories of erotic obsession. In the film, an artist and young woman have a series of hallucinations in the dentist's office, after receiving a dose of anesthetic. What follows is a nightmarish and bizarre sequence of events that is far darker than the average human's daydream. The film was the first Pink to have a mainstream release, and its style and thematic content would define the style of Pink Film for decades. The director, Takechi Testuji, would be placed on trial for obscenity charges for his next Pink production, BLACK SNOW The trial became a public battle, and after Takechi won, he continued making soft-core erotic films; because he shaped the future of Pink Film production and style in Japan, he is now known as the "Father of Pink".
---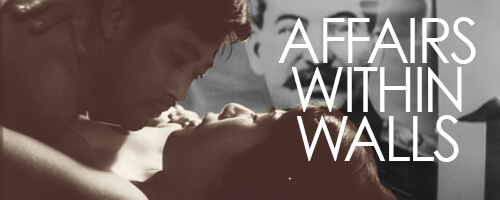 AFFAIRS WITHIN WALLS
Dir. Wakamatsu Kōji, 1965
Japan. 90 min.
In Japanese with English subtitles.
TUESDAY, OCTOBER 4 – 10:00 PM
SATURDAY, OCTOBER 22 – 7:30 PM
SUNDAY, OCTOBER 30 – 7:30 PM
In 1965, this Pink Film– one of the early pioneers of the genre– was entered into the Berlin Film Festival, to the great shame of the Japanese government. The submission occurred without the endorsement of Eiren, the Motion Picture Producers of Japan, who did not recommend independent films to international film festivals. Nonetheless, the film was screened abroad– and was one of the first Pink Films to do so. This succès de scandale gave Pink Film a certain respectability and credibility, as did its Michelangelo Antonioni-like aesthetic and politically-charged narrative. The film is set within the confines of a middle-class apartment complex, or danchi, outside of Tokyo; voyeuristically surveying the intrigues of several apartment units, the film paints a grim (albeit beautiful) portrait of the consumerist culture of postwar Japan. Particularly notable is the film's shocking depiction of a man with a keloid scar from Hiroshima's atomic bomb. The result is a provocative but understated portrait of this time period, nestled within the tumultuous first few years of Japan's economic growth.
---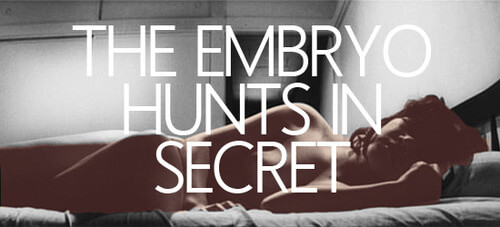 THE EMBRYO HUNTS IN SECRET
Dir. Wakamatsu Kōji, 1966
Japan. 72 min.
In Japanese with English subtitles.
MONDAY, OCTOBER 10 – 10:00 PM
SUNDAY, OCTOBER 16 – 7:30 PM
Part art house and part Grindhouse, this classic Pink was made after Wakamatsu left Nikkatsu to create his own production company, Wakamatsu Productions, or Wakamatsu Pro. It was also one of the first Pink Films written by Adachi Masao, who would one day become radical leftist filmmaker in his own right, escaping Japan to fight for the Palestinian Liberation Organization (PLO). The director-writer duo of Wakamatsu and Adachi would create some of the most gory and grotesque films in the Pink Film repertoire, with Embryo Hunts in Secret one of their most renowned collaborations. The film is a brutal exploration of the postwar Japanese psyche through a childlike megalomaniac who keeps a woman imprisoned in his small apartment, controlling her every move and torturing her between bouts of denial and humiliation. The result is a grim look at the state of postwar consciousness, where redemption never feels quite as cathartic as it should.
---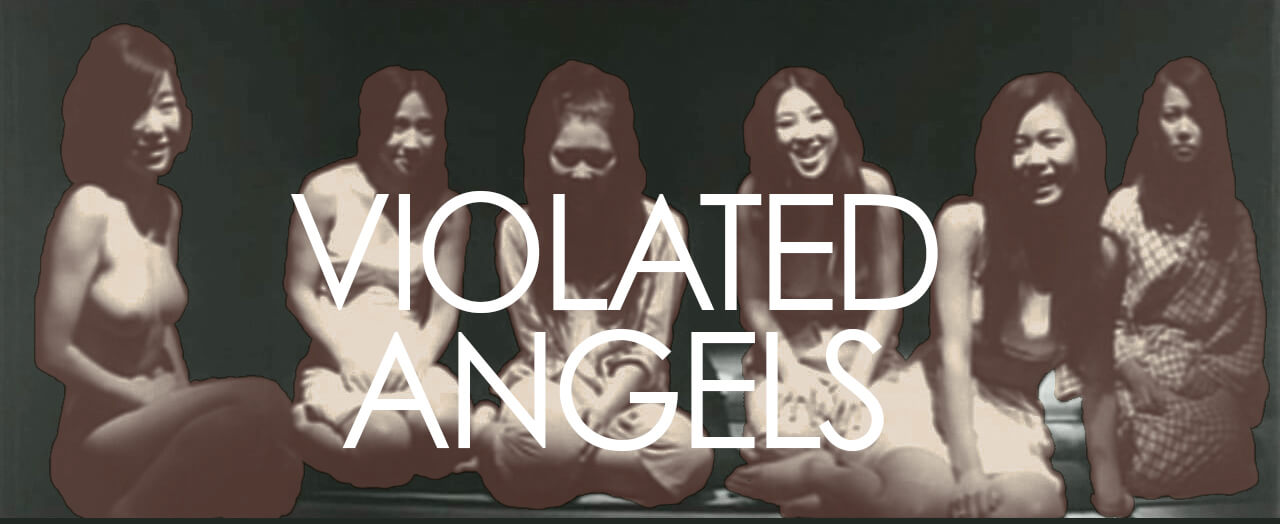 VIOLATED ANGELS
Dir. Wakamatsu Kōji, 1967
Japan. 57 min.
In Japanese with English subtitles.
SATURDAY, OCTOBER 8 – MIDNIGHT
TUESDAY, OCTOBER 11 – 10:00 PM
FRIDAY, OCTOBER 28 – MIDNIGHT
Forming a perfect pair with GO, GO SECOND TIME VIRGIN, this film was inspired by the Richard Speck murders in 1966 Chicago. In the real event, Speck systematically tortured, raped, and murdered eight student nurses in the South Chicago Community Hospital. A perfect example of what Yuriko Furuhata titled a "cinema of actuality," Wakamatsu used highly topical real-life events to create a stunning virtual portrayal of their occurrences. Although Wakamatsu took some creative liberties with the Speck event, the film fundamentally attempts to understand the social condition which erupts into this kind of mass killing. The result is a strangely beautiful (and ultimately political) mixed-media bloodbath that never fails to keep any audience at the edge of their seats.  
---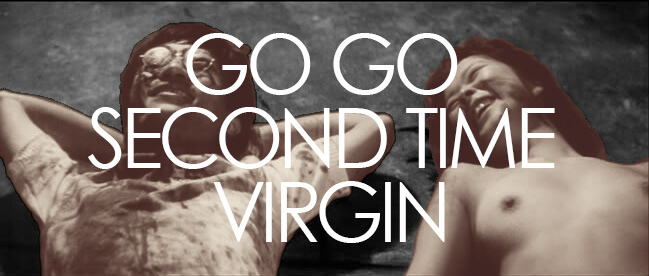 GO, GO SECOND TIME VIRGIN
Dir. Wakamatsu Kōji, 1969
Japan. 65 min.
In Japanese with English subtitles.
THURSDAY, OCTOBER 6 – 10:00 PM
MONDAY, OCTOBER 10 – 7:30 PM
SATURDAY, OCTOBER 22 – 10:00 PM
GO, GO SECOND TIME VIRGIN is loosely inspired by the murder of actress Sharon Tate by the Manson Family in August 1969. Wakamatsu's film, released later that year, imagines a similar scenario on Tokyo rooftop during a hot summer day, in which two teenagers are pushed to the end of their limit. Half critique of a hedonistic sex-crazed subculture, and half gloomy portrayal of two unfortunate youths, Virgin stuns the viewer with a barrage of different media techniques; color blends with black and white, frenetic jazz accompanies psychedelic 1960s rock n' roll, and the characters speak in broken poetry. Here, sadism walks hand in hand with love, and the Death and Sex Drives are never very far apart. Like many films of the genre, the film explodes with blood and violence at its conclusion, which strangely mirrors the "double suicide" trope of traditional Japanese theater.
---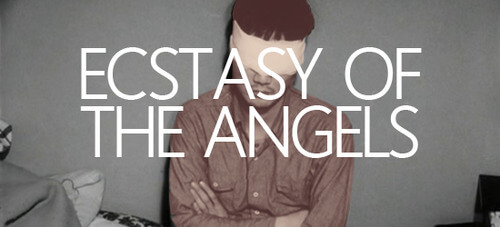 ECSTASY OF THE ANGELS
Dir. Wakamatsu Kōji, 1972
Japan. 89 min.
In Japanese with English subtitles.
SUNDAY, OCTOBER 2 – 7:30 PM
THURSDAY, OCTOBER 20 – 7:30 PM
FRIDAY, OCTOBER 28 – 7:30 PM
Though also directed and produced by Wakamatsu, ECSTASY OF THE ANGELS is a bit different from his earlier works, having been distributed by the extremely experimental (and somewhat elite) Art Theatre Guild, or ATG. While ATG arose in the early 1960s by distributing foreign art films, the company then started funding its own Japanese films, created by acclaimed directors from Oshima Nagisa to Imamura Shohei and Hani Susumu. ECSTASY OF THE ANGELS, however, is its only foray into the Pink Film genre. The film is based around the exploits– both political and sexual– of a far left-wing paramilitary troup called the Four Seasons Association. Like the name implies, the group is named after either seasons (Winter, Autumn), months (October, February), or days of the week (Tuesday, Thursday, etc). After a mission to steal weapons from a US military base goes awry and blinds one of the core group leaders, the association begins to splinter, and increasingly radical factions begin to form.
In its portrayal of radical left-wing terrorism, ECSTASY eerily predicts the exploits of the United Red Army in Japan, and the series of bombings and hijackings which defined the early 1970s. Blending sex and politics alongside paranoia and questions of cultural identity, the film is a radical (and beautifully shot) portrayal of a fascinating time period. Unfortunately, not long after this film's release, the United Red Army would capture a ski lodge and hold its owners hostage, in what became a highly televised event known as the Asama Sanso Incident. Radical left-wing politics in Japan would never be the same. Seen in this context, ECSTASY becomes a gorgeous time capsule of a revolutionary era that, although short-lived, defined the zeitgeist a generation.